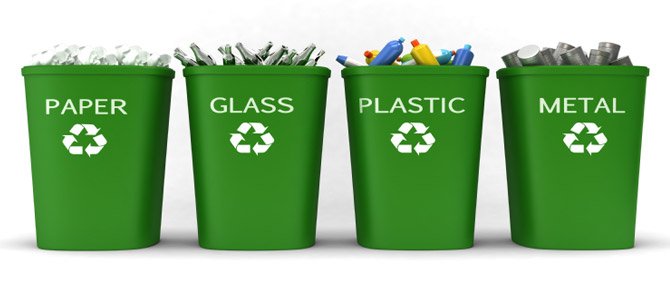 image source
We have all been taught the importance of recycling since we were kids. And that importance can hardly be overstressed, especially in a world where stuff like climate change is one of the more pressing issues facing humankind. More alarmingly, if we keep producing the amount of waste that we are producing right now, there is a possibility that we may soon run out of landfills and garbage dumps for that waste. And that is besides the environmental hazards created by the large amount of waste materials that are not easily disposable.
Let's just take a look at one type of material, plastic. About 50 million plastic bottles are discarded every day in the United States alone. Now, imagine the total number of plastic bottles thrown away all around the world on a weekly, monthly, and yearly basis. Sounds insane, right? Hence the need to recycle and recycle as much as possible.
And there are a number of simple hacks that you can use to recycle plastic bottles and other plastic stuff at home. Check out these simple ways to not only reduce your garbage volume, but also save money.
Reuse Old Plastic Bottles to Create Pen Holders
Cut out different shapes and design them to your liking. You can use these home-made pen holders at your desk in the office too. And guess what, offices are major contributors to our ever-expanding landfills and garbage dumps. So, next time you have that Coca Cola in office, make sure not to throw away the empty bottle.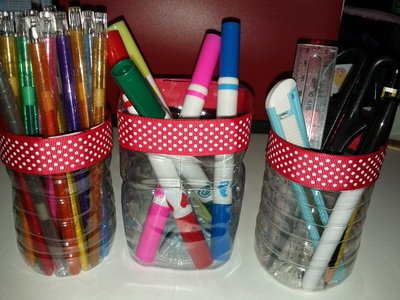 image source
Plastic Plant/Flower Pots
This is a highly creative use of surplus plastic bottles and containers in your home. Cut them up in different shapes and decorate them to create fancy flower pots that will give your garden a unique look.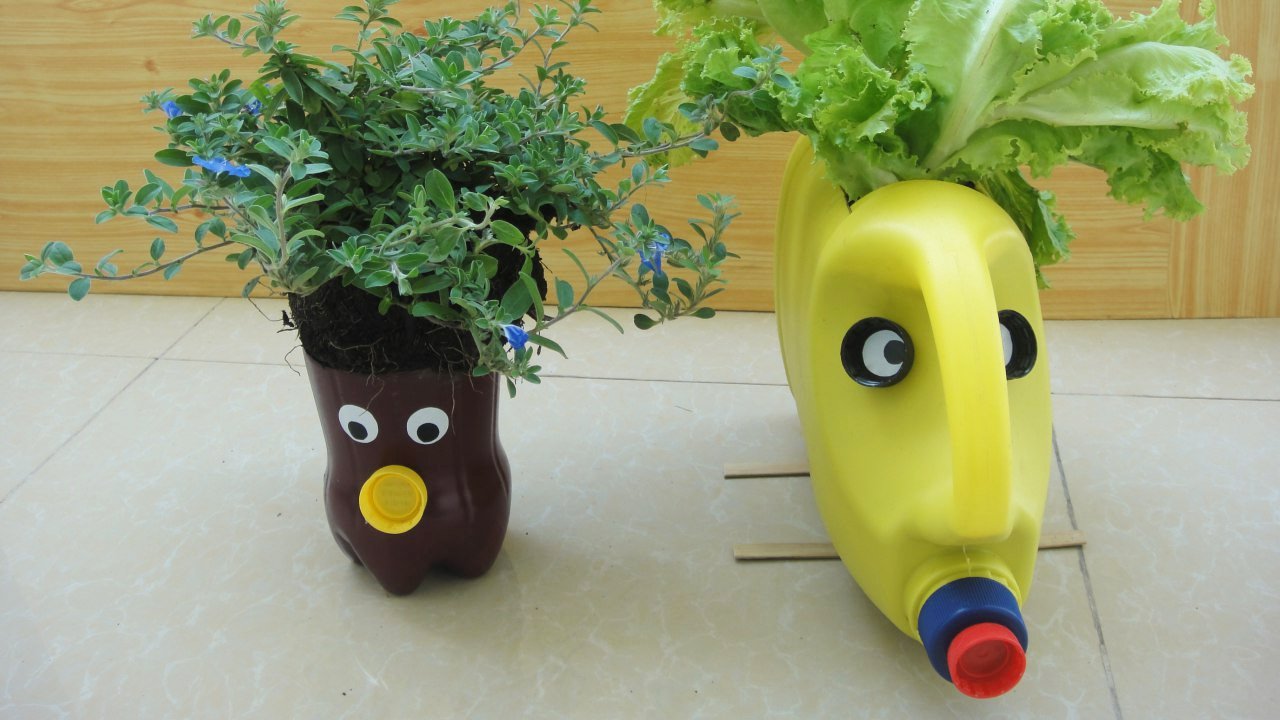 imge source
Or create a vertical garden like this. How about that for a funky and unique look to your front yard?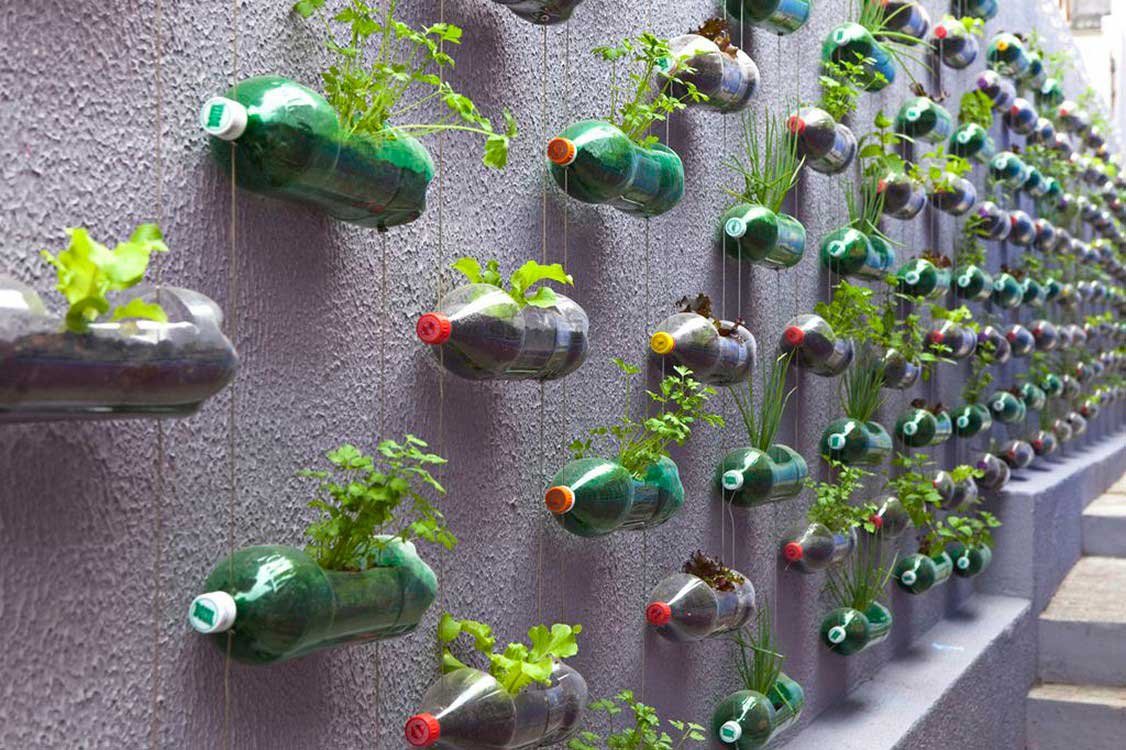 image source
Plastic Finger Guard for Kitchen Use
This is another very handy creation. All you have to do is cut out a small piece from pretty much any part of a plastic bottle or similar container, make small holes on both ends and secure them with a rubber band or elastic string just like in the image below. Use this little piece of protective gear in the kitchen and never cut your fingers again.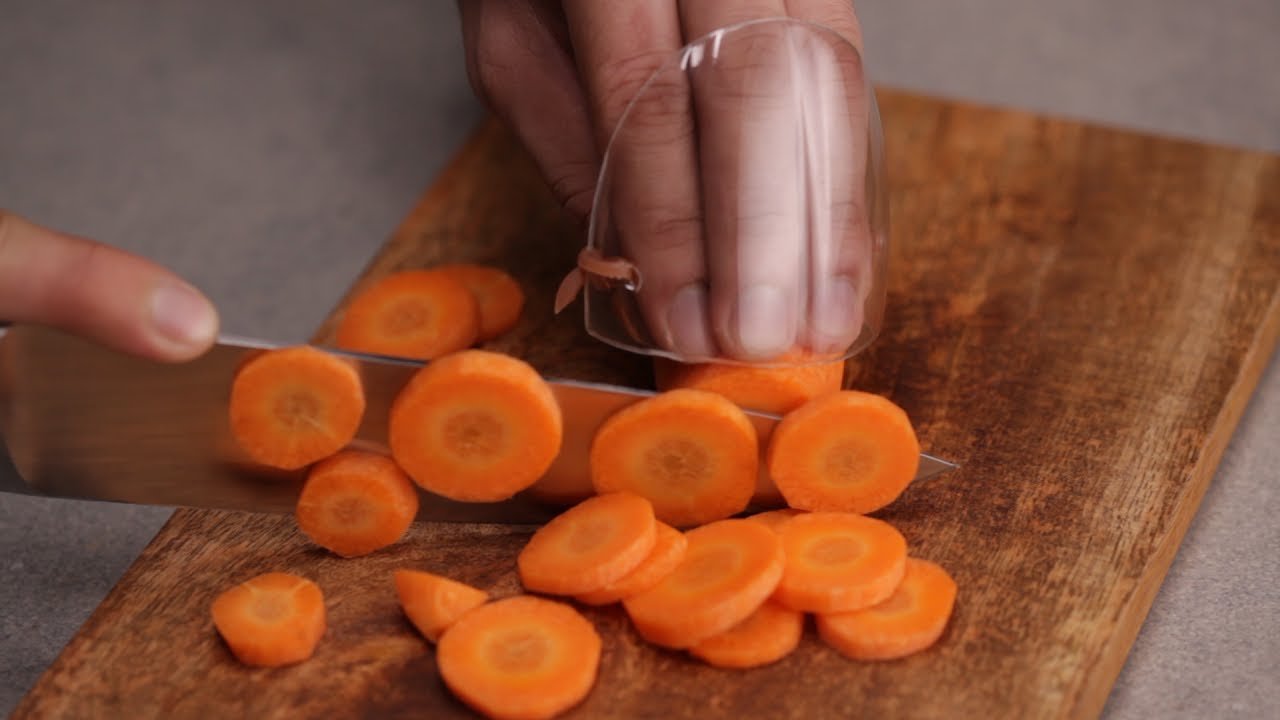 image source
How about this for constructive use? The very same plastic bottles that form a huge part of our garbage volume can actually be used to create a pretty handy trash can at home. This is one good way we can put a serious dent in our planet's plastic waste production.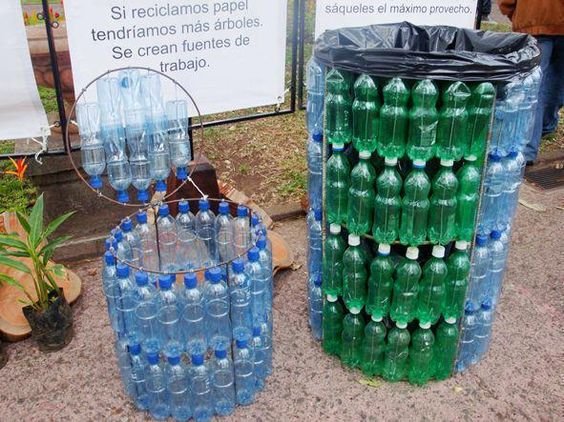 image source
Lamp Shade Out of Plastic Bottle Caps
Create a funky and colourful lamp shade out of plastic bottle caps and give your room a unique glow.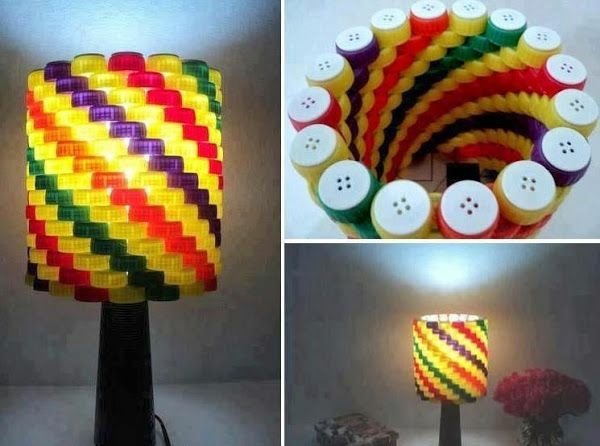 image source
Toys Made Out of Shampoo Bottles
We can bet your little ones will love these crafty toys. No need to go to that shop around the corner anymore to buy that expensive toy airplane for your kid. Make a better looking one at home at very little or no cost at all.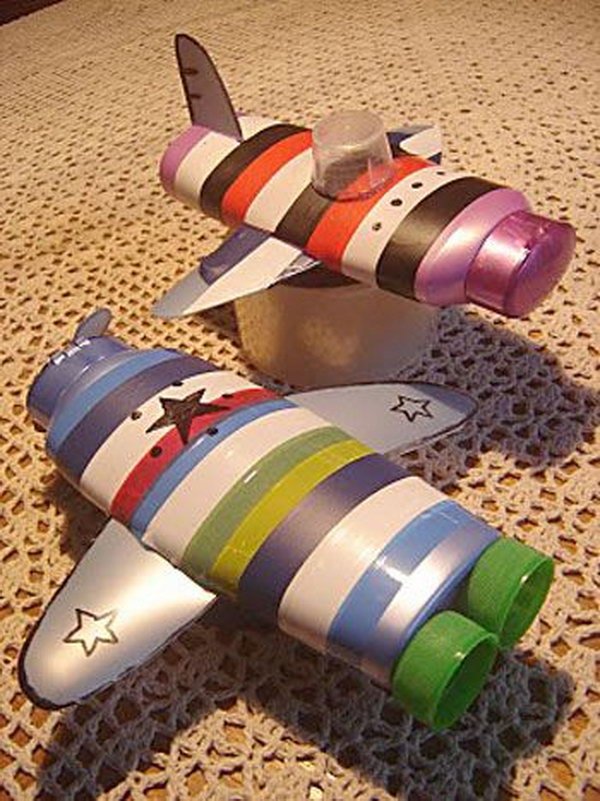 image source
Use that chocolate box to create a handy jewelry storage container. Why throw away that empty Ferrero Rocher container when it can be used for such a nice purpose?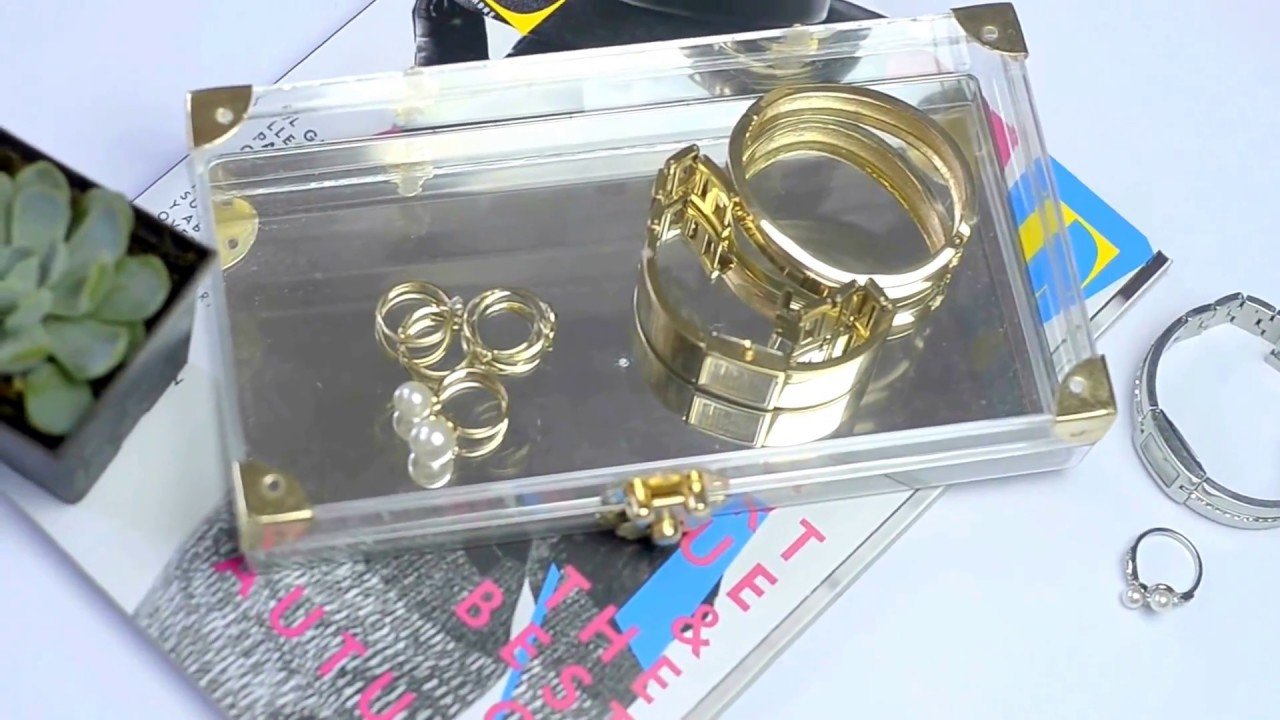 image source
Garden Sprinkler Made Out of a Soft Drink Bottle
it just amazing the number of ways you can use those surplus plastic bottles? Check this one out. All you have to do is punch a few holes on one side of the bottle, attach it to the garden hose, and you are good to go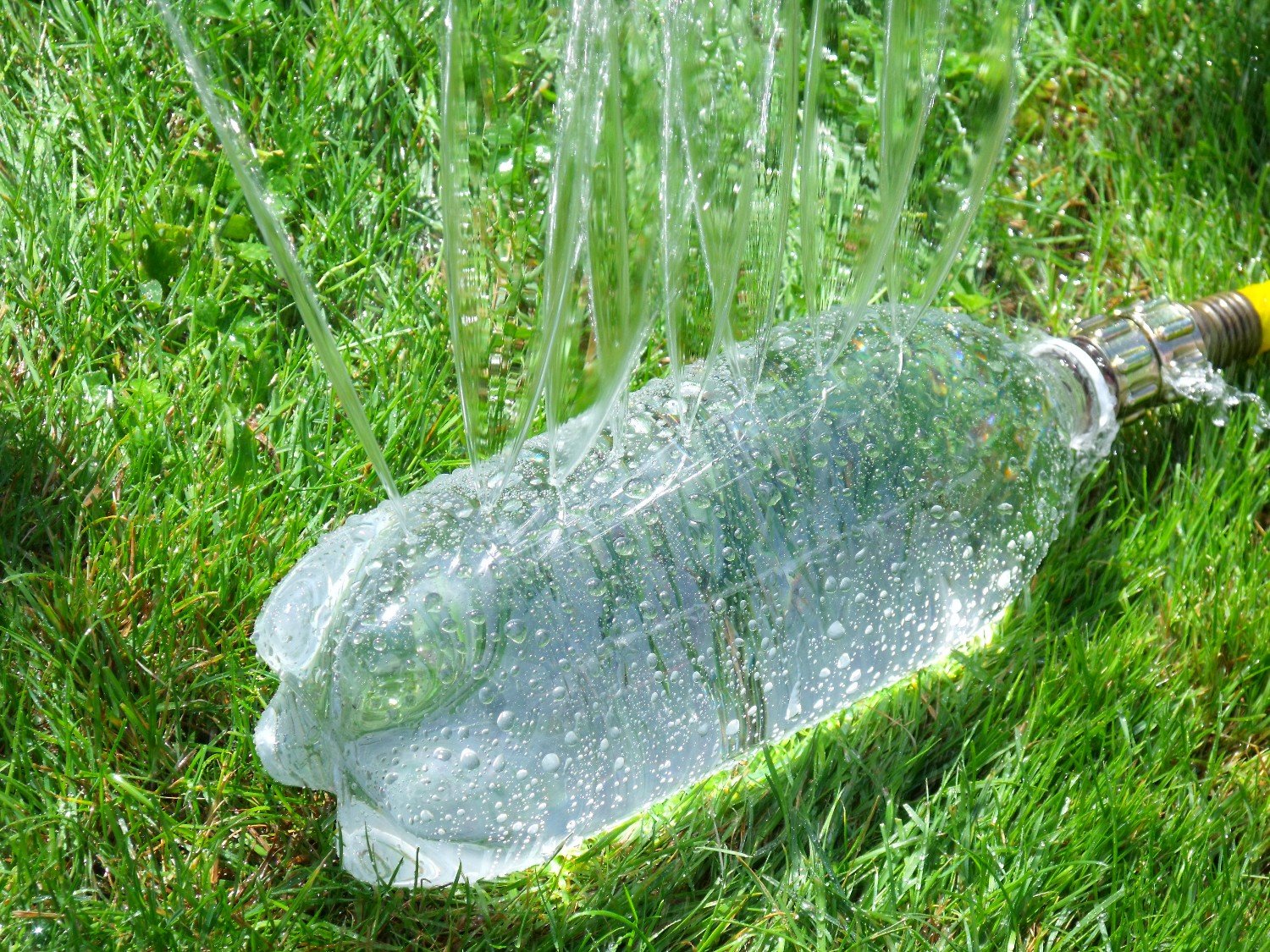 image source
Chandelier Created Out of Soda Bottle Bottoms
Simply cut up the bottom portions of soft drink bottles and connect them together for an interesting looking chandelier.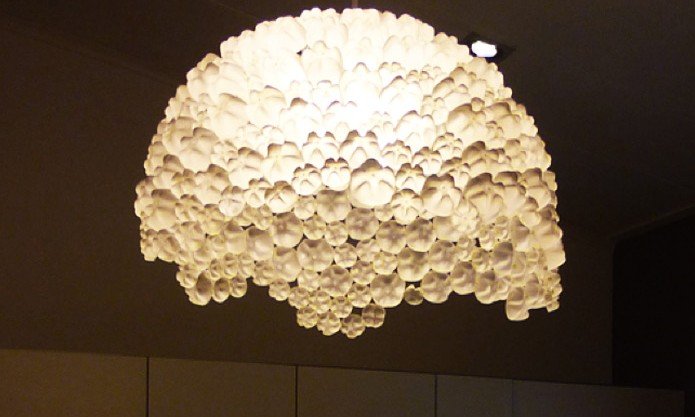 image source
Broom Made Out of Plastic Bottles
The image pretty much details the whole procedure. Take a look.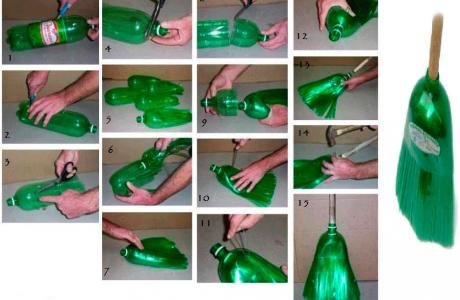 image source
Lamp Made Out of Plastic Spoons and Bottles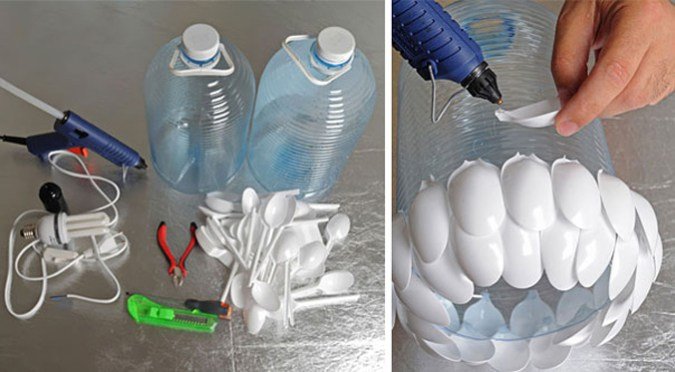 image source
Jewelry Stand Made Out of Soda Bottles
Once again, pretty self-explanatory image. Take a look and prepare one at home for a unique display for your jewelry.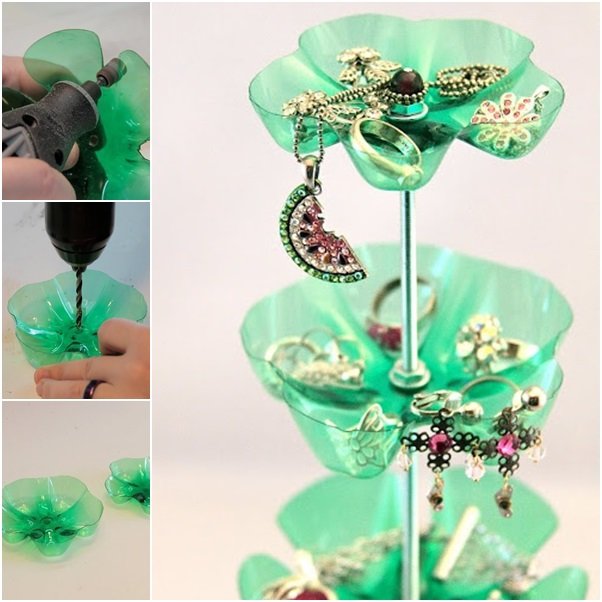 image source
Car Shade Made Out of Plastic Bottles
This is arguably one of the best uses of surplus plastic bottles. Imagine the reduction in our plastic waste output if these were used on a large scale.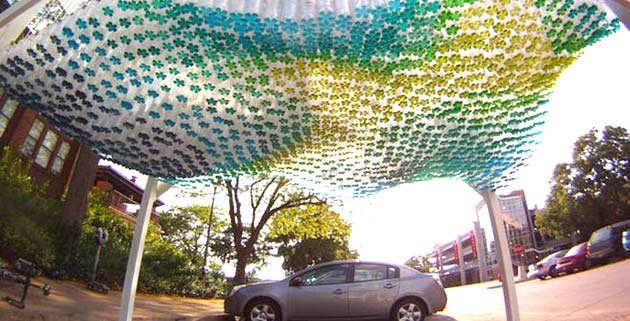 image source
Who knew old plastic bottles could even play a part in our lives during the festive holiday season. Isn't that a good looking Christmas tree?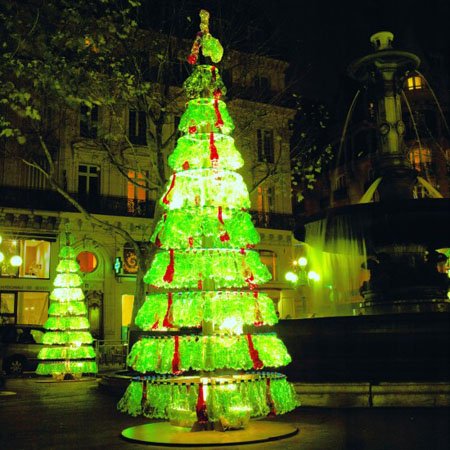 image source
These are some wonderful uses of old plastic bottles and containers in your home. Of course, if you do not find any of these uses appealing, you can always give them away for recycling. There are recycling containers available at most places nowadays. Put your surplus plastic or metal in those containers whenever possible. Just avoid throwing them away into the garbage.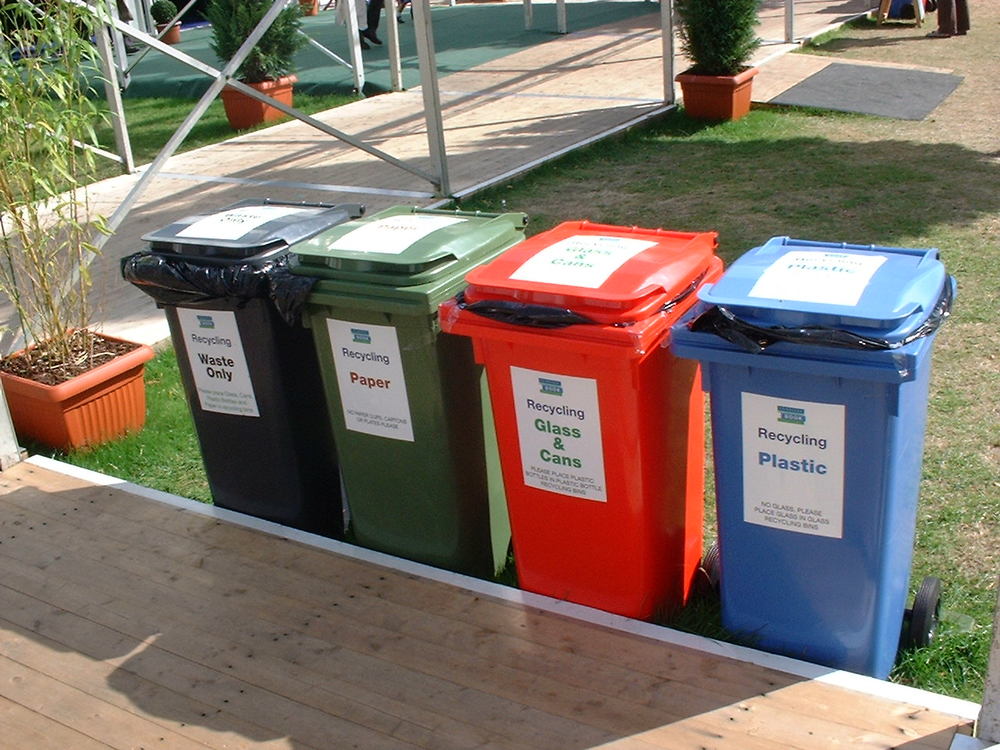 image source