I have my usual therapy session on Thursday night, i have a list of things i need to do before i go but first me and hubby have to sort our date night out before Thursday. This is something i have to do for myself and give me something to look forward to instead of back. As most of you know i took an overdose last November, I was at my lowest i had ever been then thankfully haven't been that low since then. All my therapy posts now are to look forward and start to instil into my mind the I am worth it, I am loved and I deserve good things.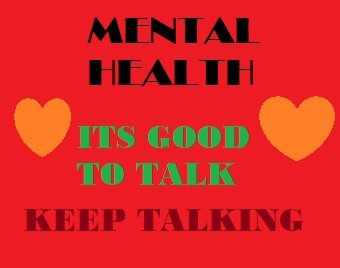 Me and hubby have been talking about what we could do together to give me something to look forward to and have an interest in. I need him with me as i am disabled and housebound, we don't go out very much due to me being the way i am so this will give us both something to do. We live in a town on the Outskirts of a city so you can imagine how many restaurants are available to but surprised that we have never tried 75% of them. So from this week we are going to start eating out at a different new place every month, we are going to do our research and make a list of all the restaurants around us trying a new one every month then trying them further a field.
We have a award winning fish and chip shop that have been to loads of times, a few years ago they built a bigger building on the coast that we still need to try, this will be or 1st to visit.
COLMANS BEFORE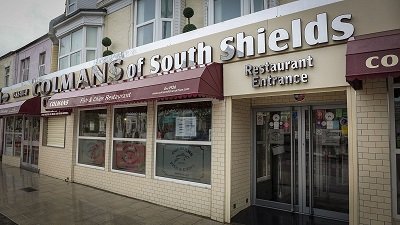 COLMANS AFTER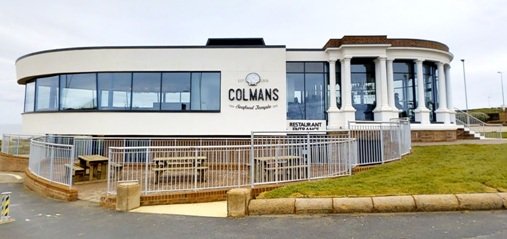 We have been wanting to go for a long time but always put it off, this is a good place to start. I also want to write a review on it after giving me something else to think about. Once we have been here we will then decide the next place, we will work around us first then later go further, this is also something me and hubby can do when he retires. We will get sometime together and i will be doing it for myself.
I have to start learning to put myself first especially now the girls are grown up and living there own lives.
The other things on the *THINKING OF ME LIST: is
Spend time pampering myself. I never look after myself, always in and out of the shower as quick as possible instead of enjoying it and being in the moment. A time to reflect, relax and think.
Sit and watch a film you like by yourself Seems simple enough, i have watched what others want to watch, i now take my laptop to bed and watch a film i want to watch whether hubby or Nichola say its not very good, i have different tastes plus have a mind of my own.
Ignore hubby's comments Sometimes he can make comments that i take the wrong way, from now on i will ignore them and move on.
Say NO when you can't do it. I am always saying yes even when i know i can't do it, tiring myself out making sure i do it then being in pain and angry with myself for saying yes. Saying No sounds very easy, its really hard. i mull over saying it for ages.
I have these wrote down in my Mental Health journal then when i do one i give myself a tick, this makes me feel as if i have achieved something.
If your suffering from depression please talk to some one, its easier to deal with when you have support.
Mental Health Help
I have also found help here on Steemit. There is a free tapping course. This still help for those anxious moments.
Check out @eftnow
https://eftnow.kartra.com/page/tappingcoursesignup
If anyone ever wants 1-1 help, you can book in a call with @eftnow at - https://calendly.com/sam-neffendorf/discover-mh
https://www.samaritans.org/how-we-can-help/contact-samaritan/talk-us-phone/
CALL 116 123
KEEP TALKING.


Thank you @son-of-satire