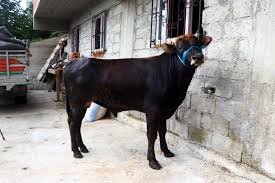 English:
In Turkey, Rize İyidere District of Eid in which the victim owners of Go after the bull to be cut, fell into the creek beyond the walls of the market and the running of the uzaklaştı.3 days later, 23 km away from the owner of the bull, "perhaps to cut the animal then this happened nobody's hearts will not settle ".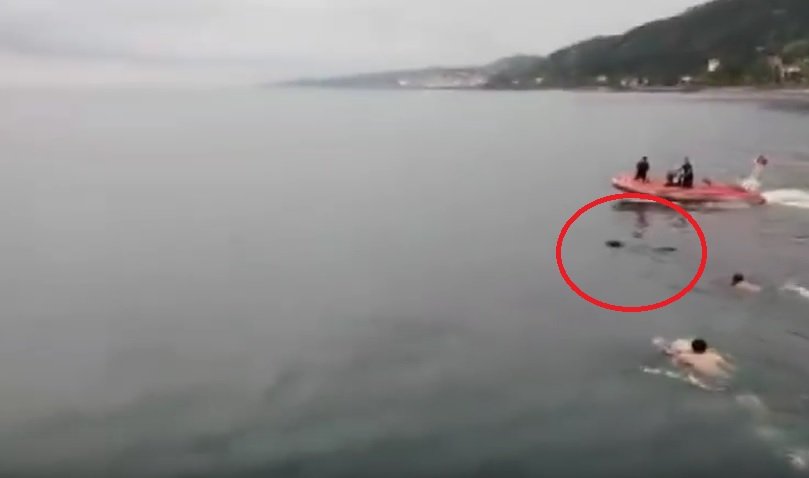 SHOULD LIKE A SHELL '
Metin Yalcin, one of the common owners of the animal, said that they lost sight of the bull after seeing a break in the sea in Rize. Yalçın said, "It was the first day of the holiday.We lost Rize like the 10.00 in the field of Iyidere in the city of Iyidere.I escaped from the rope and escaped from the floor.We jumped from the wall of 5 meters high and realized that it escaped from the depth.It was a strange but we could not get a result.In the first day, We saw the second day in the sea but then it disappeared from the eye and it was swimming like a ship The Coast Guard could not find it We did not convince anyone that our bull was in the sea at first We then tried to persuade the viewers to share with the security forces On the 4th day of the festival, the fishermen had seen the consultation at the sea and the Coast Guard had rescued them and brought them to us, and we went to Surmene, according to the fishermen 's demeler, they noticed the bull in an open sea to the west.
TÜRKÇE:
Türkiye'de Rize'nin İyidere İlçesinde Kurban bayramında kesilmek üzere olan kurban Sahiplerinin peşine düştüğü boğa, pazardaki duvarı da aşıp dereye düştü ve koşarak bölgeden uzaklaştı.3 gün sonra 23 km uzaklıkta bulunan boğanın sahibi, "Bu olanlardan sonra hayvanın kesmeye belki de kimsenin gönlü razı gelmez" açıklamasını yaptı.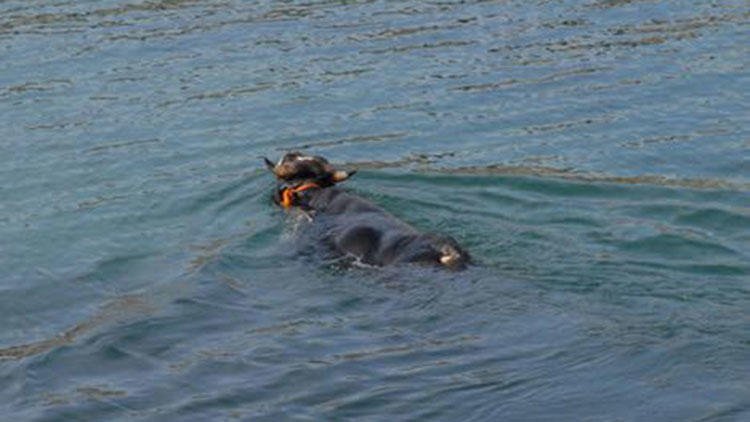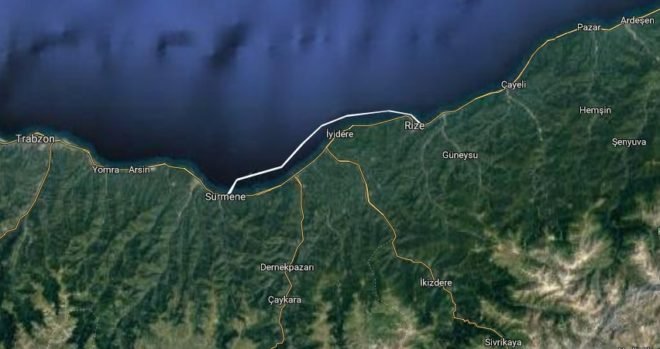 GEMİ GİBİ YÜZÜYORDU'
Hayvanın ortak sahiplerinden Metin Yalçın, boğayı Rize'deki denizde bir ara gördüklerini sonrasında ise gözden kaybettiklerini anlattı. Yalçın, "Bayramın ilk günüydü Rize'nin İyidere ilçesinde bulunduğumuz alanda saat 10.00 gibi kaybettik. İpinden kurtulup alandan kaçmış. 5 metre yüksekliğindeki duvardan atlayıp, dereden kaçtığını fark ettik. Aradık taradık ama bir sonuç elde edemedik. İlk gün ilçede, stadın oradan denize girdiğini görenler olmuş. Gittik, göremedik. İkinci gün denizde gördük ama sonra gözden kayboldu. Gemi gibi yüzüyordu. Sahil Güvenlik, aradı bulamadı. Denizde boğamızın olduğunu ilk başlarda kimseye inandıramadık. Sonra görüntüleri güvenlik güçleriyle paylaşıp ikna etmeye çalıştık. Bayramın 4'üncü günü, Sürmede balıkçılar denizde danayı görmüş, Sahil Güvenlik kurtarıp kıyaya çekmiş, bize haber verdiler. Biz de Sürmene'ye gittik. Balıkçıların demelerine göre kıyıdan baya bir açıkta boğayı fark etmişler. Kıyıya çekilen danamızı vinç yardımıyla yola çıkardık" dedi.