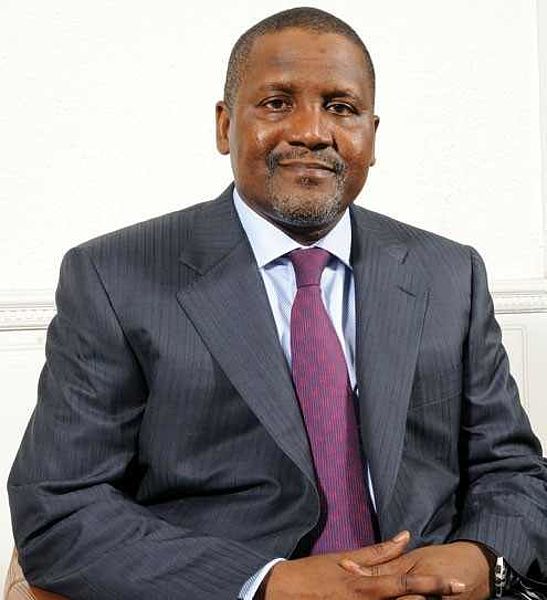 Aliko Dangote, (born April 10, 1957, Kano, Nigeria), Nigerian businessman Aliko Dangote, the founding president (1981) and CEO of the Dangote Group conglomerate,in 2015 surfaced and got ranked by Forbes magazine as the richest man in Africa, and by 2017 the self-made visionary had increased his net worth to an estimated $14 billion and occupied the 51st spot on Forbes's list of the wealthiest billionaires in the world. Dangote's latest venture involved the construction of a $12 billion oil refinery in Lagos in an effort to solve the fuel crisis in Nigeria, where 38% of imports were petroleum based. With an eye to expansion into agriculture, Dangote also planned to build, at the same site, a pair of fertilizer plants. It was expected that when the refinery and fertilizer plants became operational in 2019, they would create at least 235,000 jobs. He was also part of a consortium that in March 2016 made a major bid for a majority stake in Peugeot Automobile Nigeria (PAN) Ltd., which was owned by the state-backed Asset Management Corp. of Nigeria; the latter was a "bad bank," a financial institution that holds another bank's nonperforming loans.
Alhaji Aliko Dangote belonged to the Hausa ethnic group, and, as was customary, he was raised by his maternal grandparents. His maternal ancestors were prosperous caravan traders under British colonial rule, and his grandfather, Alhaji Sanusi Dantata, a commodities trader, helped to inspire the entrepreneurial spirit in his grandson. Dangote used pocket money furnished by his grandfather to buy sweets, which he had others sell for a profit. After completing studies in business at the Islam-affiliated Al-Azhar University in Cairo, Dangote returned (1977) to Nigeria and was given a loan by his uncle to start a business, which traded commodities and business supplies, primarily cement. By 1981 his firm was so successful that he incorporated other businesses and established the Dangote Group. His empire extended to foodstuffs, including pasta, sugar, salt, and wheat; cement; haulage; and other concerns. Among his holdings, Dangote served as CEO and president of Dangote Industries Ltd., CEO of Dangote-Bail Nigeria, Ltd., chairman of Dangote Cement PLC, and nonexecutive chairman of both Benue Cement Company PLC and Dangote Sugar Refinery PLC. He stepped down in 2015 as chairman of Dangote Flour Mills PLC. In addition, from June 19, 2012, Dangote served as president of the Nigerian Stock Exchange. In 2013 he became director of the Corporate Council on Africa.
Dangote Group was established as a small trading firm in 1977, the same year Dangote relocated to Lagos Nigeria to expand the company.Today, it is a multi-trillion naira conglomerate with many of its operations in Benin, Ghana, Nigeria, and Togo. Dangote has expanded to cover food processing, cement manufacturing, and freight. The Dangote Group also dominates the sugar market in Nigeria and is a major supplier to the country's soft drink companies, breweries, and confectioners. The Dangote Group has moved from being a trading company to being the largest industrial group in Nigeria including Dangote Sugar Refinery, Dangote Cement, and Dangote Flour.
In July 2012, Dangote approached the Nigerian Ports Authorities to lease an abandoned piece of land at the Apapa Port, which was approved.He later built facilities for his flour company there. In the 1990s, he approached the Central Bank of Nigeria with the idea that it would be cheaper for the bank to allow his transport company to manage their fleet of staff buses, a proposal which was also approved.
In Nigeria today, Dangote Group with its dominance in the sugar market and refinery business is the main supplier (70% of the market) to the country's soft drinks companies, breweries and confectioners.It is the largest refinery in Africa and the third largest in the world, producing 800,000 tonnes of sugar annually. Dangote Group owns salt factories and flour mills and is a major importer of rice, fish, pasta, cement and fertiliser. The company exports cotton, cashew nuts, cocoa, sesame seed and ginger to several countries. It also has major investments in real estate, banking, transport, textiles and oil and gas. The company employs over 11,000 people and is the largest industrial conglomerate in West Africa.
Dangote has diversified into telecommunications and has started building 14,000 kilometres of fibre optic cables to supply the whole of Nigeria. As a result, Dangote was honoured in January 2009 as the leading provider of employment in the Nigerian construction industry.
He said, "Let me tell you this and I want to really emphasize it...nothing is going to help Nigeria like Nigerians bringing back their money. If you give me $5 billion today, I will invest everything here in Nigeria. Let us put our heads together and work.In his humanitarian efforts. In 2014 he provided a substantial donation of some $1 million to help halt the spread of the deadly Ebola virus in West Africa,
and in 2016 he partnered with Microsoft founder Bill Gates to pledge $100 million to address malnutrition, a problem that affected some 11 million children in northern Nigeria. Nevertheless,In May 2015, Dangote expressed interest in purchasing the English football team Arsenal. He stated that if he was able to make the purchase the club he would ire the club's long standing manager Arsene Wenger..So if you are a big fan of Arsene wenger,say no to Africa's richest man...lol
Giving Profile: Chairman of the Dangote Foundation. The Dangote Foundation was set up to drive Dangote's corporate social responsibility initiatives. The foundation focuses on improving the living conditions of Nigerians by supporting hunger and water supply projects, strengthening the quality and quantity of health and education, and promoting Nigerian economic development. The foundation runs a $12,000 daily feeding program; built boreholes and has provided water to rural and urban communities across Nigeria. In 2010, the Dangote Foundation endowed relief material of at least $400,000 to Jos and Bauchi crisis in Lagos, Nigeria. Donated at least $600,000 to help flood victims in 11 local government areas in Sokoto State, Nigeria. In 2010, donated $750,000 to assist famine victims in the Niger Republic. In 2011, donated at least $90 million in sundry projects for Nigerian social development. In 2012, donated $500,000 to the Republic of Congo where more than 200 people were killed. In 2012, the foundation donated 3,000 cartons of spaghetti, 6,000 cartons of noodles worth $150,000 and $300,000 in cash to the Jigawa State Government to ease the suffering of flood victims. Donated $6 million towards building an International Cancer Centre in Abuja, Nigeria. Donated $2 million to post election crisis victims of the Bauchi, Gombe and Kaduna governments. The foundation donated $2 million to the UN World Food Programme (WFP) to help flood survivors in Pakistan; at least 325,000 children received aid. Donated $360,000 to the Oyo State Government to assist flood victims, $100,000 to Ubayyu Bin Ka'Ab Islamiyya School, $60,000 to Al-Muhibbah Foundation and $30,000 for the construction of Tudun Wada Juma'at Mosque, Kaduna, Nigeria. Donated $15.8 million to support flood disaster management efforts in Bayelsa State, Nigeria in October 2012. The Dangote Foundation started the Dangote Academy to train young technicians and craftsmen; to be employed in Dangote factories. Donated $300,000 to Lagos State Security Trust Fund; $60,000 to Al-Muhibbah Foundation; $100,000 to Ubayyu Bin Ka'Ab Islamiyya School, Kano, Nigeria; $10,000 to Dreamland Foundation, Lagos, Nigeria; $30,000 to University of Port Harcourt and $30,000 to Crescent University, Abeokuta, Nigeria. The foundation has helped in the construction various hostel complexes of many universities. In March 2014, Dangote reportedly planned to donate $1.2 billion to The Dangote Foundation from his personal cash reserves and also through the transfer of shares of his listed companies into the foundation, which he founded in 1994 to support initiatives in education, health and youth empowerment in Nigeria. A statement issued by the Dangote Group in July 2014 revealed that Dangote has donated $185 million over the past two years. Following the August 2014 Ebola outbreak, the Dangote Foundation donated around $924,000 towards containment and relief efforts in Nigeria. In December 2014, Dangote Foundation reportedly announced partnership with Kenyan politician Margaret Wambui Kenyatta's 'Beyond Zero' campaign which aims to improve maternal and child health outcomes in Kenya. The foundation also donated a fully-equipped mobile clinic in Kwale County, Kenya. In March 2015, Dangote Foundation made a scholarship donation of $100,250 to James Hope College in Agbor, Nigeria, which covers selected indigent students' school fees throughout their secondary school years. In May 2015, the Dangote Foundation pledged more than $4 million in the fight against the Ebola virus in Africa. In June 2015, Dangote Foundation donated $1 million to the quake-affected Federal Democratic Republic of Nepal, to support emergency efforts in providing relief to quake victims. In October 2015, the Dangote Foundation donated $249,485 to the One Billion Naira Insurgency Appeal Fund, a fund sponsored by Adamawa, Nigeria-based American University in Nigeria and its partner organization the Adamawa Peace Initiative to rehabilitate individuals displaced by the Boko Haram, an extremist group. In January 2016, Dangote along with William Gates, Co-Founder and Co-Chairman of non-profit organization the Bill & Melinda Gates Foundation, pledged to donate $100 million to help eradicate malnutrition in Nigeria. In February 2016, the Dangote Foundation and the Bill & Melinda Gates Foundation pledged to donate $42 million towards healthcare programs to eradicate polio in Nigeria by 2018. In April 2016, Dangote pledged to donate $10 million as relief towards families affected by the rebellion of the Islamic state group Boko Haram in Nothern Nigeria.So therefore i bring to you Nigerian and Africa's Finest business mogul,and how the great city of Lagos helped him achive his dreams...