The Kuna children are truly at peace and energetically calm.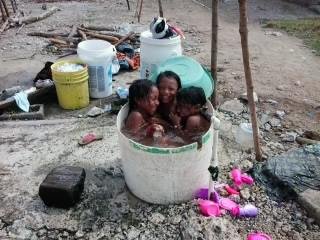 It seems normal to those of us in the United States that children regularly cry, wine, throw temper tantrums, are resistant and defiant along with the vibration these behaviors carry.





In American society, it's not only normal for children
to engage in these unproductive behaviors but they exist without question
simply because almost no Americans have ever actually seen anything else exist.





I'm here to tell you, it does exist.





In the actual Kuna reservation located in southern Panama throughout the San Blas Islands during my month long stay as well as my involvement with mainland Kuna children I am both shocked and grateful for what they have indirectly taught me.





Their homes are basically made of sticks
so if the hundreds of children were crying and whining it would be
easy to hear over the distance but I almost never
heard anything but the sounds of seagulls and ocean waves during my month long stay.





When I walk through the square mile island community I see children literally everywhere but I don't hear anything but happy, joyful children playing together contently.
I've heard of this kind of thing from reading Jean Liedloff's book The Continuum Concept many years ago but had never witnessed it until now.





Today I am in Panama's northern mountains
and over the last few weeks I have spent a considerable amount of time with mainland raised Kuna children.
Soon after my visit with them I visited with American friends with
American raised children and immediately felt the energetic difference.
I posed the question,
"What is going on here? What makes the difference?".
My American friends are also aware of the difference and ponder the same question.





Is it because the Kuna children are raised in-arms by
grandmothers who also hold the same calm spirit?
Is it because they are raised in close knit, multi-generational families,
always having their needs met in a moment?
Is the difference because American children are incubated
in stressed out mothers and held by parents who hold
within themselves an inescapable toxic vibration?


The excitement mounts
as I prepare to return to the islands to observe and continue
to be a part of the Kuna experience.
I look forward to writing more about this topic as I spend the next
several months with these amazing people.





You are invited to support the Kuna Love fundraiser
for keeping this community alive and teaching us while preventing their ancient and core ways
from being watered down in mainstream society.
Click Preservation of Panama's Indigenous Kuna Ways

~~~~~~~~~~~~~~~~~_~


Keep Following.
I got many more fun-believable experiences,
and amazing photography,
I'm serious!
My stories are continuously unfolding as I continue my unique journey south.

Your UpVote, Follow, Repost and Comments support me to keep the...