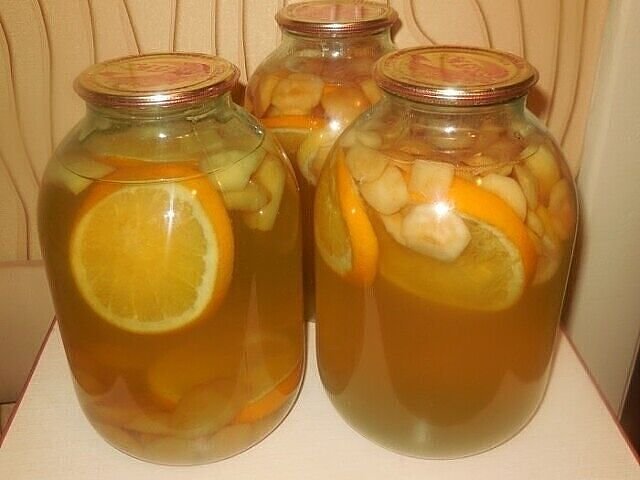 This compote of apples, orange and lemon I always procure for the winter. Children drink with pleasure.
For one three-liter can of compote you will need:
apples (small) - 8-10 pcs.;
granulated sugar - 300 g;
water - 2.5 liters;
orange - 1/2 pcs.;
lemon - 1/3 pcs.
Before starting to compote, we need to pre-sterilize in any convenient way three-liter jars and seaming lids.
Wash apples under cold running water.
Oranges and lemon must be scalded with boiling water so that the essential oils contained in the citrus peel stand out.
Without this manipulation, the finished compote can then be bitter.
Peel the apples.
Then, with a sharp knife, remove the middle and cut the apples into slices of medium size.
We cut oranges and lemons into rings one centimeter thick.
In each jar we lay apple slices, three slices of orange and two slices of lemon.
Boil the right amount of water and fill the jars to the top.
Then, cover them with sterilized lids and wrap a towel for twenty minutes.
Then, using a special lid with holes, pour the water from the bottle into a large pan, add sugar and bring to a boil.
The resulting syrup is poured back into the jars and rolled up with lids.
Further, we turn the jars with compote onto the lids and wrap them with a blanket for two hours.
Please note that in color, compote prepared for the winter resembles a "phantom". When you open cans with a blank in the winter, you can make sure that the delicate sweet and sour taste of compote, also, very much resembles a popular drink.