Last night I mentioned turning in my animal behavior study (ABS) on Thursday and my plan for completing some work today for my environmental health class and evolution class. Well, I am happy to say I stuck to my word and completed the part of an assignment that was due tonight and I also turned in my final project for my environmental health class which is due tomorrow evening. I was proud of myself for sticking to it and for not getting stressed out. Not having any scheduled work days until late next week is a huge help, of course, but I tend to psych myself out when I have a lot of school work even when nothing else is going on in my life. Tomorrow I will do my final for environmental health and be completely done with that class, and I will do one or both of my quizzes for the evolution class.
If I continue at this rate and do two things a day, I will have plenty of time to work on everything that I have coming up including the final paper for evolution.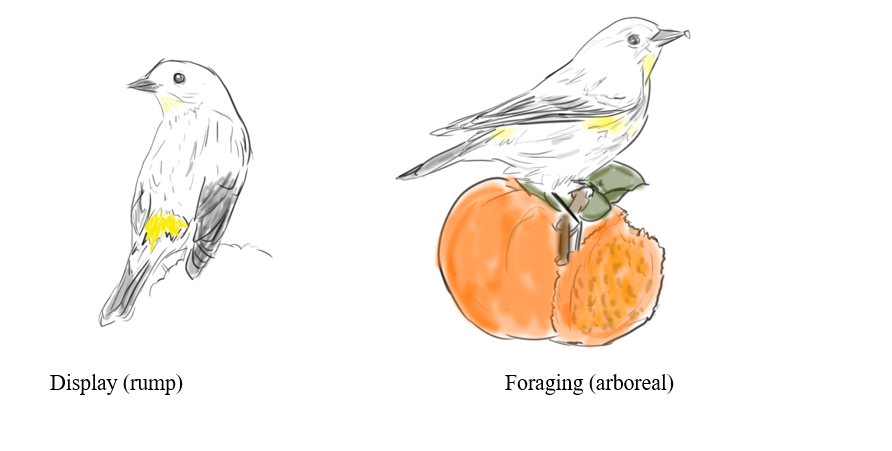 extremely rushed sketches for the ABS I was able to do right before class...I panicked on the persimmon because I don't know how to draw a half-eaten persimmon?? it also bugs me that I forgot to color the piece on the beak -_-'
I just wish I could have been better for my ABS. I had to really rush to finish that entire project over a couple of days, when really we were advised to be working on it since October. For our ABS we had to create an ethogram for a native wildlife species and observe the animal in the field for 30 minutes (I chose the yellow-rumped warbler, Setophaga coronata). Then we had to write a paper introducing the life history of the species, our methods, the data, and our analysis.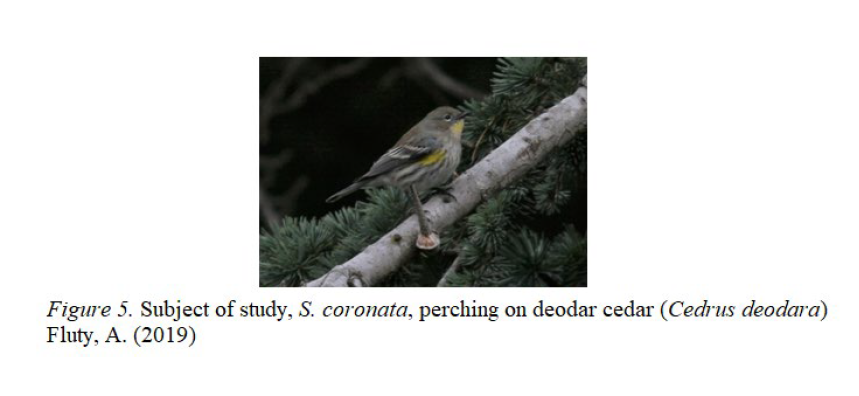 I really wanted to be thorough with my research and life history, but I waited too long to begin. I am trying not to be too hard on myself, because I acknowledge that I was extremely busy every week of the past couple of months, but I know I had at least a few opportunities where I could have at gathered articles or made an outline. The time crunch resulted in me having to leave some sections sparse that I would have preferred to have made more detailed. I did the same thing in undergrad and grad school, too.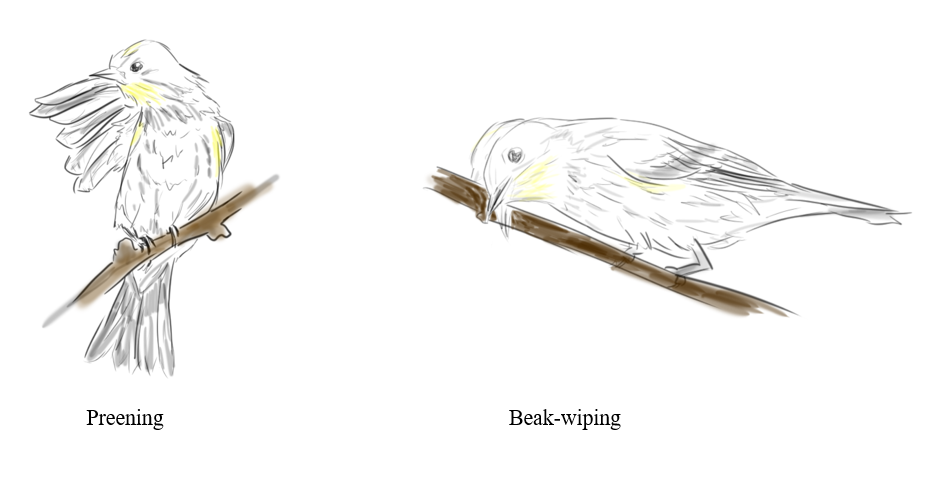 had to quickly figure out how to use photoshop because I didn't know how else to sketch these other than pencil and paper which would have taken me longer
Still, when I handed in the hard copy in class on Thursday I noticed that mine was thicker than all the ones I saw get handed in. My final paper was 18 pages, but half of that is references, figures, and images (and a title page). If I had started earlier, I could have easily hit 20 pages by expanding on my sections discussing plumage, nesting, and parental care of young. For the purposes of the assignment, I think I was thorough enough and that it is just my own disappointment in myself that is making me the tiniest bit anxious about it.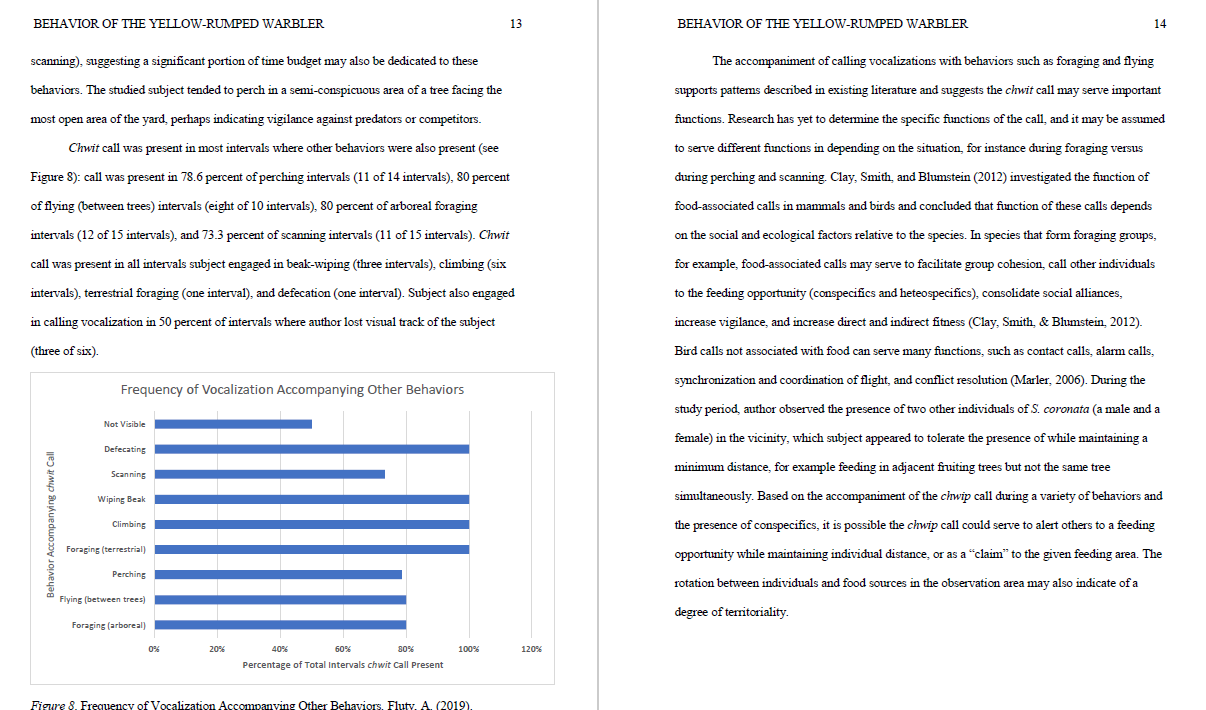 Two sections I do feel proud of are my section introducing the systematic changes over the years for the yellow-rumped warbler classification and my discussion and limitations section. I feel I was thorough enough on those sections, which were my first and last sections, respectively. I noticed I tend to spend the longest amount of time on the beginning of a paper before I truly appreciate the time crunch, and the end of a paper when I realize I could finally be done at any moment, which somehow makes me willing to write more. I had a lot to say about the limitations of a 30 minute study and the designation of one-minute intervals, which are too long...but I won't get into that here.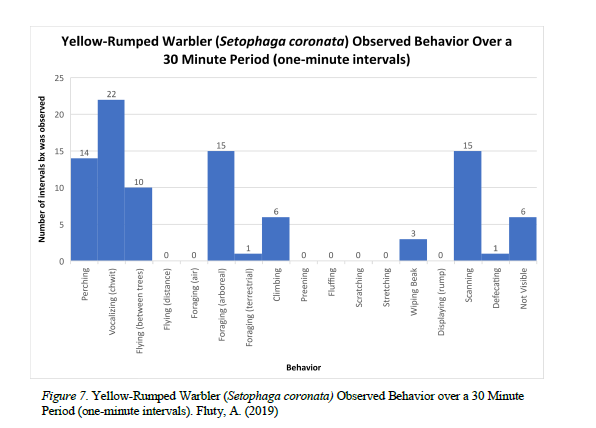 All in all, I am feeling much less stressed than I was this time last week. And even though I feel a did partially squander an opportunity to really nerd out on my warbler, I am grateful I had the opportunity at all because this is the type of work I had in mind when I decided I wanted to quit being a therapist and go back to school. I mean, an excuse to study a bird and get class credit? That is a dream come true for a little bird nerd like me :3
If you made it here to the end, wow! and thanks for reading. These longer, more rambling posts are the ones that really help me get stuff off my chest and out of my head. If someone finds them entertaining or interesting, that is just a really awesome bonus.