Tom The Handy Man
We bought a little house near Tulsa Oklahoma, it has a 1/3 of an acre, which translates into a huge backyard. I got a great deal because there are so many things that need to be replaced or removed. I knew there would be surprises, things that might happen, plumbing, heating, cooling, all I knew about before I bought the house. I will have to replace the windows, new 3tab for the roof and build a privacy fence around the backyard.
Today I hired a local fencing company that also builds patios and everything to do with the outside of the house. The company is called "All About The Outdoors." Tom is the owner, and you can tell by his huge hands, missing a couple fingers he has worked hard all his life. My favorite people to hang around are folks that work the trades. Tom also owns a farm, grows a garden, cans, has cattle and horses. I'm from Oregon, but we could be cut from the same cloth, we both grew up rural and know hard work, the indifference of nature, and living close to Mother Earth.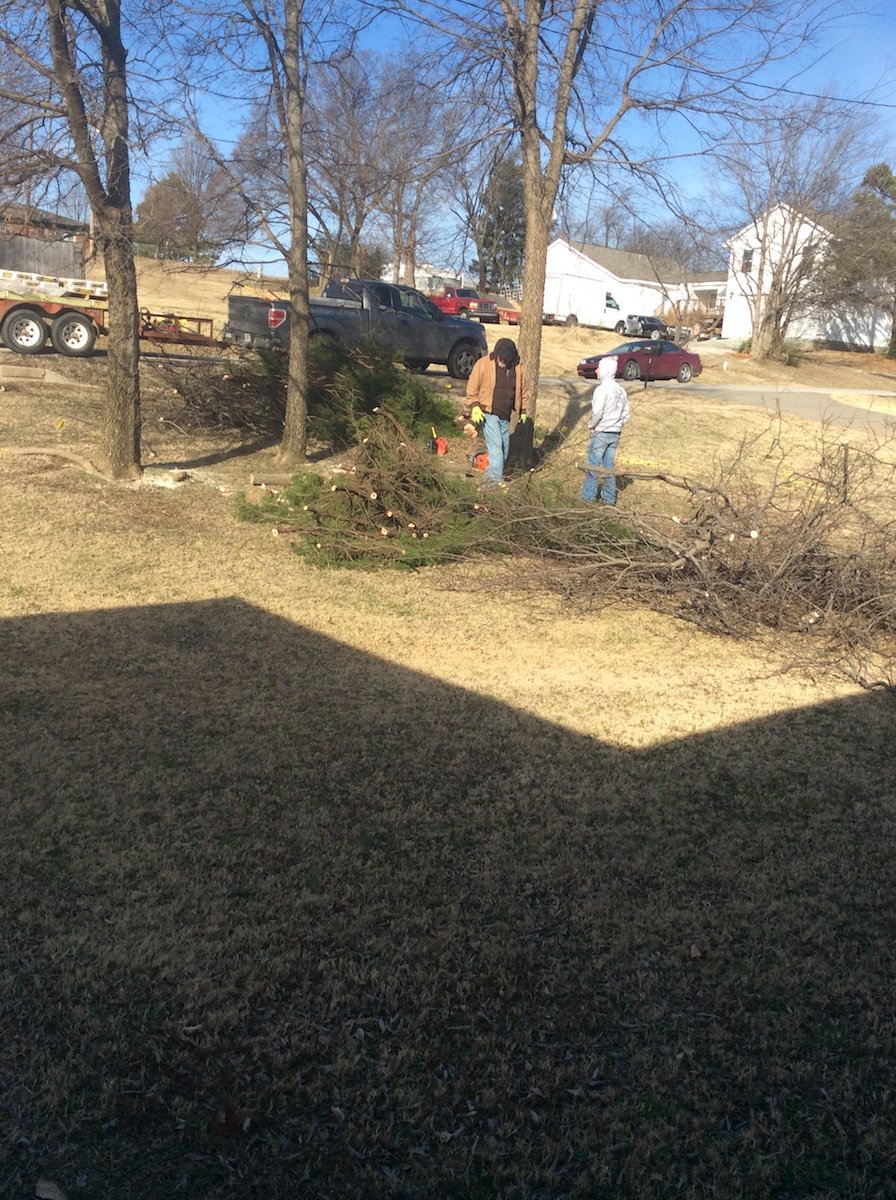 All the trees in my front yard will be cut down, stump ground down and in a couple years, I will plant a garden in my front yard as well. I have to leave the ground alone after the trees are cut because a chemical is used to kill the roots and will prohibit plant growth.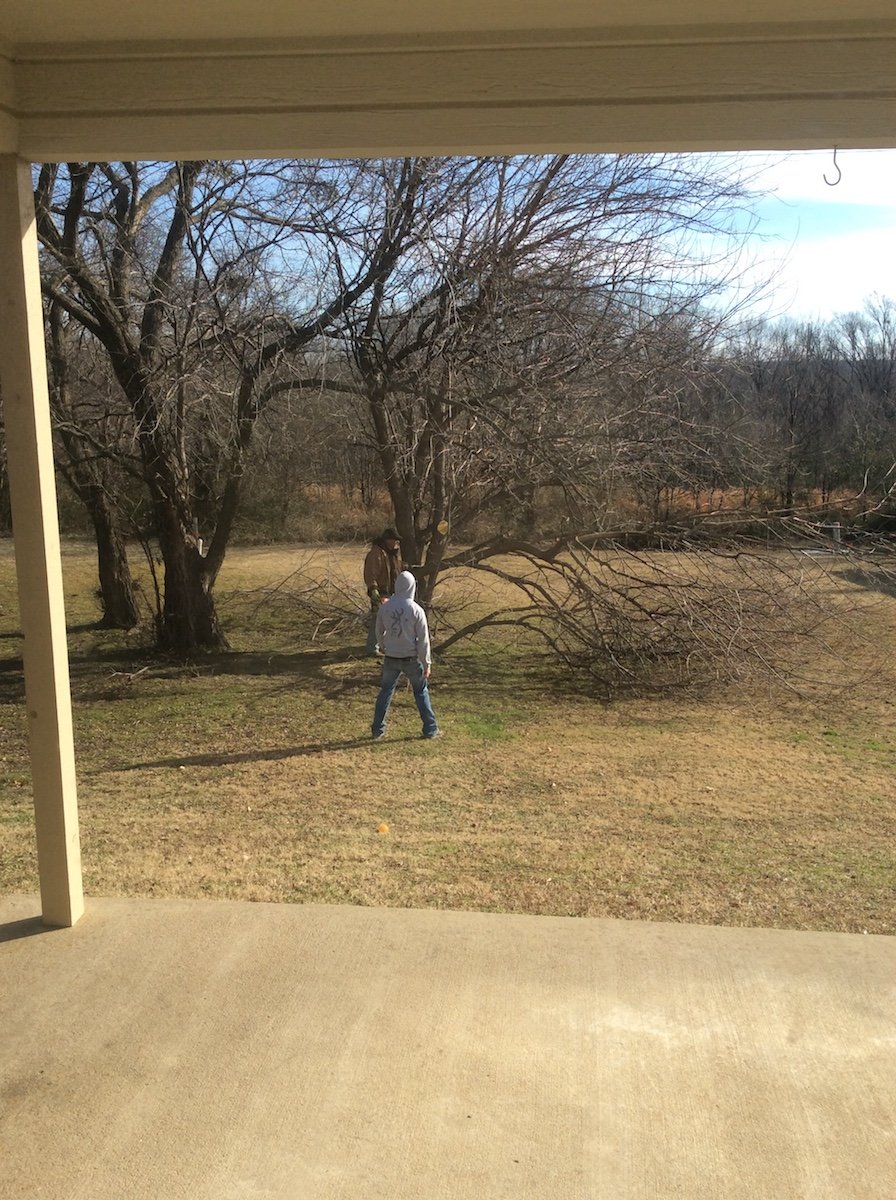 Our backyard trees are going down as well. I will have a small in-ground cistern installed that will collect the groundwater that gathers in this wet area for watering the garden. We are also putting up gutters that will collect water for other cisterns located at the downspouts.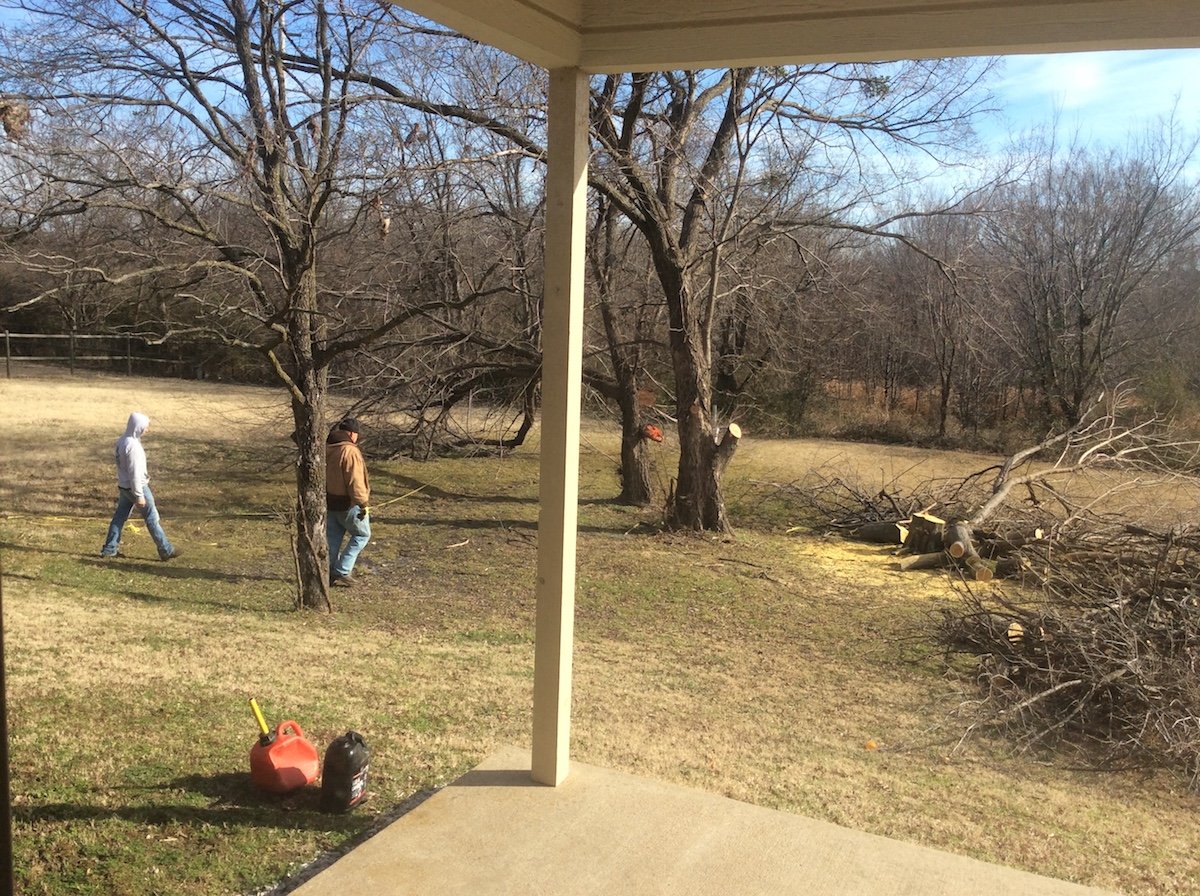 Looks like Tom got his chainsaw in a pinch and will have to use a wedge to pull it out, poor guy, I hate that when this happens. I grew up in Oregon, and I have seen just about anything that could go wrong falling trees. This is one of the most dangerous occupations in the world.
As I finished up this blog I went to check on how Tom is doing cutting down the backyard trees. Looks like he got his chainsaw back and is about to cut down the last tree.
Sudden Release Of Water Is Covered by Farmers Insurance!
Wow, what a relief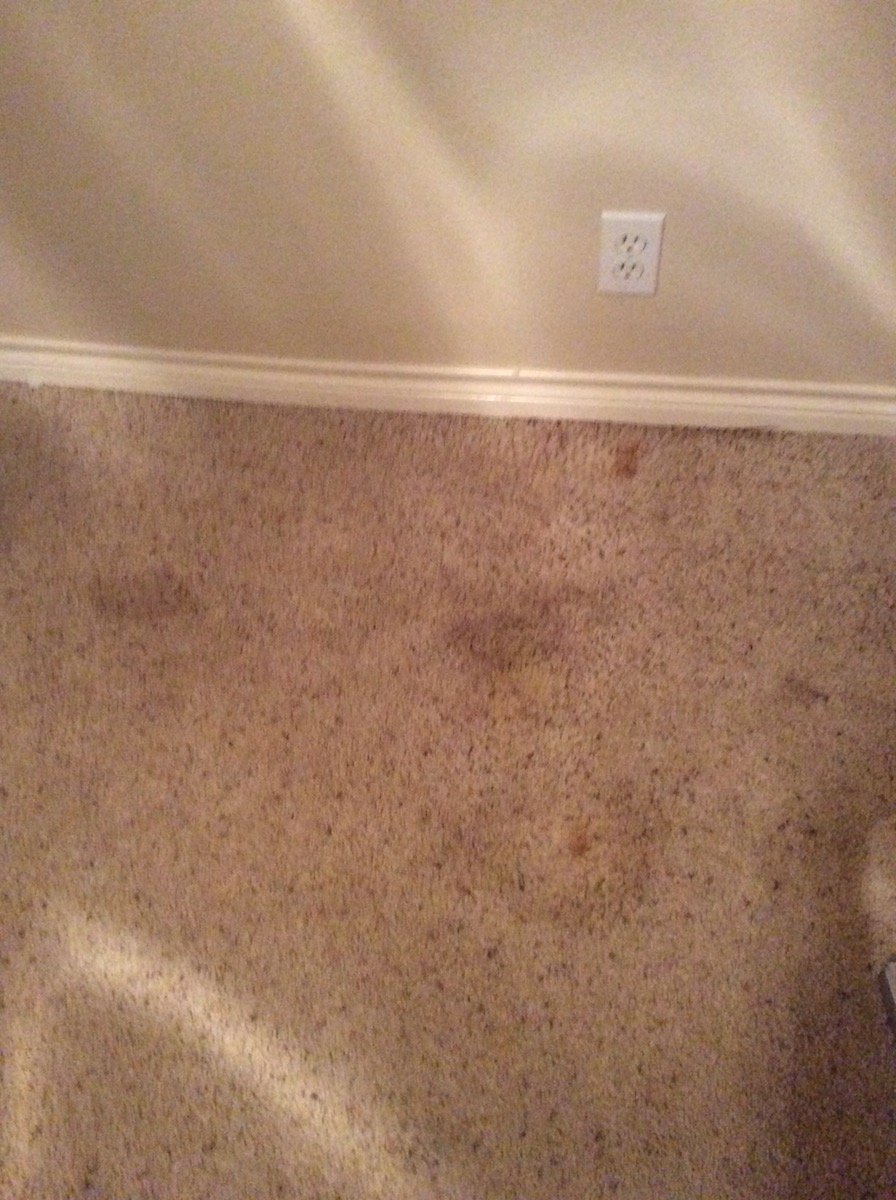 Rescue 247 Restoration
Although Jason the plumber didn't work out the people he suggested to dry out our bathroom and rugs were awesome. The crew consisted of retired local firemen and their daughters in their late teens came along to help set up the fans and dehydrators. Another awesome group of tradesmen that also had farms. The two brothers that ran the business, Mike and Mark, I call the M&M brothers were fun to work with, professional, on time, and super organized. When they were in my house, there was lots of laughter, both could be stand up comedians.
1. The sudden release of water from our master bathroom happened two days before Christmas, the worst time for an emergency. We noticed our carpet in our master bedroom was damp, and the dampness was spreading quickly. Thankfully I was able to get AAA Advanced Plumbing out to diagnose the problem. The owner's name is Jason, he is in his 30s running his own business and supporting a young and growing family.
Unfortunately Jason didn't work out although he helped diagnose the problem and helped us through the maze of House Insurance paperwork. Jason was looking for a slab leak and misdiagnosed the real problem which was a sudden release of water from our bathroom sink's drain pipe. He also had a hard time staying on task, leaving without telling us, taking 1/2 hour phone calls and was brutal when removing the bathroom cabinets. We did not ask him back when it was time to hook up our plumbing to the new cabinets that were installed after the bathroom was dried out and the holes in our drywall were fixed.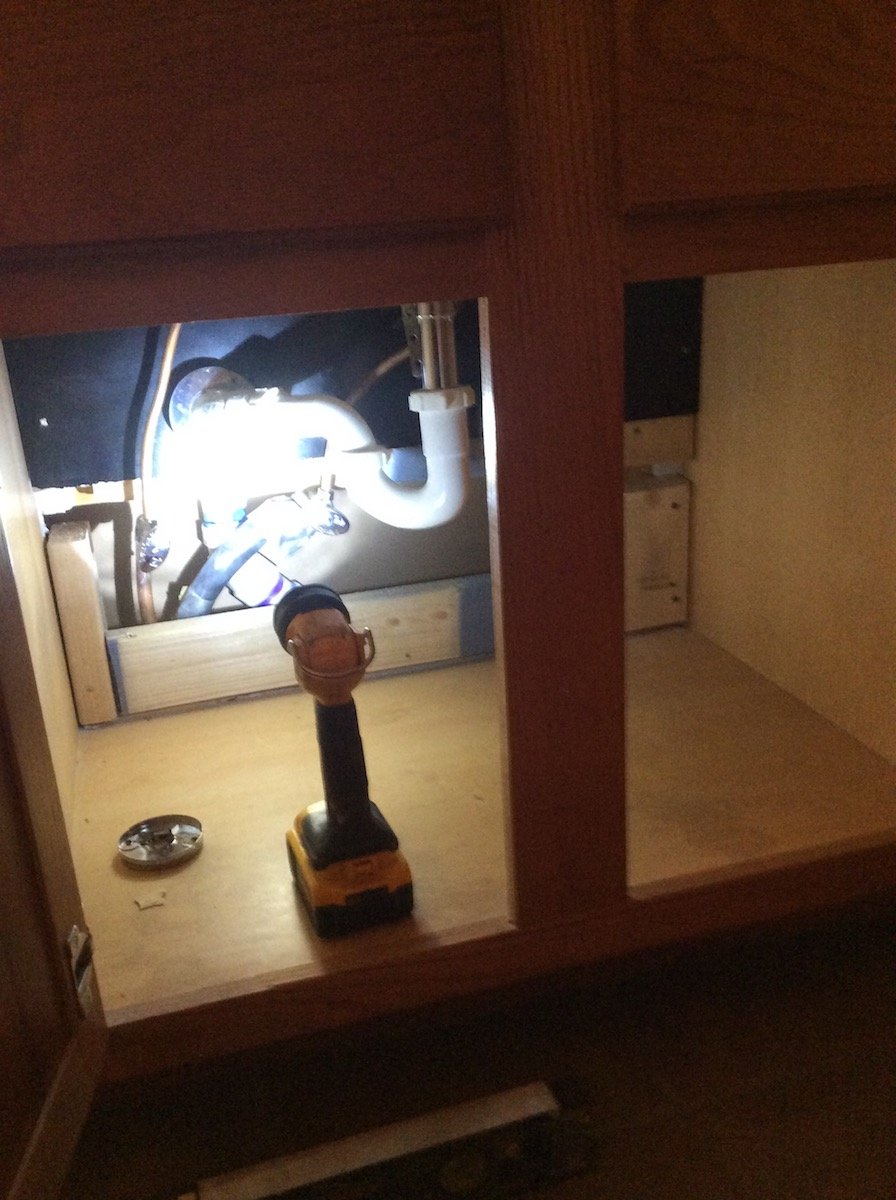 2. Yep there is a leak but we don't know where it is, time to tear out the cabinet.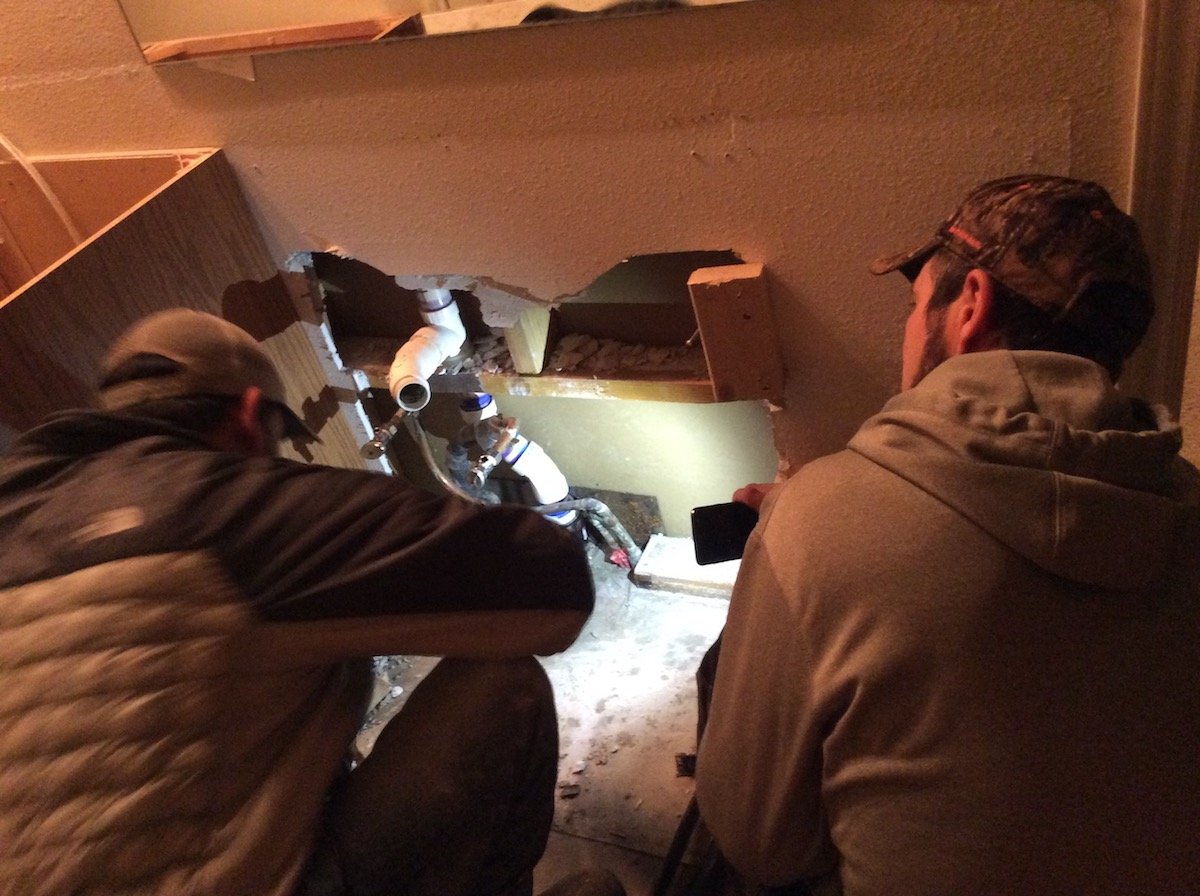 3. Jason checking out the plumbing.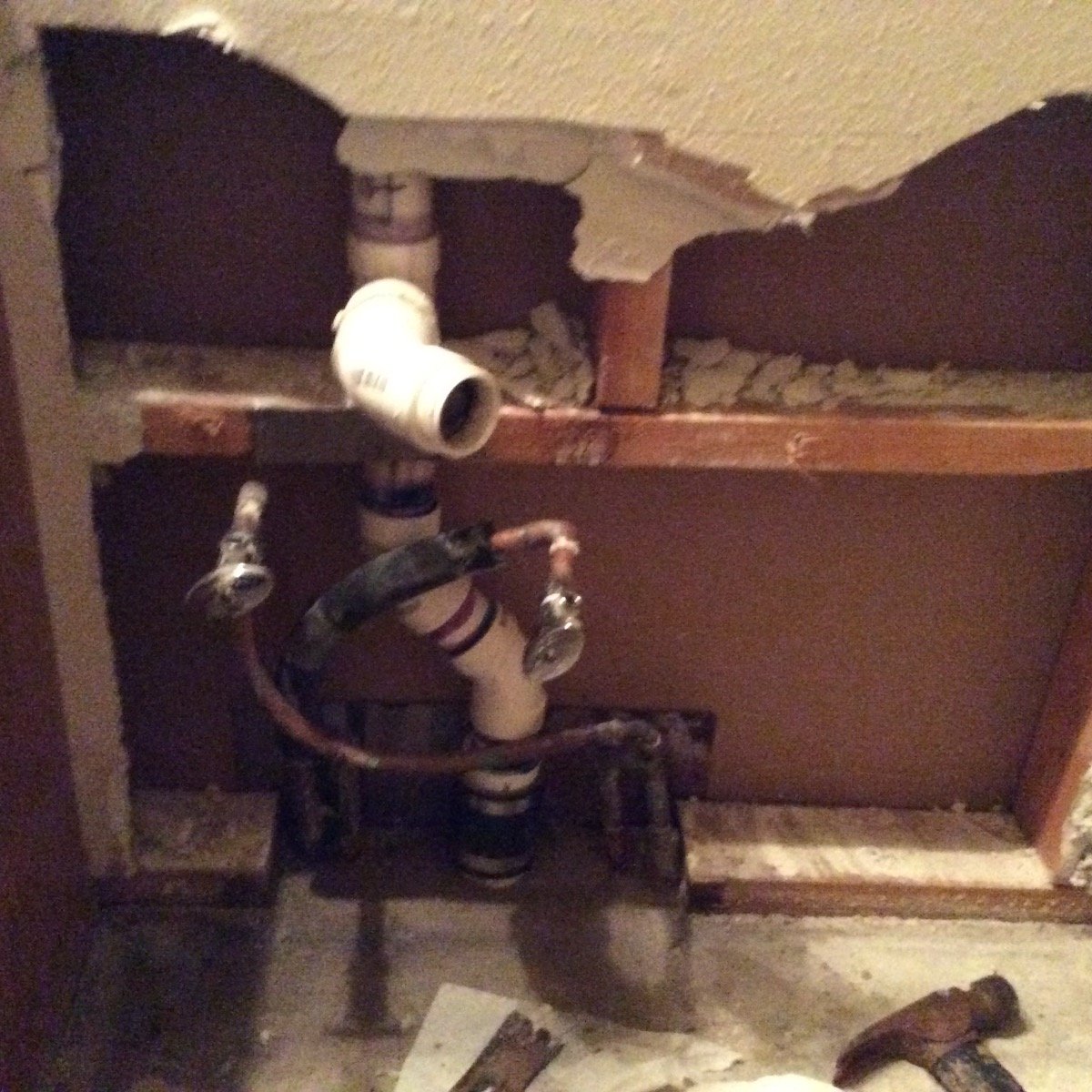 4.We couldn't see where the water was coming from. Diagnoses was a slab leak.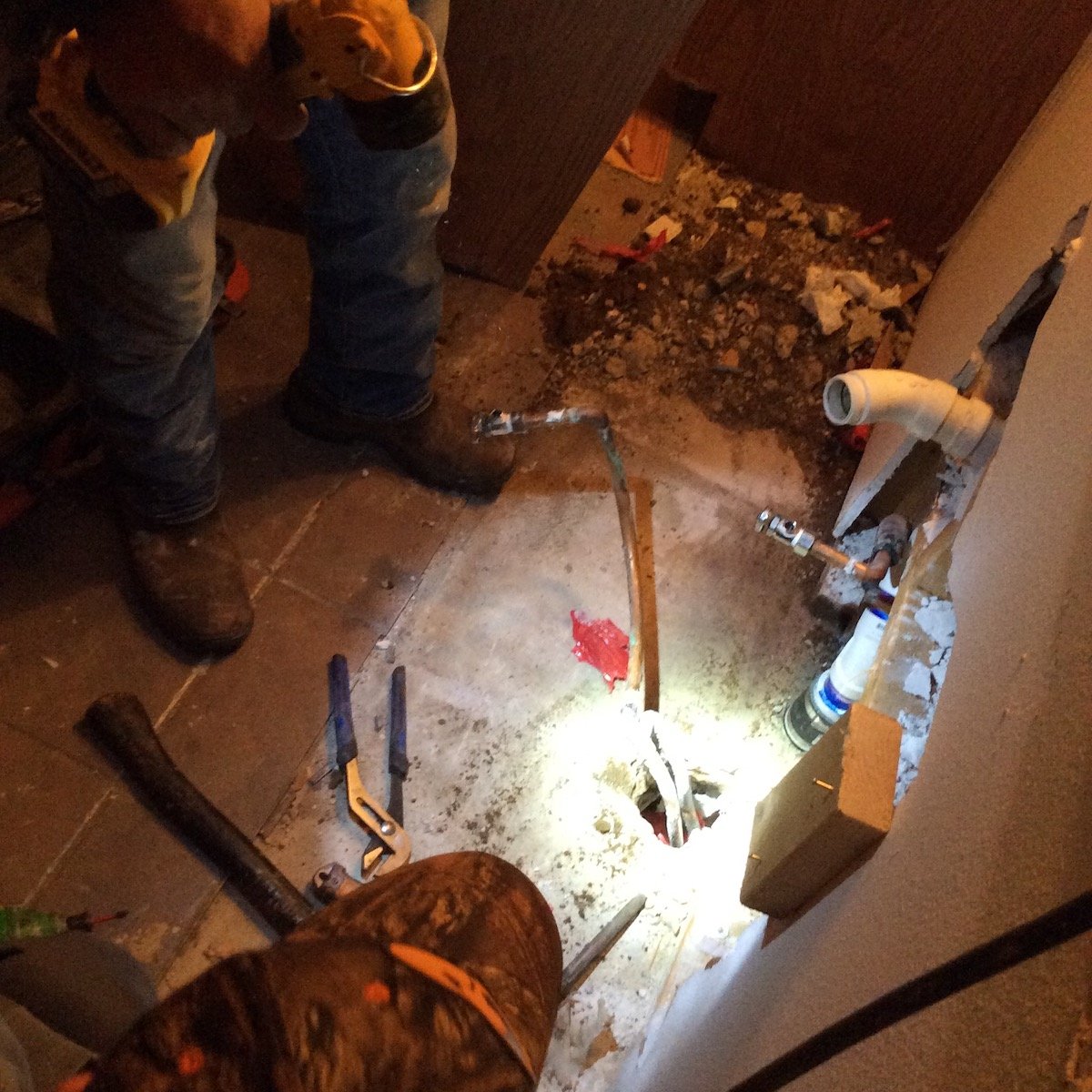 5. Jason dug through the cement and tested for leaks in the pipes that ran under our house. He couldn't find any leaks that night, packed up his gear and come back the next day. Water was turned off outside of the house. What's cool is our insurance would of covered our out of pocket expenses if we needed to spend the night at a hotel. I have stored water and we decided to stay home.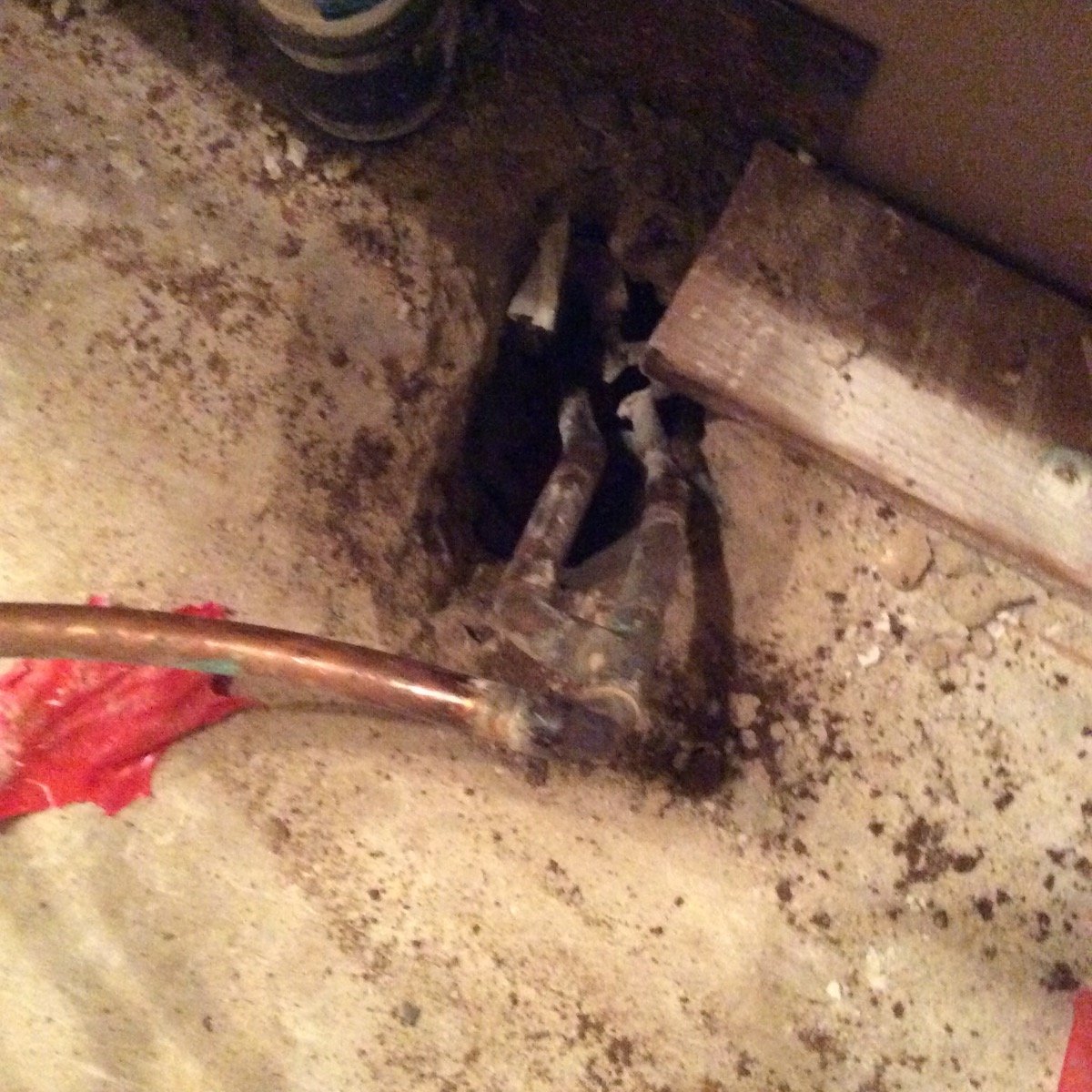 6. No leaks here although the cement is wet.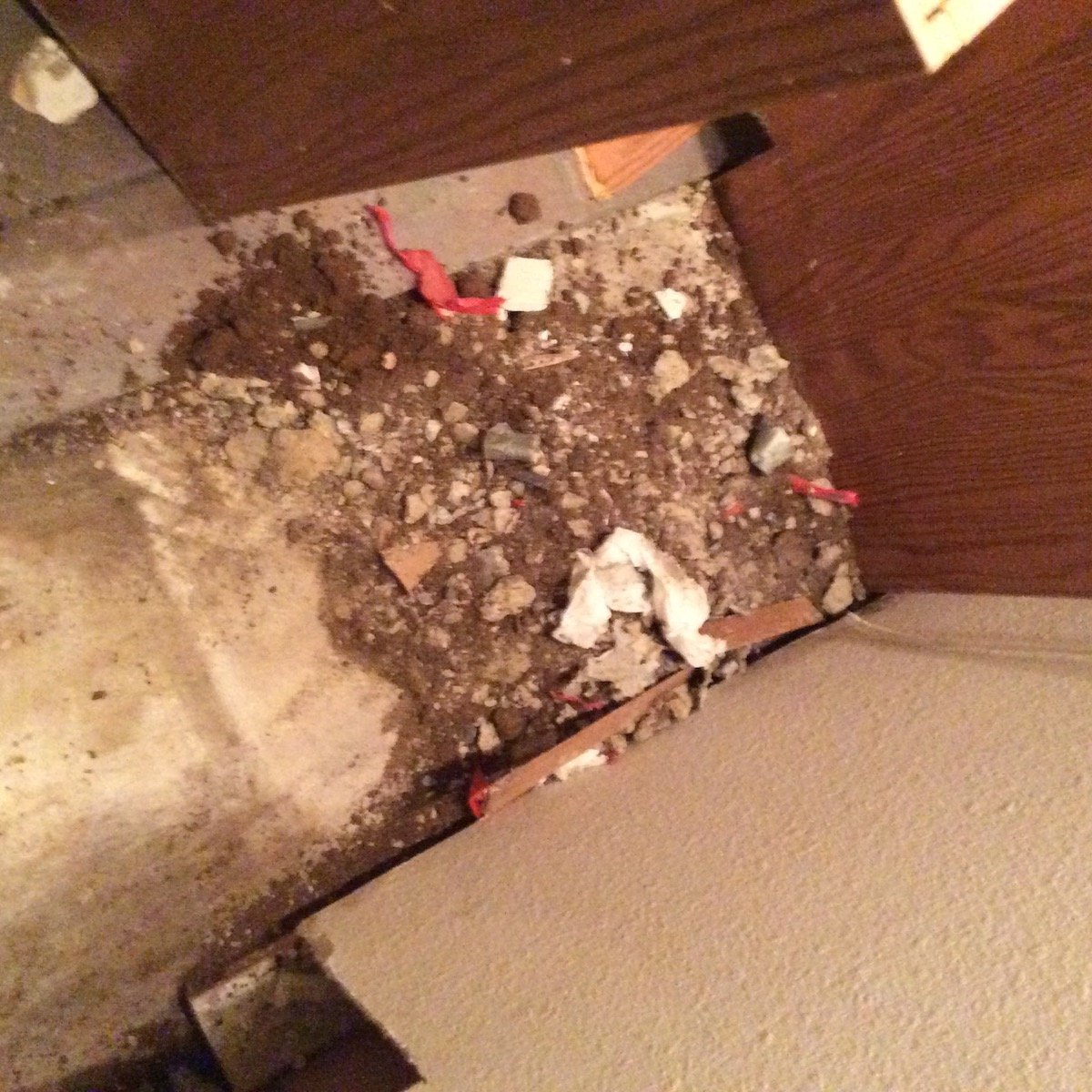 7. What a mess! The next morning Jason came back and turned the water on, we noticed the drain pipe had a lot of water surrounding it and there was a slow leak from the hot water spigot. We all breathed a sigh of relief, no slab leak, which would of meant replacing a pipe under the houses cement slab. Jason cleaned up the mess, replaced the drain pipe and patched up the hot water spigot.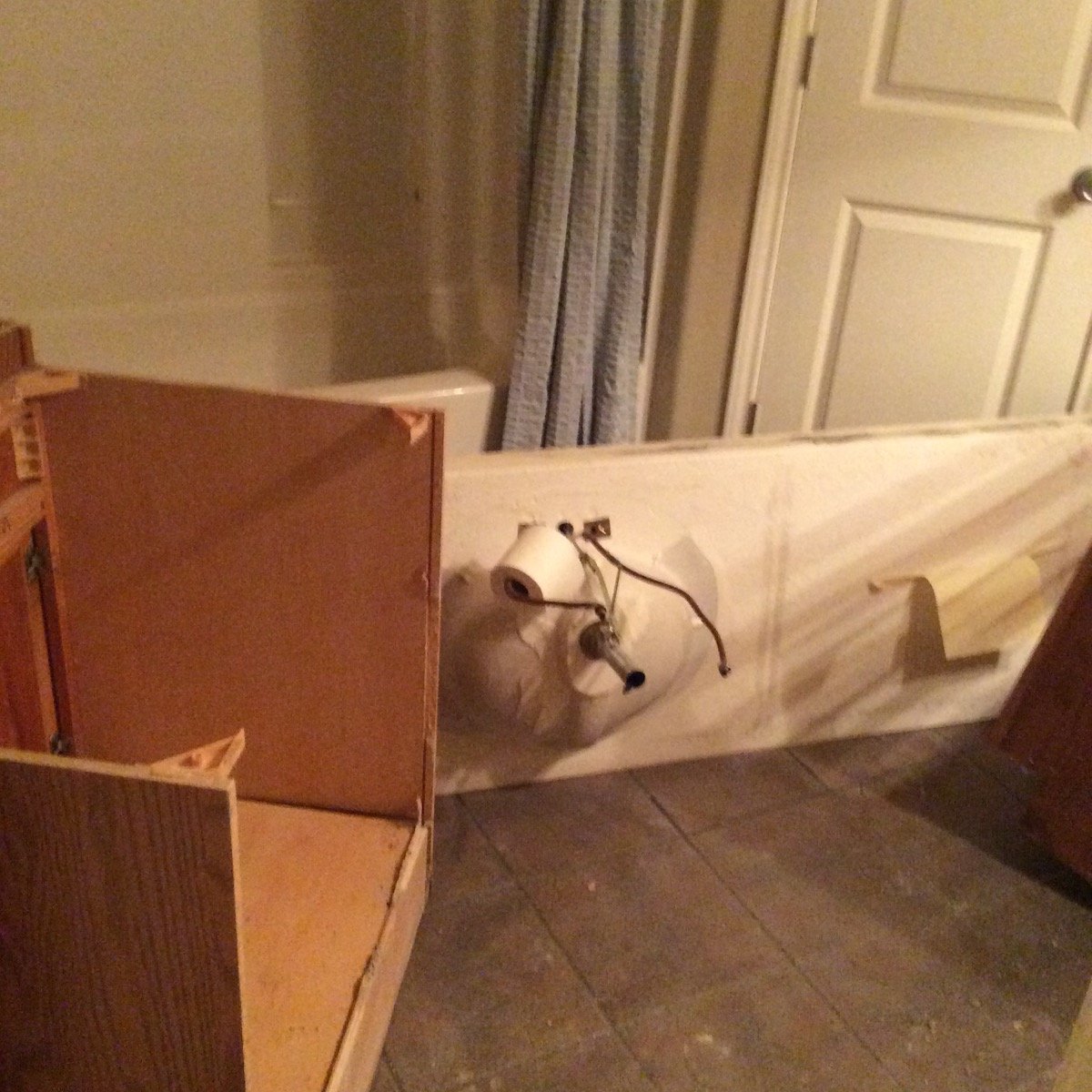 8. Bathroom counter pulled off and laid up against my closet door. Thank goodness I had extra clothing that still needed to be unpacked. I couldn't get into my closet for about a week!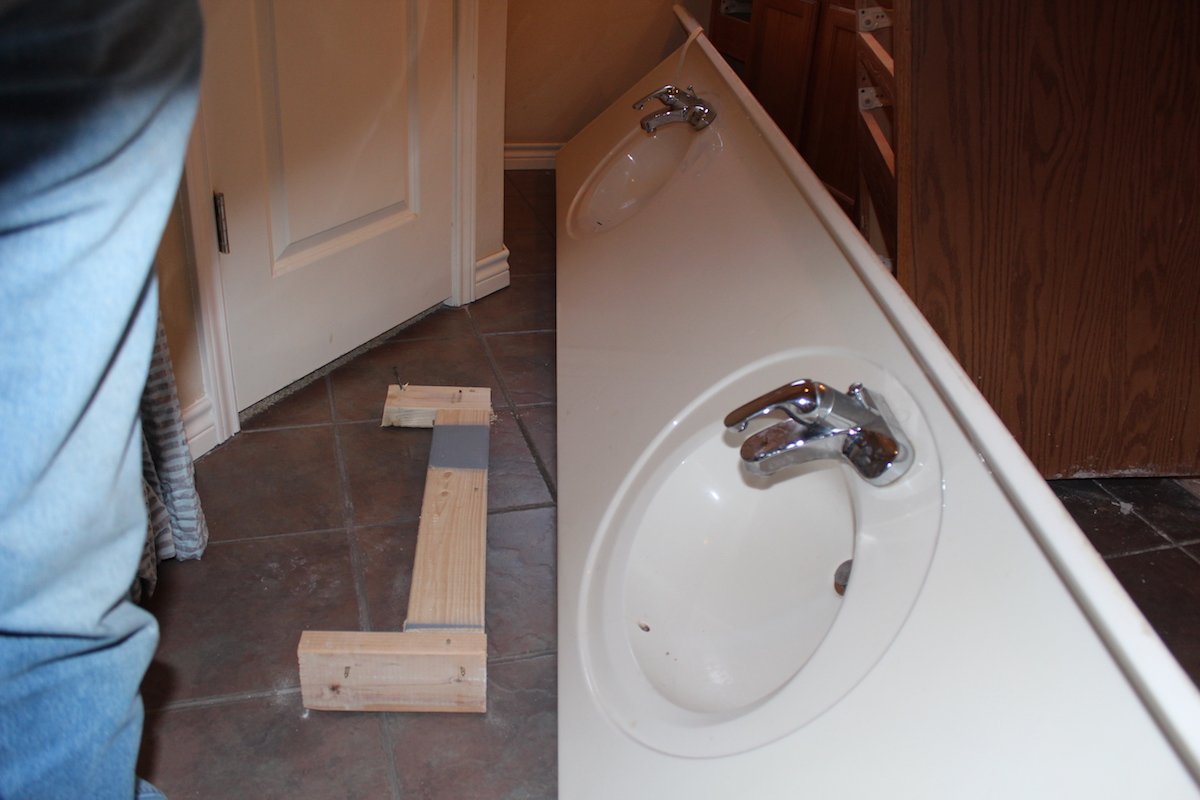 9. Jason called his favorite restoration crew, "Rescue 247 Restoration," should up that day, checked out the problem and set up their dryers and dehydrators that day.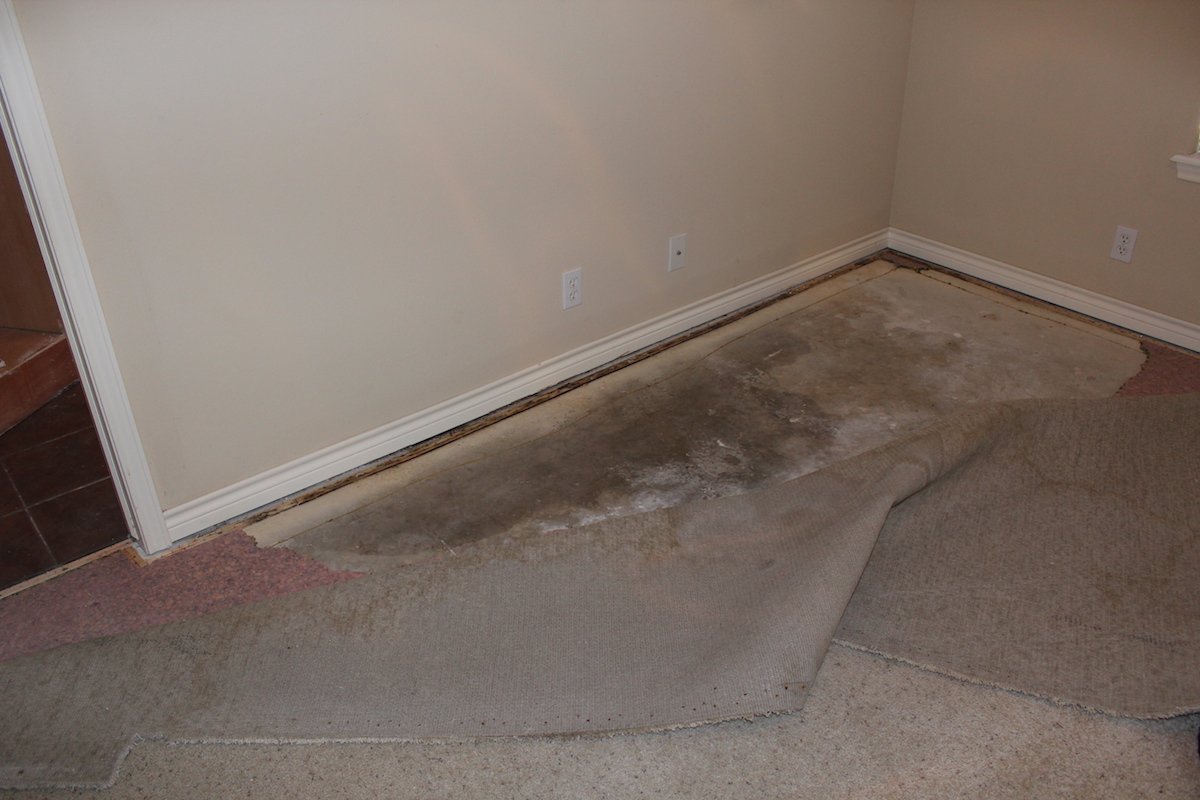 10. The padding in my master bedroom was soaked but we caught it just in time, it only soaked about a quarter of our rug and padding.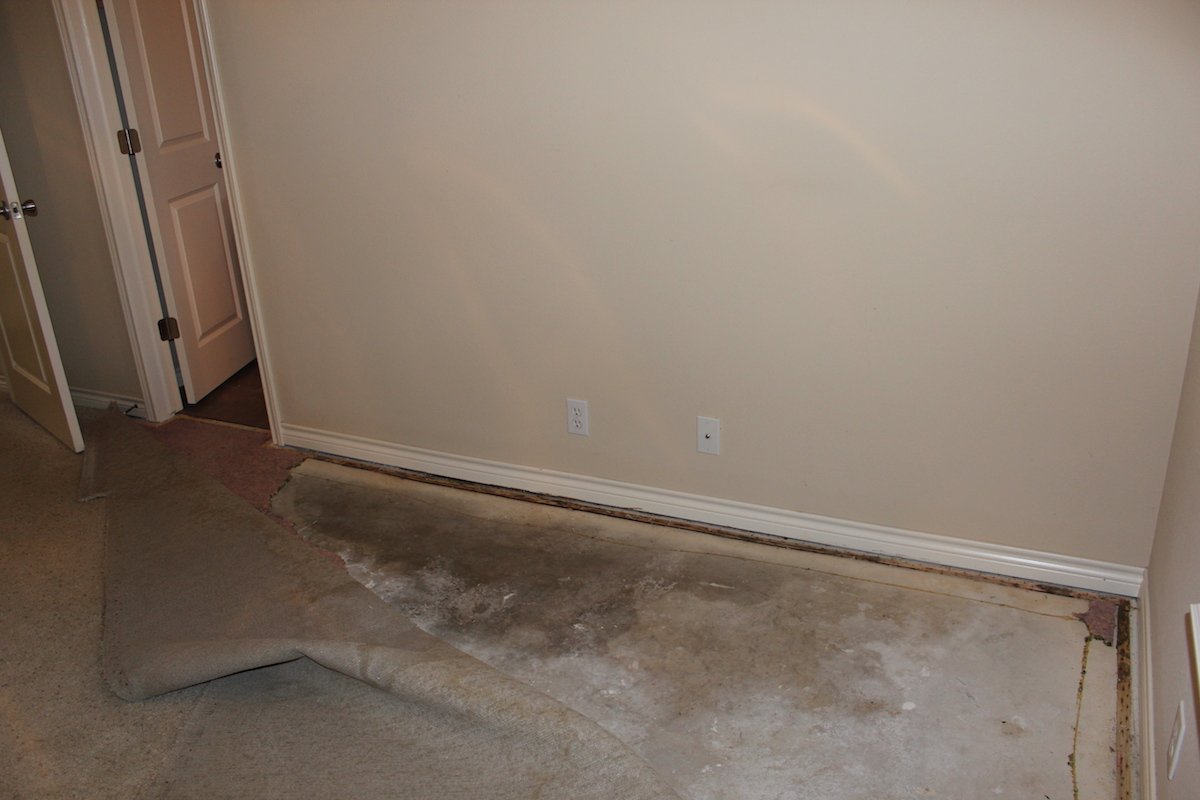 12. The cabinets were made out of particle board, the cheapest kind of cabinet you can buy! Also particle board soaks up water and does not stay in shape when drying out. Also damp particle board is a favorite place for all kinds of mold and fungus to grow.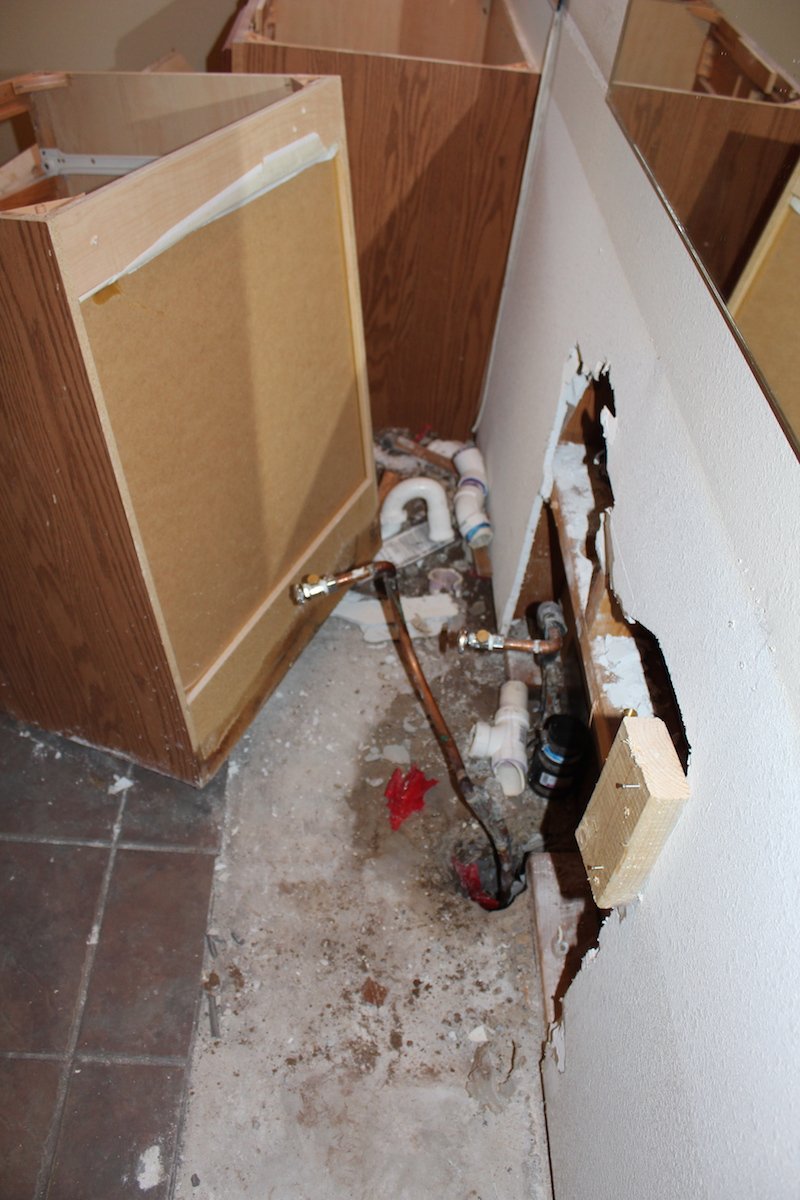 13. Yep its the drain spout that released the water, thank goodness it wasn't a pipe under the slab. If I hadn't had a sudden release of water and just a slow leak insurance wouldn't of covered any of the water damage or labor involved restoring our bathroom. There is always a silver lining surrounding a black cloud.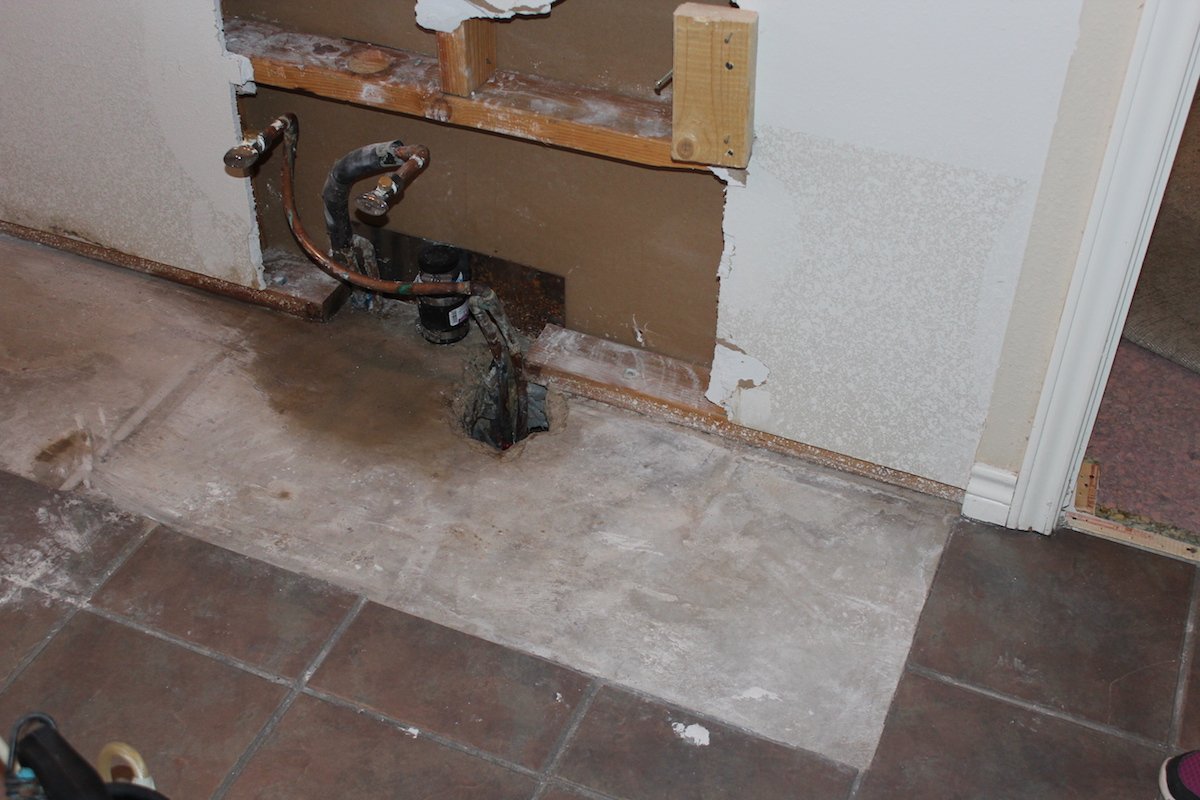 14. Rescue 247 Restoration company setting up their dryers.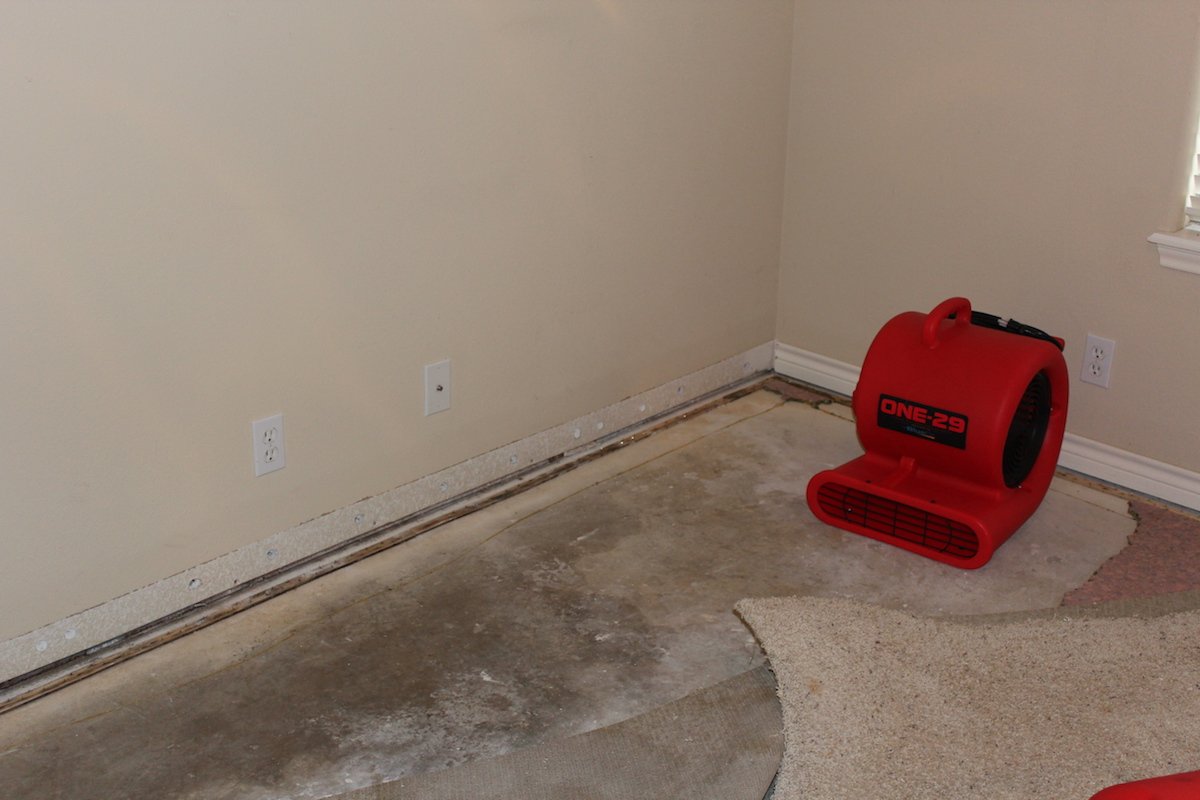 15. Between the fans and dehydrator Mike completely dried out our bedroom rug and bathroom. Plus this only took 3 days!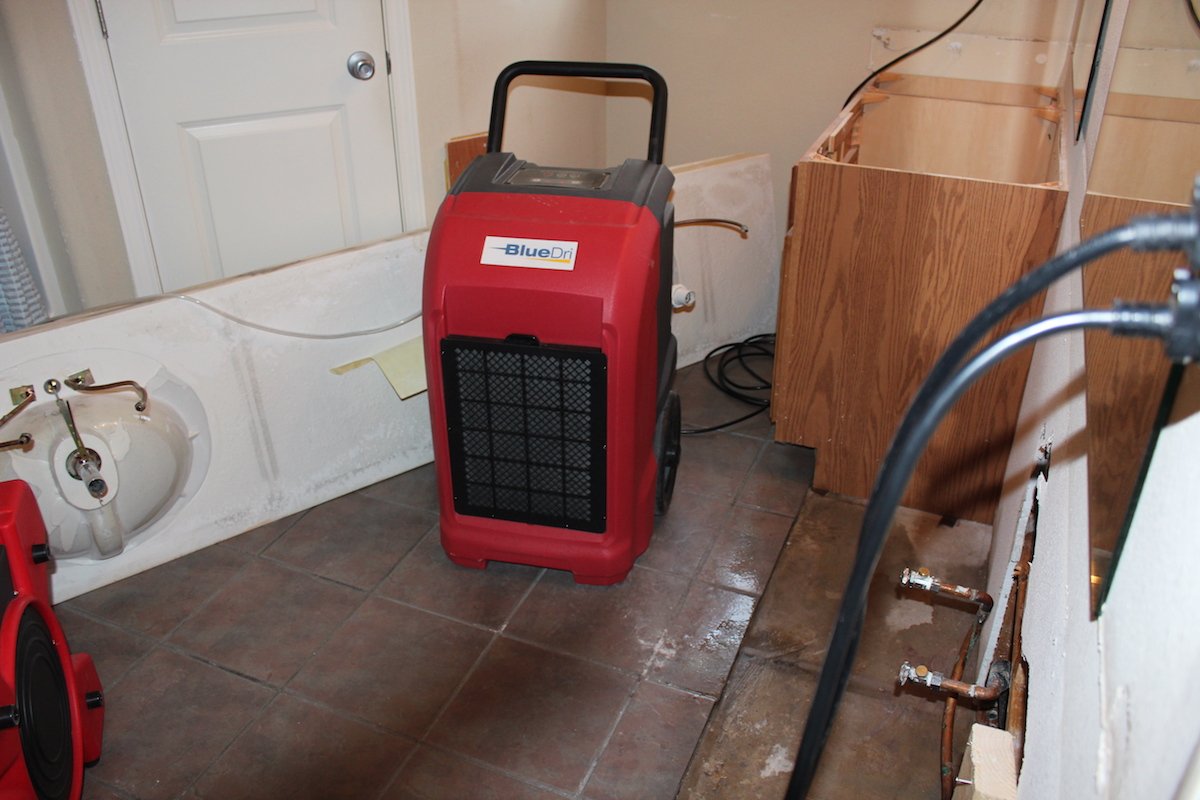 16.I couldn't believe how fast the fans dried out the mess!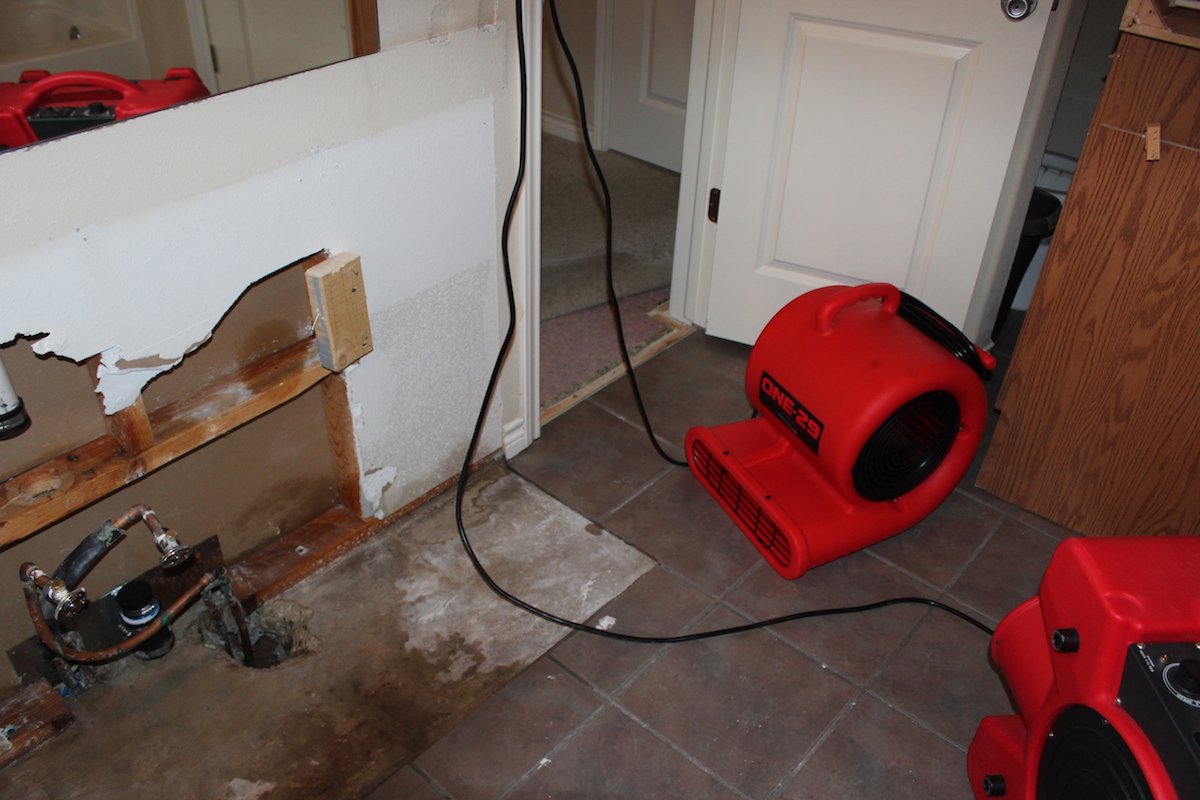 17. Thank goodness we have two bathrooms in the house! We had the water turned back on and could use the 2nd bathroom, which has a sink, toilet, shower and tub.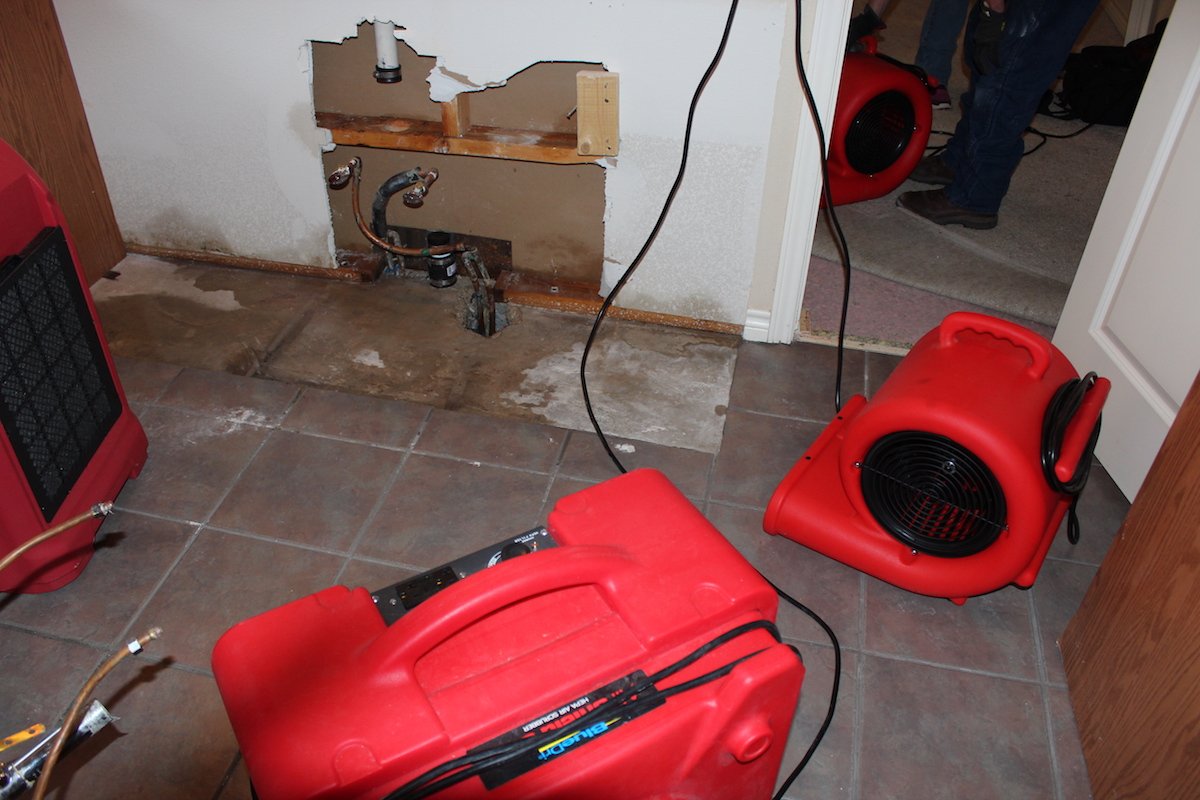 18.Mike and Mark worked their magic, the bathroom is clean and walls repaired. These two brothers grew up on a farm and not only can they save you from a fire, clean up messes, but they can drywall and instal cabinets. I forgot to mention the restoration crew sprayed the bathroom and bedroom with an anti-fungal chemical as well. Fungus and mold are not only bad for the structure of your house they can ruin their health.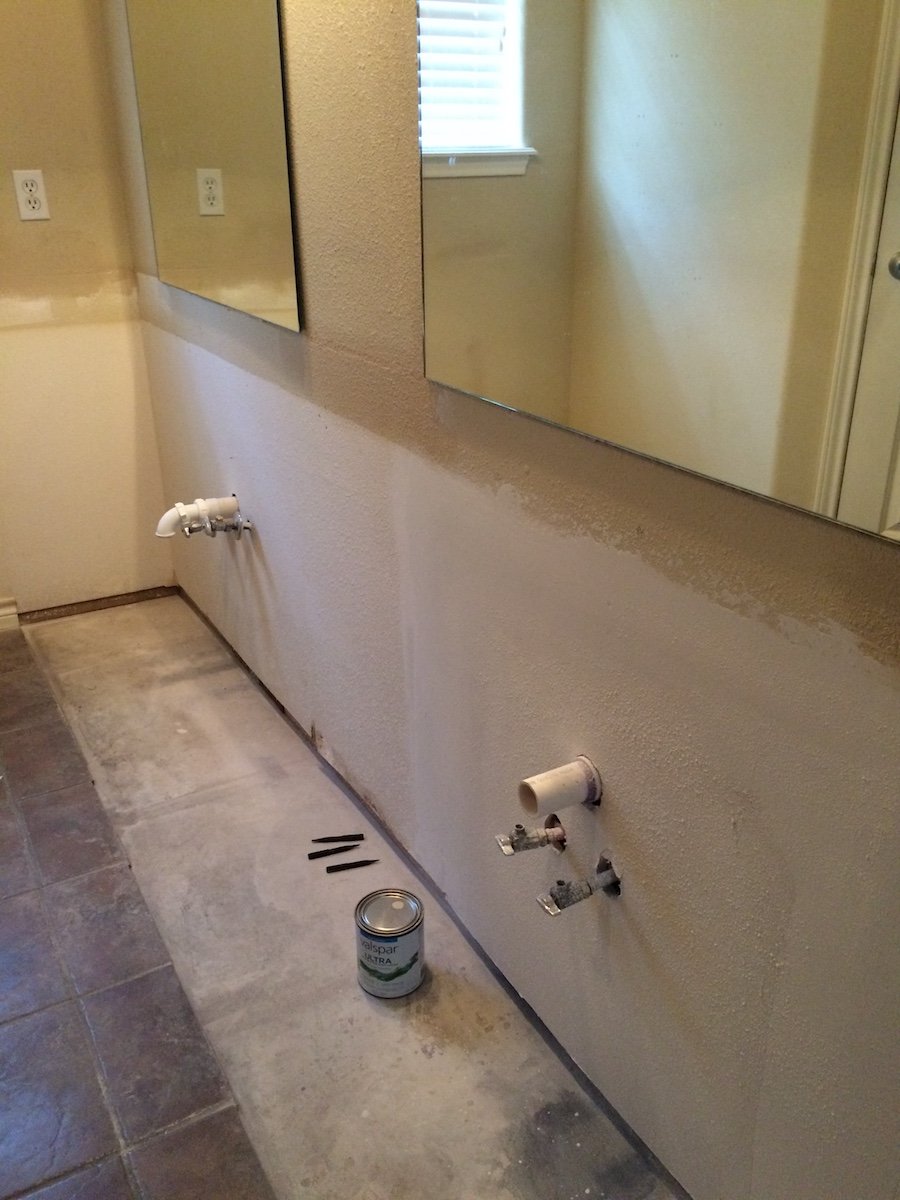 19. Our new bathroom cabinets arrived, no particle or chip board here, solid maple faces with a plywood body. Smells like real wood to me!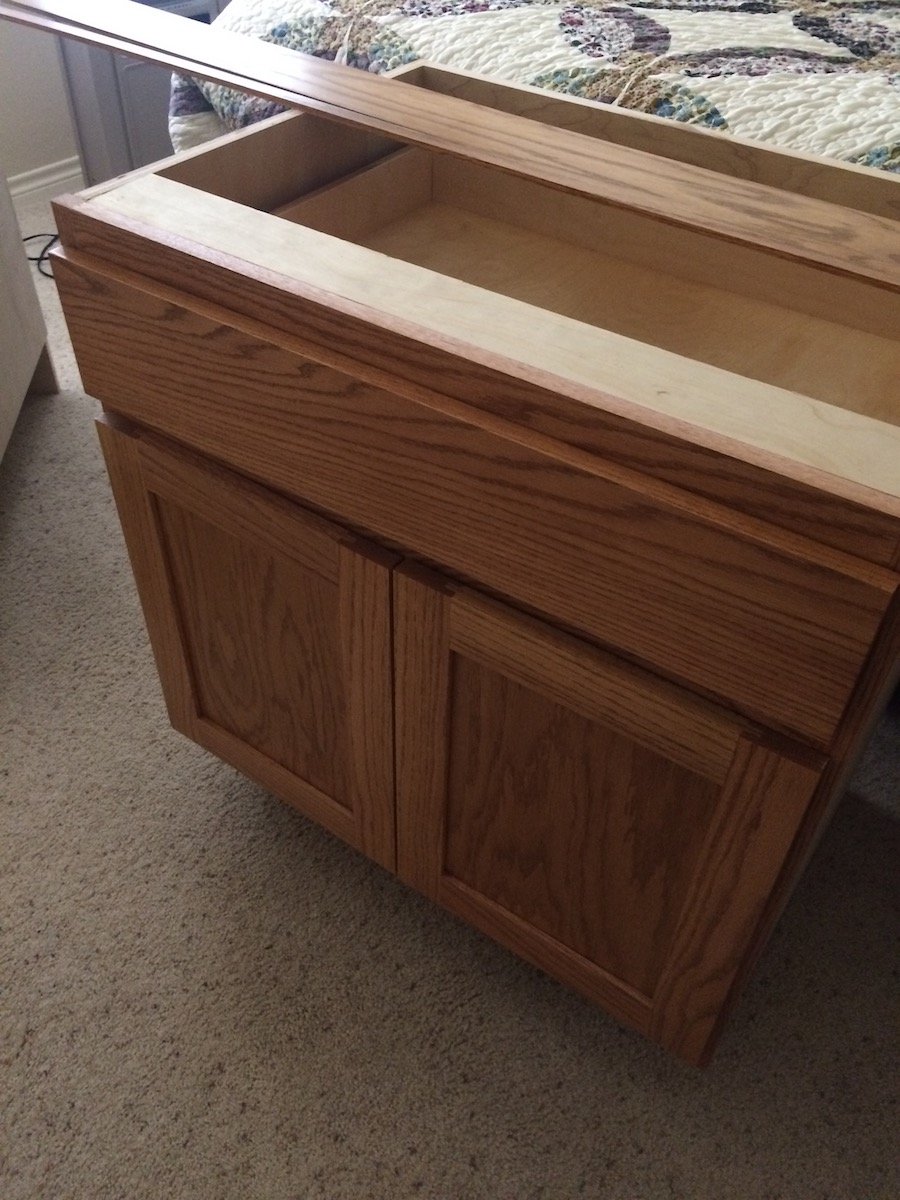 20.Mike hired local plumbers from Wooten plumbing and they hooked up our bathroom faucets in less than an hour. Installing the cabinets took several hours. They were 1/2 inch too high and the base had to be cut down so they could fit under our mirror.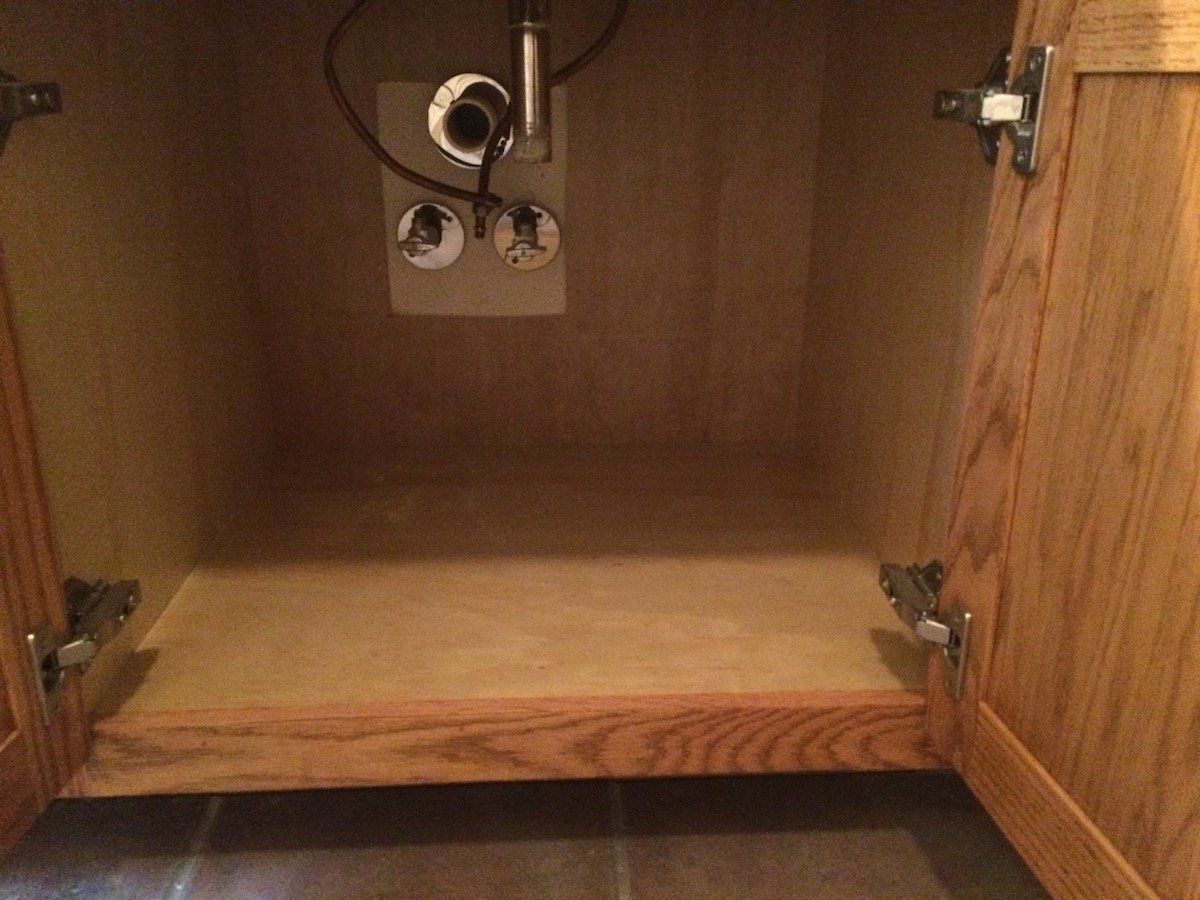 21.Plumbing fixed, walls repaired, everything is working great. I just got my bathroom remodeled. Cost me around $1000.00 from our insurances deductible.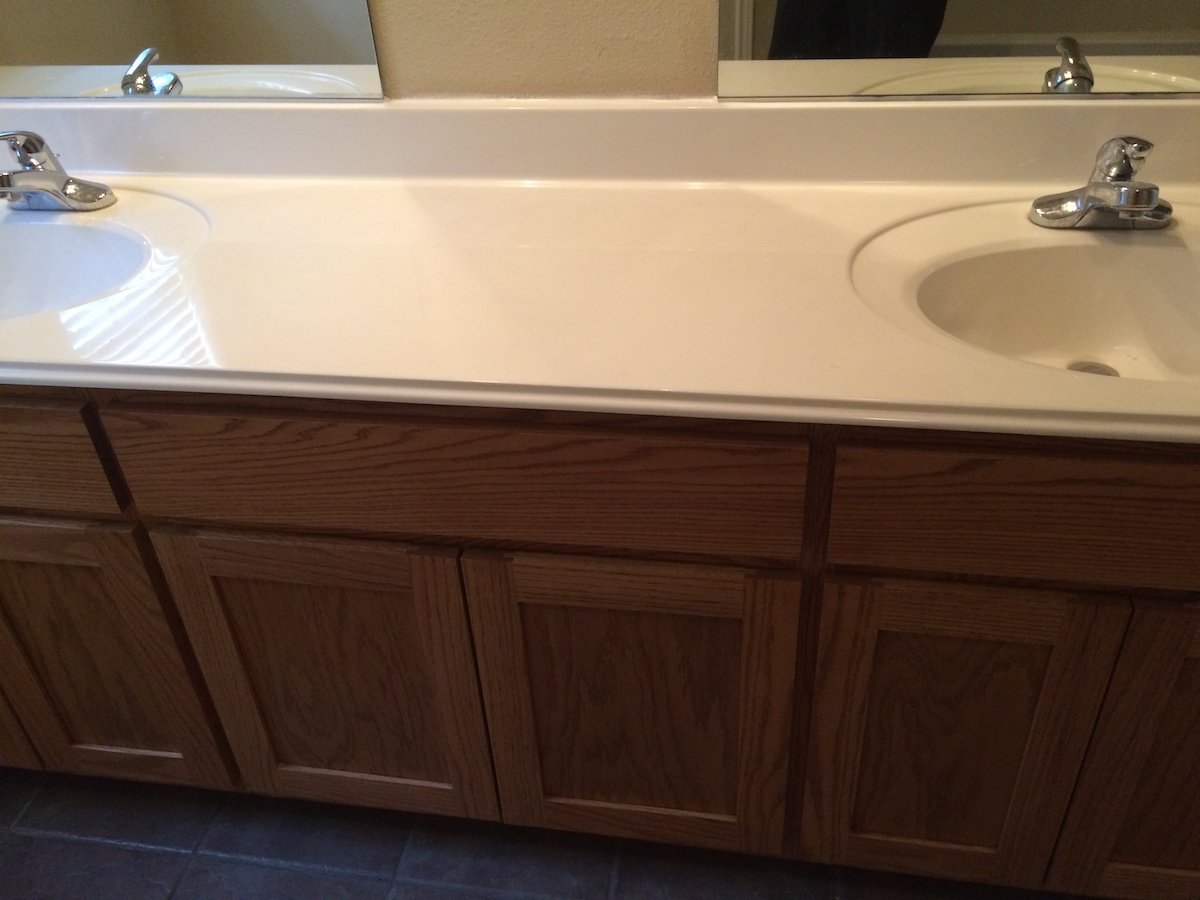 22.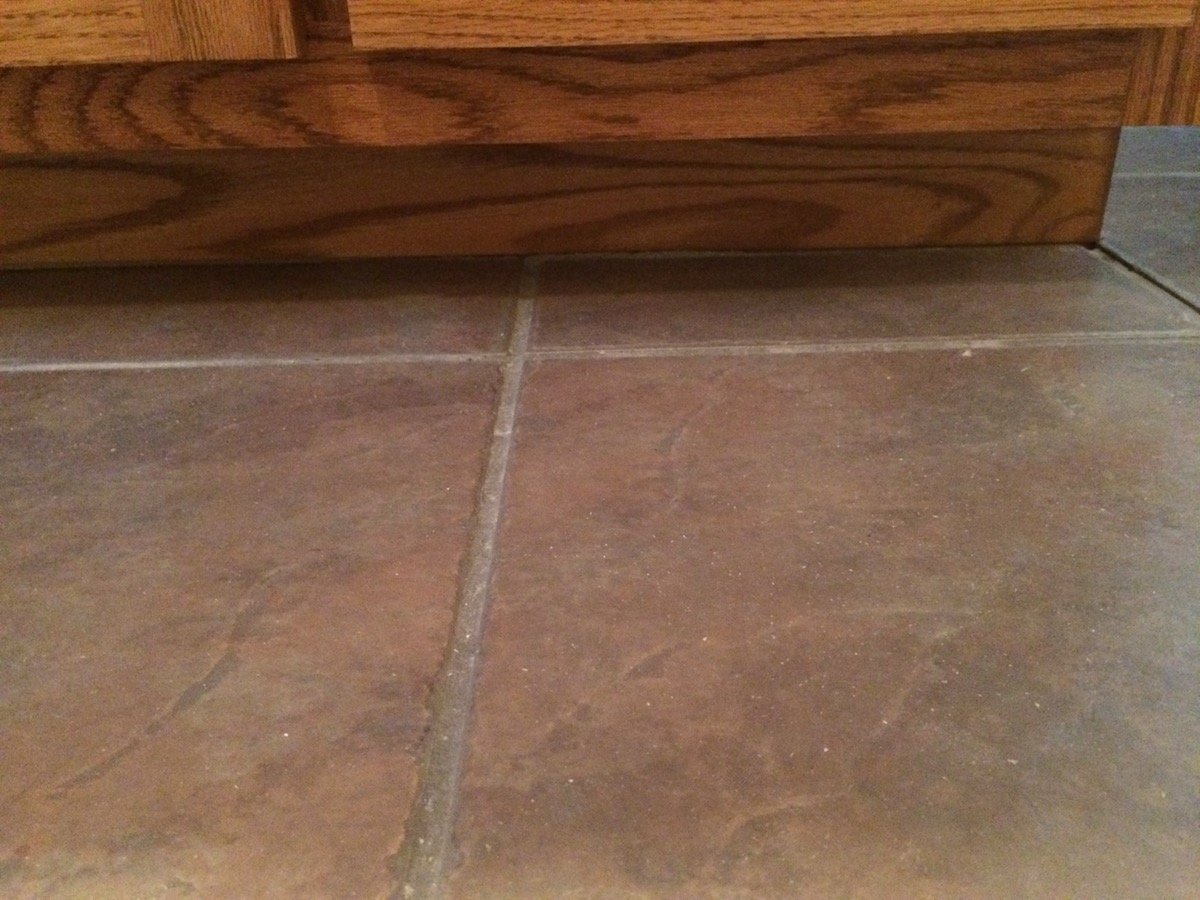 23. The crew didn't damage my tile and everything lines up, Yeah!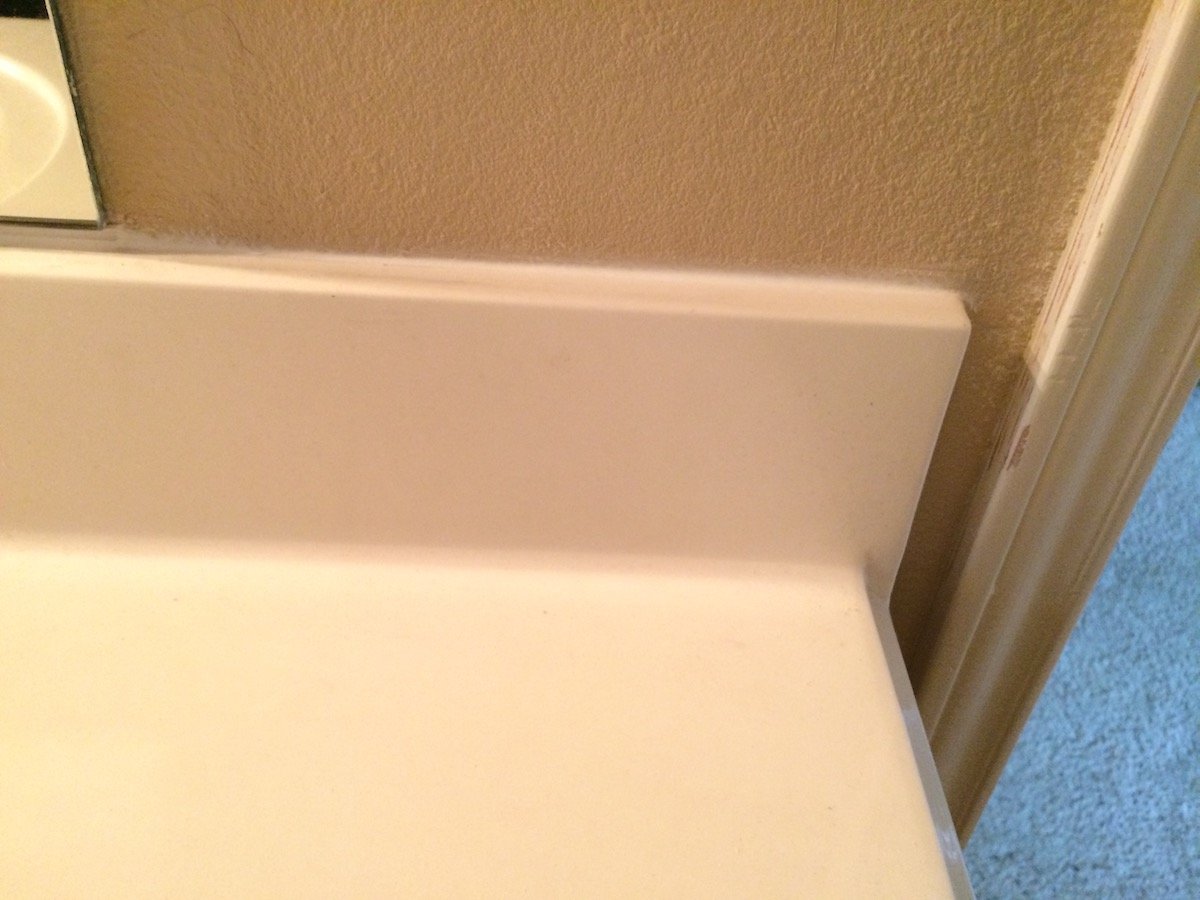 24. Counter has an even keel, paint matches and the sink and mirror line up perfectly.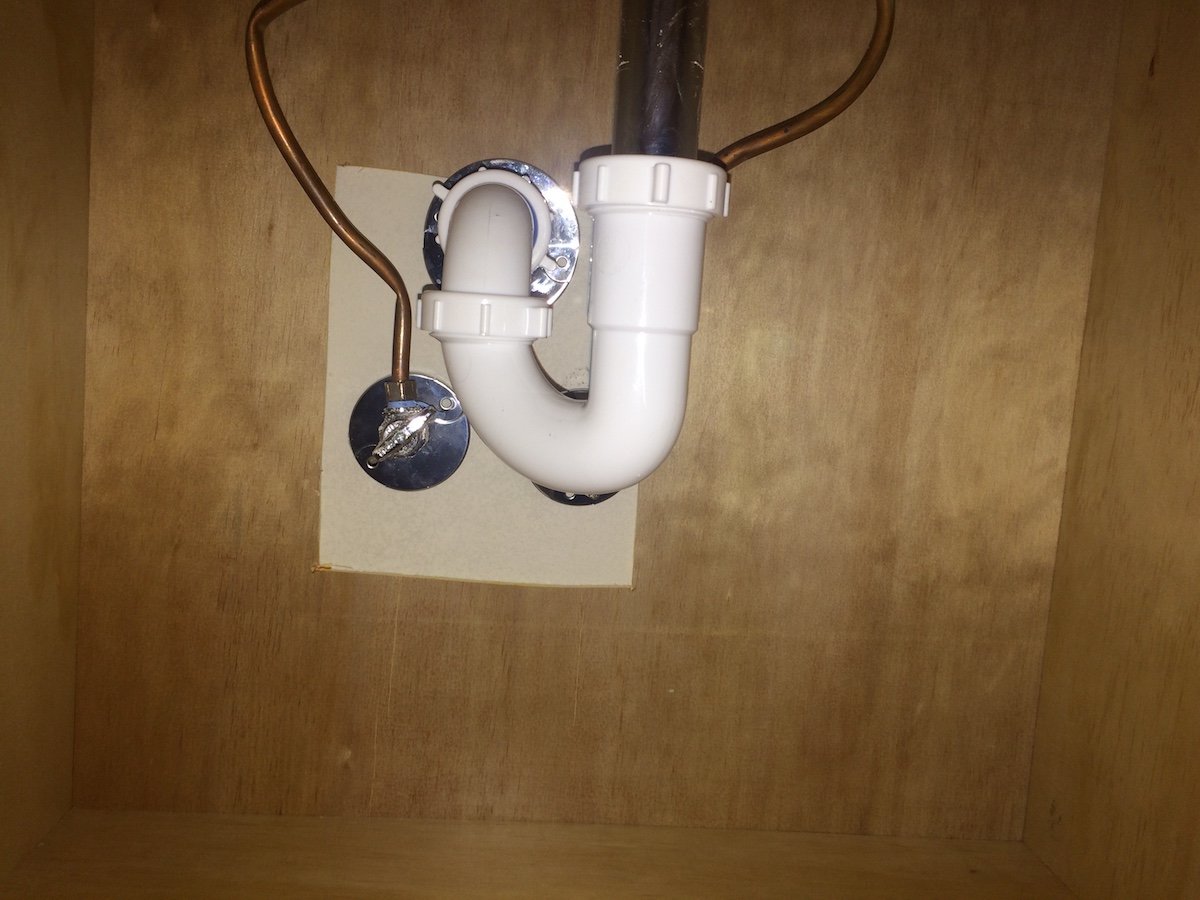 25. Look at how neat the plumbing and new cabinet cupboard look. I am so pleased.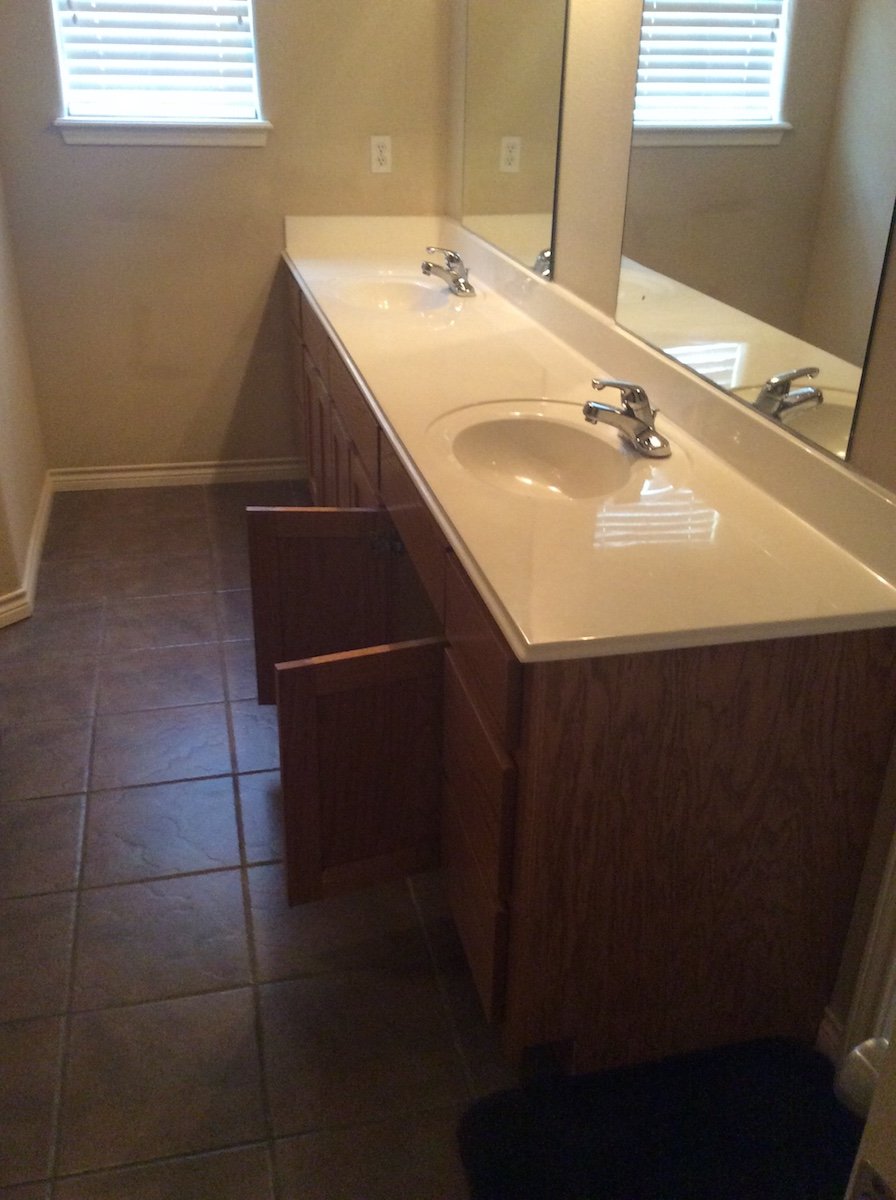 26. Bathroom looks and smells like it is new!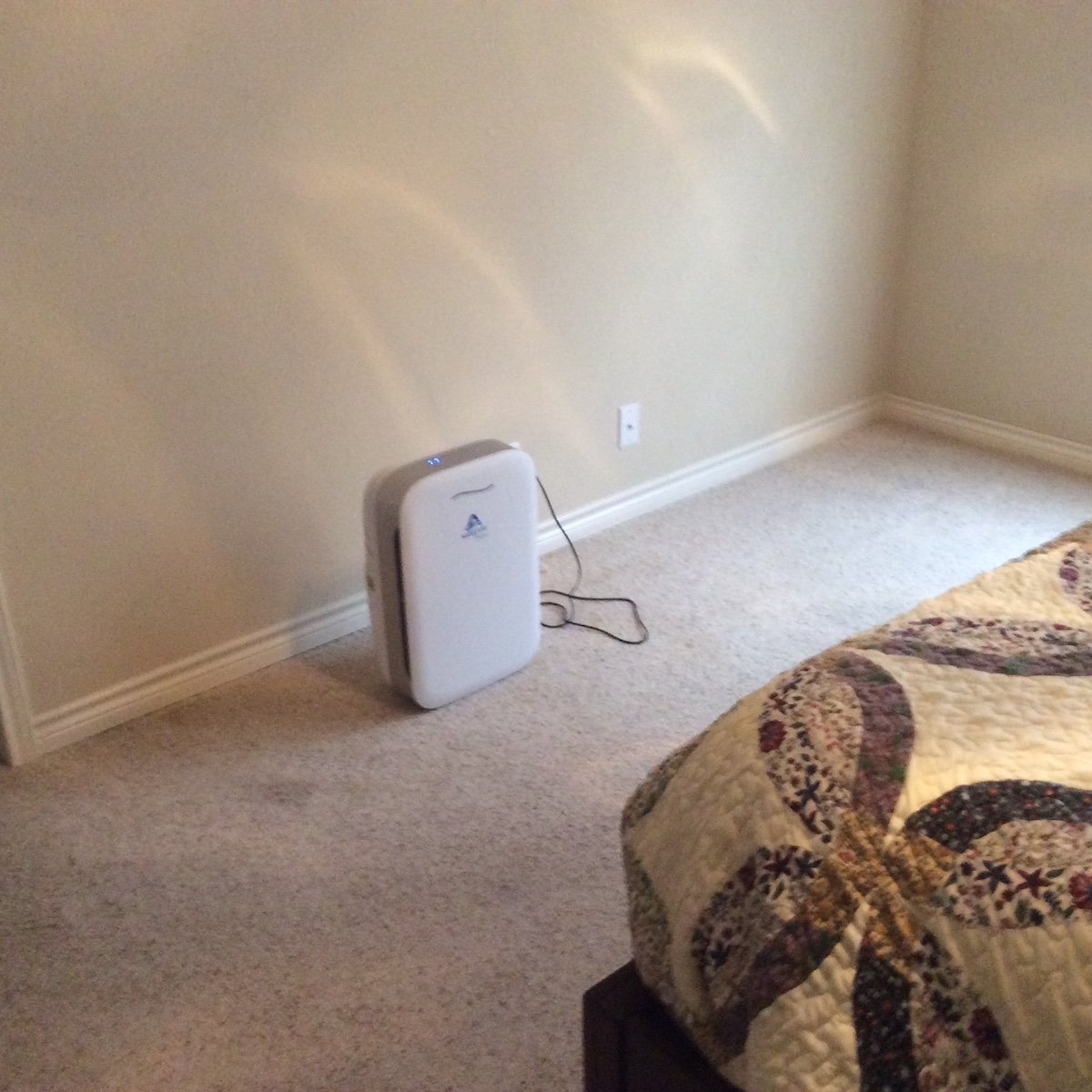 27. Bedroom baseboard repainted and placed back exactly as it should be with new padding and our original rug re-stretched. All that needs to be done is shampoo the carpet.



A link to My Blog