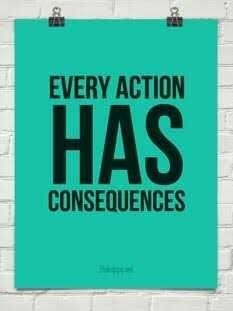 Fully matured people accept that their actions have consequences.
A fully functioning adult knows that he or she can choose an action, but once the action is taken, both predictable and unpredictable consequences will follow.
The true adult accepts that for every cause, there will be an effect.
For every action, there will be a reaction.
You can choose the action, before you act, but you cannot choose or control the consequences or reactions afterward. Intelligent adult are very careful about the thoughts they think and the actions that they take.
They do not fool themselves or engage in self-delusion. They don't pretend that things might happen differently, nor do they trust to luck.
Inactions also have consequences. What are called "Crimes of Omission" are often more serious to your long-term prospects than the mistakes you make.
Omitting to think through your values, set clear goals, make plans, commit to excellence, and so on, can be disastrous to your possibilities of great success.