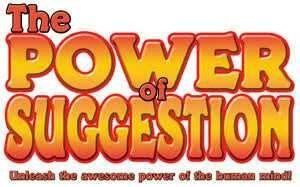 The most powerful influence in determining your mental and emotional state at any time is the power of SUGGESTION".
The power of suggestion begins influencing you even before you are born, and continues from infancy and throughout your life, making you the kind of person you are today.
Experts say that 95% of what you do, say, think and feel is determined by environmental and psychological suggestive influences around you.
For example, the average person is so susceptible to suggestive influence, that a rude word from another person may cause him or her to be upset and angry for hours.
On the other hand, a kind word of praise or recognition may cause him or her to be positive and happy for the rest of the day.
We are all vey susceptible to the suggestive influences that surround us.