Rice vinegar begins to "cook" the scallops in the same way that lime juice "cooks" fish when making Mexican ceviche, so the scallops need only brief cooking under the broiler if they are not to become overcooked.
12 large scallops
1 garlic clove, finely chopped
1 Tb. scallion, green part, finely chopped
2 Tb. soy sauce
2 tsp. rice vinegar
1 Tb. sesame oil
1/2 inch piece of fresh ginger, grated
2 tsp. crushed toasted sesame seeds
pinch of chili powder
lemon slices
(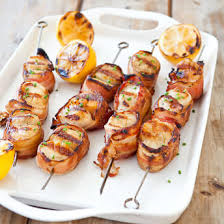 )
Cut each scallop in half horizontally. Thread the scallops onto skewers and lay them in a shallow, non-metallic dish.
Mix together the remaining ingredients and pour over the scallops. Turn the skewers over and leave for 15 to 30 minutes, turning occasionally.
Life the skewers from the marinade and cook under the broiler for about 4 minutes, turning occasionally and brushing with the marinade.
Serve with sliced lemon wedges.
Source: Korean Cooking by Walden
Please upvote and resteem @senseicat