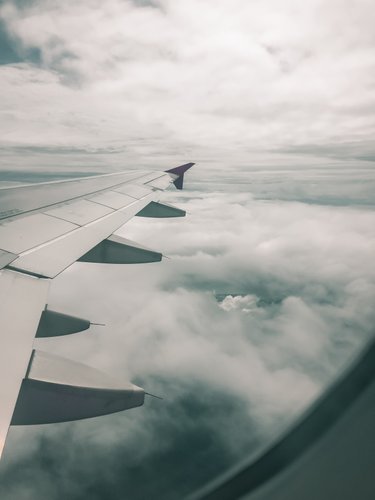 [License: CC0 Public Domain]:
Pexels
If you have ever been a movie buff at any stage throughout your childhood, chances are you would have come across a movie where the major character has to learn to fly.
Ranging from Harry Potter to every superhero DC to Marvel Story. Superman, Shazam, Tony Stark, Batman, Spiderman. Even birds, Yes Birds! That flight comes naturally to. Birds have a form of anxiety in one form or the other and they only need to be spurred on to fly by their mothers or through visual and repetitive attempts.
Every single one of them had some form of anxiety or fear when they attempted to fly. They all had one thing in common though, a form of sidekick or the other encouraging them and guiding them through.
So Today, Let me be your sidekick or your mother bird.
First, know that you are not alone. According to research by Clark and Rock in 2016. About 40% of people have a fear of flying.
Next, how do we get rid of that fear?
Here are five ways or guidelines to kicking that phobia in the butt.
Step One:
Evaluation: Just like every other aspect of life, self-evaluation enhances the clarity of judgment and aids in reflection towards productivity. It helps to outline problems and develop a pattern of productive steps to conquer and provide solutions to these problems.
Identify what triggers you; might be fear of enclosed spaces, fear of heights, fear of accidents, fear of being together in a place filled with so many people, might be the sound of taking off, or the silence when you are on air and so on. It is different for different people, but you have to find out what specifically triggers you.
After outlining the triggers, it becomes easier. Get a book or use a text editor on your phone and outline what you think triggers you. Let's proceed from there.
Step Two:
Equip yourself with Knowledge
The fact that you are here means you are one step closer, give yourself an armor of knowledge. Often, our fears thrive on a lack of knowledge.
Here's a fact: The risk of getting killed by a plane crash or accident for the average American is about 1 in 11 million. The risk of being killed in a car accident is 1 in 5,000. Yet, people do not have as many fears for cars as they do for airplanes.
People also tend to get scared of being struck by lightning, I'm here to tell you that Airplanes are designed to be lightning-proof.
Also coupled with the fact that airplanes are easier, faster and much more convenient to travel for long-distance journeys.
Also, for those who have flown before and had one form of a panic attack or the other, it might be as a result of a memory attached to it or a trigger. Try to separate this fear from the other ones. Works like Magic.
Step Three:
Anticipate your phobia
Knowing something will occur gives you a form of control. By anticipating your fears and anxiety, you are less likely to be caught unawares by them.
Step Four:
Focus your mind on more Happy thoughts than the destructive ones. Think positive. Keep happy memories. Keep a mental good memory jar, even the slightest of any happy memory is enough to distract during slight turbulence or mishaps that might trigger you.
Step Five:
Educate yourself, you might be wondering why we repeated this... This time, education refers to you learning about the inner workings of a plane or whatever mode of the flight we choose. Mode of flight, crew members and their functions, compartments, how to use a parachute, code words, and languages, the rules and regulations to mention but a few.
I hope this helps you become the Superman/Superwoman that you deserve to be.
Thanks for stopping by.