After SteemFest I kept in touch with @guchtere on an almost daily basis - chatting about life and work and Steem - until one day he send me a message that I didn't understand immediately and was supposed to be a joke - but was it funny? When he explained it later I was shocked. The message referred to this scary moment:
While I was driving, I got some mean pressure at my chest, and at the same time I started to sweat a lot. And by a lot I mean A LOT! My clothes where instantly soaked. I called the emergency line, didn't know what was happening to me. While I got them on the line, I started to see spots. My view disappeared totally. The woman who answered my call told me to stop the car, and that is the point where my memory stops….
It was the start of a long long medical search to a mysterious physical pattern: pain on chest, finding himself waking up on the ground, pain on chest, seeing the world spin around him... And that on repeat, multiple times a day, for months now.
And the chest pain has nothing to do with his heart... Which seems to be working perfectly.
It's scary and tiring, but being one of the most positive-minded people I've ever met, he tries to live his life to the fullest and is still able to produce amazing pictures and blogs from his short and exhausting but needed walks or bicycle trips around his home town.
After trying to keep in touch and hear how he was doing it was time to see for myself... So I borrowed a car and went on a house visit in one of the most beautiful provinces of the Netherlands. The crazy man went to buy something sweet and doughy for me the day before. One of his most challenging trips so far I believe, by bike, just because I was coming along.
It was lovely to see him, smiling, chatting, time went by fast! Although in between the talks he often had to pause for a while, because nasty stabs in his chest would basically distract him for a good few seconds. At some point my boyfriend called because it was already dinner time and I wasn't home, so I had to say sorry because I had forgotten the time, so I told him I was going to be home late.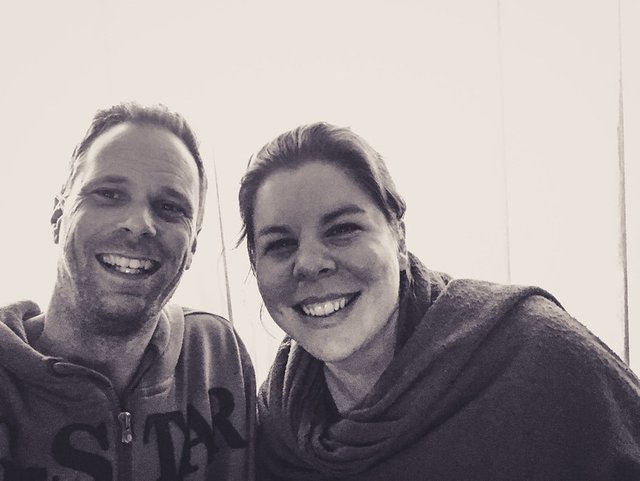 Quick selfie made by @guchtere - meant for @for91days who was stuck in South Sudan at that moment
When I indeed did plan to finally go home @guchtere got an 'episode' and needed to lay down on the ground. Since he mentioned something about maybe needing some food a few minutes before I proposed that I'd make some dinner while he was resting, so he'd have some food - and me too.
And so it happened: I tried to find my way in a kitchen I had never seen before, while he was on the ground trying to make sense of the room that was spinning heavily around him.
We'll probably make (and have made) a few jokes about that in the future: "Being a guest @guchtere's house means you'll have to cook his dinner!"
Lucky me I had a lot of fun things last weeks as well! @Soyrosa came by for a visit. She is such a sweetheart! Had a great talk during the afternoon and in the end she did even cook a meal for me because my body decided that the world should start spinning around again. Sorry for that @soyrosa! Hope the bolussen did make up for it. It was really great to see you again, was already a while ago since your last meetup in Rotterdam.
It makes me grateful to know that in such a short time we became good friends, so much so that I worry about him often - knowing that he doesn't like people worrying about him I hope he won't read this.
Go say hi to this amazing Steemian @guchtere some day. Follow him, a great photographer, a curator for @travelfeed, and just an overall nice person. You won't get many posts in your feed for now, because being behind a screen is tiring, so you can slowly get to know him ;-)
---
Tomorrow I'll have lunch with @r00sj3 - being both wolves it will be a veeery late lunch. I'm looking forward to it. We met ages ago on a very different blogging platform - or was it any different at all?
---
Since we're talking about people I worry about, short update on my boyfriend, he had a 'just in case' check-up at the hospital today and all seems to be fine. Nothing broken or splintered, no head damage, no things to really worry about. Just a nasty knee that keeps bothering him and is glowing hot. Thanks everyone who said some nice supportive words below my post about his accident <3