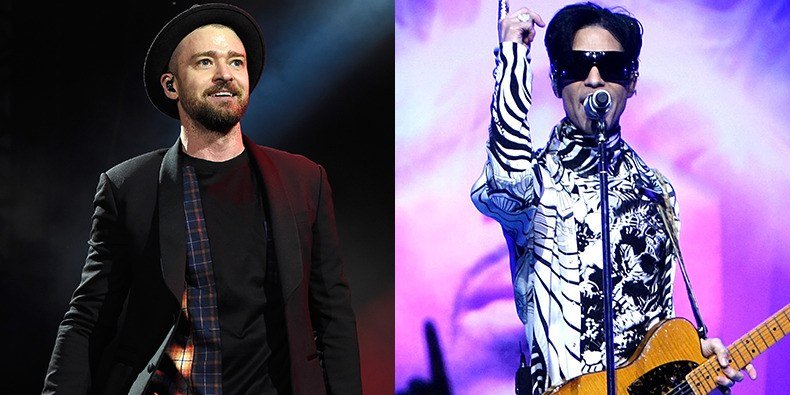 Since the 52nd Super Bowl will be held in Minnesota, it comes as no surprise the halftime show will pay homage to Prince, a Minnesota native.
Last Thursday, Justin TImberlake, who is scheduled to perform on the halftime show, called Prince the "the greatest all-around musician" in pop culture, hinting at a possible Prince recreation during his performance on Sunday. At the late legend's old home, Paisley Park, Timberlake hosted his own album-listening party.
According to a TMZ report, Timberlake will make Prince's influence -- and perhaps even some of the icon's songs -- a huge part of his performance during halftime of Sunday's Super Bowl LII (52nd) in Minneapolis.
It was also suggested that, as part of a "sneak peak" of the 10-time Grammy Award-winning singer's show, that influence will come in the form of a life-sized hologram.
Our sources ... reveal there are no 'NSYNC or Janet Jackson cameos planned ... so anyone hoping for a reunion or redemption ... you can pretty much abandon all hope.

However, we're told Justin does have one pretty cool trick up his sleeve -- a hologram to honor ... wait for it ... Prince, in his hometown.
Timberlake incorporating Prince into his highly anticipated show shouldn't be a shocker, but this is Prince's hologram we are talking about. Timberlake's use of Virtual Reality technology to literally bring the local legend onto the stage is simply another level of boldness.
Just imagine the Michael Jackson projection we got at the 2014 Billboard Music Awards, this time add the U.S. Bank Stadium and 66,000 people.
Seriously, if all of that doesn't convince you to tune in, then what will?
---

If this blog post has entertained or benefitted you, please follow, upvote, resteem, reply and/or consider buying me a cup of tea.
BTC Wallet - 1B4xDRBYBb8UiFjo6zetXVNegtCUU2af2y
ETH Wallet - 0x84c53fD4CF07C2c183878C7d3261E903cb274765
RAI Wallet - xrb_3nt5ffyhbhgxkjz4aq5nucfnhiuzymr3x96ds3btb1abjyywceyztiucd7r6