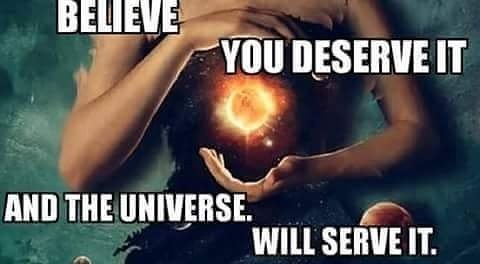 I AM a 100% Believer in, "What you believe you deserve the Universe will serve!!"
I haven't always known about this but growing up in a Christian household where your parents weren't very "Christian" like. But you are in the church every time the door is open.😐
I had to find my own way.
I HAVE BELIEVED SO MANY THINGS BUT ONCE I TRULY came to an understanding of the Universe. I have received.
I AM RECEIVING & I WILL RECEIVE ALL THE UNIVERSE HAS FOR ME😁😀😃😄😆🤗🙂☺
In the end SteemAtes.....
You can have the same! Focus your life on Positivity and Believe that the Universe will bring your "IT" it you😊
PEACE AND LIGHT ☺