Solar power turns you on?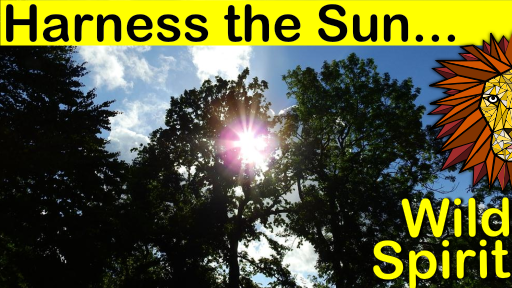 "Think outside the (oil) barrel..."
As we are all aware, fossil fuel sources form the mainstay of all over energy needs even today. Burning coal, oil and natural gas, mined from Earth can continue only as long as the reserves last. We do not have an infinite supply.
We must find sustainable sources of energy and what source could be better than the ever present, endless supply of sunlight?
These were my thoughts, as a brilliant star burst of sunlight showed through the trees on a cold bright morning in the Sophero gardens in Helsignborg in Sweden in 2015. I captured this picture of the Sun's magical brilliance with my Nikon P900:
---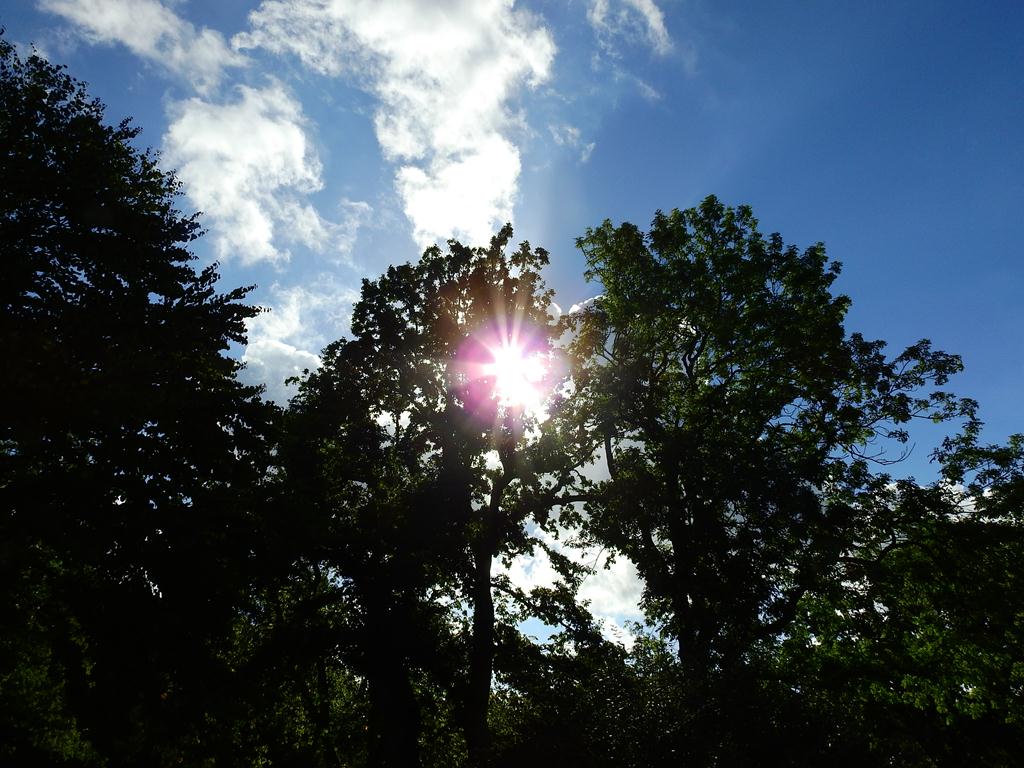 ---
This simple picture is symbolic for me. When there is an Oil spill, there is havoc in the marine world. Aquatic life suffers a heavy loss and the resulting pollution lasts for months.
When there is a lot of sunlight instead, it is just a 'Nice day'. Nature beckons to us by such shows of brilliant sunshine and magical rays to start using Solar energy - don't you think?
Without going into the extended debate about the merits and de-merits of non-conventional form of energy, I intend to only highlight few salient points that we all must remember and ACTION if we need to leave the world with sustainable sources of energy for our children and their children.
The fossil fuels are still the mainstay !!
Many of us think electric cars and electric appliances are the answer to the 'sustainable energy' question. This impression is due to the fact that end use appliances like cars and electric trains look clean, do not consume fossil fuels and are environmentally friendly due to the low emission levels. They, therefore, appear 'Eco friendly'.
Unfortunately, what we do not realize is that all these 'Eco friendly' appliances need electricity and that is produced in the world, even today, by mostly burning fossil fuels!!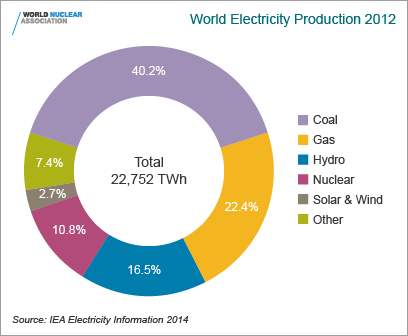 Image source
A dismal 2.7% electricity is produced by renewable energy sources such as Solar and Wind.
Fossil fuels shall be gone one day!
As per the projections updated as recently as 2015, we have only a few decades of supply of fossil fuel left. Even with the advanced technology employed day by day in the mining operations for coal, oil and gas and new fields being discovered, the law of diminishing returns has started applying.
Here is an estimate of how long the fossil fuels will last us with the current estimated reserves and rate of consumption: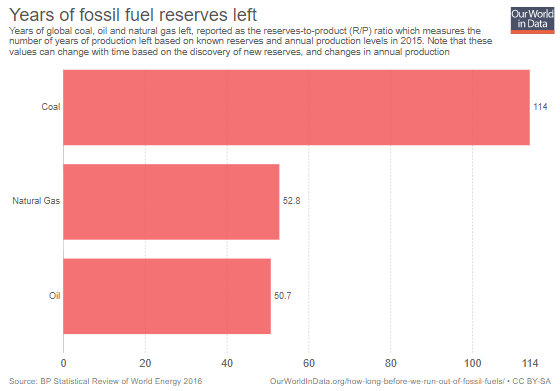 Image source
So - within our lifetime, we will start seeing crisis of fossil fuels worsen.
We are choking the Earth's atmosphere with fossil fuel burning
In most of the developing countries, thermal power plants produce over 50% of the total electricity production. This is one of the most polluting sources of supply of electricity.
My analysis of figures from this article, shows that an average thermal power plant annually produces nearly 1000 Tonnes of fly ash per MW of electricity !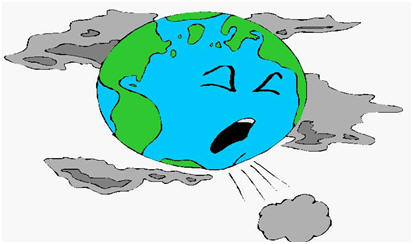 Image source
Apart from the pollution, burning of fossil fuels is also causing Green house effect. Green house effect is an issue that is raising the earth's temperature and derailing all weather patterns.
So why are we not using Solar energy en-mass so far?
Infrastructure cost of using Solar energy (either in thermal form - such a solar water heaters etc. or in Photo-voltaic form, for generating electricity) was very high compared to fossil fuel based energy generation so far. This higher infrastructure cost has, naturally, been a barrier to the widespread use of solar energy.
Recent trends have shown a lot of advances in the field of solar energy and the projected LCOE (Levelised Cost of Electricity) with solar energy is coming down. For example, here are the projections for US in $ per MWh :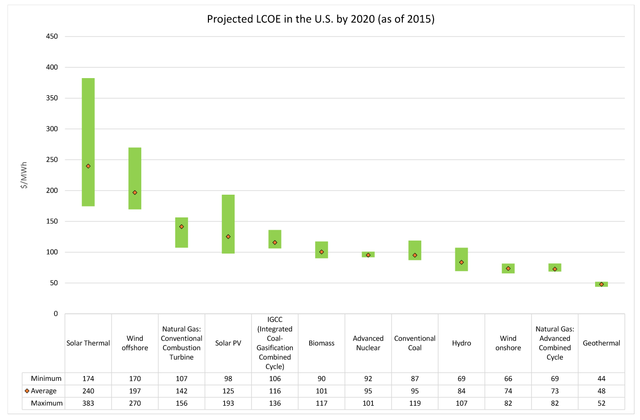 Image source
This encouraging trend should motivate all of us to avoid the hazards of fossil fuel based energy and make the switch to the more sustainable Solar energy.
I do not want my children and grandchildren to suffer a Mad-Max like scenario due to lack of fossil fuels nor do I want them to face the hazards of global warming or fly ash pollution. I am sure none of you wish such a fate upon your progeny too. We all owe it to our children and their children to take an oath to use renewable and sustainable energy sources to the maximum extent possible.
In Conclusion:
Fossil fuels ? No No No - Solar energy is the way to go!
Steemians, please comment freely to share your experiences, knowledge and views about use of solar energy. Thanks.

Note: All images except for the wildlife photos and the title image created by me are from pixabay.com. Image credit has been specifically mentioned for images not falling under these two categories.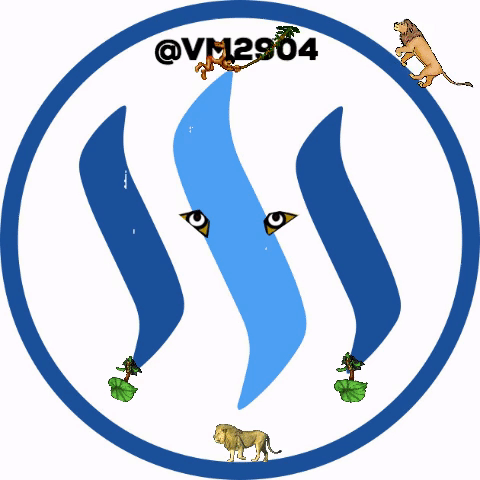 Gif crafted by the Legendary @stellabelle for me based on my Lion Avatar