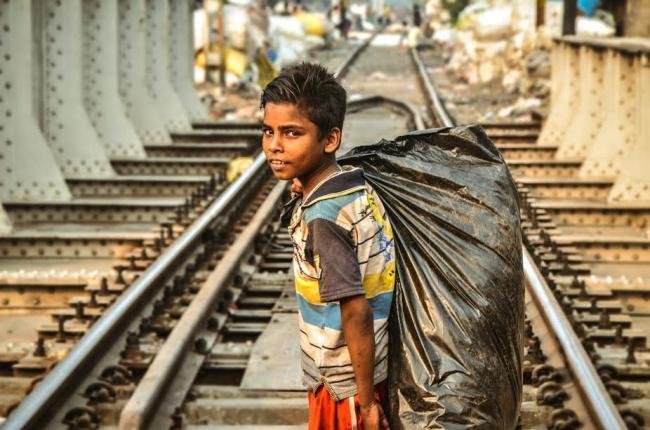 A few days back I went to the railway station to drop one of my friend who was going to his hometown. The station was overcrowded and there were a lot of ragpickers there on the platform collecting the plastic bottles and many useless things that were thrown by us.
At the time of returning My eyes went upon a small boy who was sitting at the corner of the entrance and was not at all happy for sure. His face appeared like a withered tree no expressions at all. He was not more than 9 years for sure. All his hairs were messed up, his face had some dark oily patches that was clearly visible from a distance of 10 meters. He was definitely a ragpicker. A boy who was a victim of poverty.
I went to him to know that why his face was downcasted. At first, he was trying to avoid me but after a minute or two he got friendly with me and was telling me frankly about the situation that he was going through.
He told me that he was living in the slums nearby. His father had a drinking habit and his mother was busy with her younger daughter who was just one and a half years old. I asked him if he likes the work he does. But he clearly told me that he didn't.
I had no idea what to say to him in this regard because with my words I could never solve his problem. I gave him a 500 rupees note. He refused to take but still, I managed to give him. He took the money, looked in my eyes for a moment and without even saying thanks he ran. I felt bad that he didn't even thank me, but later I realized that there was something more important to him that saying thanks for me and that was the needs of his family. He must have run to show the money to his mother who must have been waiting for him to come home with some money buy the basic necessities. He ran so fast that I didn't even get the chance to get a picture of him.
Friends, Why am I writing this post??
Is it to earn or is it to be famous or trending on WeKu. No, my dear friends, this is not for that. I just wanted to share the joy that I saw in the eyes of that boy. The face that was downcasted with just a little help of me got the happiness. That look really made me happy from inside I hope you all are also starving to get that happiness. Please supports such children. It's not that they want to be a ragpicker. It's the time that forces them to do that.