When the problem with the coronavirus became more acute and global, I was at the point where I had 15 days to finish some musical arrangements, to start rehearsals, recording and preparing for a concert that was to be in April. The recording was to result in an album that was to be ready in May. Of course, all that planning fell apart.
The drama that is being experienced worldwide, as you might expect, affects me tremendously, because I have always been very susceptible to people's suffering. It is also very frightening to see what happened in Italy, in Spain, and to see what is happening now in the United States because of the neglect and lack of awareness that exists in many people and governments, which give priority to any number of things, over life itself.
Fortunately in Venezuela a lot of extreme measures were taken, well in advance and the damage has been minimal so far. In addition, a number of operations have been implemented to protect the population, to detect and attend to possible cases of contagion, as well as support programs in the food and economic fields.
I am fortunate not to have any known cases of contagion among friends or relatives.
My wife (who is the government of this house), acted just like the government and the sanitary measures in my house are extreme. I support her, because the greater the prevention measures, the less risk we all run. So here we avoid all go out to the maximum and when it has been needed to go to the street, the measures to enter the house are similar to those of Monster Inc. when human footprints appear somewhere!!!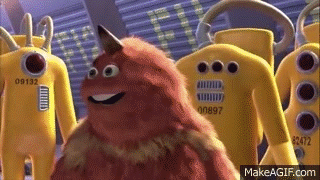 Via GIPHY
---
From the positive
The stress I had with preparing the repertoire is over and now I go in slow motion, without hurry, but without pause.
Had it not been for this quarantine, I would not have been able to take on the move to Hive, as I had to change all the programming of the automated system that we have in the community that I run , @la-colmena, including the bots, databases, etc. Besides that we had an additional mishap with the domain where I previously had the website, bots and everything hosted. This meant additional work. In fact, before we started the quarantine, I had delegated most of the responsibilities to other members of the community... precisely because of lack of time! So this quarantine allowed me to make all the changes and adjustments for this community.
I also found the time to post, curate a lot of content myself, issue some challenges and respond to initiatives like this one proposed by @theycallmedan.
These activities occupy me all day and I barely have time for some household tasks and most important of all, it has given me time to spend every day some hours watching TV, some good movies. Something that is my favorite activity but I can never do. I make this activity together with my children and then we comment on the films and make our collective criticism.
As they say that sunbathing is good to keep health, I do it every day for at least 30 minutes.
In spite of the benefit I am getting from time, I feel that I still need more hours to go before I can do everything I want.
Just when they announced the quarantine in Venezuela, we were able to make a good purchase at the supermarket and stock up. But in addition we have also received some boxes with food that the government gives monthly at very low prices and they contribute to the economy, to counteract the inflation.
Some people have also put into service in the area where I live, some food sales with delivery, which we have taken advantage of to replenish some products, especially vegetables.
However, I cannot fail to mention the contributions of my garden, which gives us cherry tomatoes, pitangas (to know what pitanga is, watch the video below), loquat and soon also bananas. Apart from several plants that serve to make some exquisite infusions.
Pitanga
(Music by Los Cañoneros - English subtitles)
On a financial level we enjoy the retirement that my wife has, the pension that she also has, the bonds that the government has been giving, as the one for independent workers, as is my case and the rest has been the income that I have been generating through the Hive platform, which has long since become one of my main incomes.
By family tradition, over several generations, we are a very united family. So in that aspect there has been no change, except for the fact that all the meals are made together, because there is no one going to the university, or to any other commitment.
With the rest of my family I keep in touch by phone, with the permanent campaign of #stayhome, because there are still many people who have not understood that this is the best way to fight this evil.
Please, please, please