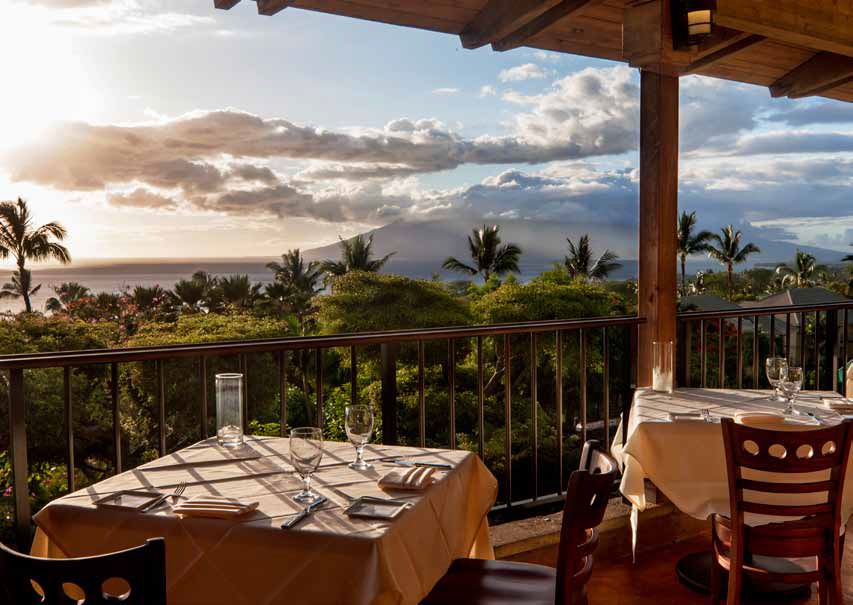 Focusing on the mantra "grown here, not flown here", Hotel Wailea's organic farm is found on this Relais & Châteaux resort, creating an intimate and inspiring relationship between Executive Chef Brian Etheredge, his team at Capische? And local ingredients. Diners can enjoy a true farm-to-table experience, as well as sit in the lush multi-tiered space of the hotel's tropical gardens or on the elegant lanai, with views of the West Maui Mountains.
Pairing French technique with Italian style and local flavours, dining at Capische? means sampling unique combinations such as Roasted Maui onion soup, Ono brandade, Porcini crusted Ahi with roasted garden vegetables and pumpkin seed vanilla vinaigrette, or Roasted Hawaiian Catch of the day with oven dried tomatoes and caramelized fennel.
For those who want to indulge in hyper-local, the restaurant now offers a three course Organic Tasting Menu every day from 5:30 p.m. - 6:30 p.m. in the garden, showcasing seasonal dishes from the Hotel Wailea organic farm and select local producers. Executive Chef Brian Etheredge – Capische?, Hotel Wailea 555 Kaukahi Road, Maui Hawaii 96753 Reservations: 808-879-2224 www.capische.com Daily Dinner: 5:30 p.m.- 10:00 p.m., Lounge 5:00 p.m.-11:00 p.m.
For visitors interested in learning more about Maui's local cuisine scene, two Spring and Summer food festivals provide more options for exploring and discovering local tastes:
Maui County Agricultural Festival is held annually on the first Saturday of April, and showcases local farmers and roducers. Held at the Maui Tropical Plantation in Waikapu, the afternoon Grand Tasting features local chefs offering tasty bites of island-inspired cuisine.
Kapalua Wine and Food Festival – For more than 30 years, this festival has gathered chefs and diners every June to foster an appreciation of fine wine and culinary creations. The festival includes cooking demonstrations, wine and food pairing seminars, winemakers' dinners and the celebrated Grand Tasting, featuring local and international chefs.