Hello friends, happy New week.
I want to start up the week by talking about daily to weekly exercise routine.
Exercise routines are important because they help to keep the body healthy, to define muscles, among many other benefits, however, today I bring you a slightly different routine... it will help you take advantage of your brain, because they will stimulate the nervous connections and the use of both cerebral hemispheres, do you cheer up?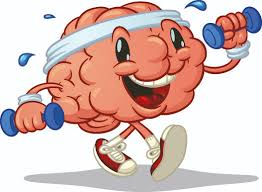 Image source
The intention is to start these exercises every day of the week, to incorporate them little by little, so that progressively it is habitual to exercise the brain.
Monday
Today's exercise will stimulate the use of the cerebral hemispheres (left and right) and the channels of perception (auditory, visual and kinesthetic), so use your non-dominant hand to do some everyday things like brushing your teeth, lathering your body or comb your hair, walk around your house with your eyes closed for a few minutes or try to shower with your eyes closed, pay attention to the sounds, sensations and smells. Try to pretend that you write some words or your name with your elbow, shoulders or knee.
Tuesday
On Tuesdays avoid criticizing the people around you and as far as possible look for the positive side of them.
Wednesday
Wednesday's ,you should be working the memory, the neuronal connections will be strengthened. Stand in front of your closet, cabinets or cupboards, desk ..., observe for a moment that is inside, close your eyes and try to list what you saw, if you find an object that has caught your attention, try to copy it into your brain in detail.
Thursday
As on Tuesday avoid criticizing, but now also try to be empathetic, put yourself in the shoes of the other, feel their emotions, avoid judgment and be flexible.
Friday
Day of introspection, ask yourself: What do I most desire? Print the answer in your brain with every detail about how it will look, how it will smell, how it will feel, be specific. If negative thoughts appear there that make you think you can not or you're wasting your time, discard them. Inject your energy into your wishes, use positive phrases and verbs in the present tense to reinforce it.
Saturday
Creative day, perform different and unusual activities, put that brain to work with other options and allow yourself to do different things. Sing, dance, walk, run, write, speak, shut up ... what brings you out of your comfort zone.
Sunday
Day of paying attention to the activities carried out. Review in your mind what you did thirty minutes earlier in as much detail as you can; Repeat this exercise several times during the day and before going to bed review now all your day, this will help you create a state of gratitude.
Well friends, the invitation is to try, it will take little of your time to perform these simple exercises and you will get many benefits, with them the neuronal connections of your brain will be strengthened, your brain will be revitalized, you will work your self-esteem and respect for the other and for you, you will achieve a super brain and you will be a better version of yourself. Then you tell me how it went.
Until my next post I remain @zeuz ,do have a great and blissful week ahead.