Hello, friends!
Day 6 of the apple cider vinegar challenge...
My husband's pet name for me on messy hair days...
And I have a strange question for you...
Do my cheekbones look more pronounced?
As I prepped for bed last night, I looked in the mirror after I washed my face and it seemed that I could really see my cheekbones; like there was definition in my face -- but that's weird to notice that myself, right? It could be wishful thinking.
Anyway...
Day 6
I got something in the mail yesterday and I was so excited! If you follow any of my other social media then you already know what it is.
. . .

Believe it or not, I won it on a Twitter giveaway. Considering that Bittrex has over 775K followers and a lot of people participated, I didn't think I'd have a snowball chance in hell of winning.
You'll have to watch the video to find out what I've won!
I've got a couple work things to do and then it's off to do real-world chores like grocery shopping and laundry. ugh
What are your weekend plans?
* cross-posted from Whaleshares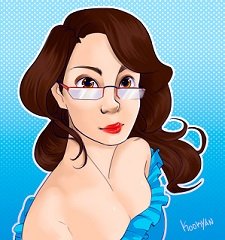 created by @kookyan
💥 Cast your witness votes!
You have 30 votes. Make them count.
💥 Follow me on Social Media
Twitter | Instagram | LinkedIn | Facebook | YouTube | SnapChat | Medium | Whaleshares | Steemit | Keybase
📝Geek Insider | 📝Crypto, Trader, News.