Yesterday, I was talking about the ongoing week long Paryushan fest in Jainism.
During this Paryushan fest, All India Council for Technical Education (AICTE) under HRD of Govt. of India has finally informed, "It is open to consider any proposal of Hotel Management Institute for conducting courses Specially for Vegetarians".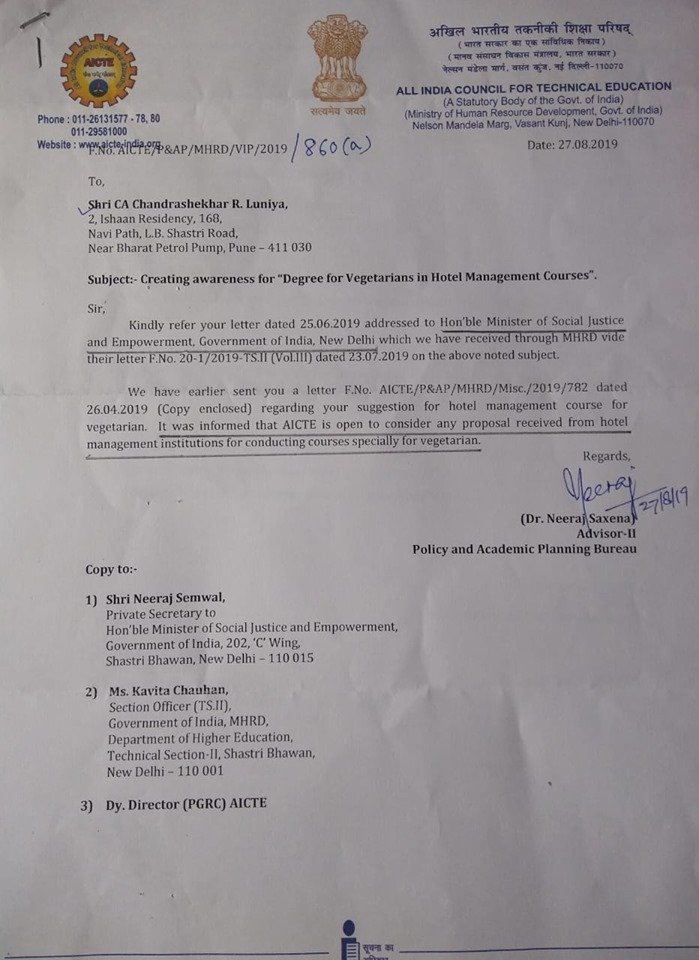 A copy of letter received by CA C. R. Luniya of VegDegree
This is a huge victory for vegetarian community in India after a 7 year long campaign for demanding an exclusive vegetarian culinary courses for wanna-be chefs.
Although India has a vast majority of vegetarian population, all these Hotel Management study courses are designed on Western educational model. In West, you generally can't imagine a restaurant business without a single dish containing meat in it. Five star hotels and fine-dining restaurants all over the world do serve non-vegetarian cuisine.
But in India, many people are religiously vegetarian and they don't even touch non-vegetarian dishes. But these Hotel Management courses required them to compulsorily learn preparing non-vegetarian dishes. Therefore many students couldn't choose this as their career despite their inclination.
Seven years back Chandrashekhar R. Luniya, a Chartered Accountant and a Jainism follower was shocked to not to find a single institute in Hotel Management that offer courses in pure-vegetarian segment. His own son wanted to pursue a career in this line. So he initiated a campaign for starting a Veg Degree.
Last year, National Council for Hotel Management and Catering Technology ( NCHMCT ) under Tourism Ministry of Government of India has declared "Learning Vegetarian only" option for vegetarian students through the following notification: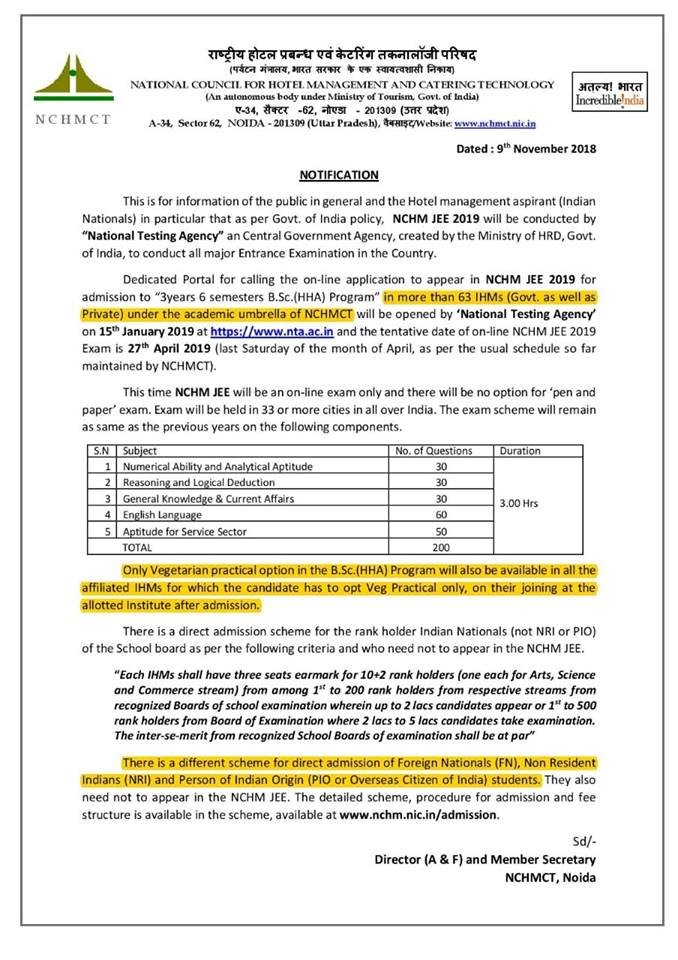 This notification was applicable on 63 IHMs (Government as well as Private) run under the NCHMCT. This was the result of convincing Ministry of Tourism.
Since AICTE falls under Ministry of HRD, it took some more effort to get this letter now.
In India, prevalent Vegetarian definition excludes all meat, fish and egg but includes all dairy products. Although "vegetarian" literally means what we directly get from vegetation but consumption of dairy products is very widespread in India and hence it is labelled as vegetarian.
However, Mr. Luniya received the support of vegan community too, in the hope that this move will pave way for exclusive vegan courses later. Recently, a 5 Star hotel has been almost convinced to make its kitchen completely vegan though a formal announcement from it is still awaited.
Some years back, a 5-star Hotel at New Delhi opened a separate kitchen for preparing vegetarian cuisine.
Market always serves the demand. But sometimes campaigns like this are needed to make our voices heard. If you too want to support this campaign further, you can sign the petition here.