LISK - MAJOR SURGE IN PRICE, Can it sustain?
---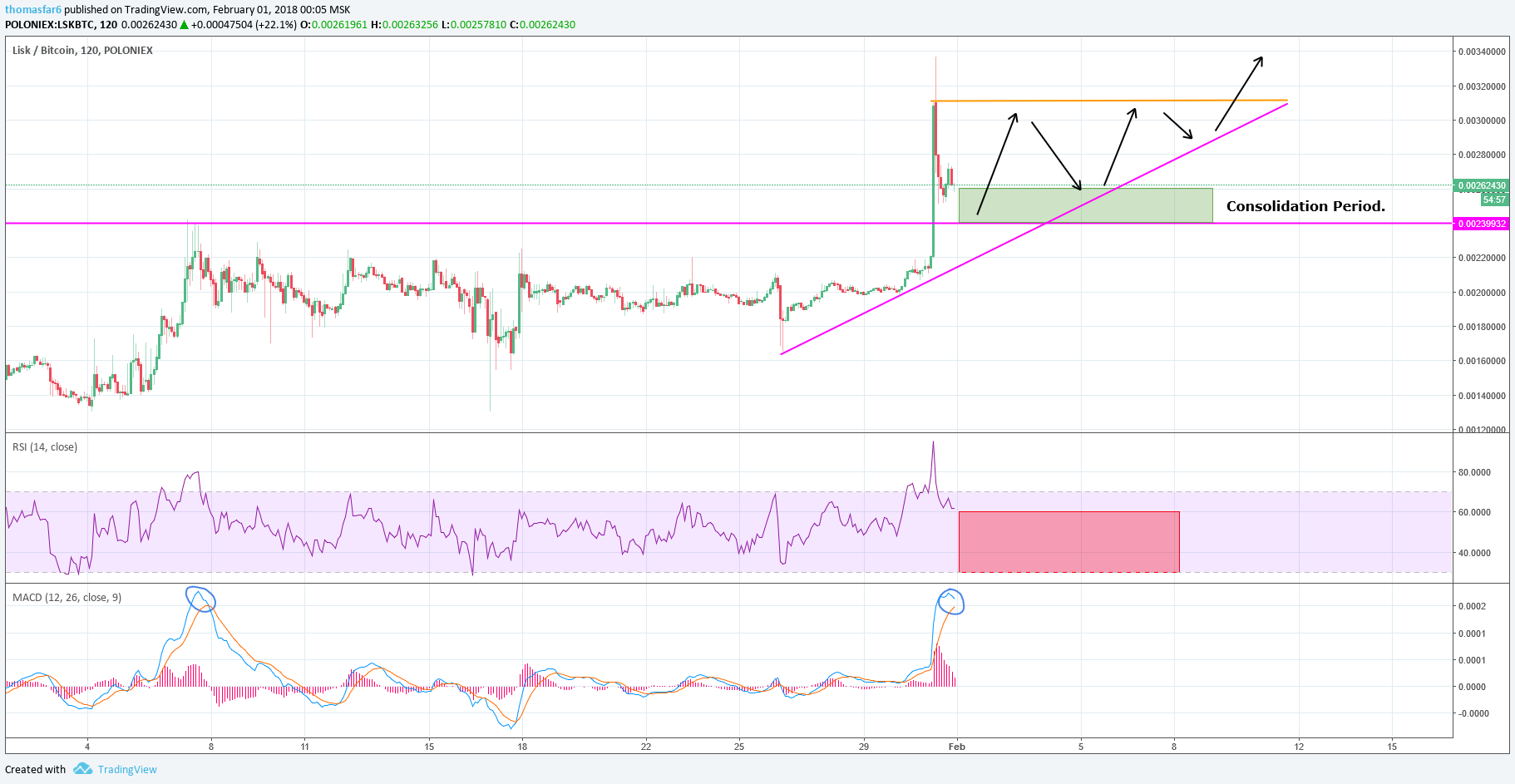 Well,  to begin with, it has been announced that Lisk has been added to a  large exchange which has sent the cryptocurrency price right up in  value, this happened earlier in the day and ever since the enormous  increased the price how pulled down quite sharply. This is a good thing  and should not be taken in a bad way, I suspect that this dip will help  the currency gain more traction and momentum for a future breakout  especially now that more people can access and are aware of the coin.  
This chart shows that a previous resistance has now become support ever  since the breakout and looking on it on the long-term view we can see  that there is an  ascending triangle  pattern being formed which acts a great  bullish  sign that you want to watch out for. You can expect the price to fluctuate between the  support and resistance  or  ascending triangle  until a further confirmation for a breakout.
Link to analysis
MACD -  Since the price has spiked so quickly in value t have left the  RSI   in highly bought posistions evne after the drop tyhat we have already  had. It indicated that there could be a further drop which would problem  begin to move sideways when it hits mid-way or over sold conditions.  
RSI -  When we take a look at the  past we can see that the same trends look to be happening (realistic you  should not use past events from your trades as this is often because of  news and almost acts as an outlier), however, it is good to give you an  insight on where the trend could be heading next. If the  MACD  lines cross over in the downward direction will continue to drop to the mid-line where we will find some consolidation.  
 
Orange - Resistance.   
Pink - Support. 
As always trade the lines accordingly.  
   

---