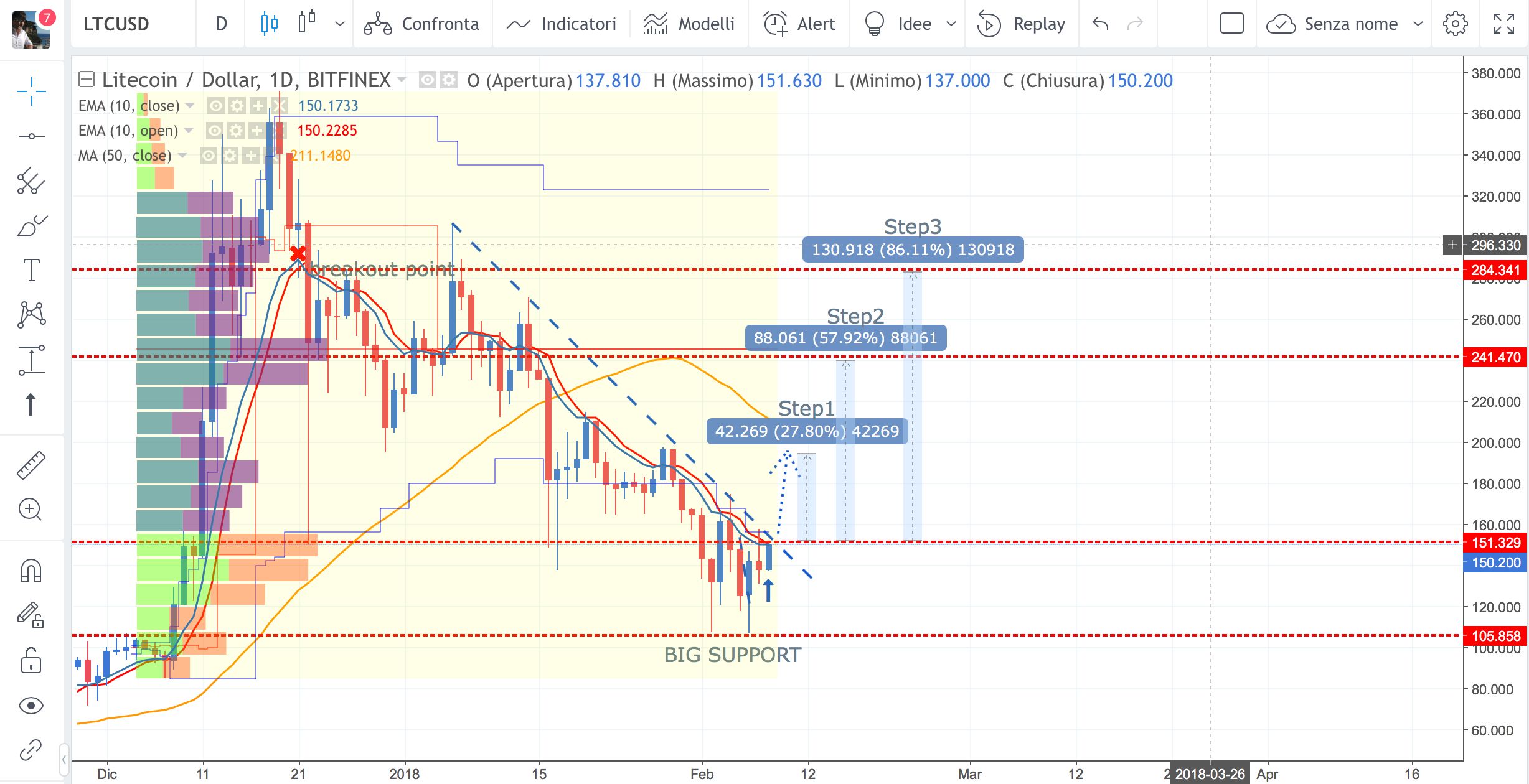 The chart shown is a daily chart on Litecoin and more specifically on LTC/USD. In this chart I inserted two 10-period moving averages that I need for my EMA10 trading strategy, a 50-period moving average, a volume profile visible on the left, an oblique line representing a dynamic resistance, 4 horizontal price levels which I consider important.
As can be seen, during this strong correction started on December 19, 2017, we have moved from USD 380 up to USD 97,100 on 7 February 2018.
This collapse was characterized by a dynamic resistance that has so far never been violated and that therefore was considered as a real track that accompanied Litecoin in this steep descent.
Now we are in the 150USD area at a peak on the volume profile. This means that this area is very beaten, and therefore can be a hard obstacle to overcome. According to my EMA10 strategy we are at an important crossroads. A bullish crossing of the two EMA10 could be a good signal for a Long entrance. This signal could then materialize precisely with the break-out of the dynamic resistance. These three indications allow me to elaborate my idea of ​​trading on Litecoin. Long input after the break-out of the dynamic resistance.
To give a strong bullish boost, however, there is a very important news for Litecoin: the launch of the LitePay card that is scheduled in recent days.
I am convinced that as soon as this card, belonging to the VISA circuit, will be placed on the market, there will be a big rush towards the purchase of Litecoin, with the consequent increase in the price of LTC / USD.
The LitePay card will allow you to own a Litecoin wallet that can be picked up as dollars at ATMs or spent in stores as a normal VISA card.
Practically Litecoin will become a digital currency that can be conveniently used in everyday life.
I have identified three next steps that are potential targets that will soon reach the Litecoin.
I am of the opinion that it is good to make Holding of Litecoin. But if I had to trade, these three steps are very important because I could consider them as partial exit levels from the market or new levels of stop to consider, should they be overcome.
Disclaimer
These are just my personal trading ideas derived from my analysis and should not be considered in any way financial advice.

Analisi del Litecoin (LTC/USD) in vista del lancio del LitePay
Il grafico mostrato è un grafico giornaliero su Litecoin e più precisamente su LTC/USD. In tale grafico ho inserito due Medie mobili a 10 periodi che mi servono per la mia strategia di trading EMA10, una media mobile a 50 periodi, un Volume profile visibile a sinistra, una linea obliqua che rappresenta una resistenza dinamica, 4 livelli di prezzo orizzontali che ritengo importanti.
Come si può vedere, durante questa forte correzione iniziata il 19 dicembre 2017, siamo passati dai 380 USD fino ai 97USD toccati il 7 febbraio 2018.
Questo crollo è stato caratterizzato da una resistenza dinamica che finora non è stata mai violata e che quindi è stata considerata come un vero e proprio binario che ha accompagnato il Litecoin in questa ripida discesa.
Adesso ci troviamo in area 150USD in corrispondenza di un picco sul volume profile. Questo vuol dire che tale area è molto battuta, e che quindi può essere un duro scoglio da superare. Secondo la mia strategia EMA10 ci troviamo a un bivio importante. Un incrocio bullish delle due EMA10 potrebbe essere un buon segnale per un ingresso Long. Questo segnale potrebbe poi concretizzarsi proprio con il break out della resistenza dinamica. Questi tre indizi mi permettono di elaborare così la mia idea di trading sul Litecoin. Ingresso Long dopo il break out della resistenza dinamica.
A dare una forte spinta rialzista c'è però una notizia molto importante per il Litecoin: il lancio della carta LitePay che è prevista in questi giorni.
Io sono convinto che non appena tale carta, appartenente al circuito VISA, verrà immessa nel mercato, ci sarà una grande corsa verso l'acquisto di Litecoin, con il conseguente incremento di prezzo di LTC/USD.
La carta LitePay permetterà di possedere un wallet in Litecoin prelevabile come dollari agli sportelli ATM o spendibili nei negozi come una normale carta VISA.
Praticamente il Litecoin diventerà una valuta digitale comodamente utilizzabile nel quotidiano.
Io ho individuato tre prossimi step che sono dei potenziali target che in breve potrà raggiungere il Litecoin.
Io sono dell'idea che è bene fare Holding di Litecoin. Se però dovessi fare trading, questi tre step sono molto importanti perché potrei considerarli come livelli di uscita parziale dal mercato o nuovi livelli di stop da considerare, qualora dovessero essere superati.
Disclaimer
Queste sono solo delle mie personali idee di trading derivate da una mia analisi e non devono essere considerate in alcun modo dei consigli finanziari.