Litecoin has recently been in the red, from recent highs near $110. Prices rallied upwards with Bitcoin's most recent pump where prices broke the $10,000 mark for the first time in months. Litecoin investors looking for fast profits bought in looking for quick gains only to see the price trickle down as low as $77.50.
Recent lows dissolve as investors look to blue skies
Bears managed to pummel the market but could not maintain control as LTC broke the 100MA on the hourly. Closing above that MA is a good indicator that buyers may be starting to come back.
At the time of writing, Litecoin sits at $91.50 , but has been rising.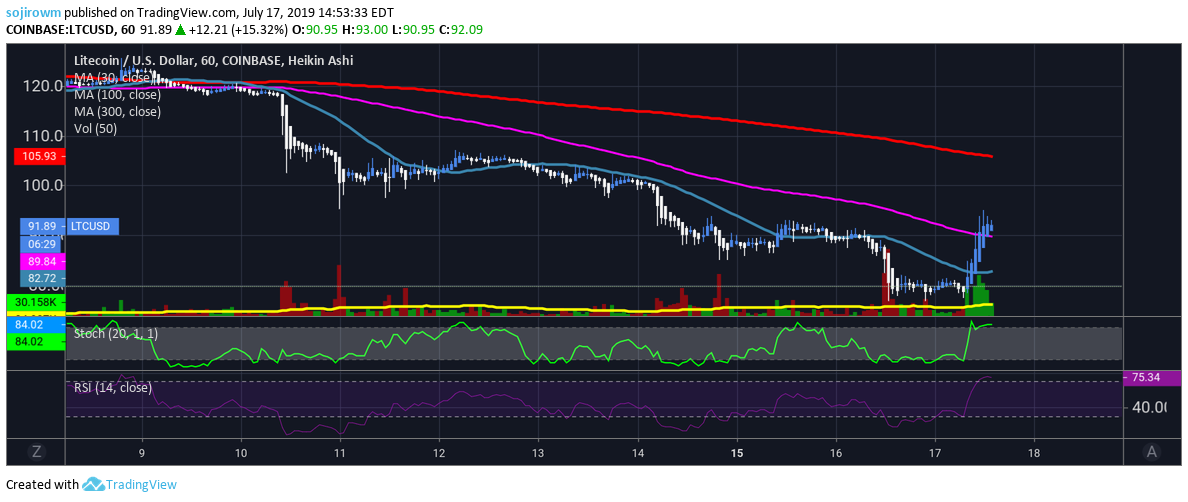 But speculators are actually targeting high, as LTC halving is currently set for August 5th. This means the block reward from mining will be reduced from 25 to 12.5 LTC per block. Coins often see spikes following major blockchain upgrades, or events such as hardforks block adjustments. I myself plan to watch LTC very diligently and see what it does from here. Do I advise a buy? No, I will not advise a buy or a sell here at any point because that is what research is for. I wouldn't want to be responsible for making my readers lose money. That's a responsibility that I just cannot shoulder. See the charts on Litecoin and see what the historic data is saying!