Greetings-
For me, relationships are about Respect. I really have to have Respect for my partner, mostly in the intelligence department. Once I lose respect for my partner, the relationship is pretty much already over. What I respect most are Logic and Intelligence, with a heavy dose of 'Common Sense'.
The fastest way that a partner of mine can lose my respect, is by using the -TU QUOQUE- fallacy (appeal to Hypocrisy). Tu Quoque is latin for "You too". It is basically, 'a retort accusing an accuser of a similar offense or similar behavior'. This is especially harmful to relationships for obvious reasons.
This is probably my most grating to hear fallacy and will pretty much guarantee the relationship is over.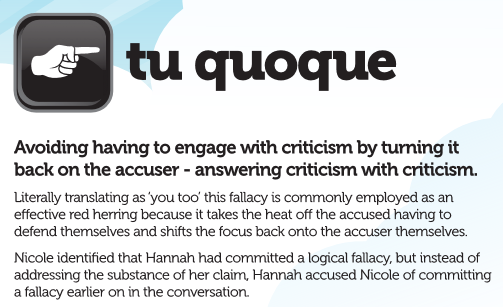 What is your most annoying Logical Fallacy to hear from your partner during an argument/discussion?