Introduction:
I would like to start my opinion on this topic by talking a little about logic itself, logic is mainly a product of the human mind, is the way we have to understand and function the mind for the knowledge of the world around us, allows us to analyze what is the best course to take when performing an action or solving a problem.
The Society:


All people since the beginning of time have had the need to feel safe and approved by others, always anxious and partly desperate to be automated, because of that we cling to ideologies or religions accepted by the majority, without often stopping to think about whether that line of collective thought has logical principles or not, it only matters if we can benefit in some way and if we are well regarded within society.
We live in a world where all people feel an obsessive urge to participate in everything that is in fashion, social networks, video games, clothing brand, television series (Throne Games, it's with you), etc.. But all this interactivity is false, the decisions we make are not really binding or primordial, we all spend them actively doing actions to satisfy the wills of others like a zombie, really most people do not own the decisions they make, we want what they tell us to want, we buy what they tell us, we believe in the political parties that impose us.
Zombies everywhere!!!


Deep down we are all zombies, I think that because of that we like them so much and at the same time they frighten us, since they are a twisted reflection of who we really are, this twisted version of us reminds us that if there is something we are most afraid of it is the lack of need for decision that freedom implies.
We could see this world as a world ruled by different hordes of zombies, each different from the other, Christian zombies, Islamic zombies, Republican zombies, Democratic zombies, and so on. (I think the idea was understood). This in itself is a problem, when for example we become infected by a Christian zombie, we stop believing and even come to hate any idea or theory defied the belief of our horde.
The LogicZombie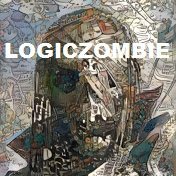 Now, the LogicZombie is that species that is not attached to any particular ideology or religion, only trusts him and what is logical for him, this kind of thinking can be rational at times, but this is an approach that has its flaws because there are times when we can not rely solely on logic, there are statements that we can not evaluate as true or false because what may be logical for us can be paradoxical and wrong.
According to my short experience everything in excess is bad (If, even happiness and money), there must always be a balance in our thoughts and actions, we must learn to know when to set aside logic because at some point we might find ourselves in a situation where the most logical answer will not be the right choice.
As for example we could go on the way to buy chocolates to conquer the girl we like but on the way we stumble upon a boy who lives on the street and asks us for some food, logic would tell us to follow and buy chocolates because if we conquer the girl would be very beneficial because we would be much happier but the right choice would be to buy some food to that child who is starving (Own experience).
Conclusion:
This is a very simple example but I think we understand the point, this is a very interesting subject that could be talked about for hours and I know that many will have different opinions on the matter, I hope to read everyone's opinions and be able to enrich my knowledge with you.
If you want to participate with a publication for the contest you can read the information in the following link:
https://steempeak.com/contest/@logiczombie/200-steem-essay-writing-contest-what-s-a-logiczombie