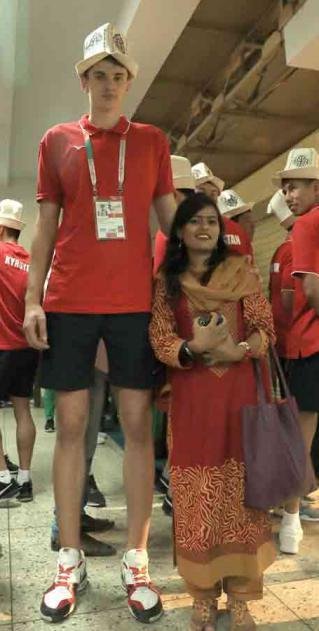 Hey, Baba is so tall ... 'This is a word of all to see the boy. There is no way to say that if you see Roman Shilvo Roman in tingling like a pendant! So what is the height of Silva? 7 feet 7 inches This is very much in the context of Bangladesh.
Six Nations Bangabandhu International Volleyball has come to play in Kyrgyzstan National Team. Silv is one of the most important players in Central Asia. Although the Kyrgyz are not yet in the tournament, the 19-year-old Silva is now the star of the tournament for the height. If you see him first, take photographs.
Since leaving Dhaka, there is no shortage of man's curiosity to see Silver. Rehana Parvin, the former fastest man of Bangladesh, was surprised at the party's arrival at the airport. Photographs in the eyes of the eye touched the hand. After this, there is no shortage of people's interest in seeing Silva in Hussein Shaheed Suhrawardy Indore.
Starting from the opening ceremony of the tournament, Silvose is always at the center of the audience's interest. Smiling face is coming out of the picture. One such man came here yesterday to see Bangladesh play Nepal. She is the sister of Salma Akter, a female volleyball team player. I want to take a picture of Shiv, 'Take an image of an extra tall look. He is a little exception than everyone else. '
The court has left the court with the permission of both Shilvo and Bangladesh's victory.