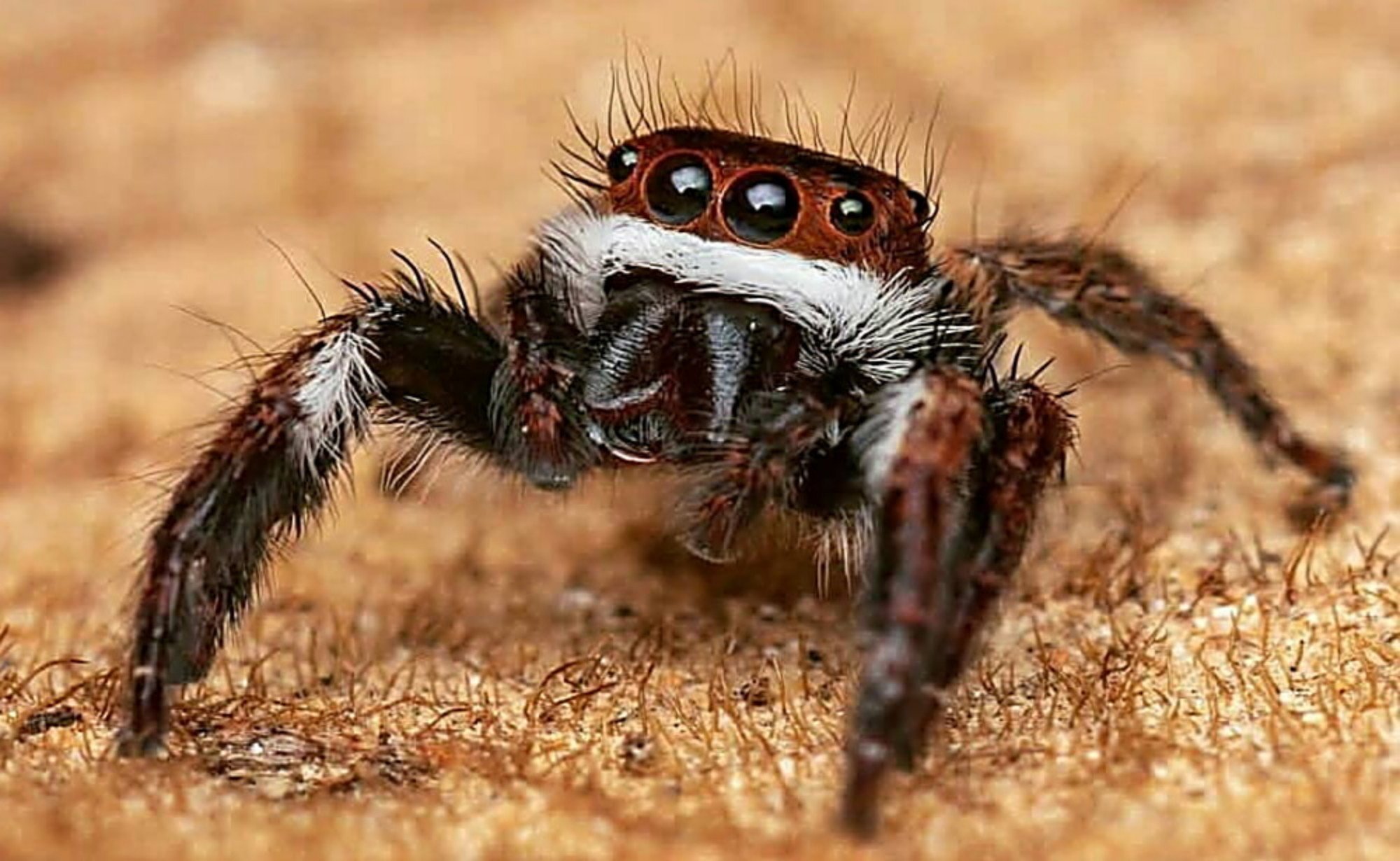 Nikon D50 + Lens: AF-S NIKKOR 85mm f/3.5G ED DX VR Micro + Softbox mini flash + Background made of fabric by @achysteem (me)
Hello everyone, come back with me @achysteem in macrophotography post. I am still studying, so any point there is a lack of help in forgiving.
In addition to explaining how to photomacro, here I want to introduce two figures
macrophotography is very much known in my country namely Indonesia is Roni Hendrawan and Shikhei Goh.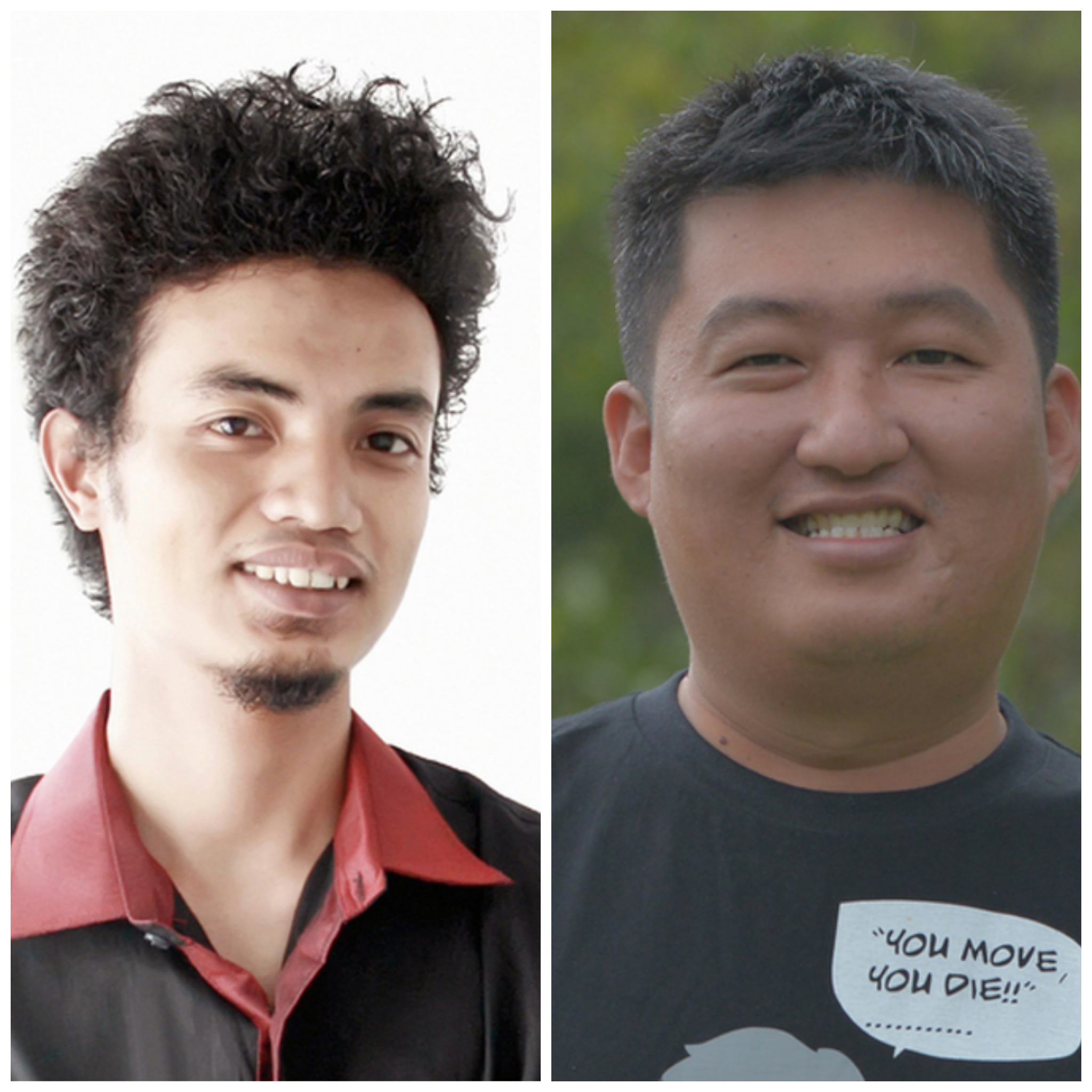 Roni Hendrawan & Sikhei Goh
Okay, Every photography technique has its own challenge. No exception macro techniques that utilize a very close distance to get the high detail. This time, we will specifically discuss macro techniques on nature photography whose objects are small insects.
Roni is known as a macro photographer who produces cool work with entry level cameras and kit lens 18-55 millimeters. The trick is to use additional and homemade tools, which we will discuss further in this article.
While Shikhei is one of Indonesia's achievers who diligently share photography workshops. He is a Macro category gold medalist at the Trierenberg Super Circuit 2015 Austria photo salon.
Let's know the approach taken by both in photographing 'small world'. Because, in photography, especially when talking about the art aspect, there is no right or wrong. Immediately listened to, this tips photographing macro from the expert.
Main Tool Options
As mentioned earlier, Roni uses Canon's entry level camera body, the 500D, with an 18-55 millimeter kit lens. To produce a large object image, an additional tool in the form of reverse ring is used. This adapter allows the photographer to use the lens in reverse to get magnification on the object.
"In addition, it can also use a tube extension, close-up filter, or Raynox macro conversion lens," said Roni.
He said, the use of reverse ring provides several advantages. First, an enlargement that exceeds the standard macro lens. Depth of field is also wider than the extension tube or close-up filter. The final advantage, this solution is relatively more affordable when compared to buying a macro lens. On the other hand, he added, the use of macro lenses is also recommended, as it is more practical and adds better photo quality.
Meanwhile, Shikhei rely on Canon 7D camera that he matches with a 100 millimeter lens or MP-E 65 macro lens. Additional tool that is used Raynox, precisely the model DCR-250
"From the beginning has never changed the camera. And the lens used between the two, "said Shikhei. According to him, macro photography equipment is not complicated, even additional tools can assemble themselves.
Lighting
For lighting, Roni utilizes a built-in camera flash built-in homemade diffuser, the white HVS paper. Its function is to reduce the flash light is too hard.
"The trick is quite simple, just prepare a clean white paper HVS, then glued on top of the lens parallel to the internal flash," said Roni.
Just like Roni, in low light situations, Shikhei uses the help of a flash and homemade diffuser of white styrofoam. However, he prefers to use external flash rather than internal.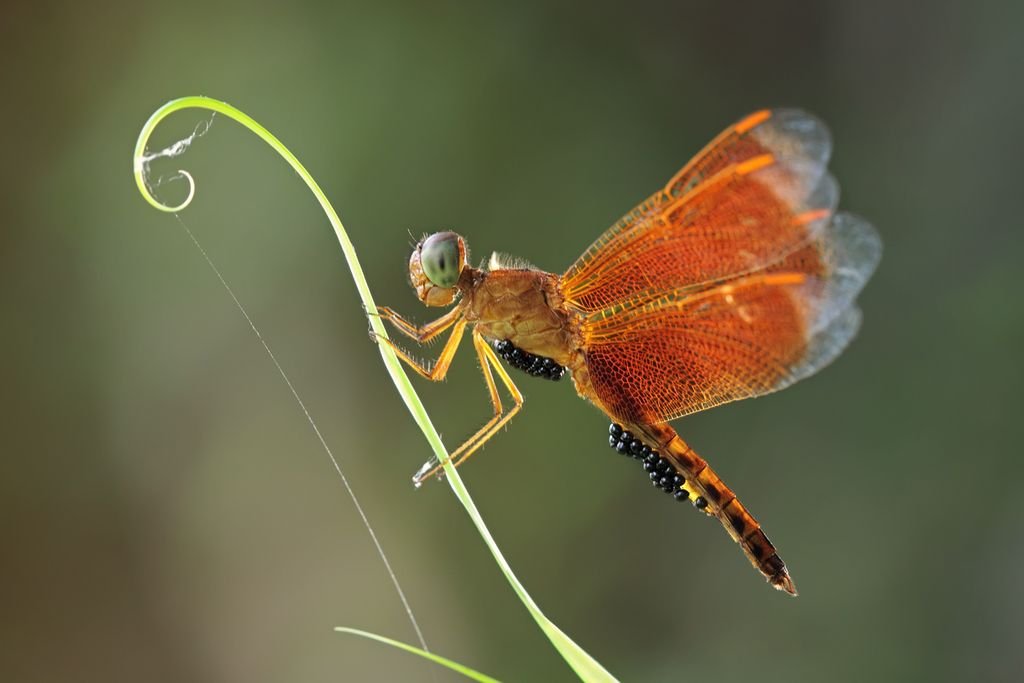 Dragonfly with Parasite Mite by Shikhei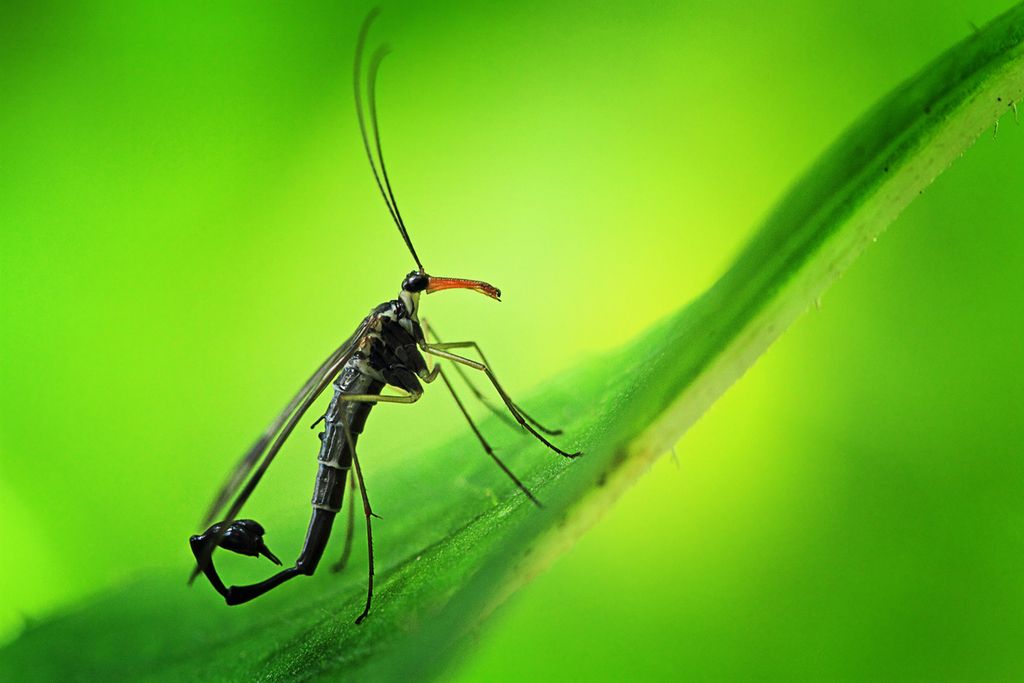 Scorpionfly by Shikhei
"If you want to photograph a small insect in a low light place, must use flash. Problem of diffuser, I use styrofoam. But, Shikhei said, if you want to take pictures of larger insects, like butterflies, do not use flash.
According to Shikhei, in the macro world, light is the most important aspect. If possible, light is set as gently as possible. That is why the light from the flash should be muted by the diffuser. The additional lighting used does not have to be expensive.
"Brand flash not too effect on the results, flash cheap just enough," he said.
Recognize the habit of animals
For Roni, making the animals 'posing' in front of the camera is a challenge interesting. To be able to achieve this, photographer should be able to approach without animals disturbed or fear. In addition, calm and do not use the color of clothes striking and perfume sting can also help.
"In addition, shooting in the right time, ie morning and evening, is the way I often use," said Roni.
Shikhei also tells the same about fragrance. So also about the ideal hunting time. He suggested that photographers wake up early, because insects are more passive after dawn, when things are still cold.
"If for the afternoon, better hunting over at 5 pm, because the insects are also more silent," he said.
Not only that, insects are also reactive to movement in the surrounding environment. Shikei advised the photographer not to make a sudden movement that can make the animal afraid.
To maximize the results, I will discuss in other postings, for the picture above I took using Nikon camera. so much from me, if you like my post and give benefit, please resteem and upvote.