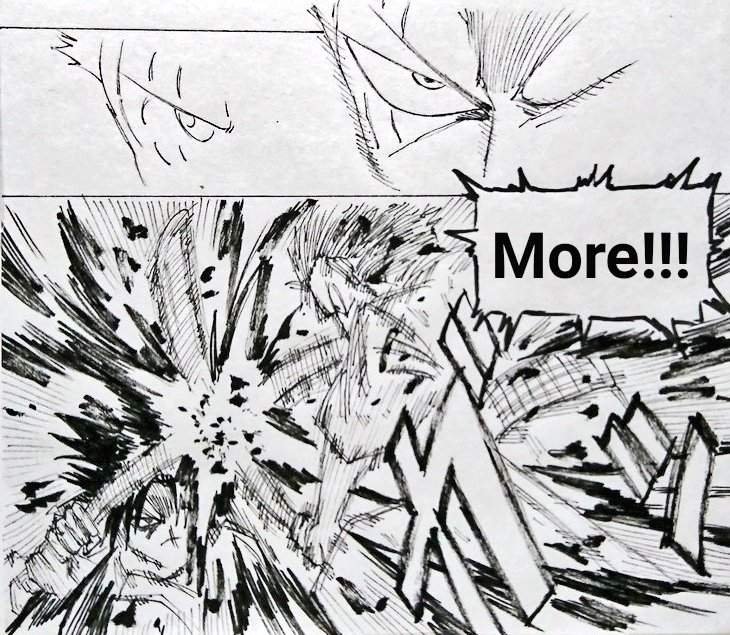 Hello steemians!
I am RYO!
This is a -Jingi- New Chapter post
-Jingi- is not my previous work, it's my original manga that I'm currently working on
About hints to read manga before
Read manga from the right
Red word are Japanese. The meaning is written in (※)
If you do not understand how to read manga please read the sentences under the picture. It's written in the order of manga
-Jingi- Chapter33↓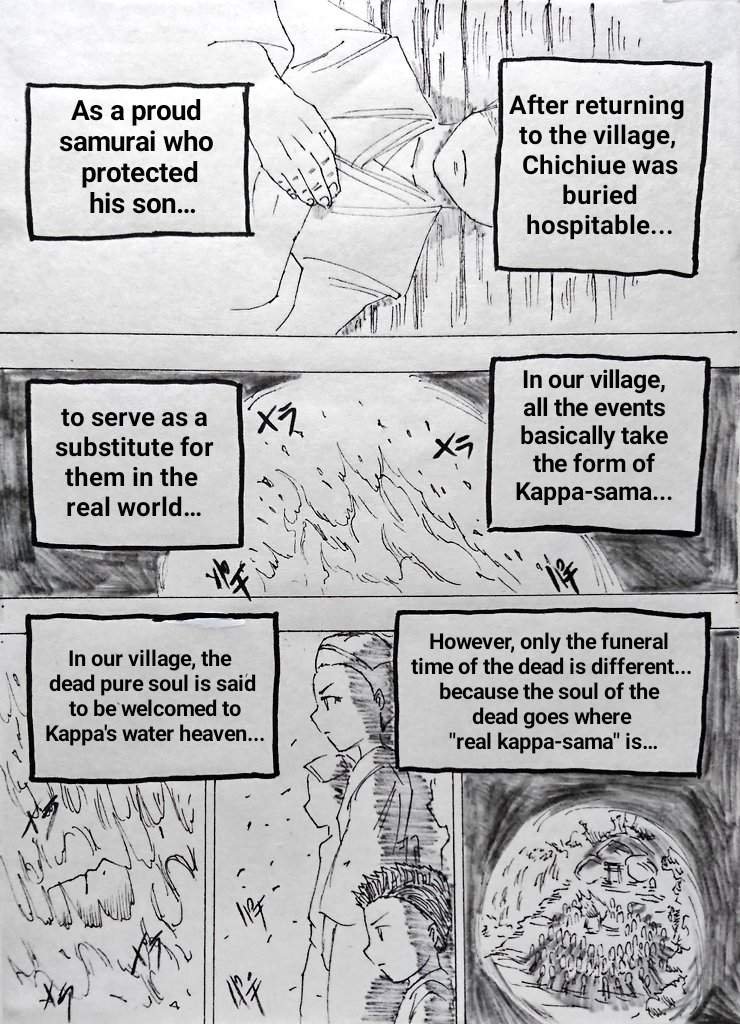 After returning to the village, Chichiue was buried hospitable...
As a proud samurai who protected his son…
In our village, all the events basically take the form of Kappa-sama...to serve as a substitute for them in the real world…
However, only the funeral time of the dead is different...
because the soul of the dead goes where "real kappa-sama" is…
In our village, the dead pure soul is said to be welcomed to Kappa's water heaven...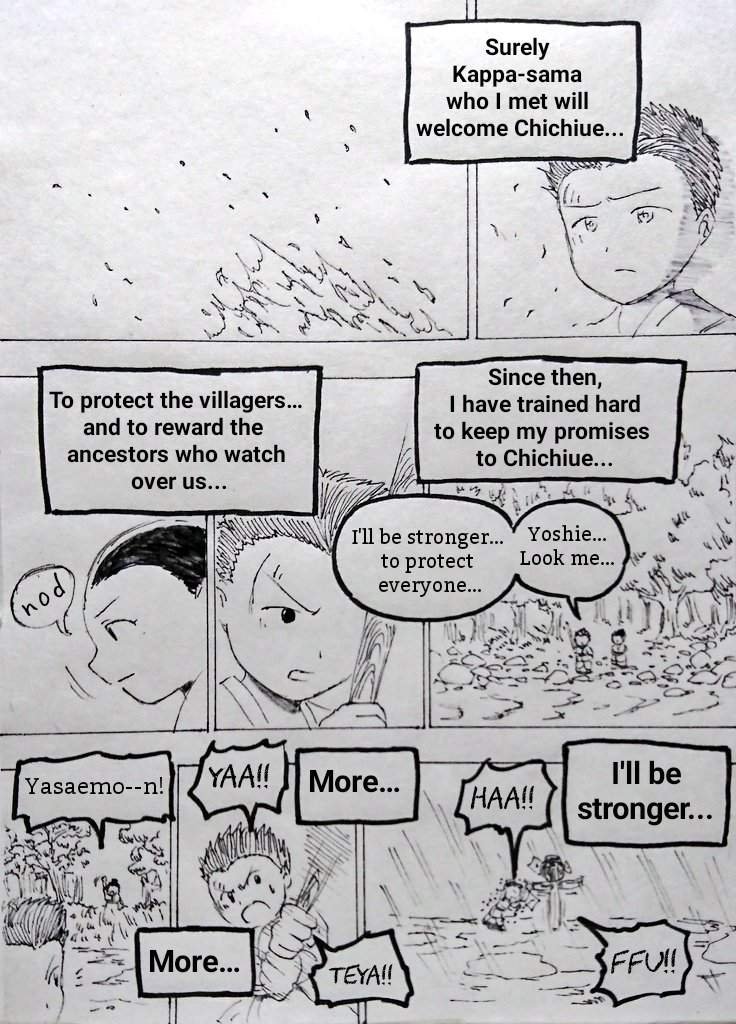 Surely Kappa-sama who I met will welcome Chichiue...
Since then, I have trained hard to keep my promises to Chichiue...
To protect the villagers…and to reward the ancestors who watch over us...
Yoshie...Look me...I'll be stronger...to protect everyone...
I'll be stronger...More…More…
Yasaemo--n!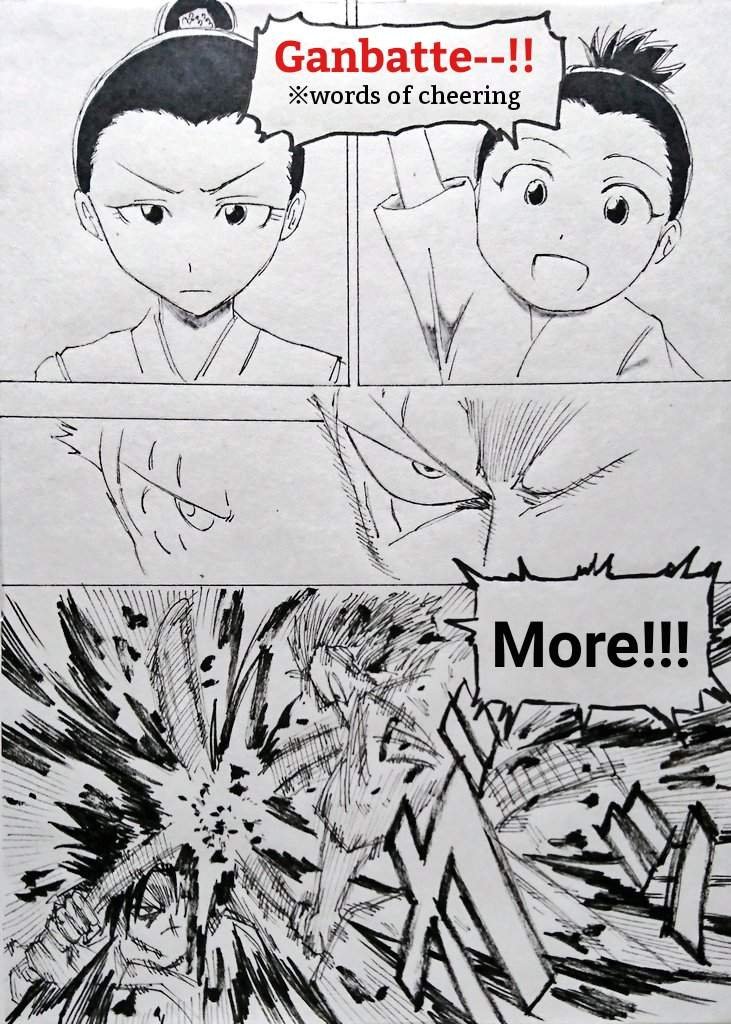 Ganbatte--!!=※words of cheering
More!!!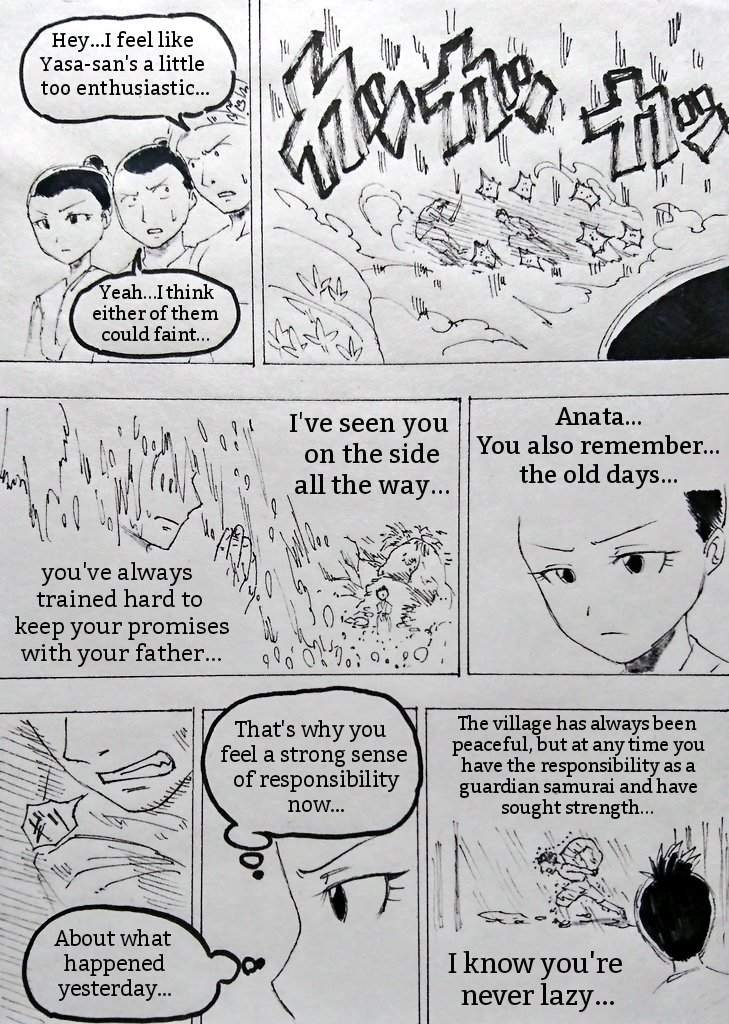 Hey…I feel like Yasa-san's a little too enthusiastic...
Yeah…I think either of them could faint…
Anata…You also remember…the old days...
I've seen you on the side all the way...
you've always trained hard to keep your promises with your father...
The village has always been peaceful, but at any time you have the responsibility as a guardian samurai and have sought strength...
I know you're never lazy...
That's why you feel a strong sense of responsibility now…
About what happened yesterday…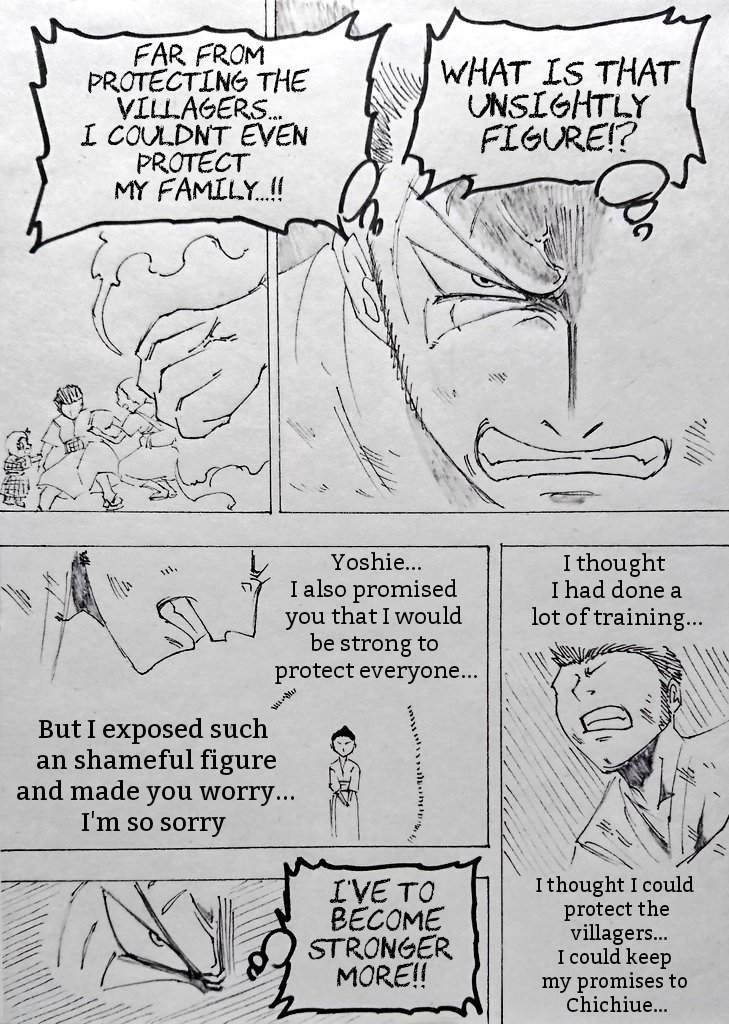 What is that unsightly figure!?…
Far from protecting the villagers…I couldn't even protect my family...!!
I thought I had done a lot of training...
I thought I could protect the villagers...I could keep my promises to Chichiue...
Yoshie…I also promised you that I would be strong to protect everyone...
But I exposed such an shameful figure and made you worry...I'm so sorry.
I've to become stronger more!!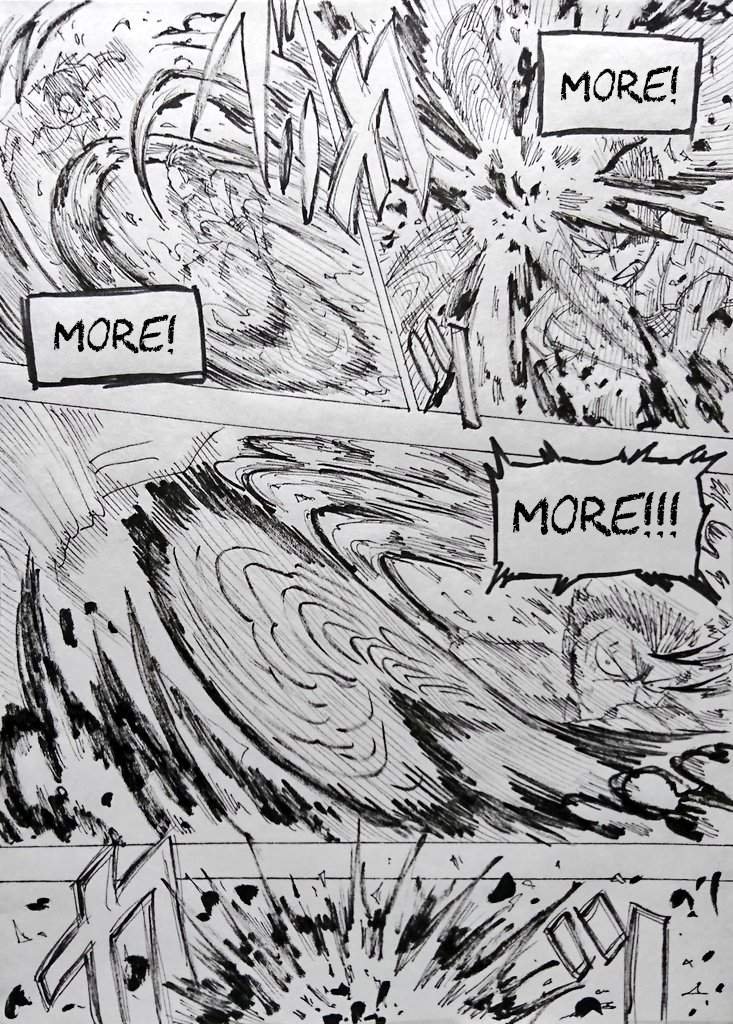 More!
More!
More!!!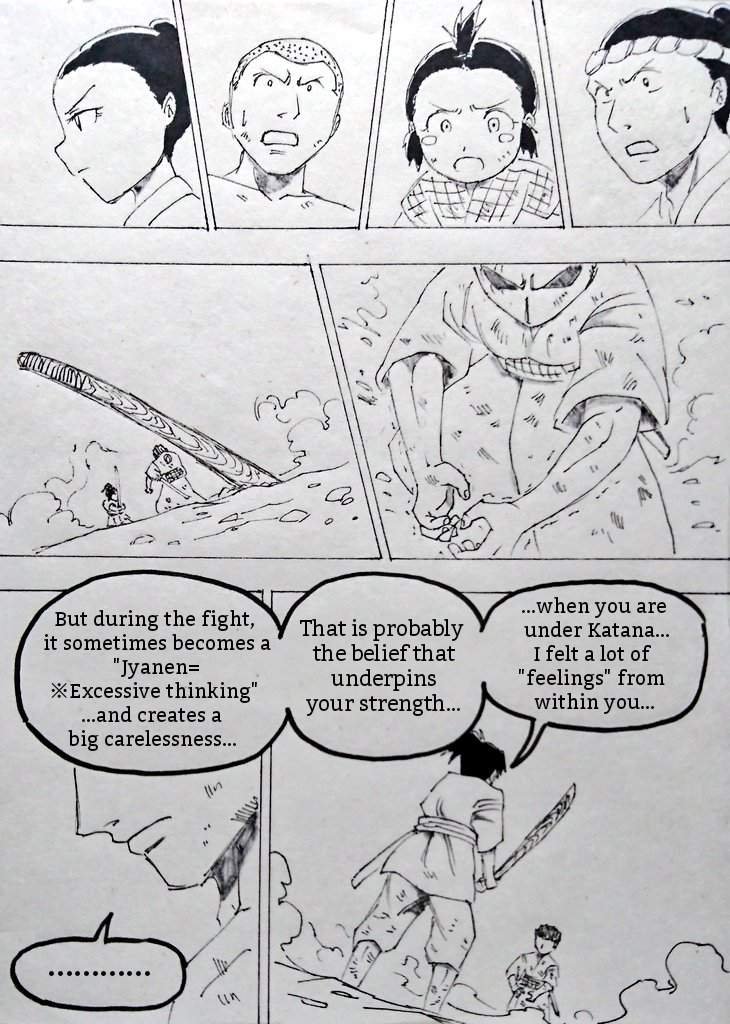 ...when you are under Katana...
I felt a lot of "feelings" from within you...
That is probably the belief that underpins your strength…
But during the fight, it sometimes becomes a "Jyanen=※Excessive thinking"
...and creates a big carelessness...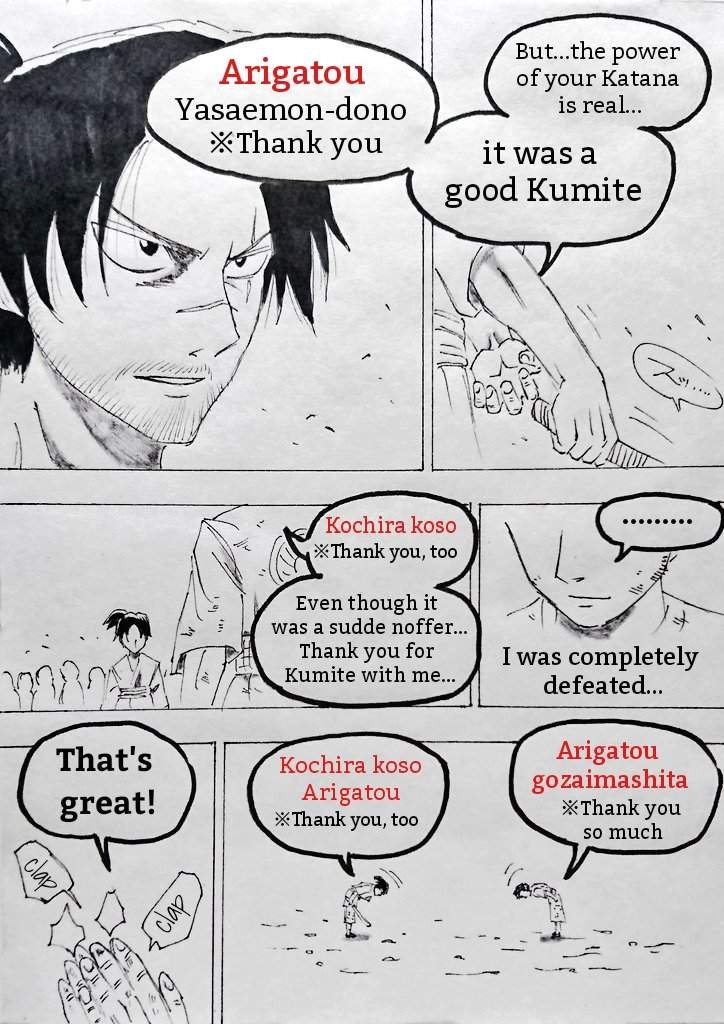 But…the power of your Katana is real...it was a good Kumite…
"Arigatou=※Thank you" Yasaemon-dono
I was completely defeated…
"Kochira koso=※Thank you, too"
Even though it was a sudden offer…
Thank you for Kumite with me…
"Arigatou gozaimashita=※Thank you so much"
Kochira koso Arigatou=※Thank you, too
That's great!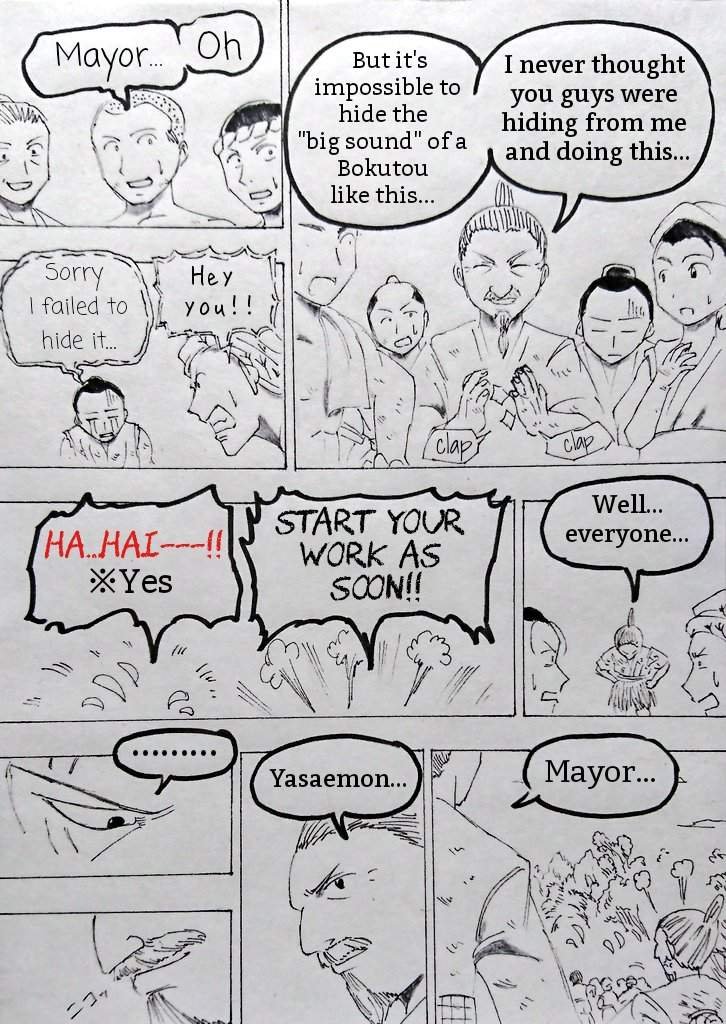 I never thought you guys were hiding from me and doing this…
But it's impossible to hide the "big sound" of a Bokutou like this…
Oh Mayor…
Hey you!!
Sorry I failed to hide it…
Well…everyone…
Start your work as soon!!
Ha…Hai---!! ※Yes
Mayor…
Yasaemon…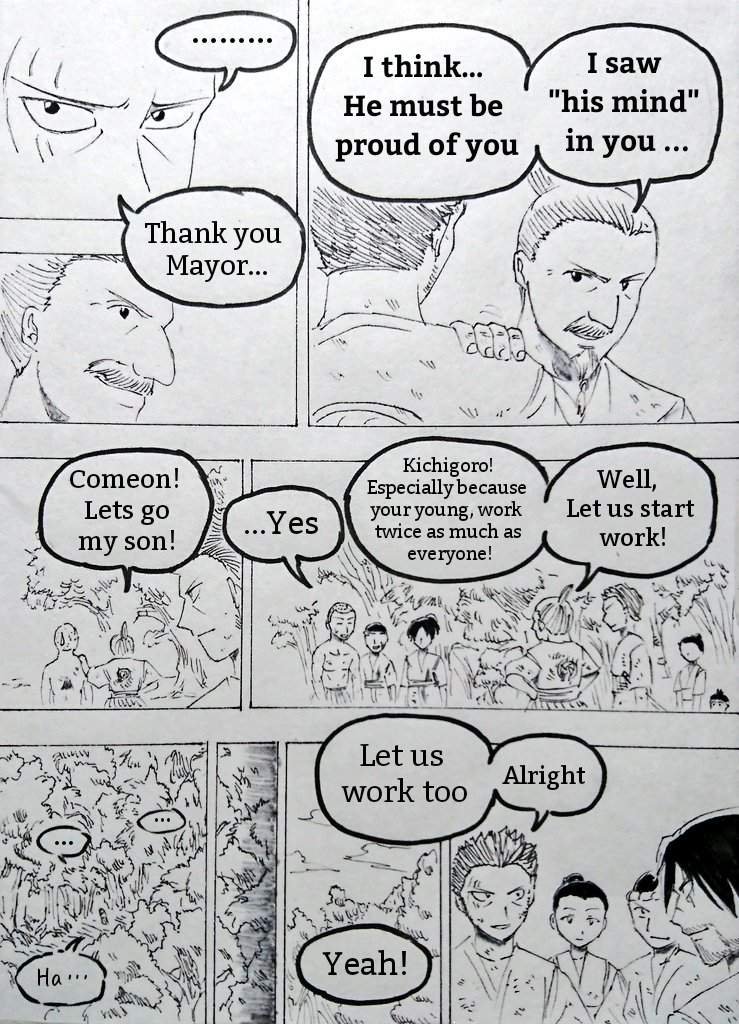 I saw "his mind" in you ...
I think…He must be proud of you
Thank you Mayor…
Well, Let us start work!
Kichigoro!Especially because your young, work twice as much as everyone!
…Yes
Comeon! Lets go my son!
Alright Let us work too
Yeah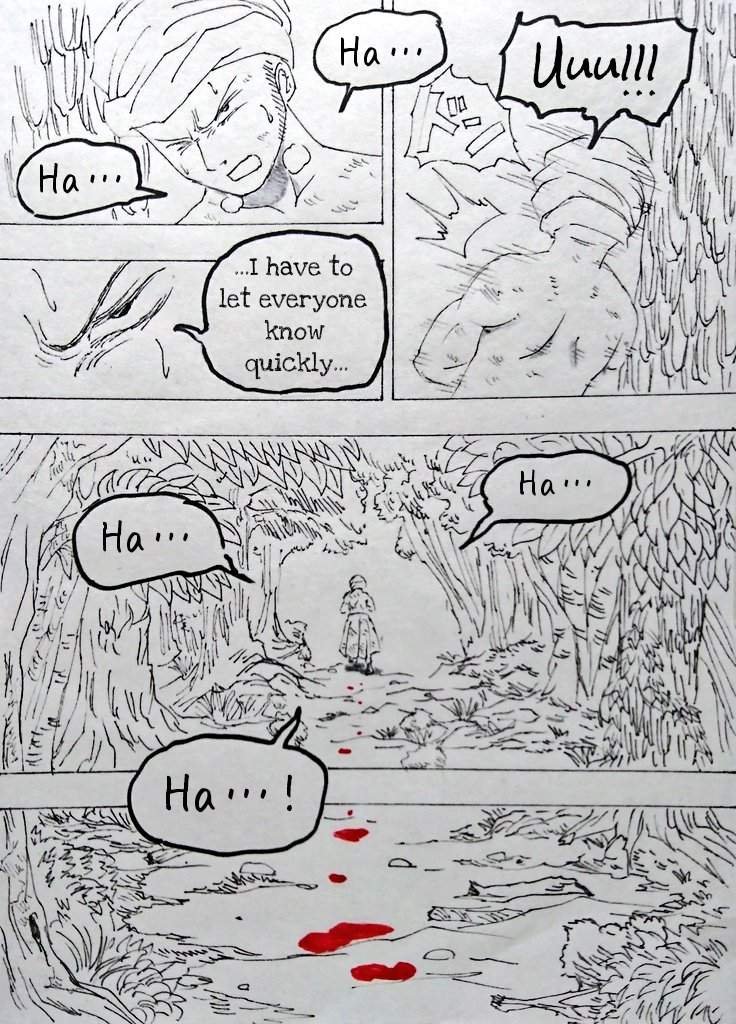 …I have to let everyone know quickly…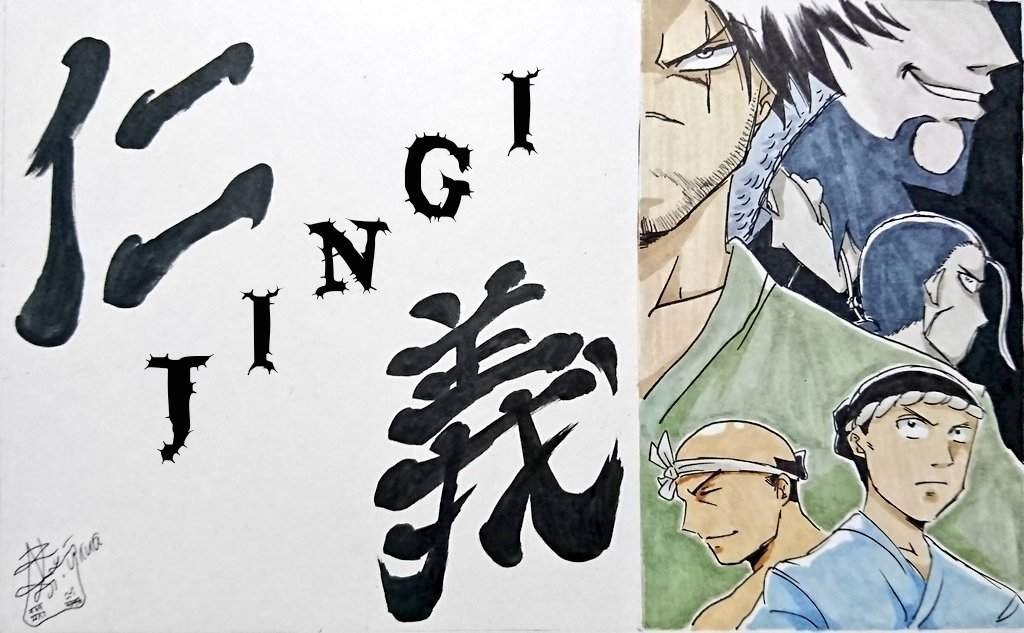 That's the end of the chapter33
Recently I posted every 6 days,
I want to organize the story a little, so the next chapter will be posted on October 2nd (8 days later)
Thank you for reading!
Arigatou gozaimashita!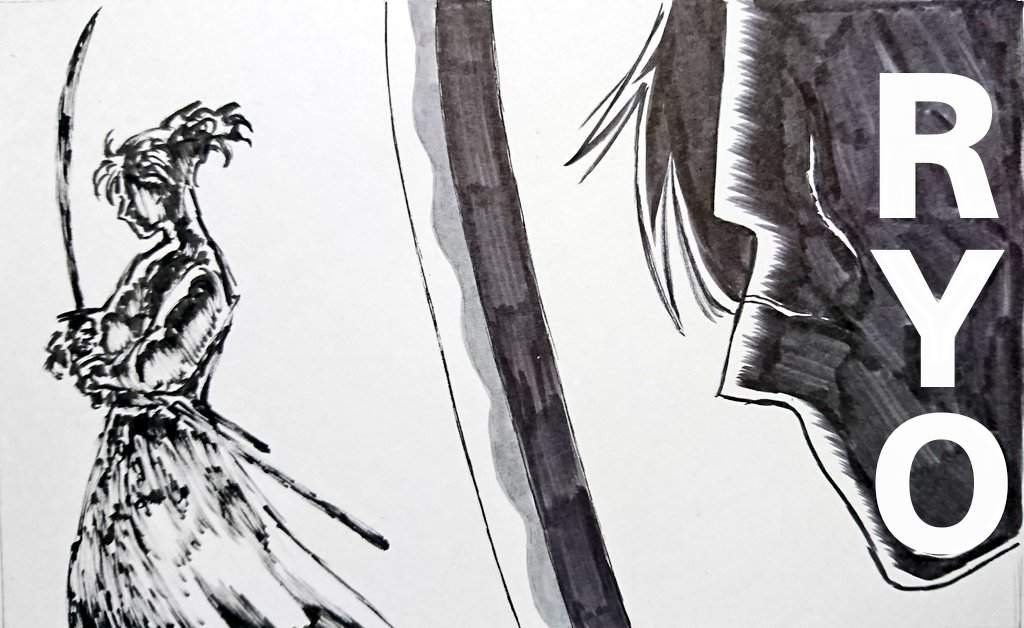 Have not you seen the -Jingi-仁義 series yet?
My Original Samurai manga -Jingi-仁義 can be seen here!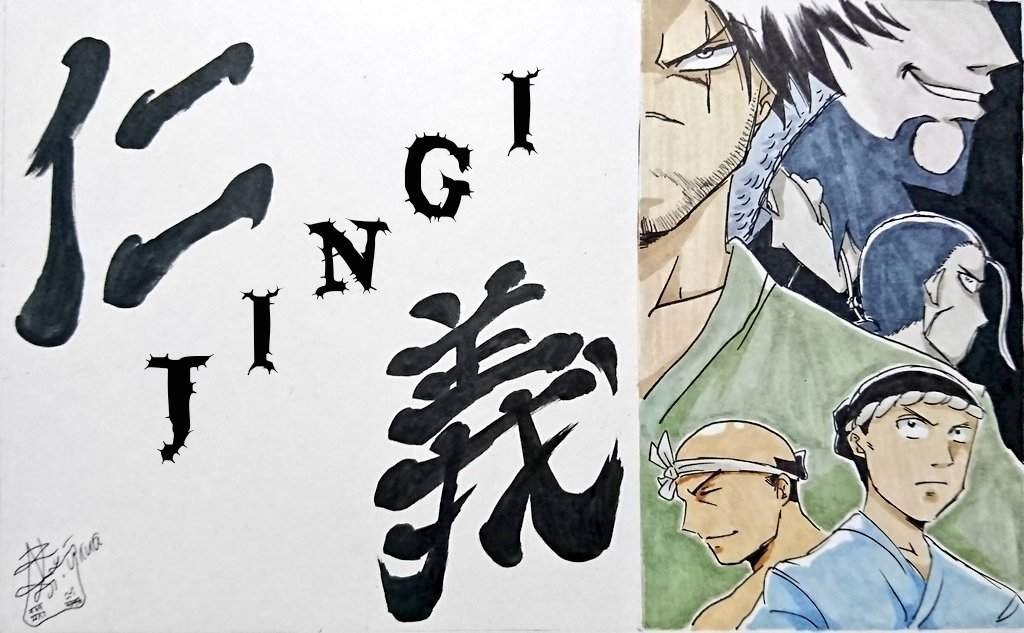 Chapter 1-2-3
https://partiko.app/@ryo-6414/the-samurai-manga-jingi-chapter-123-tqjpkwtb
Chapter 4-5-6
https://partiko.app/ryo-6414/my-original-samurai-manga-jingi-chapter-456-mmtejmci?referrer=ryo-6414
Chapter7
https://partiko.app/@ryo-6414/the-samurai-manga-jingi-chapter7-grqawewf
Chapter8
https://partiko.app/@ryo-6414/the-samurai-manga-jingi-chapter8-ttoreio0
Chapter9
https://partiko.app/@ryo-6414/the-samurai-manga-jingi-chapter9-hsqg1hln
Chapter10
https://partiko.app/@ryo-6414/the-samurai-manga-jingi-chapter10-ndtrvpio
Chapter11
https://partiko.app/@ryo-6414/the-samurai-manga-jingi-chapter11-u1uou8kh
Chapter12
https://partiko.app/@ryo-6414/the-samurai-manga-jingi-chapter12-amvjv9zp
Chapter13
https://partiko.app/@ryo-6414/the-samurai-manga-jingi-chapter13-bmpvkucw
Chapter14
https://partiko.app/@ryo-6414/the-samurai-manga-jingi-chapter14-ei5ga7kk
Chapter15
https://partiko.app/ryo-6414/the-samurai-manga-jingi-chapter15-bzsgcipn?referrer=ryo-6414
Chapter16
https://partiko.app/ryo-6414/my-original-samurai-manga-jingi-chapter16-2erk8o7d?referrer=ryo-6414
Chapter17
https://partiko.app/ryo-6414/my-original-samurai-manga-jingi-chapter17-zkggrwuu?referrer=ryo-6414
Chapter18
https://partiko.app/ryo-6414/my-original-samurai-manga-jingi-chapter18-gs27fsdh?referrer=ryo-6414
Chapter19
https://partiko.app/ryo-6414/my-original-samurai-manga-jingi-chapter19-lrnweqqi?referrer=ryo-6414
Chapter20
https://partiko.app/ryo-6414/my-original-samurai-manga-jingi-chapter20-2en9sfrq?referrer=ryo-6414
Chapter21
https://partiko.app/ryo-6414/my-original-samurai-manga-jingi-chapter21-vu8lonac?referrer=ryo-6414
Chapter22
https://partiko.app/ryo-6414/my-original-samurai-manga-jingi-chapter22-5fusqjsh?referrer=ryo-6414
Chapter23
https://partiko.app/ryo-6414/my-original-samurai-manga-jingi-chapter23?referrer=ryo-6414
Chapter24
https://partiko.app/ryo-6414/my-original-samurai-manga-jingi-chapter24?referrer=ryo-6414
Chapter25
https://partiko.app/ryo-6414/jyjmg-my-original-samurai-manga-jingi-chapter25?referrer=ryo-6414
Chapter26
https://partiko.app/ryo-6414/my-original-samurai-manga-jingi-chapter26?referrer=ryo-6414
Chapter27
https://partiko.app/ryo-6414/my-original-samurai-manga-jingi-chapter27?referrer=ryo-6414
Chapter28
https://partiko.app/ryo-6414/my-original-samurai-manga-jingi-chapter28?referrer=ryo-6414
Chapter29
https://partiko.app/ryo-6414/my-original-samurai-manga-jingi-chapter29?referrer=ryo-6414
Chapter30
https://partiko.app/ryo-6414/my-original-samurai-manga-jingi-chapter30?referrer=ryo-6414
Chapter31
https://partiko.app/ryo-6414/my-original-samurai-manga-jingi-chapter31?referrer=ryo-6414
Chapter32
https://partiko.app/ryo-6414/my-original-samurai-manga-jingi-chapter32?referrer=ryo-6414
All my mangas drawn in "Washi(和紙)"
It is a traditional Japanese paper made from 1300 years ago.
This is my Washi of post↓
https://steemit.com/traditional/@ryo-6414/washi-is-process-work-dlm5nqgq