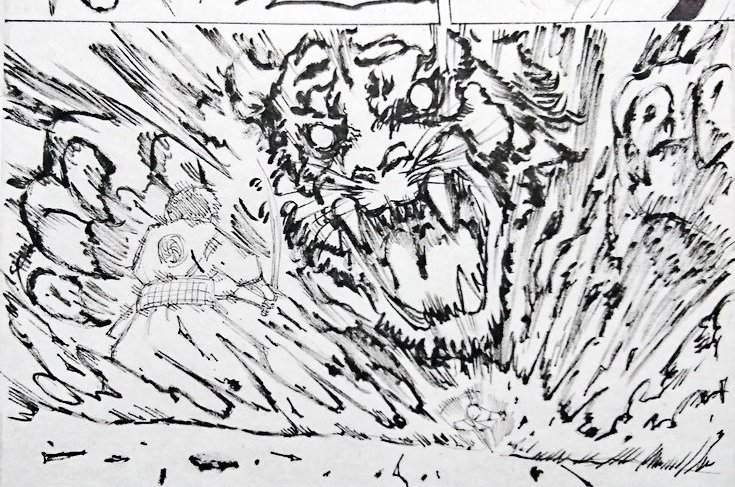 Hello steemians!
I am RYO!
This is a -Jingi- New Chapter post
-Jingi- is not my previous work, it's my original manga that I'm currently working on
About hints to read manga before
Read manga from the right
Red word are Japanese. The meaning is written in (※)
If you do not understand how to read manga please read the sentences under the picture. It's written in the order of manga
-Jingi- Chapter50↓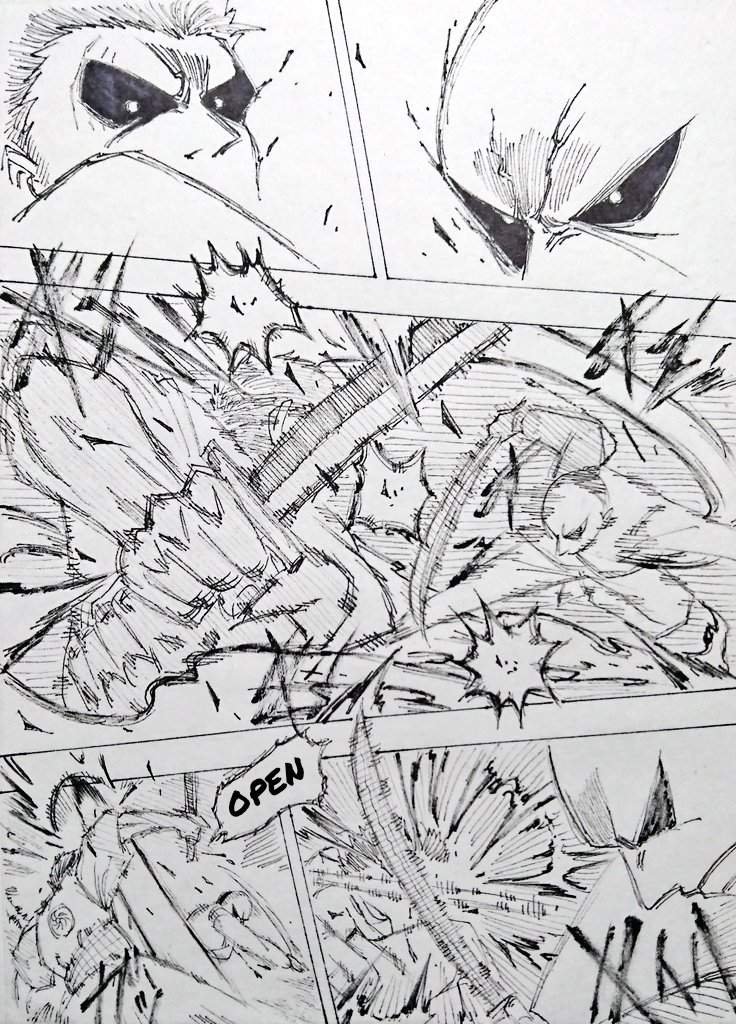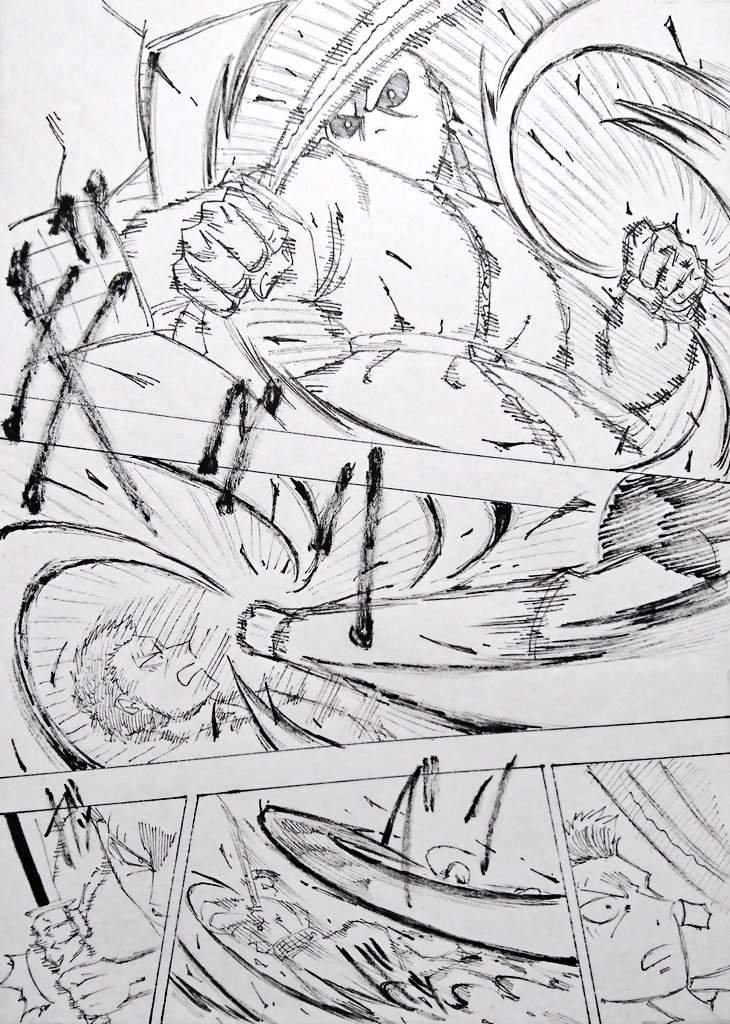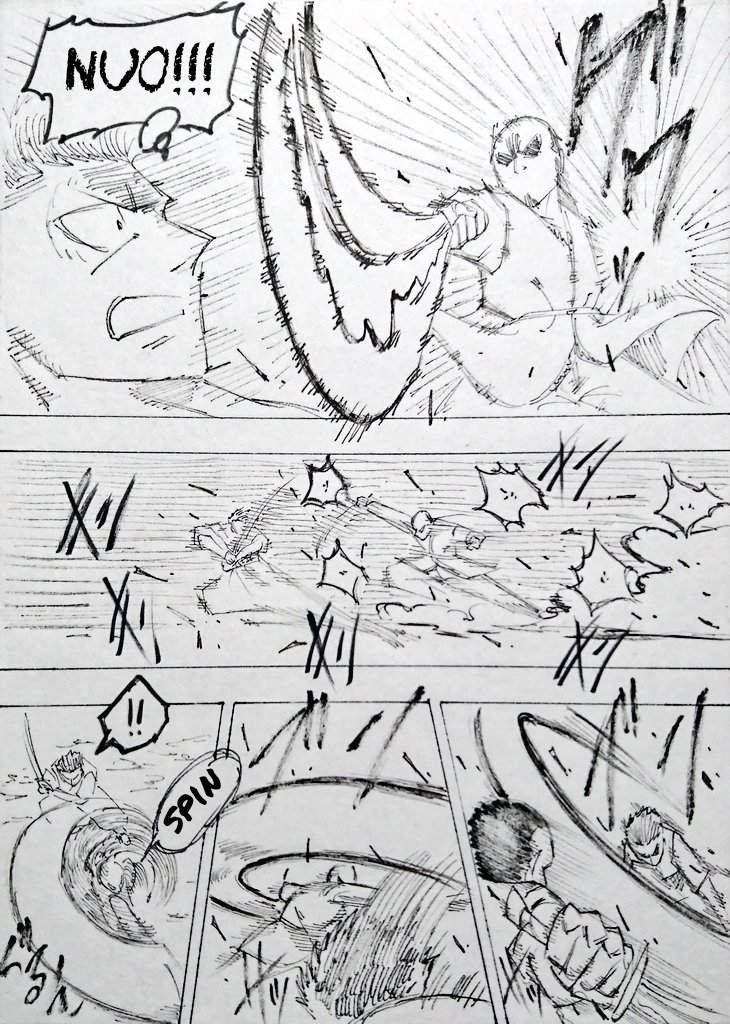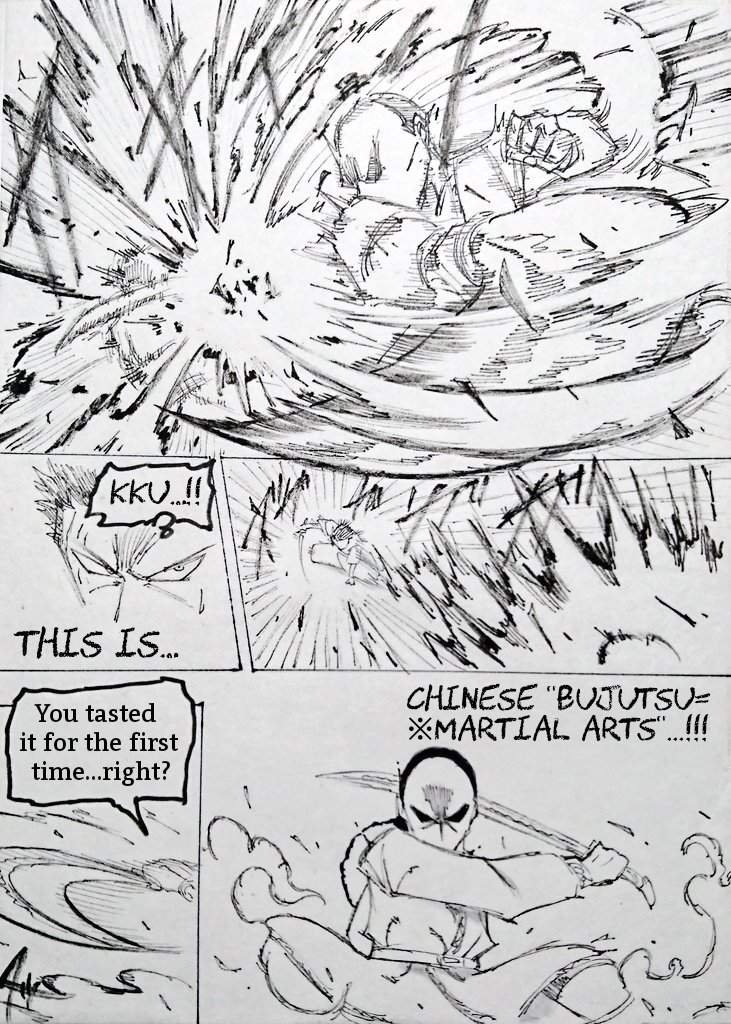 This is…Chinese "Bujutsu=※martial arts※...!!!
You tasted it for the first time…right?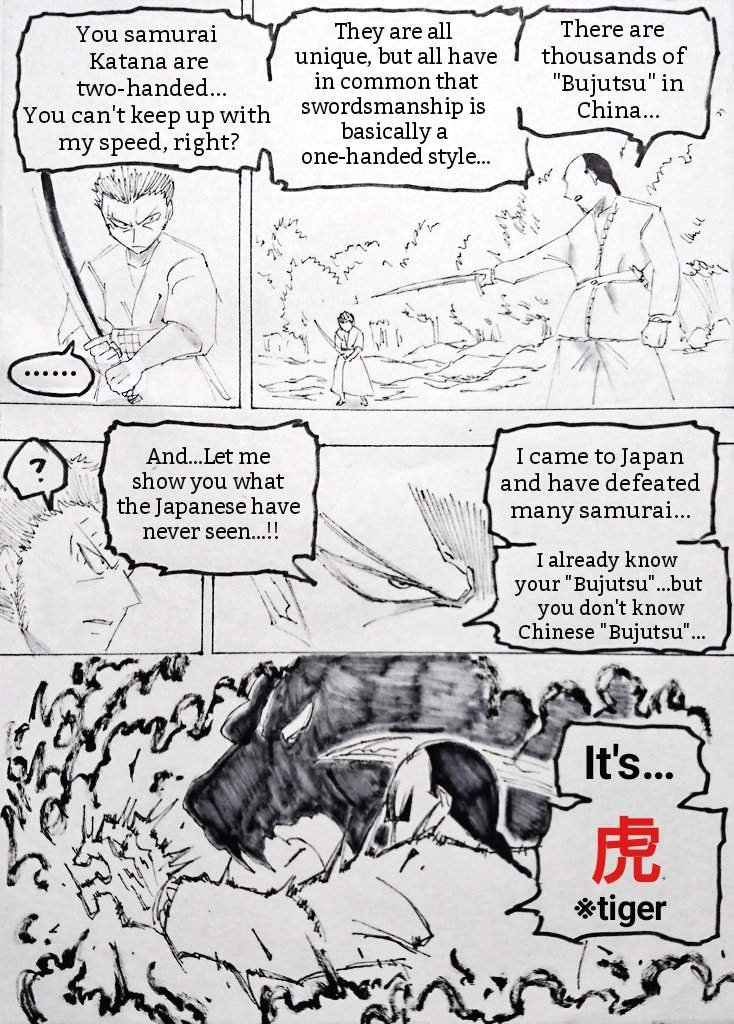 There are thousands of "Bujutsu" in China...
They are all unique, but all have in common that swordsmanship is basically a one-handed style...
You samurai Katana are two-handed...
You can't keep up with my speed, right?
I came to Japan and have defeated many samurai...
I already know your "Bujutsu"…but you don't know Chinese "Bujutsu"...
And…Let me show you what the Japanese have never seen...!!
It's…虎=※tiger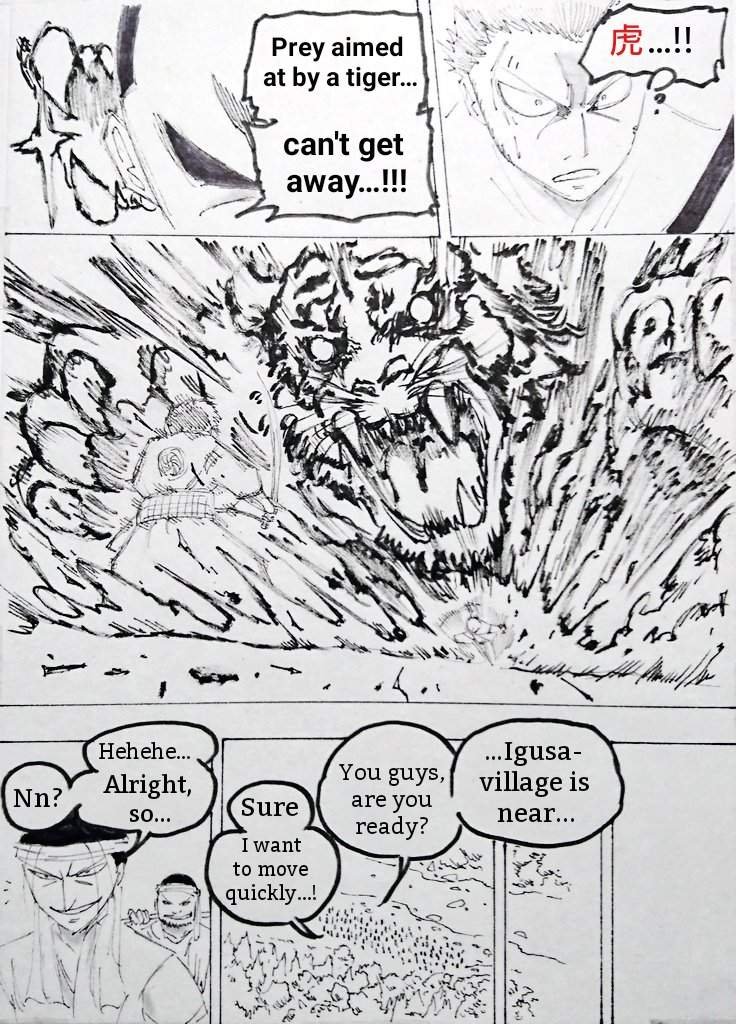 虎…!!
Prey aimed at by a tiger…can't get away…!!!
…Igusa-village is near...You guys, are you ready?
Sure, I want to move quickly…!
Hehehe…Alright, so…Nn?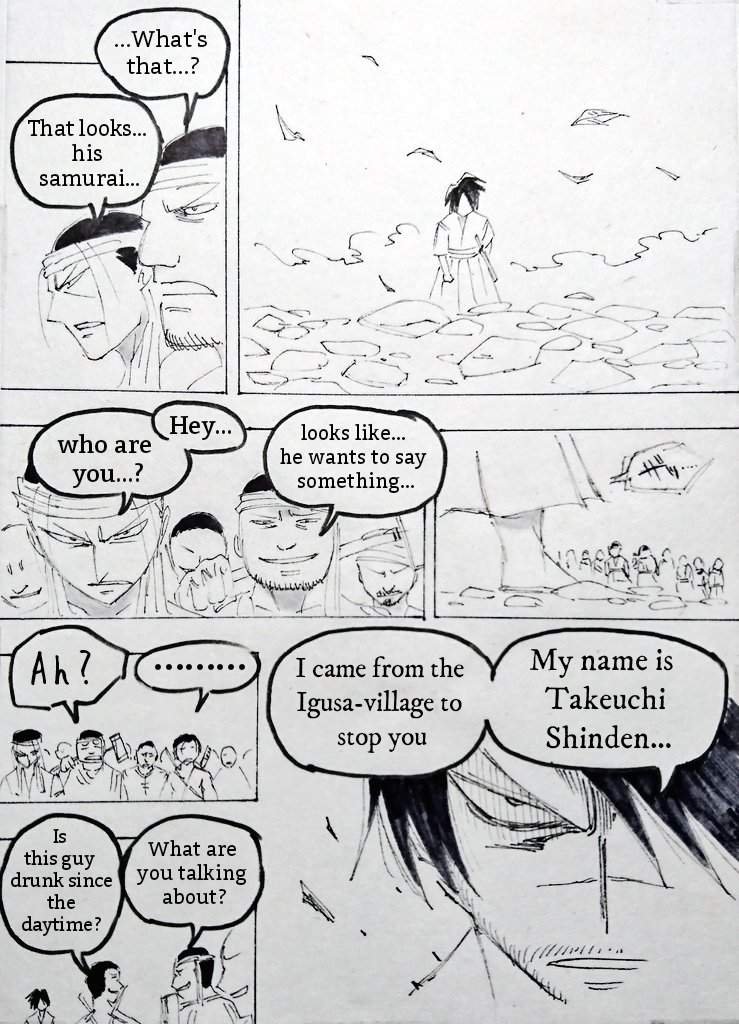 …What's that…?
That looks…his samurai…
looks like…he wants to say something...
Hey…who are you…?
My name is Takeuchi Shinden…
I came from the Igusa-village to stop you
What are you talking about?
Is this guy drunk since the daytime?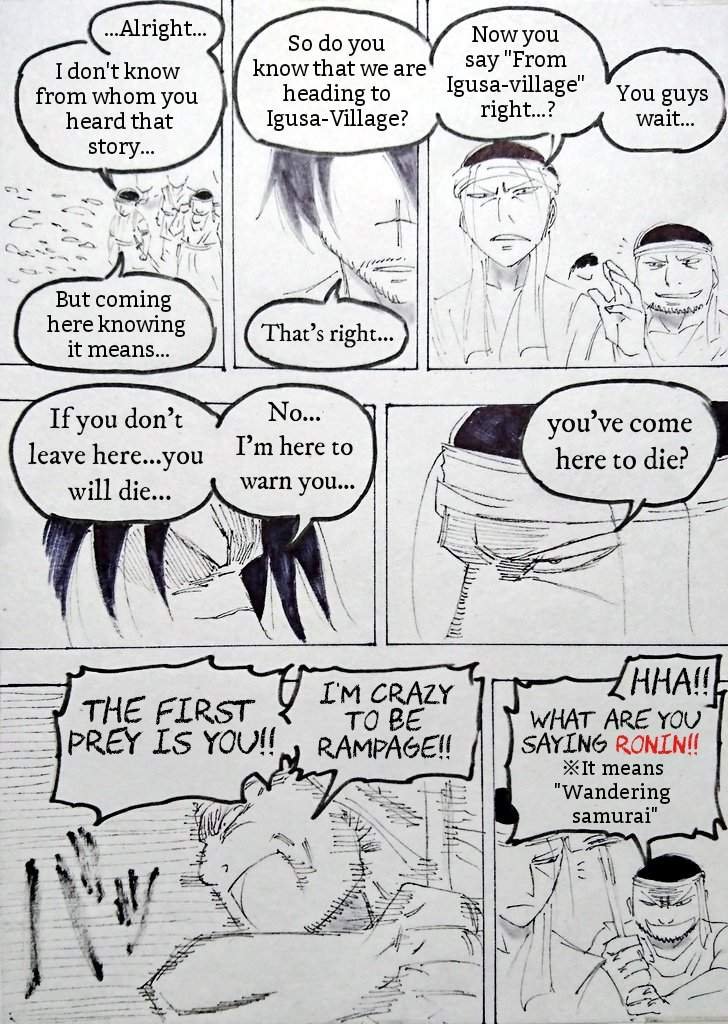 You guys wait…
Now you say "From Igusa-village" right…?
So do you know that we are heading to Igusa-Village?
That's right…
…Alright…I don't know from whom you heard that story...
But coming here knowing it means…
you've come here to die?
No…I'm here to warn you...
If you don't leave here…you will die...
Hha!! What are you saying Ronin!!=※It means "Wandering samurai"
I'm crazy to be rampage!!
The first prey is you!!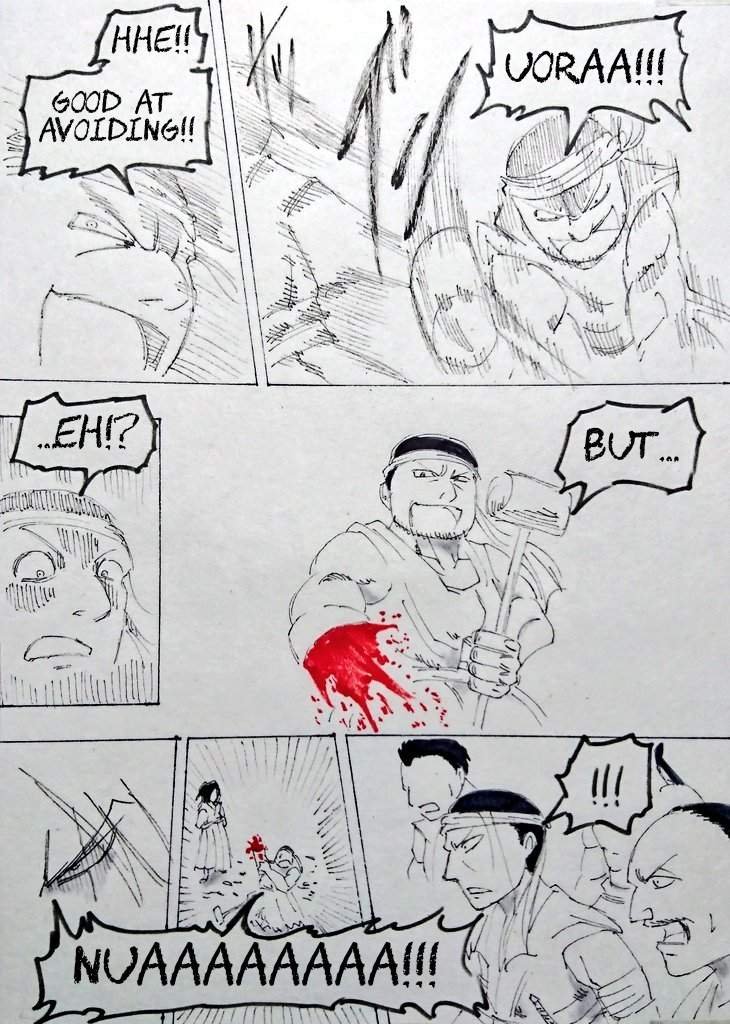 Good at avoiding!!
But…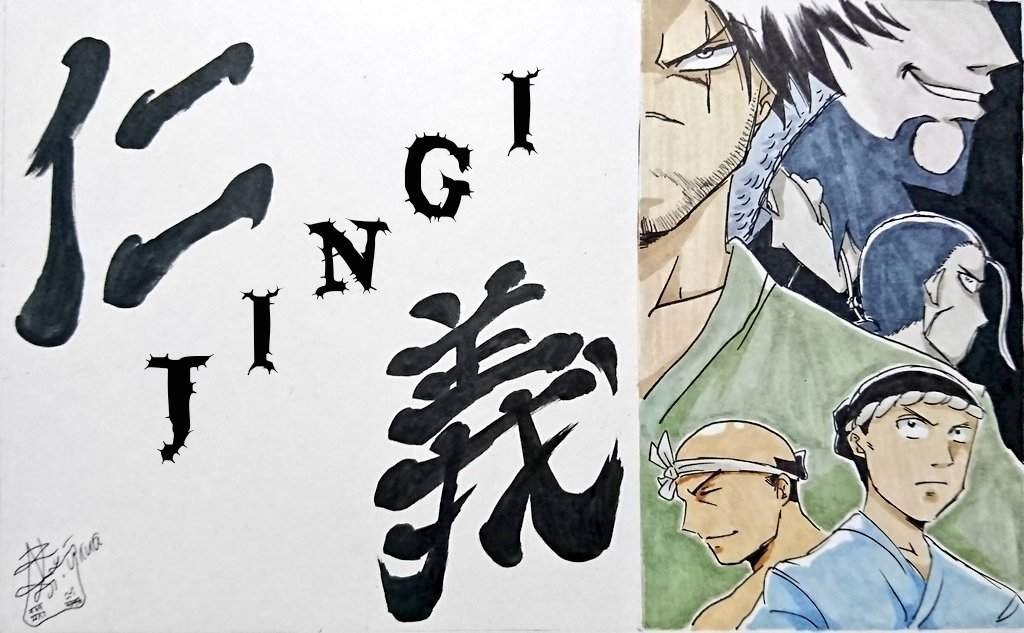 -Jingi- has finally reached chapter 50!
So this time I will post more photos of the process than usual😃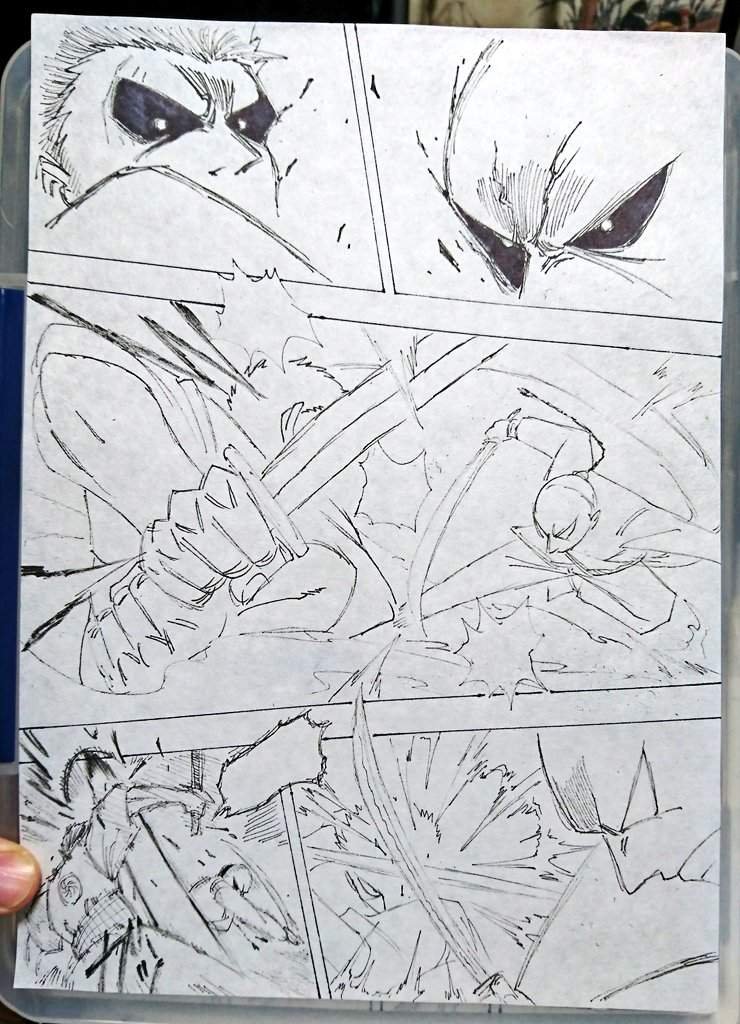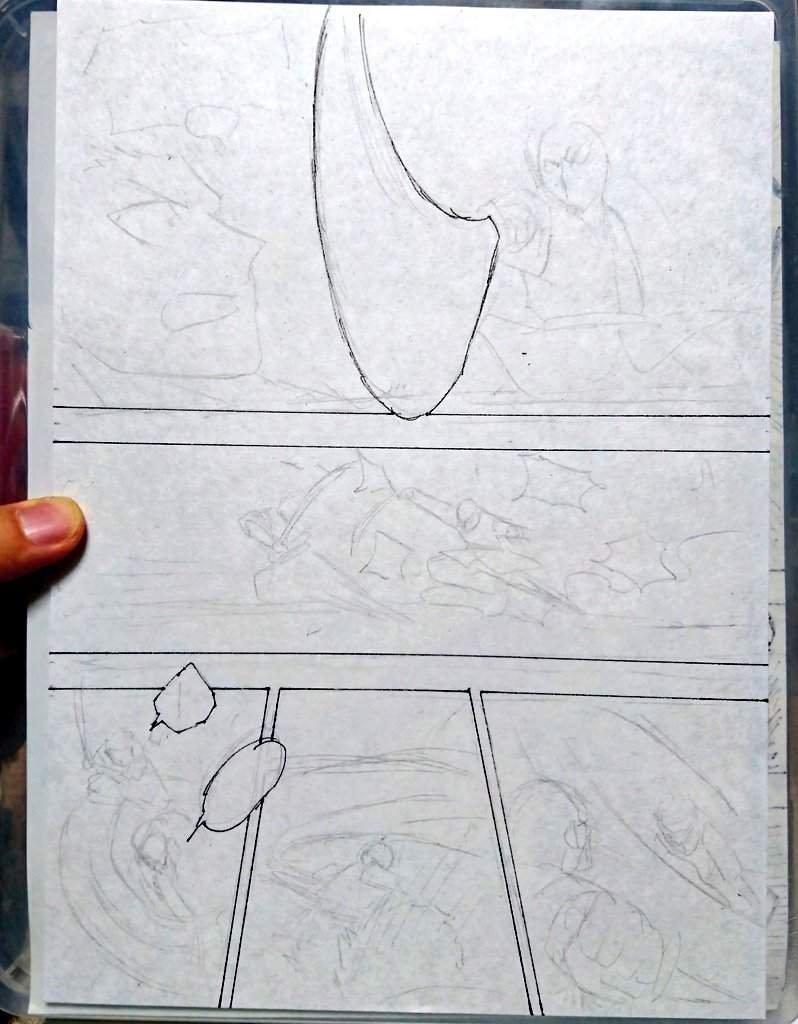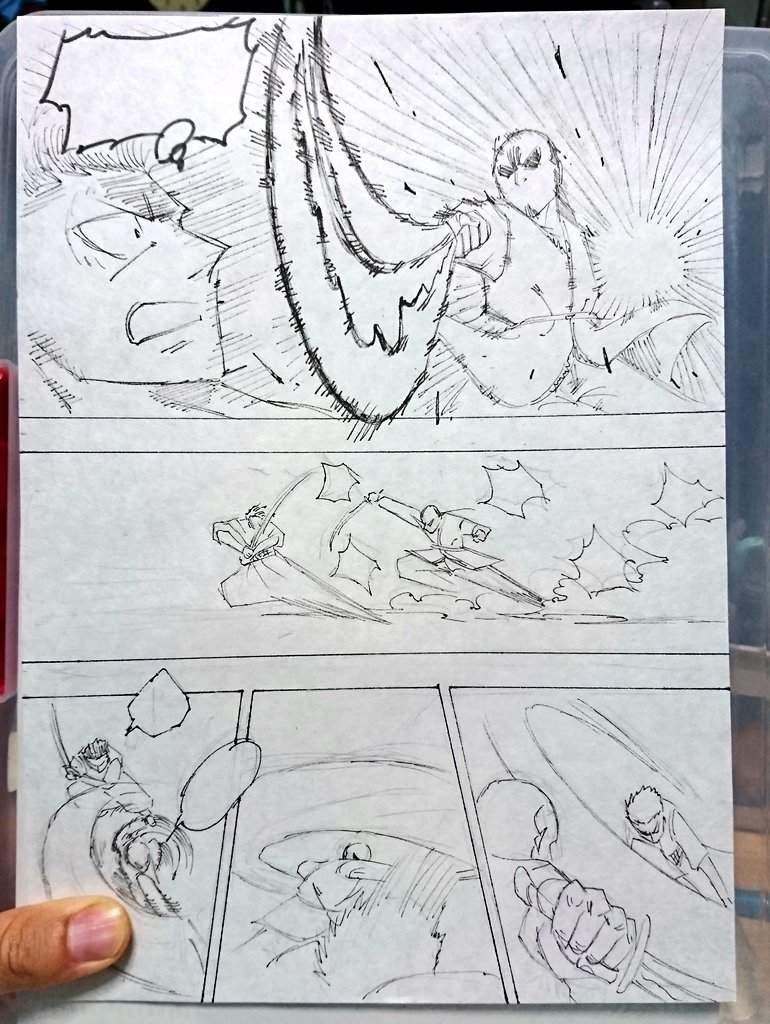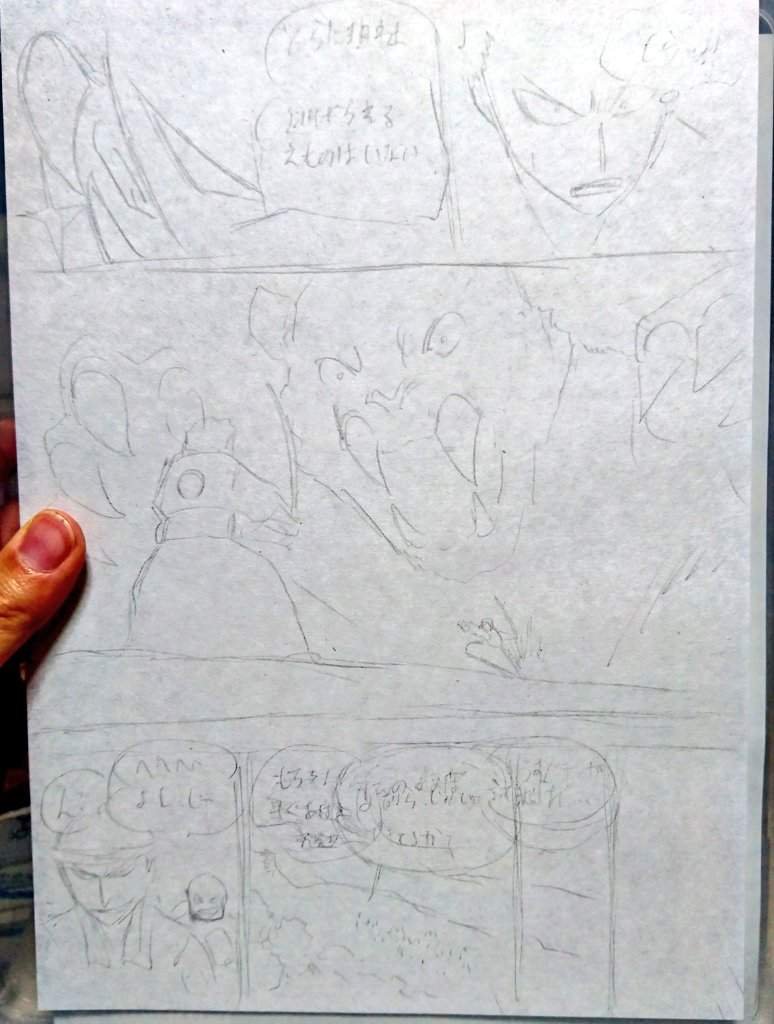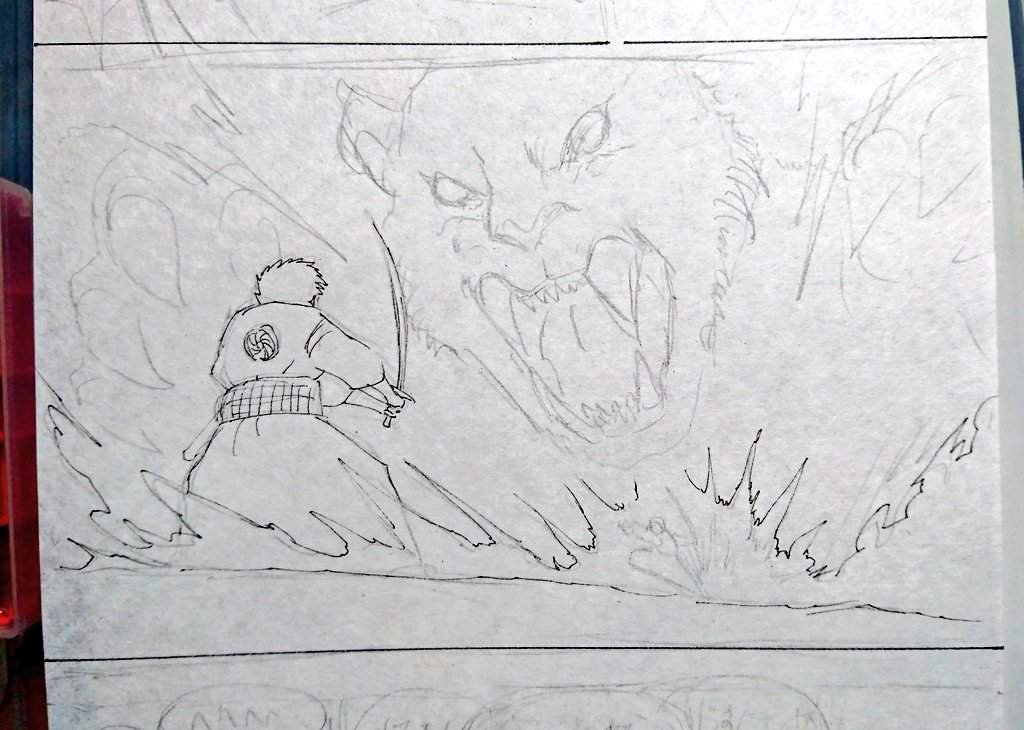 I'm very focused when I'm drawing manga, so I forget to take a picture of the process😅
But it is important to post the process to prove that I am drawing manga.
This time it was chapter 50 so I posted more processes than usual!
Thank you for reading!
Arigatou gozaimashita!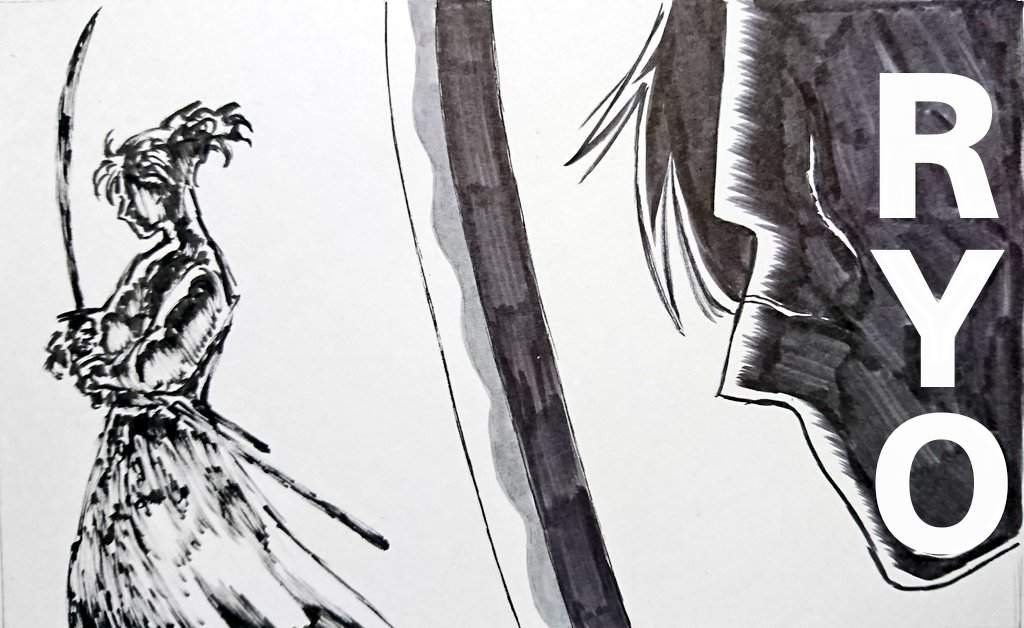 Have not you seen the -Jingi-仁義 series yet?
My Original Samurai manga -Jingi-仁義 can be seen here!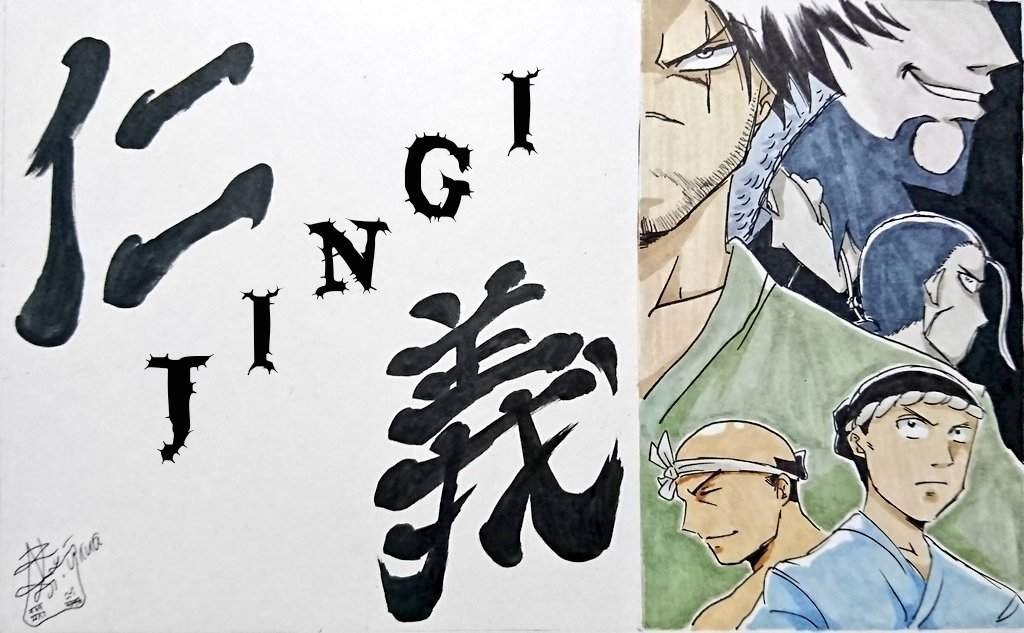 Chapter 1-2-3-4-5-6
https://partiko.app/ryo-6414/my-original-samurai-manga-jingi-chapter1-2-3-4-5-6?referrer=ryo-6414
Chapter7
https://partiko.app/@ryo-6414/the-samurai-manga-jingi-chapter7-grqawewf
Chapter8
https://partiko.app/@ryo-6414/the-samurai-manga-jingi-chapter8-ttoreio0
Chapter9
https://partiko.app/@ryo-6414/the-samurai-manga-jingi-chapter9-hsqg1hln
Chapter10
https://partiko.app/@ryo-6414/the-samurai-manga-jingi-chapter10-ndtrvpio
Chapter11
https://partiko.app/@ryo-6414/the-samurai-manga-jingi-chapter11-u1uou8kh
Chapter12
https://partiko.app/@ryo-6414/the-samurai-manga-jingi-chapter12-amvjv9zp
Chapter13
https://partiko.app/@ryo-6414/the-samurai-manga-jingi-chapter13-bmpvkucw
Chapter14
https://partiko.app/@ryo-6414/the-samurai-manga-jingi-chapter14-ei5ga7kk
Chapter15
https://partiko.app/ryo-6414/the-samurai-manga-jingi-chapter15-bzsgcipn?referrer=ryo-6414
Chapter16
https://partiko.app/ryo-6414/my-original-samurai-manga-jingi-chapter16-2erk8o7d?referrer=ryo-6414
Chapter17
https://partiko.app/ryo-6414/my-original-samurai-manga-jingi-chapter17-zkggrwuu?referrer=ryo-6414
Chapter18
https://partiko.app/ryo-6414/my-original-samurai-manga-jingi-chapter18-gs27fsdh?referrer=ryo-6414
Chapter19
https://partiko.app/ryo-6414/my-original-samurai-manga-jingi-chapter19-lrnweqqi?referrer=ryo-6414
Chapter20
https://partiko.app/ryo-6414/my-original-samurai-manga-jingi-chapter20-2en9sfrq?referrer=ryo-6414
Chapter21
https://partiko.app/ryo-6414/my-original-samurai-manga-jingi-chapter21-vu8lonac?referrer=ryo-6414
Chapter22
https://partiko.app/ryo-6414/my-original-samurai-manga-jingi-chapter22-5fusqjsh?referrer=ryo-6414
Chapter23
https://partiko.app/ryo-6414/my-original-samurai-manga-jingi-chapter23?referrer=ryo-6414
Chapter24
https://partiko.app/ryo-6414/my-original-samurai-manga-jingi-chapter24?referrer=ryo-6414
Chapter25
https://partiko.app/ryo-6414/jyjmg-my-original-samurai-manga-jingi-chapter25?referrer=ryo-6414
Chapter26
https://partiko.app/ryo-6414/my-original-samurai-manga-jingi-chapter26?referrer=ryo-6414
Chapter27
https://partiko.app/ryo-6414/my-original-samurai-manga-jingi-chapter27?referrer=ryo-6414
Chapter28
https://partiko.app/ryo-6414/my-original-samurai-manga-jingi-chapter28?referrer=ryo-6414
Chapter29
https://partiko.app/ryo-6414/my-original-samurai-manga-jingi-chapter29?referrer=ryo-6414
Chapter30
https://partiko.app/ryo-6414/my-original-samurai-manga-jingi-chapter30?referrer=ryo-6414
Chapter31
https://partiko.app/ryo-6414/my-original-samurai-manga-jingi-chapter31?referrer=ryo-6414
Chapter32
https://partiko.app/ryo-6414/my-original-samurai-manga-jingi-chapter32?referrer=ryo-6414
Chapter33
https://partiko.app/ryo-6414/my-original-samurai-manga-jingi-chapter33?referrer=ryo-6414
Chapter34
https://partiko.app/ryo-6414/my-original-samurai-manga-jingi-chapter34?referrer=ryo-6414
Chapter35
https://partiko.app/ryo-6414/my-original-samurai-manga-jingi-chapter35?referrer=ryo-6414
Chapter36
https://partiko.app/ryo-6414/my-original-samurai-manga-jingi-chapter36?referrer=ryo-6414
Chapter37
https://partiko.app/ryo-6414/my-original-samurai-manga-jingi-chapter37?referrer=ryo-6414
Chapter38
https://partiko.app/ryo-6414/my-original-samurai-manga-jingi-chapter38?referrer=ryo-6414
Chapter39
https://partiko.app/ryo-6414/my-original-samurai-manga-jingi-chapter39?referrer=ryo-6414
Chapter40
https://partiko.app/ryo-6414/my-original-samurai-manga-jingi-chapter40?referrer=ryo-6414
Chapter41
https://partiko.app/ryo-6414/my-original-samurai-manga-jingi-chapter41?referrer=ryo-6414
Chapter42
https://partiko.app/ryo-6414/my-original-samurai-manga-jingi-chapter42?referrer=ryo-6414
Chapter43
https://partiko.app/ryo-6414/my-original-samurai-manga-jingi-chapter43?referrer=ryo-6414
Chapter44
https://partiko.app/ryo-6414/my-original-samurai-manga-jingi-chapter44?referrer=ryo-6414
Chapter45
https://partiko.app/ryo-6414/my-original-samurai-manga-jingi-chapter45?referrer=ryo-6414
Chapter46
https://partiko.app/ryo-6414/my-original-samurai-manga-jingi-chapter46?referrer=ryo-6414
Chapter47
https://partiko.app/ryo-6414/2020-first-chapter-my-original-samurai-manga-jingi-chapter47?referrer=ryo-6414
Chapter48
https://partiko.app/ryo-6414/my-original-samurai-manga-jingi-chapter48?referrer=ryo-6414
Chapter49
https://partiko.app/ryo-6414/my-original-samurai-manga-jingi-chapter49?referrer=ryo-6414
All my mangas drawn in "Washi(和紙)"
It is a traditional Japanese paper made from 1300 years ago.
This is my Washi of post↓
https://steemit.com/traditional/@ryo-6414/washi-is-process-work-dlm5nqgq