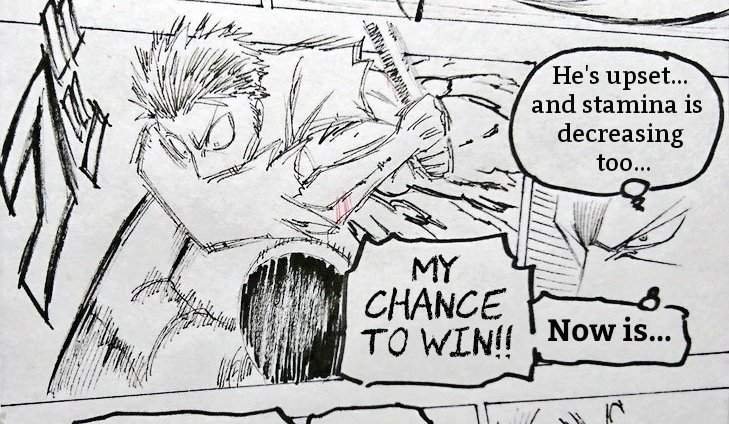 Hello steemians!
I am RYO!
This is a -Jingi- New Chapter post
-Jingi- is not my previous work, it's my original manga that I'm currently working on
About hints to read manga before
Read manga from the right
Red word are Japanese. The meaning is written in (※)
If you do not understand how to read manga please read the sentences under the picture. It's written in the order of manga
-Jingi- Chapter57↓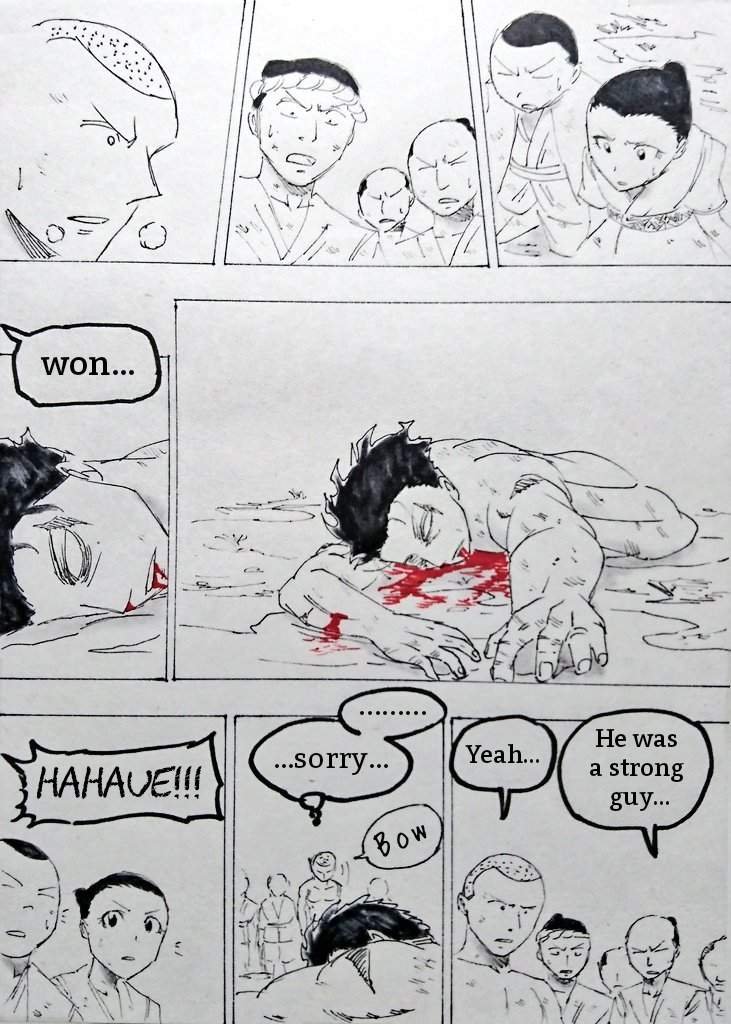 won…
He was a strong guy…
Yeah…
…sorry…
Hahaue!!!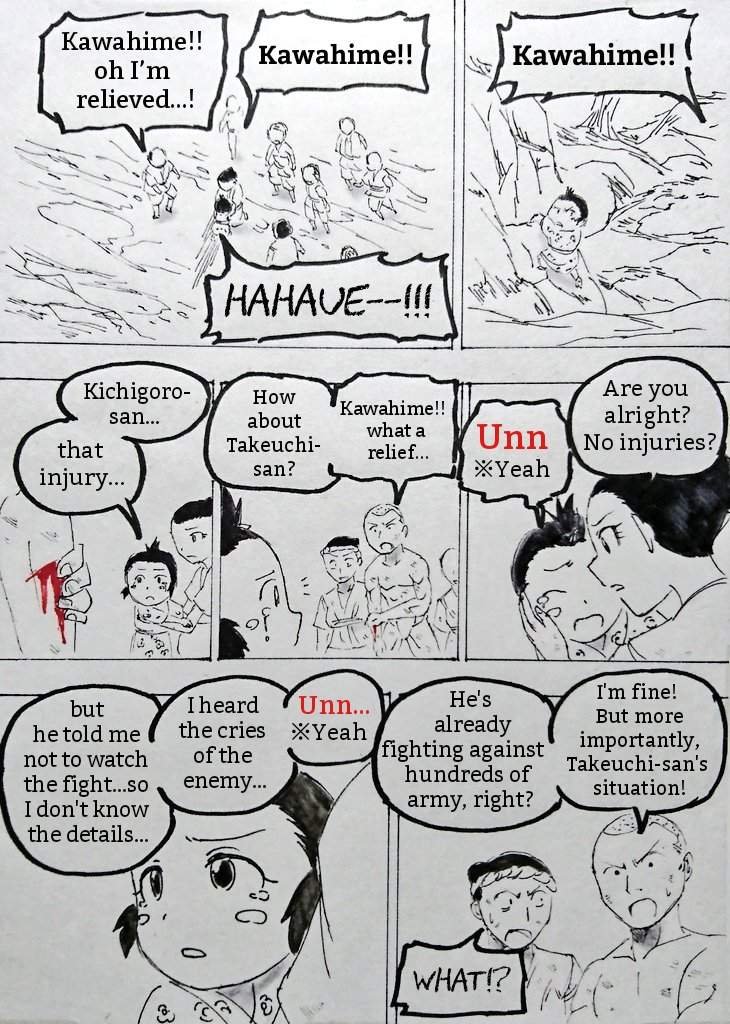 Kawahime!!
Hahaue--!!!
Kawahime!! oh I'm relieved…!
Are you alright? No injuries?
Unn=※Yeah
Kawahime!! what a relief…
How about Takeuchi-san?
Kichigoro-san… that injury…
I'm fine! But more importantly, Takeuchi-san's situation!
He's already fighting against hundreds of army, right?
What!?
"Unn=※Yeah"…I heard the cries of the enemy...but he told me not to watch the fight…so I don't know the details...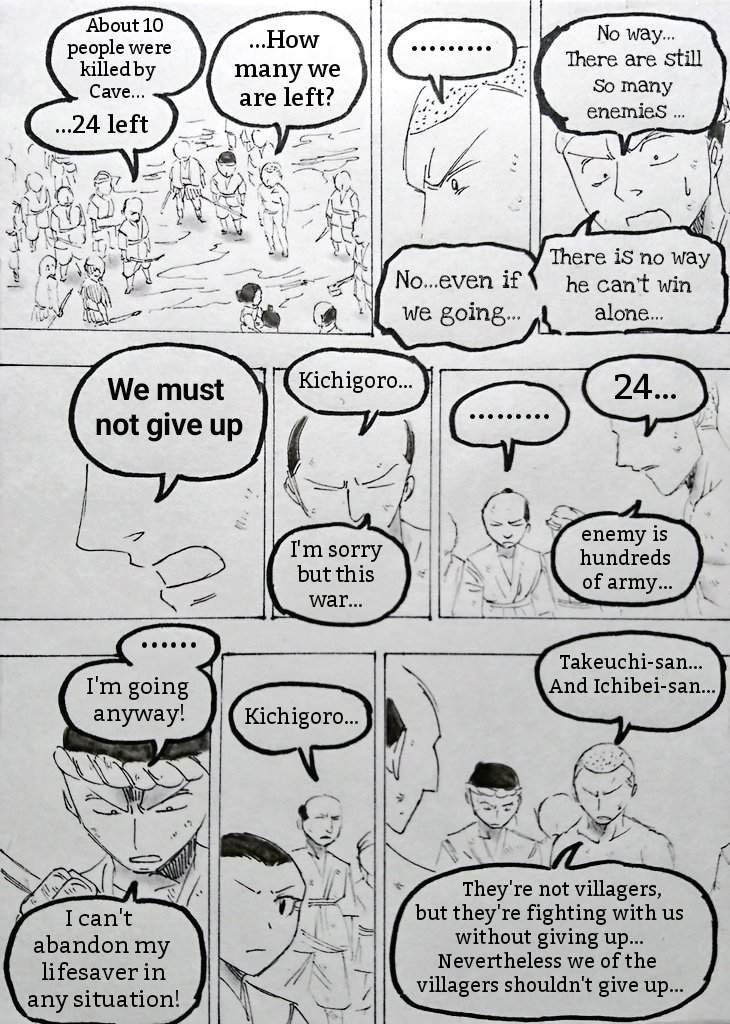 No way…There are still so many enemies ...
There is no way he can't win alone…
No…even if we going...
…How many we are left?
About 10 people were killed by Cave...24 left
24…enemy is hundreds of army...
Kichigoro…I'm sorry but this war…
We must not give up
Takeuchi-san…And Ichibei-san…
They're not villagers, but they're fighting with us without giving up...
Nevertheless we of the villagers shouldn't give up…
Kichigoro…
I'm going anyway!
I can't abandon my lifesaver in any situation!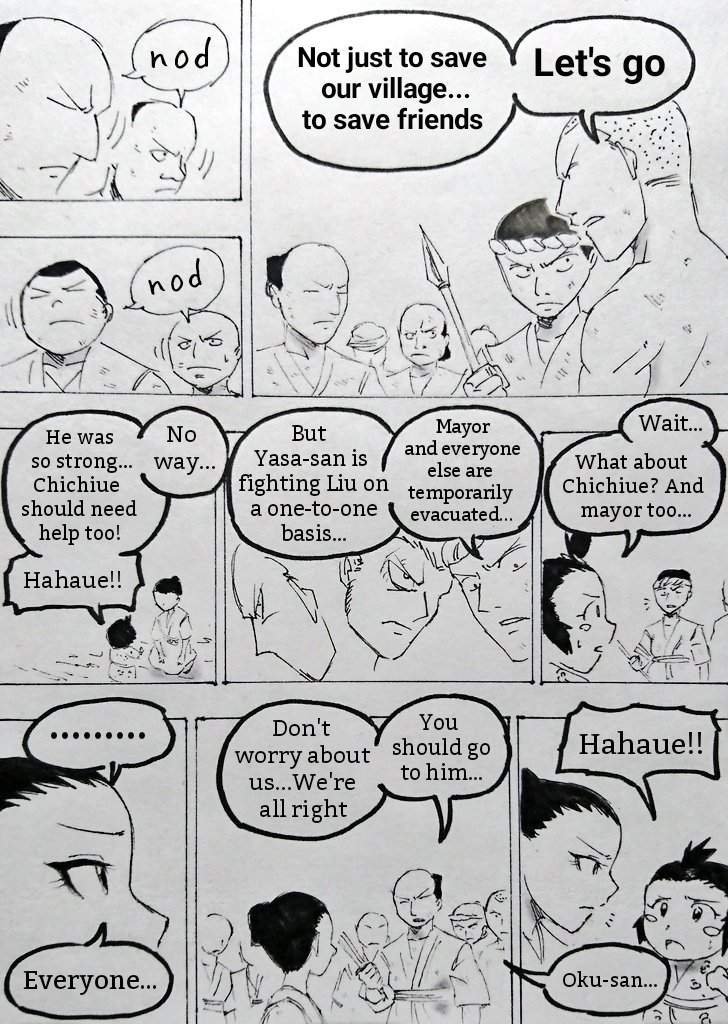 Let's go
Not just to save our village...to save friends
Wait…What about Chichiue? And mayor too…
Mayor and everyone else are temporarily evacuated...
But Yasa-san is fighting Liu on a one-to-one basis…
No way…He was so strong ... Chichiue should need help too! Hahaue!!
Hahaue!!
Oku-san…
You should go to him...
Don't worry about us…We're all right
Everyone…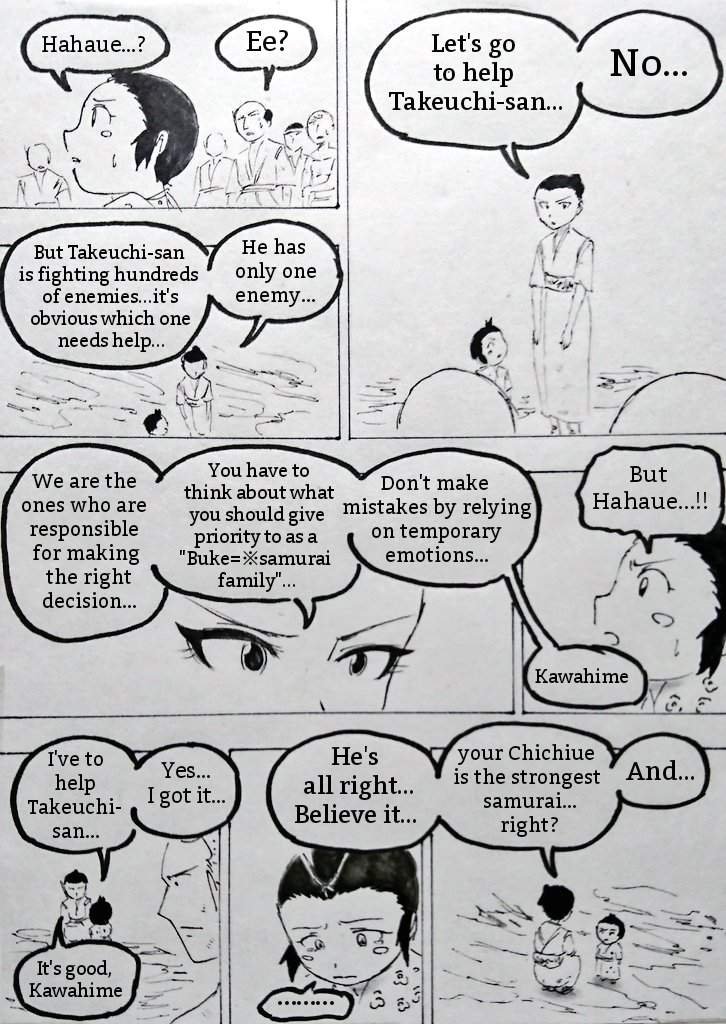 No…
Let's go to help Takeuchi-san…
Hahaue…?
He has only one enemy...
But Takeuchi-san is fighting hundreds of enemies...it's obvious which one needs help…
But Hahaue…!!
Kawahime
Don't make mistakes by relying on temporary emotions...
You have to think about what you should give priority to as a "Buke=※samurai family"...
We are the ones who are responsible for making the right decision…
And…your Chichiue is the strongest samurai…right?
He's all right…Believe it…
Yes…I got it…I've to help Takeuchi-san
It's good, Kawahime
Let's all go…
To help Takeuchi-san!
NOOO!!!
Why…!! That's impossible…!! Liu!!!
You are the strongest martial artist in China!!
You can't lose to this fu*king samurai!!!
Don't give up! Fighting till the end!!!
Shut up!!!
I know…
I can't give up…!!!
Are you still going to fight?
Sure
It's unavoidable...You just focus on making time!!
Stop him until my army comes!! Then we'll win!!!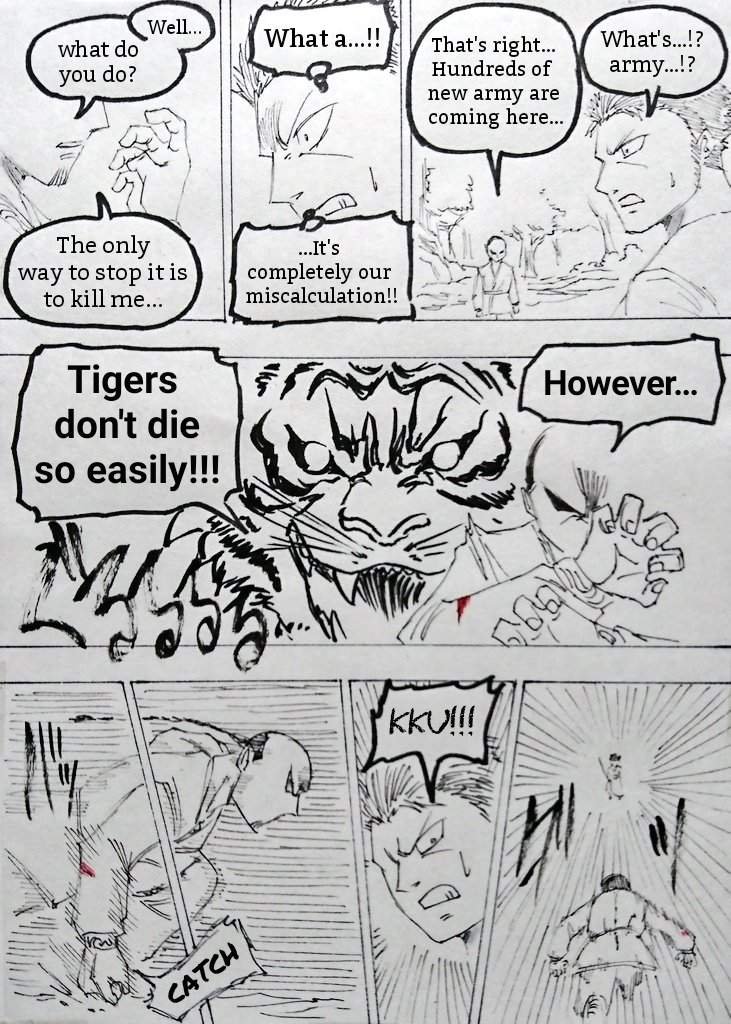 What's…!?
army…!?
That's right…
Hundreds of new army are coming here...
What a…!!
…It's completely our miscalculation!!
Well…what do you do?
The only way to stop it is to kill me...
However…
Tigers don't die so easily!!!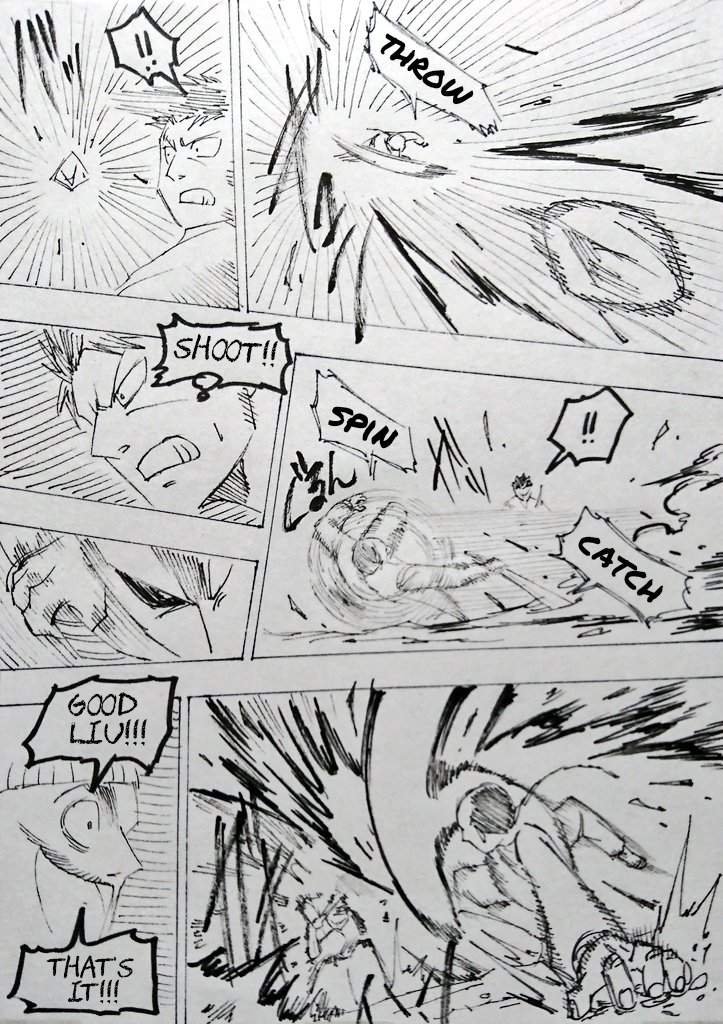 Shoot!!
Good Liu!!!
That's it!!!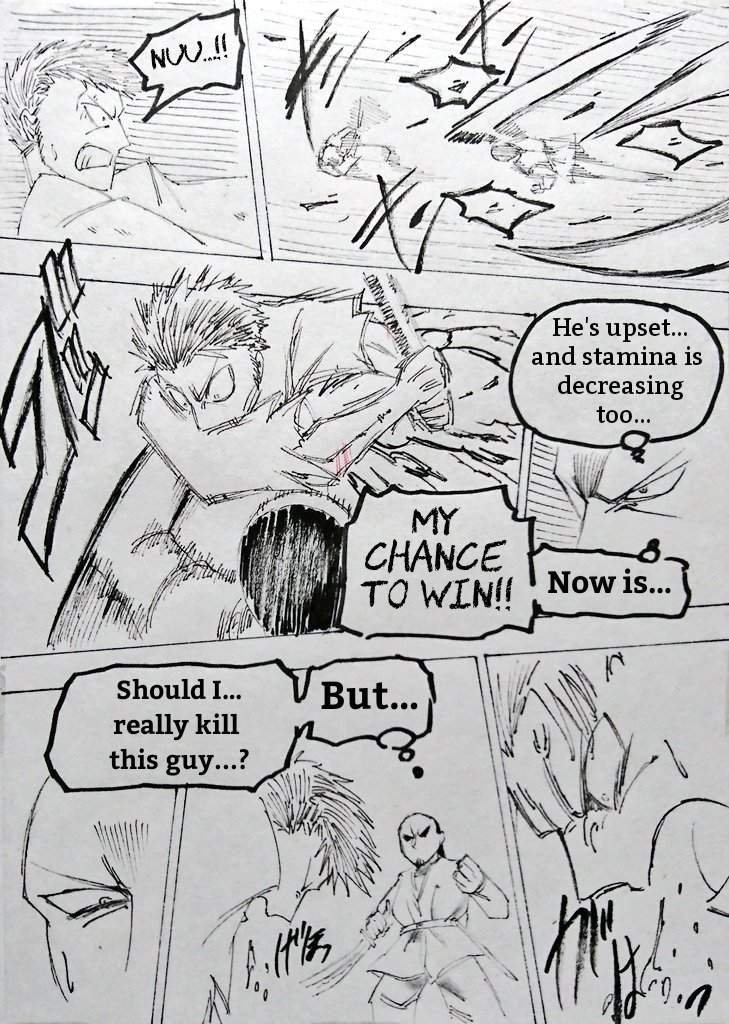 He's upset...and stamina is decreasing too...
Now is…my chance to win!!
But…
Should I…really kill this guy...?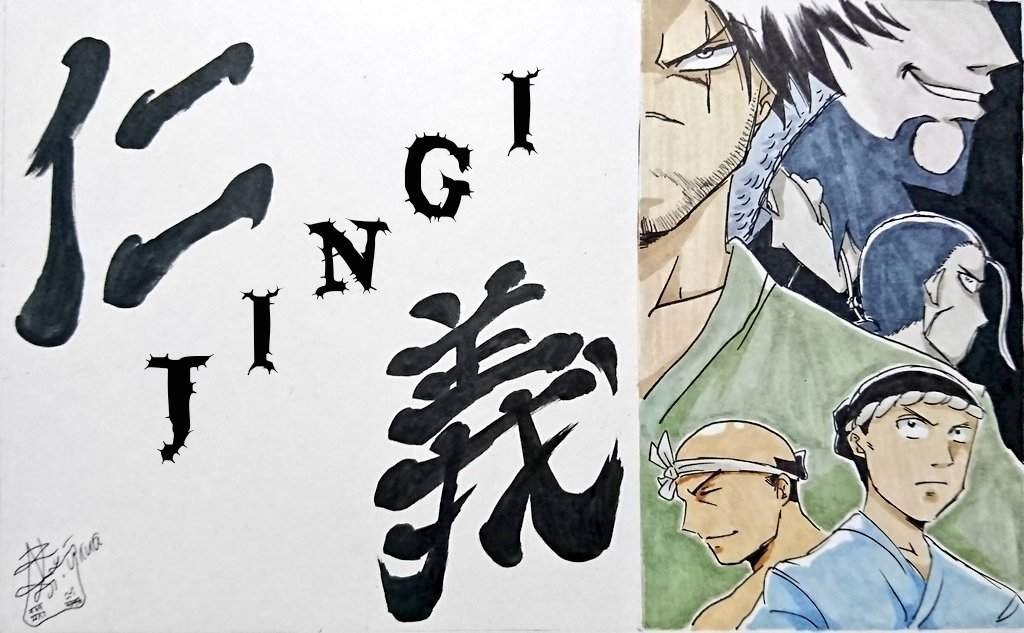 Next chapter will be posted in 6-9 days!
Thank you for reading!
Arigatou gozaimashita!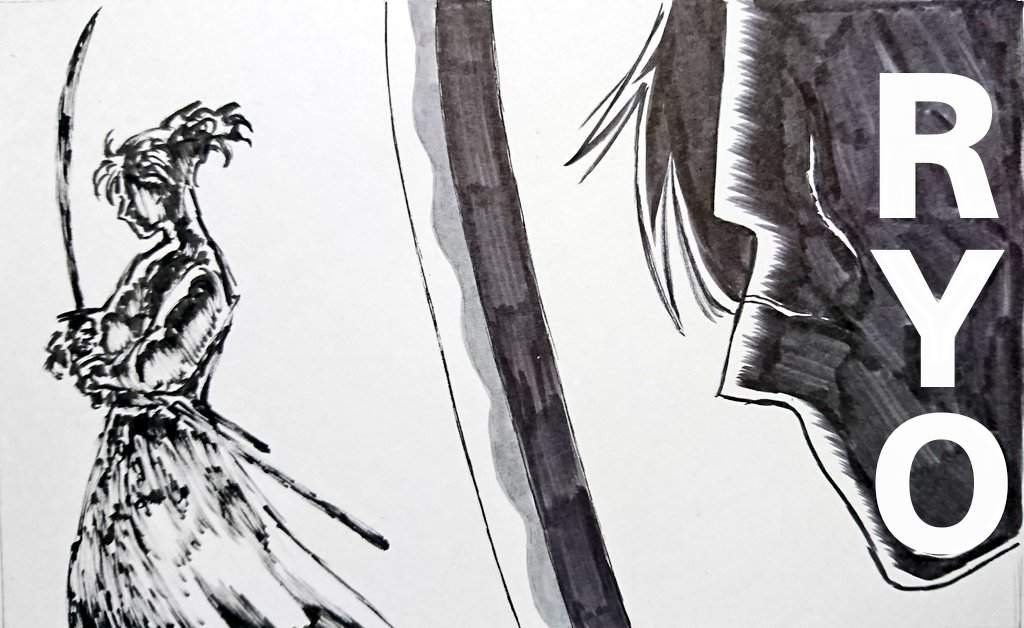 Have not you seen the -Jingi-仁義 series yet?
My Original Samurai manga -Jingi-仁義 can be seen here!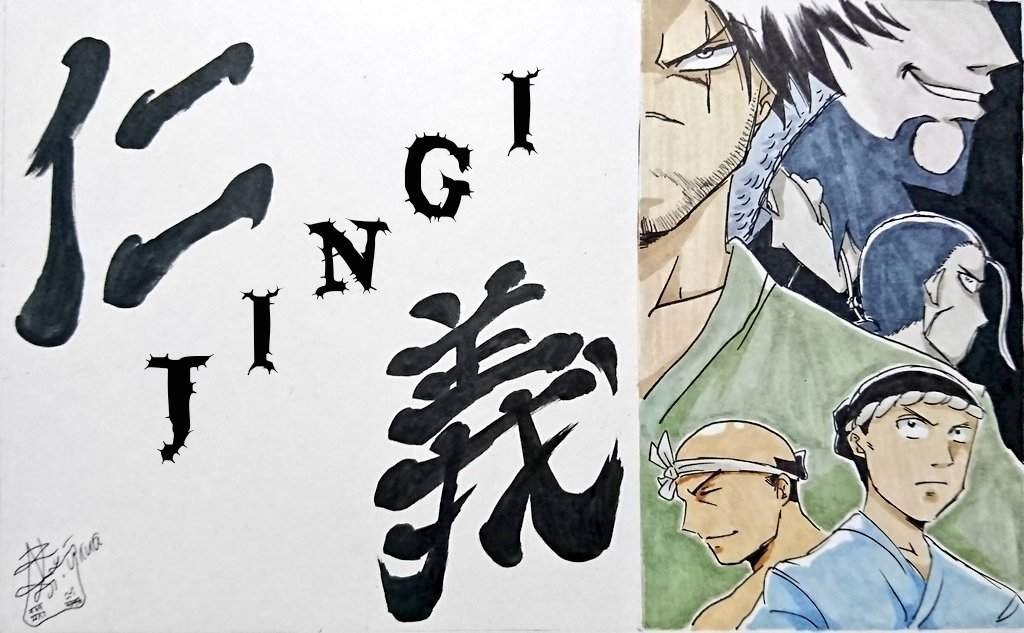 Chapter 1-2-3-4-5-6
https://partiko.app/ryo-6414/my-original-samurai-manga-jingi-chapter1-2-3-4-5-6?referrer=ryo-6414
Chapter7
https://partiko.app/@ryo-6414/the-samurai-manga-jingi-chapter7-grqawewf
Chapter8
https://partiko.app/@ryo-6414/the-samurai-manga-jingi-chapter8-ttoreio0
Chapter9
https://partiko.app/@ryo-6414/the-samurai-manga-jingi-chapter9-hsqg1hln
Chapter10
https://partiko.app/@ryo-6414/the-samurai-manga-jingi-chapter10-ndtrvpio
Chapter11
https://partiko.app/@ryo-6414/the-samurai-manga-jingi-chapter11-u1uou8kh
Chapter12
https://partiko.app/@ryo-6414/the-samurai-manga-jingi-chapter12-amvjv9zp
Chapter13
https://partiko.app/@ryo-6414/the-samurai-manga-jingi-chapter13-bmpvkucw
Chapter14
https://partiko.app/@ryo-6414/the-samurai-manga-jingi-chapter14-ei5ga7kk
Chapter15
https://partiko.app/ryo-6414/the-samurai-manga-jingi-chapter15-bzsgcipn?referrer=ryo-6414
Chapter16
https://partiko.app/ryo-6414/my-original-samurai-manga-jingi-chapter16-2erk8o7d?referrer=ryo-6414
Chapter17
https://partiko.app/ryo-6414/my-original-samurai-manga-jingi-chapter17-zkggrwuu?referrer=ryo-6414
Chapter18
https://partiko.app/ryo-6414/my-original-samurai-manga-jingi-chapter18-gs27fsdh?referrer=ryo-6414
Chapter19
https://partiko.app/ryo-6414/my-original-samurai-manga-jingi-chapter19-lrnweqqi?referrer=ryo-6414
Chapter20
https://partiko.app/ryo-6414/my-original-samurai-manga-jingi-chapter20-2en9sfrq?referrer=ryo-6414
Chapter21
https://partiko.app/ryo-6414/my-original-samurai-manga-jingi-chapter21-vu8lonac?referrer=ryo-6414
Chapter22
https://partiko.app/ryo-6414/my-original-samurai-manga-jingi-chapter22-5fusqjsh?referrer=ryo-6414
Chapter23
https://partiko.app/ryo-6414/my-original-samurai-manga-jingi-chapter23?referrer=ryo-6414
Chapter24
https://partiko.app/ryo-6414/my-original-samurai-manga-jingi-chapter24?referrer=ryo-6414
Chapter25
https://partiko.app/ryo-6414/jyjmg-my-original-samurai-manga-jingi-chapter25?referrer=ryo-6414
Chapter26
https://partiko.app/ryo-6414/my-original-samurai-manga-jingi-chapter26?referrer=ryo-6414
Chapter27
https://partiko.app/ryo-6414/my-original-samurai-manga-jingi-chapter27?referrer=ryo-6414
Chapter28
https://partiko.app/ryo-6414/my-original-samurai-manga-jingi-chapter28?referrer=ryo-6414
Chapter29
https://partiko.app/ryo-6414/my-original-samurai-manga-jingi-chapter29?referrer=ryo-6414
Chapter30
https://partiko.app/ryo-6414/my-original-samurai-manga-jingi-chapter30?referrer=ryo-6414
Chapter31
https://partiko.app/ryo-6414/my-original-samurai-manga-jingi-chapter31?referrer=ryo-6414
Chapter32
https://partiko.app/ryo-6414/my-original-samurai-manga-jingi-chapter32?referrer=ryo-6414
Chapter33
https://partiko.app/ryo-6414/my-original-samurai-manga-jingi-chapter33?referrer=ryo-6414
Chapter34
https://partiko.app/ryo-6414/my-original-samurai-manga-jingi-chapter34?referrer=ryo-6414
Chapter35
https://partiko.app/ryo-6414/my-original-samurai-manga-jingi-chapter35?referrer=ryo-6414
Chapter36
https://partiko.app/ryo-6414/my-original-samurai-manga-jingi-chapter36?referrer=ryo-6414
Chapter37
https://partiko.app/ryo-6414/my-original-samurai-manga-jingi-chapter37?referrer=ryo-6414
Chapter38
https://partiko.app/ryo-6414/my-original-samurai-manga-jingi-chapter38?referrer=ryo-6414
Chapter39
https://partiko.app/ryo-6414/my-original-samurai-manga-jingi-chapter39?referrer=ryo-6414
Chapter40
https://partiko.app/ryo-6414/my-original-samurai-manga-jingi-chapter40?referrer=ryo-6414
Chapter41
https://partiko.app/ryo-6414/my-original-samurai-manga-jingi-chapter41?referrer=ryo-6414
Chapter42
https://partiko.app/ryo-6414/my-original-samurai-manga-jingi-chapter42?referrer=ryo-6414
Chapter43
https://partiko.app/ryo-6414/my-original-samurai-manga-jingi-chapter43?referrer=ryo-6414
Chapter44
https://partiko.app/ryo-6414/my-original-samurai-manga-jingi-chapter44?referrer=ryo-6414
Chapter45
https://partiko.app/ryo-6414/my-original-samurai-manga-jingi-chapter45?referrer=ryo-6414
Chapter46
https://partiko.app/ryo-6414/my-original-samurai-manga-jingi-chapter46?referrer=ryo-6414
Chapter47
https://partiko.app/ryo-6414/2020-first-chapter-my-original-samurai-manga-jingi-chapter47?referrer=ryo-6414
Chapter48
https://partiko.app/ryo-6414/my-original-samurai-manga-jingi-chapter48?referrer=ryo-6414
Chapter49
https://partiko.app/ryo-6414/my-original-samurai-manga-jingi-chapter49?referrer=ryo-6414
Chapter50
https://partiko.app/ryo-6414/my-original-samurai-manga-jingi-chapter5?referrer=ryo-6414
Chapter51
https://partiko.app/ryo-6414/my-original-samurai-manga-jingi-chapter51?referrer=ryo-6414
Chapter52
https://partiko.app/ryo-6414/my-original-samurai-manga-jingi-chapter52?referrer=ryo-6414
Chapter53
https://partiko.app/ryo-6414/my-original-samurai-manga-jingi-chapter53?referrer=ryo-6414
Chapter54
https://partiko.app/ryo-6414/my-original-samurai-manga-jingi-chapter54?referrer=ryo-6414
Chapter55
https://partiko.app/ryo-6414/my-original-samurai-manga-jingi-chapter55?referrer=ryo-6414
Chapter56
https://partiko.app/ryo-6414/my-original-samurai-manga-jingi-chapter56?referrer=ryo-6414
All my mangas drawn in "Washi(和紙)"
It is a traditional Japanese paper made from 1300 years ago.
This is my Washi of post↓
https://steemit.com/traditional/@ryo-6414/washi-is-process-work-dlm5nqgq