my office day have finished 2 hours ago; I'm done my #fungifriday duties, as well -- so, lets do it!
now or never.
finally! my 1st #marketfriday post.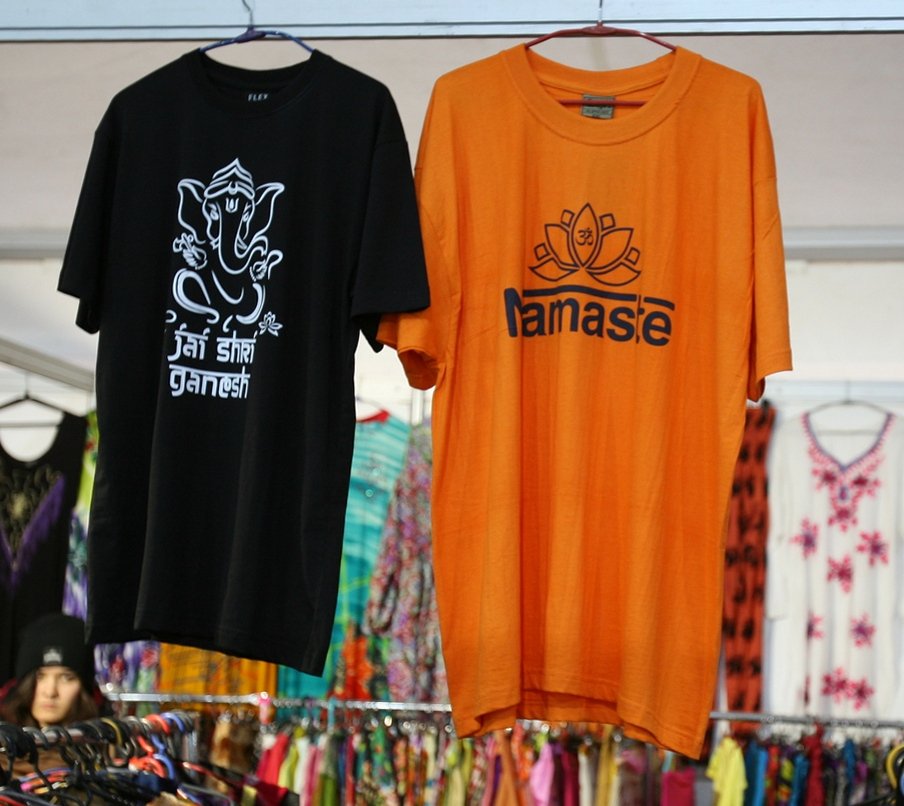 i've been working near the regular 'Indian Goods' exhibition for more than 6 recent years. I have been entering to check it a few times, just to feed my curiocity. I love the oriental stuff of all sorts very much, but buying it... its not my cup of tea, not in my current circumstances. I've got too much various stuff on my hands, so the last decade I try to resist -- and buy nothing, except of books, lenses, and computer accessories... from time to time. I try to make room, instead of bringing more things to my flat... (Philip Dick wisely have put out that theorema: trash can breed on its own, you know..)
But ok, back to the exhibition: I love all this stuff, but I dont buy. I just prefer to love it from the distance, especially with the help of my camera.
The pavilion in which this exhibition usually took place now is closed for reconstruction, so this time the exhibition takes place outdoors, almost under anopen sky: sellers are housed in a huge temporary plastic tent. I noticed this innovation while cycling to my office, and made a note for myself: be sure to come on the weekend with a camera and take a dozen photos for @dswigle -- I feel, its the last time this exhibition is located here.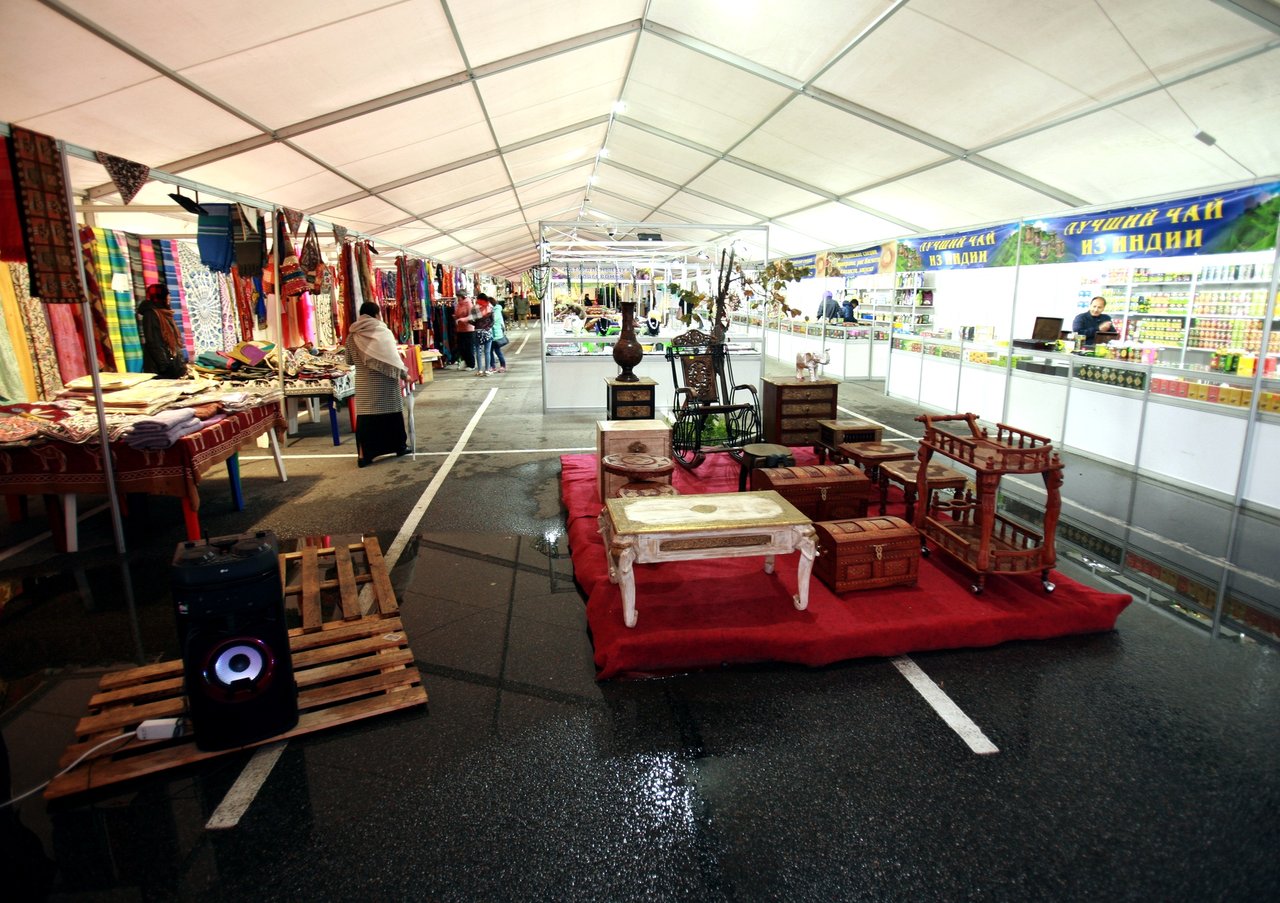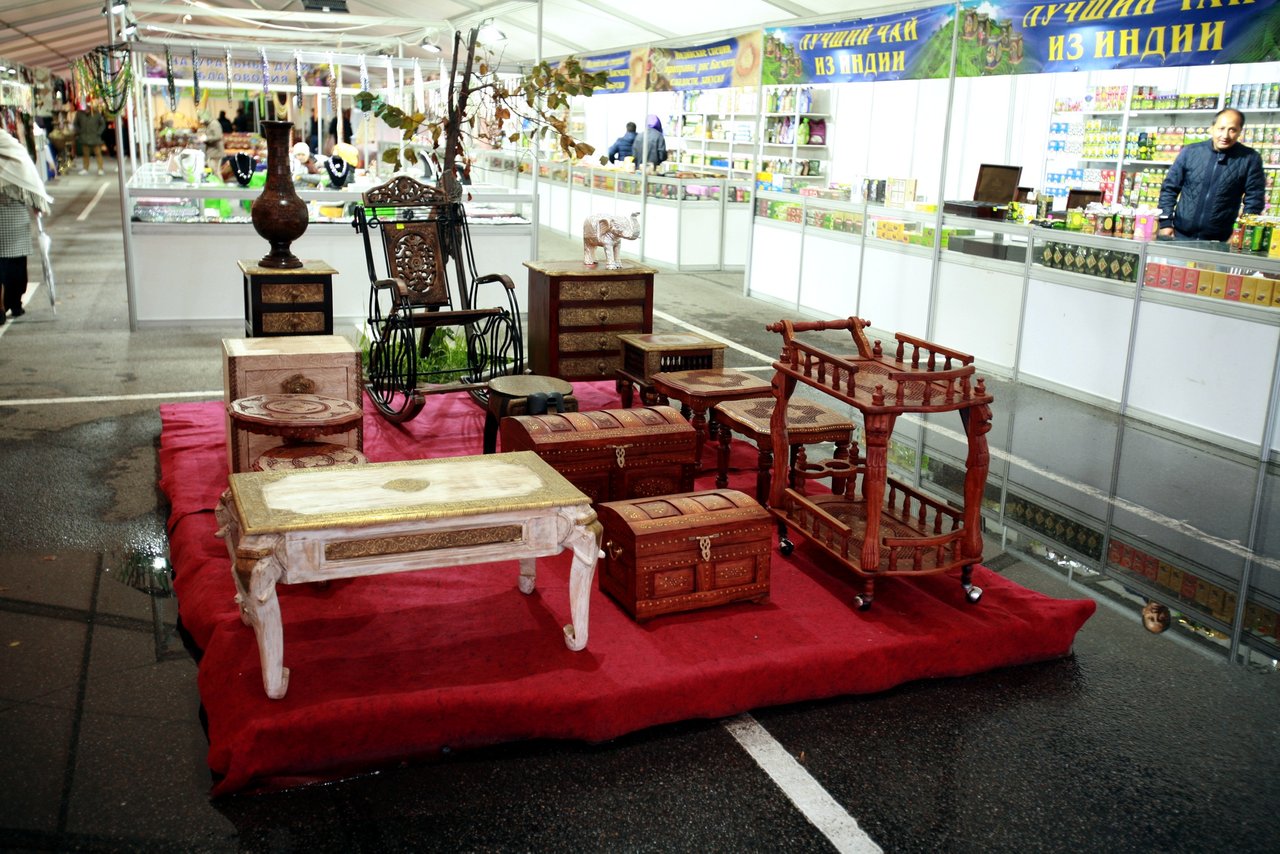 I use the word "exhibition", but in fact, it's just a proud self-name... actually, this is just a regular exit market. A market that comes to us several times a year.
It consists of several structural elements:
clothing
jewelry
tea, spices, incense sticks
furniture
garbage of all sorts.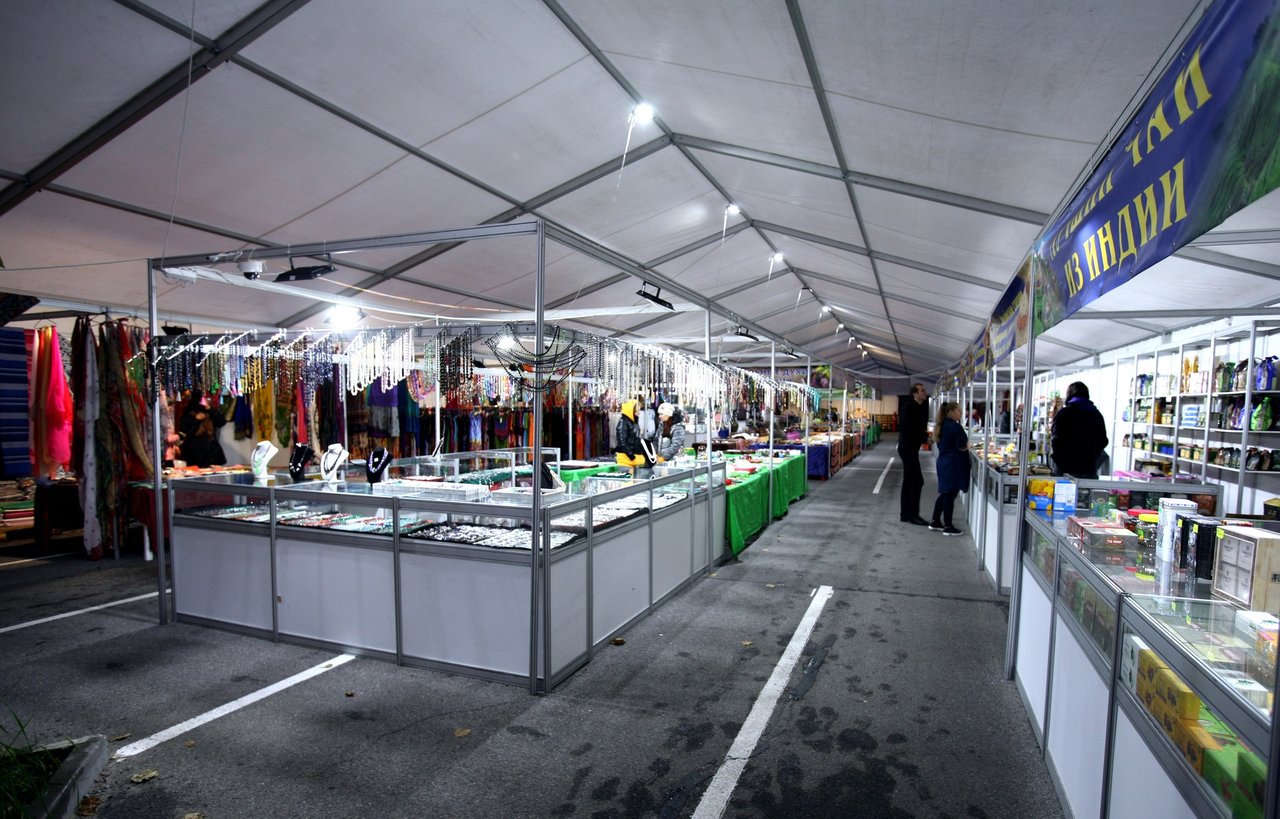 Jewelry is the 1st thing you meet when entering the pavillion; I tried to skip it to the tea section as soon as possible. (We needed to refill our supplies of the black Darjeeling tea, which my wife is very fond of). Mission was completed, we had talks with three sellers, and finally got something... too low quality for too much expense, I must say. Heh. At least it was by million light years better than wilted non-smelling grass labelled as 'Darjeeling' that one of the sellers...no, she didnt even tried to advertise it to us -- she knew it is below zero. I didnt take a picture of her stuff, so -- no bad ad here :=)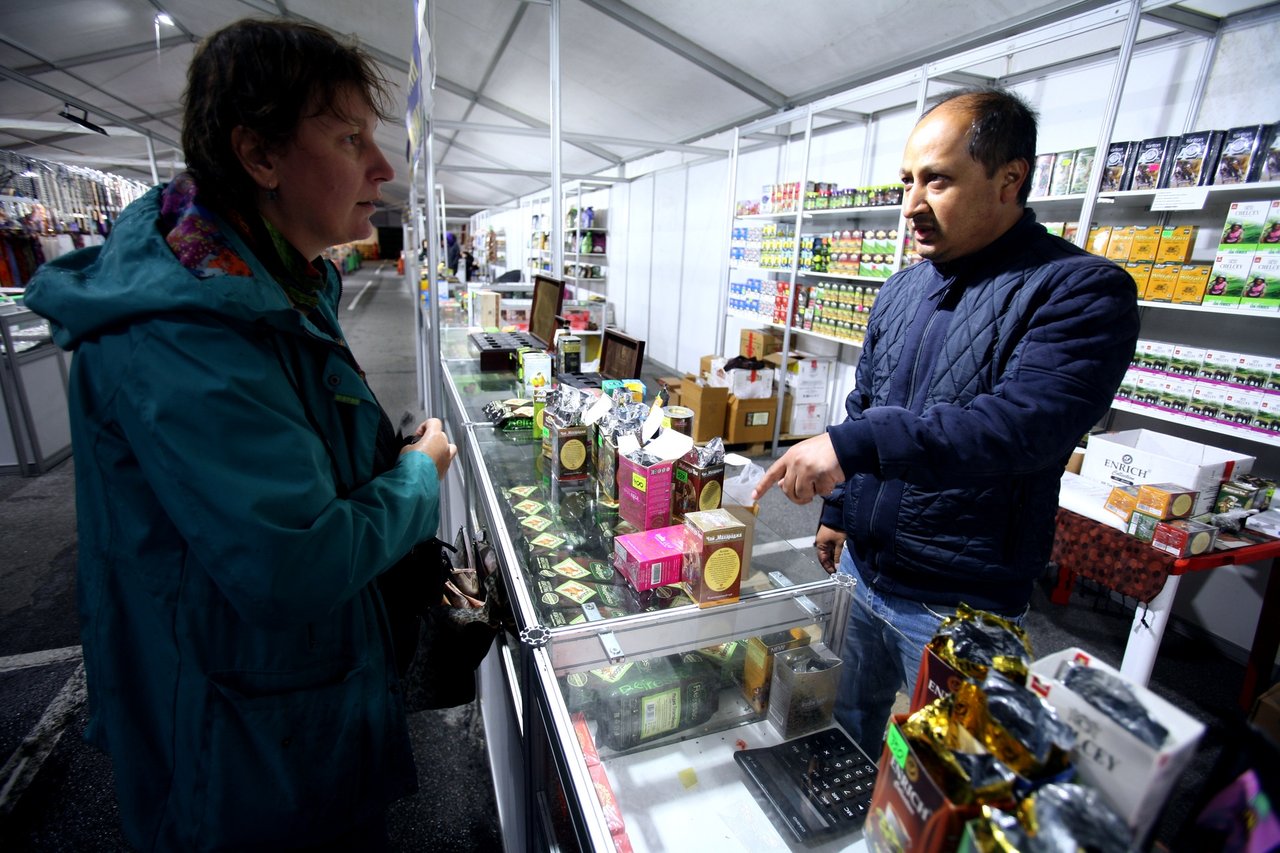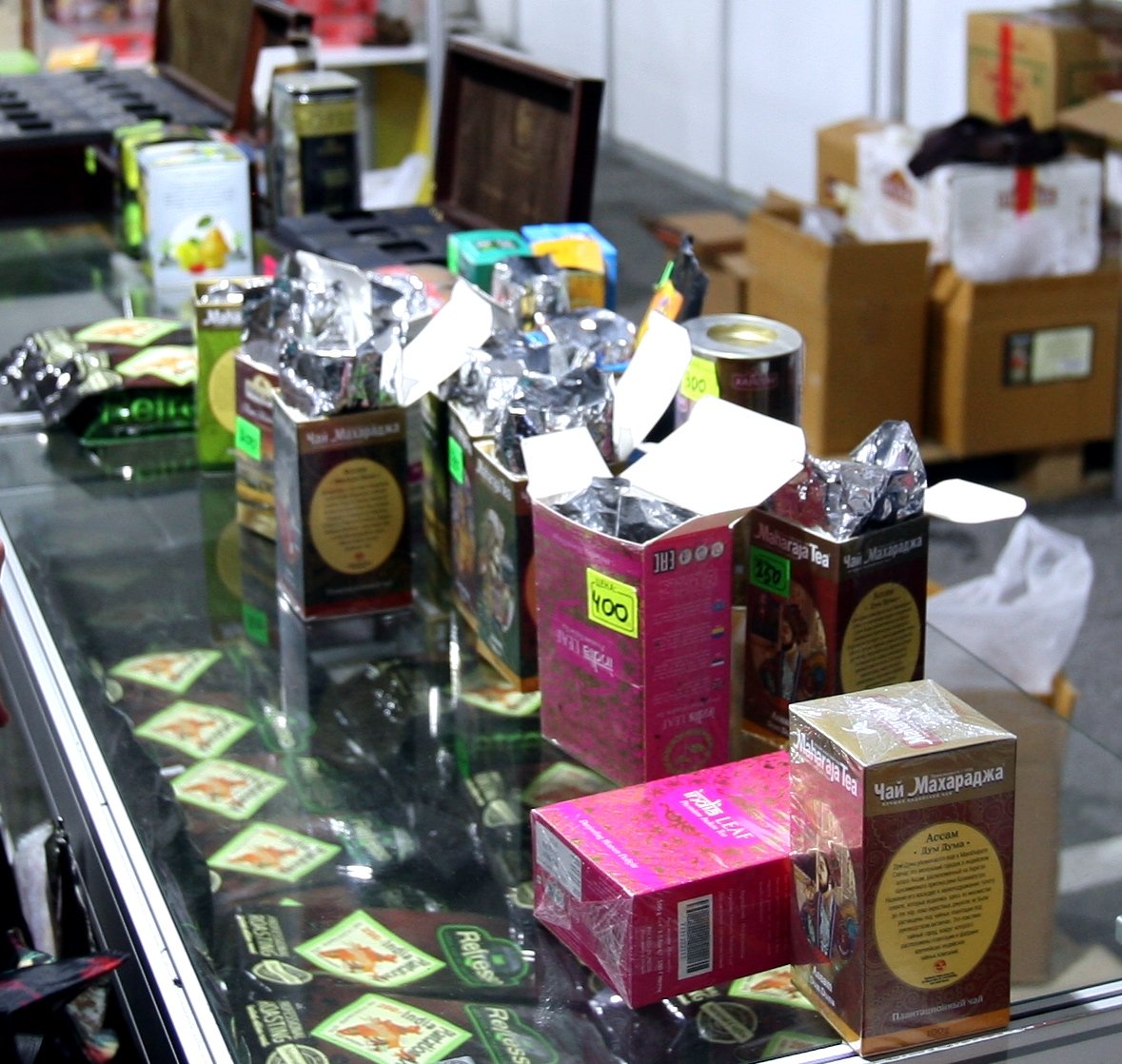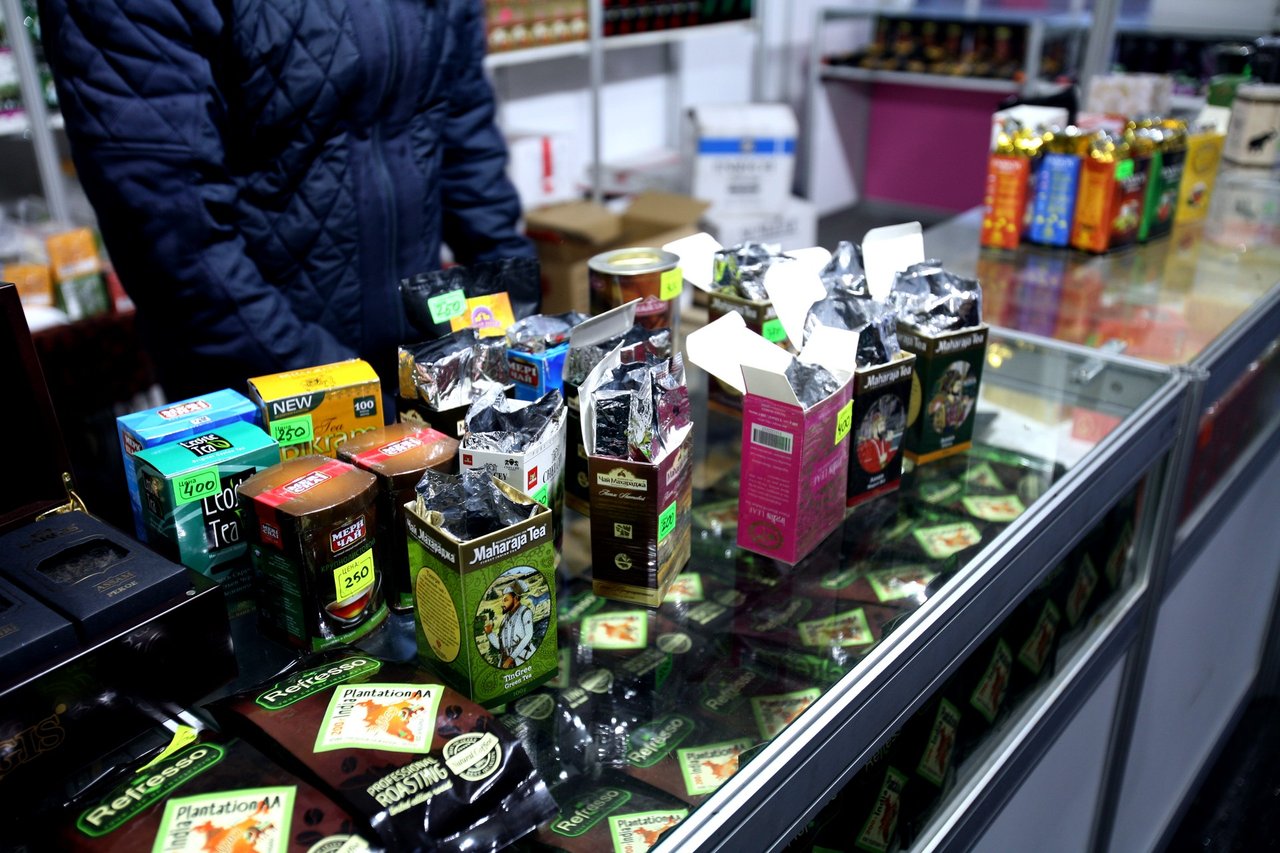 This tea has correct colour and a proper 'muskat taste' afterwards. Priced around 400 roubles for the 100g pack (i.e. $60 USD per kilo), it is... expensive. But the bad news is -- it is almost close to impossible to buy anything of decent quality and in good price range, in the local stores, at all... (We rather go after the tea which is by half cheaper, but of same quality. I can take a picture of the package, if you are curious, my dear reader).
Then... it was time for the jewelry section. The stuff I am absolutely not intrested in!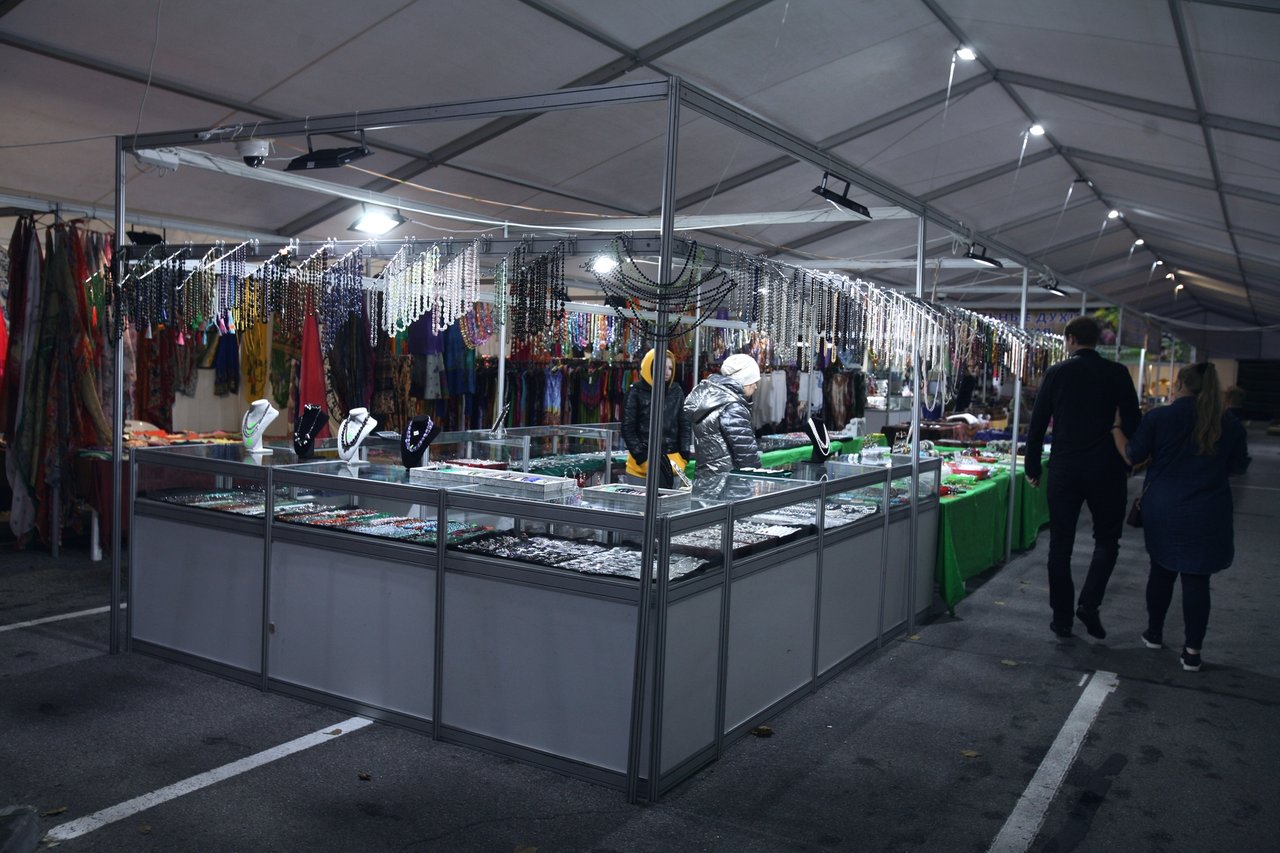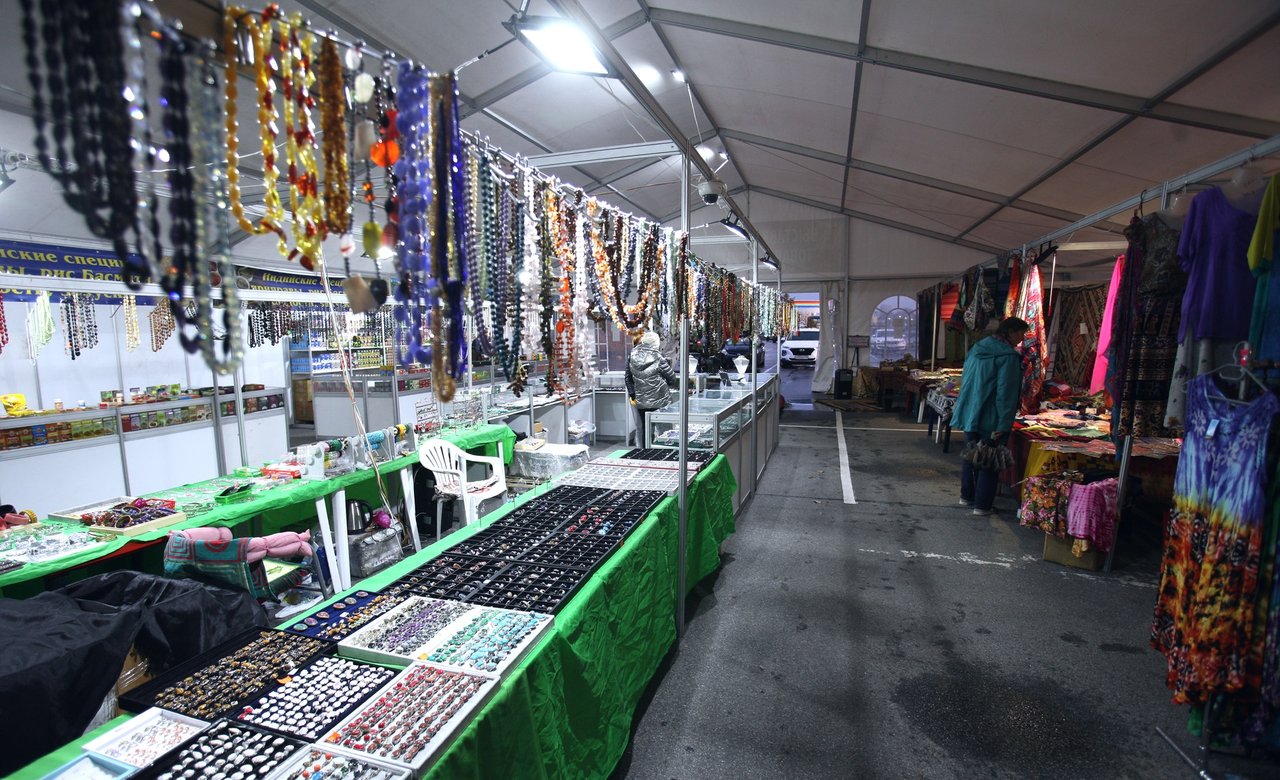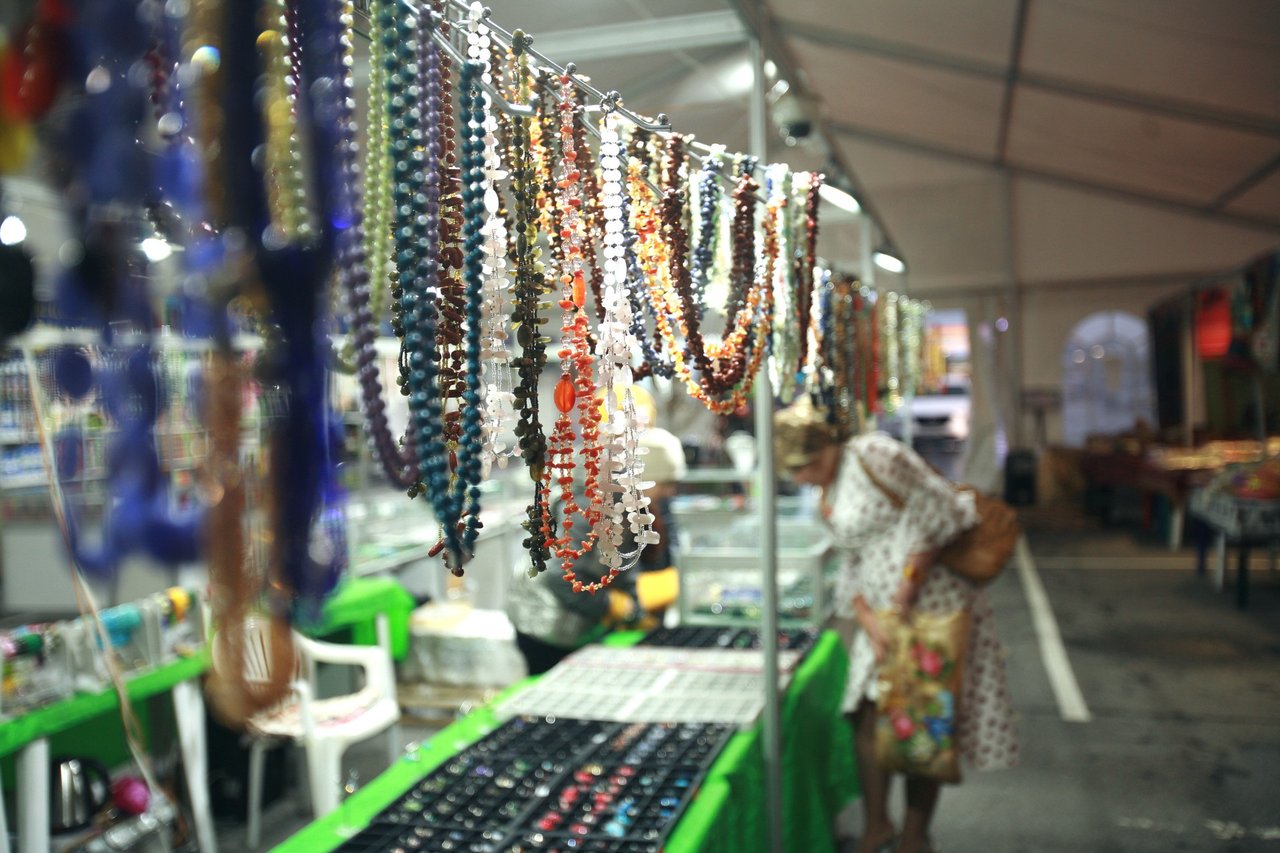 16-35mm Canon lens I used for this session, is an amazing reportage and travel lens. I easily managed to get a wide-angle overall view on its wide end, and got this fantastic detailed close-up on another! I fearlessly recommend it to everyone, top wide-angle lens!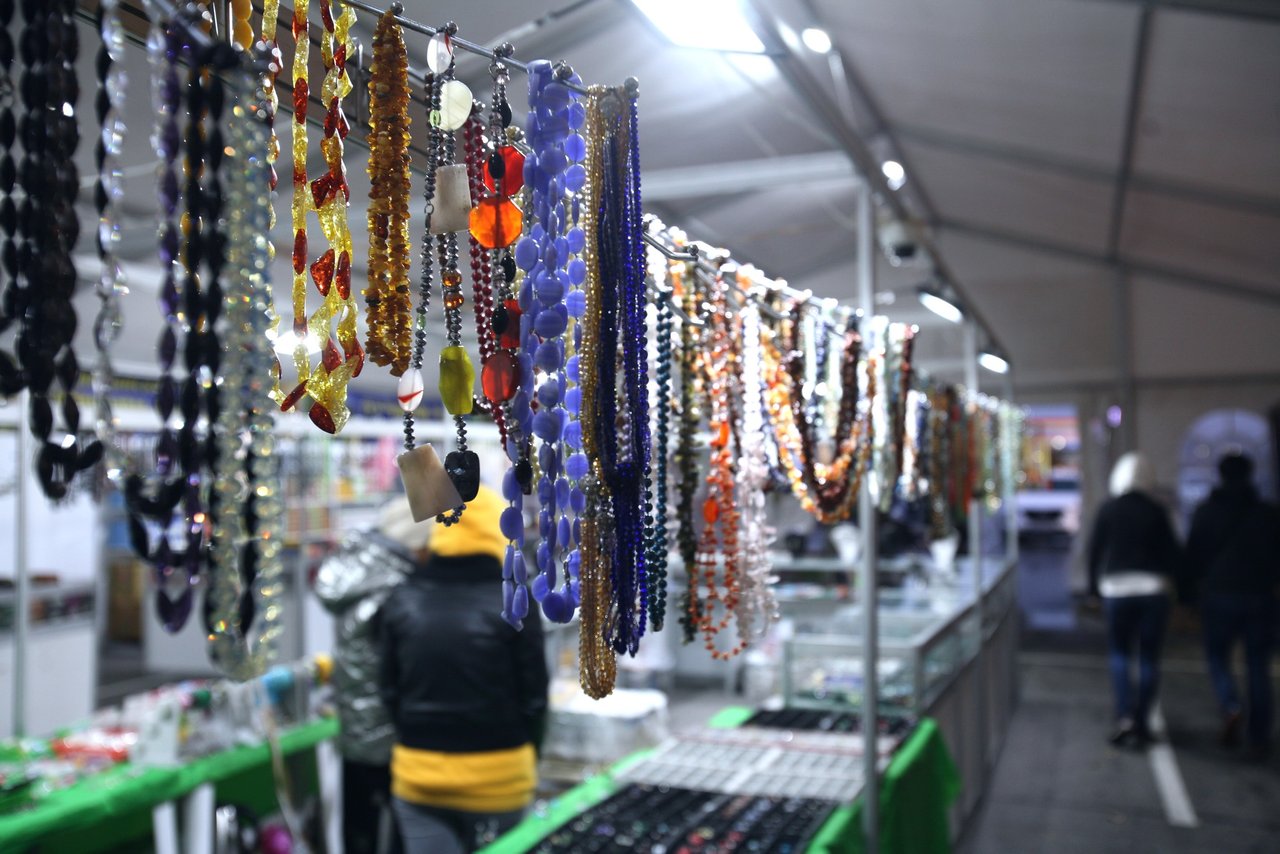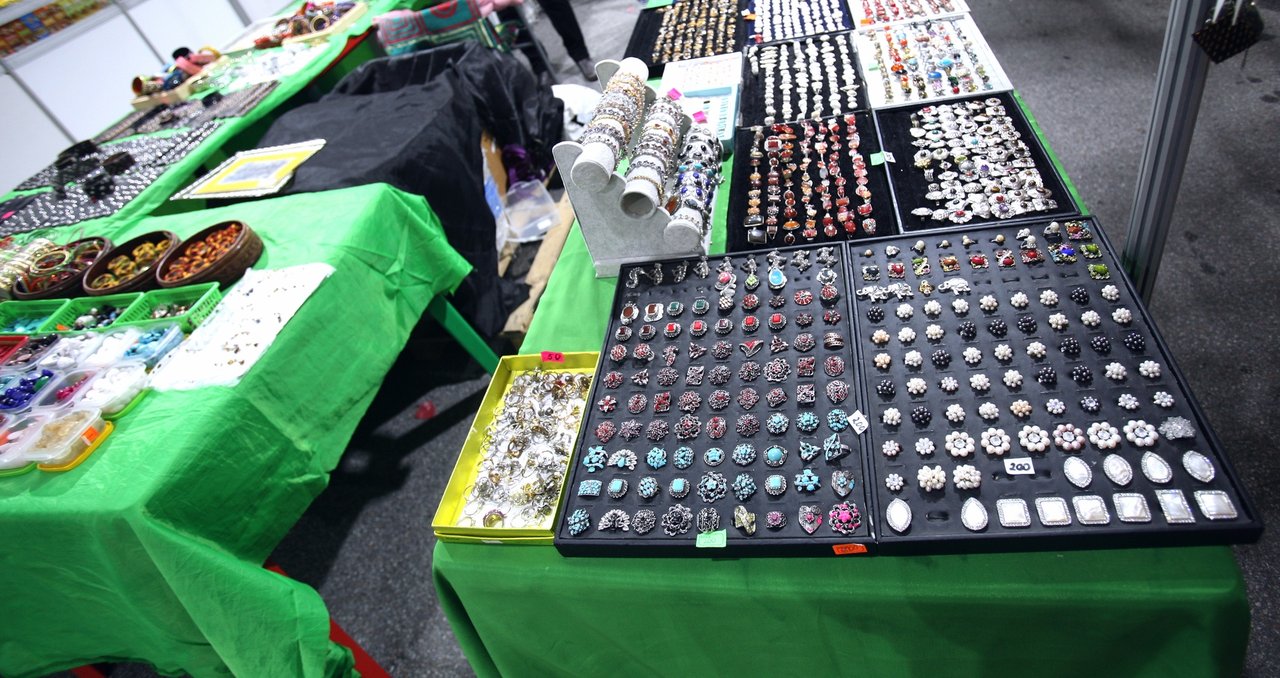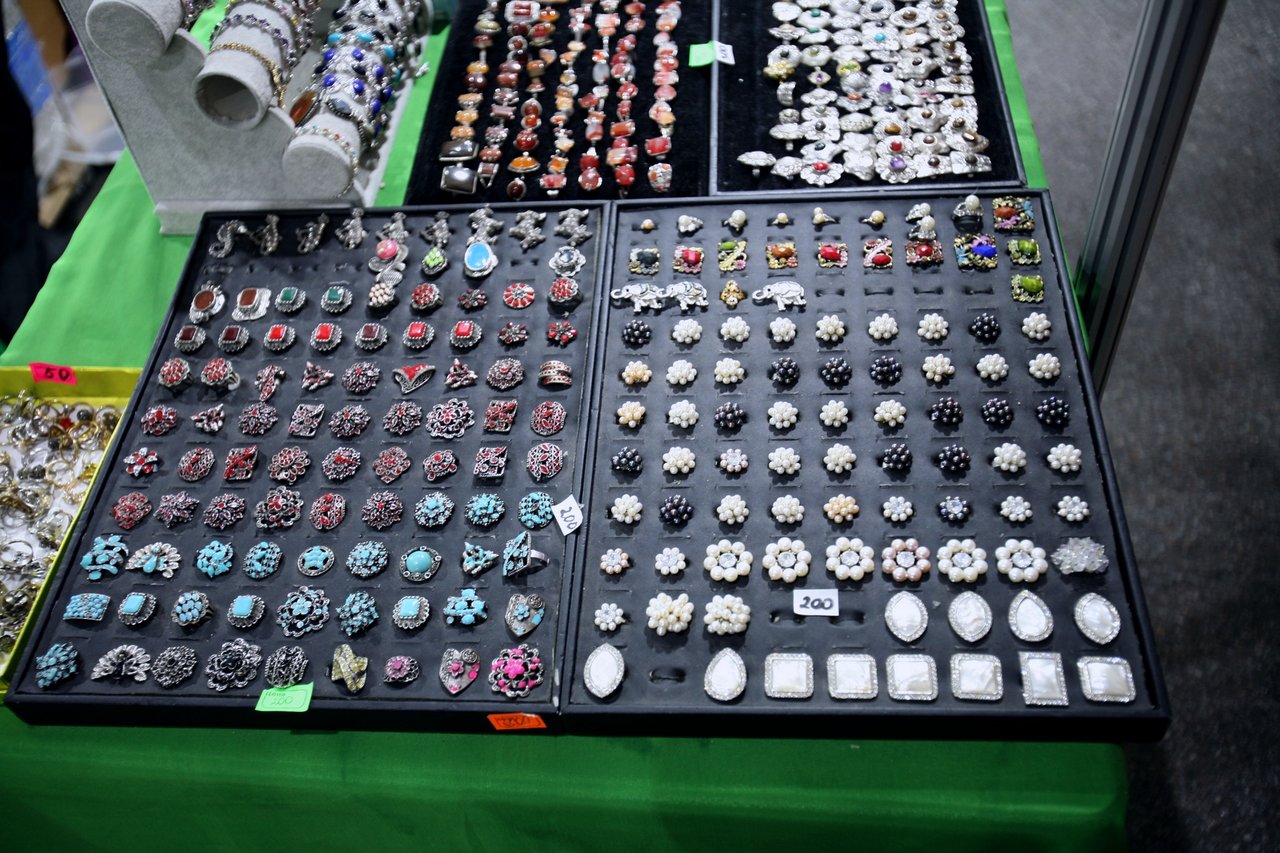 India from the ancient days is known to be the source of a lot of precious and semi-precious stones. I am not a huge fan on crystalls... more I appreciated the bracelets made from the (artificial) black pearls. They are really nice, having different shades of black.... (and cheap! only 5-6 dollars per bracelet -- due to the pearls are artificial). btw, are you in the know of the modern technologies? youtube has an intresting videos about the modern factories where artificial pearls are grown. Its very fascinating, have a look!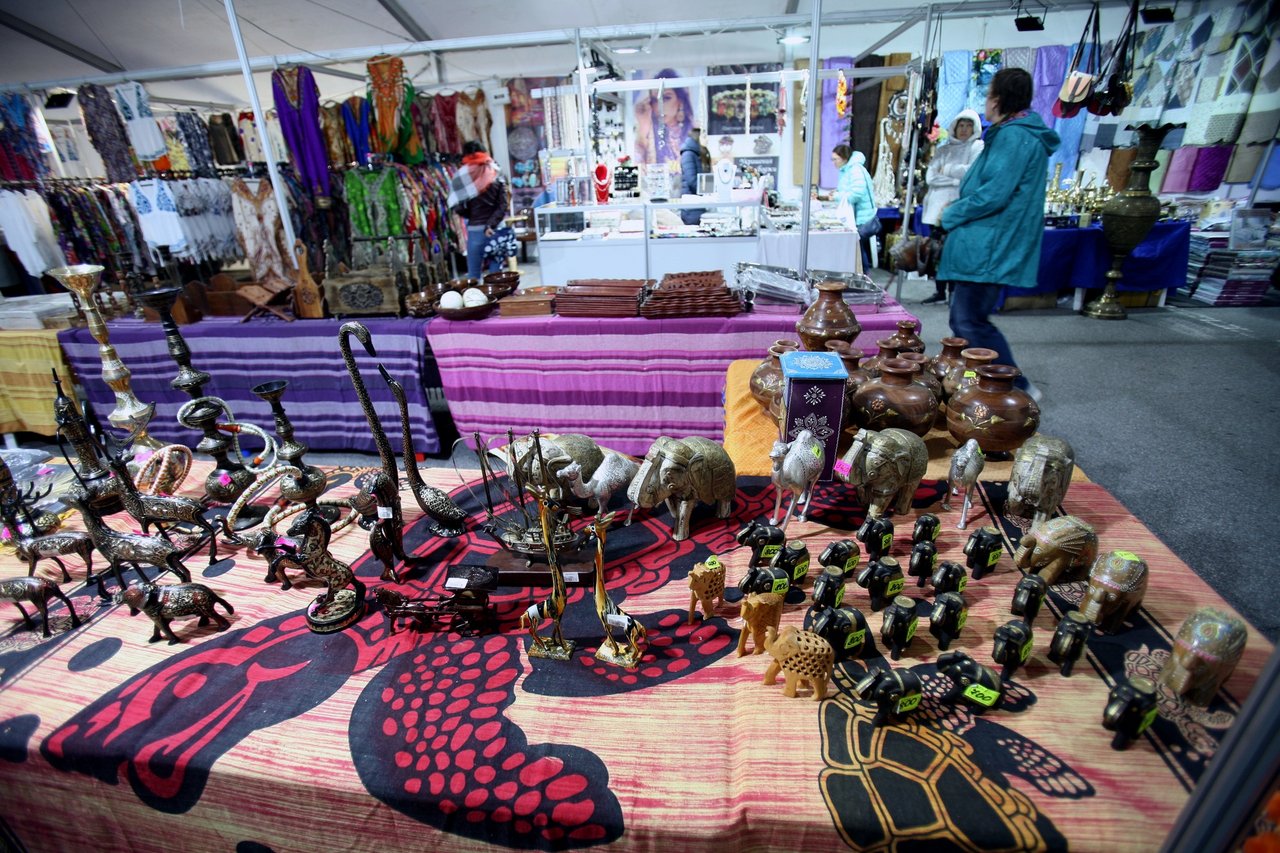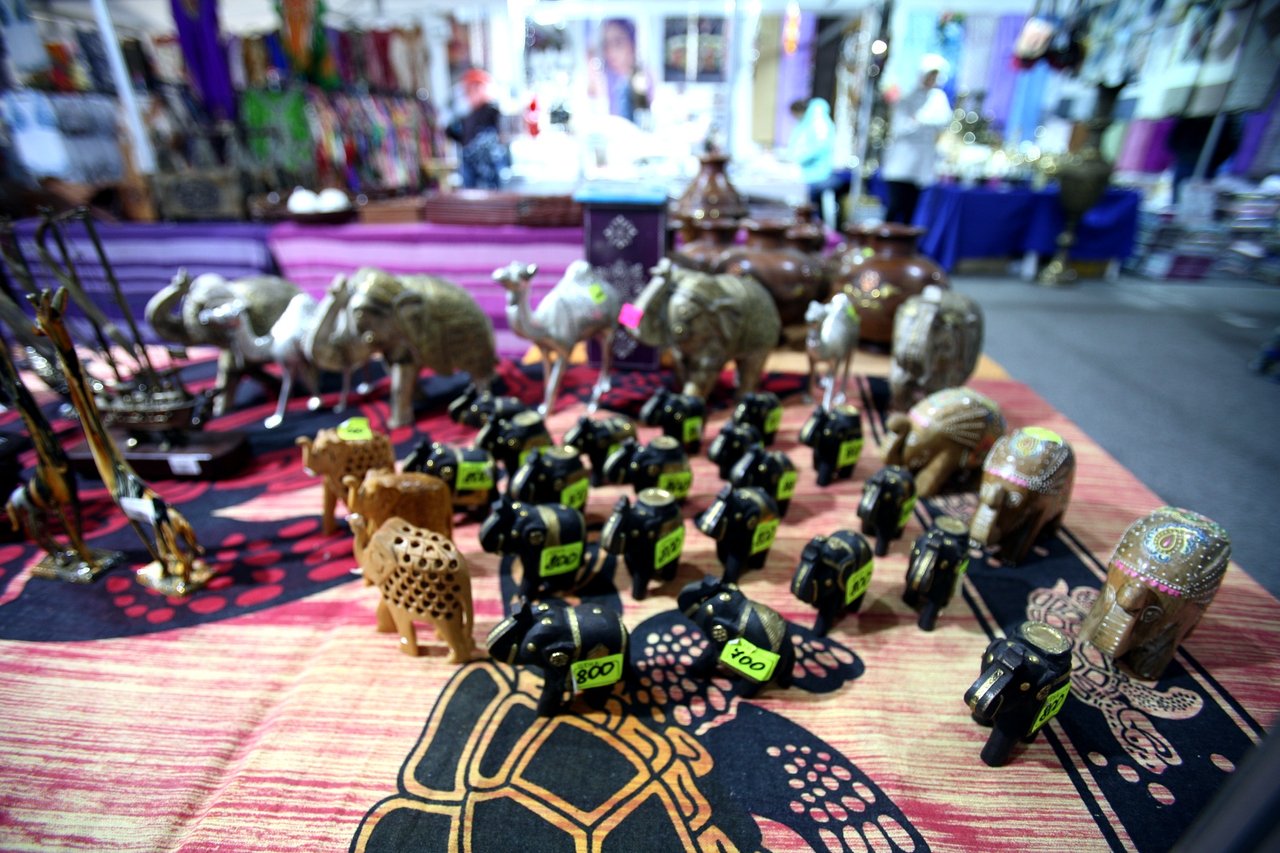 this is the part I qualify as 'garbage' (a beautiful garbage! but still... )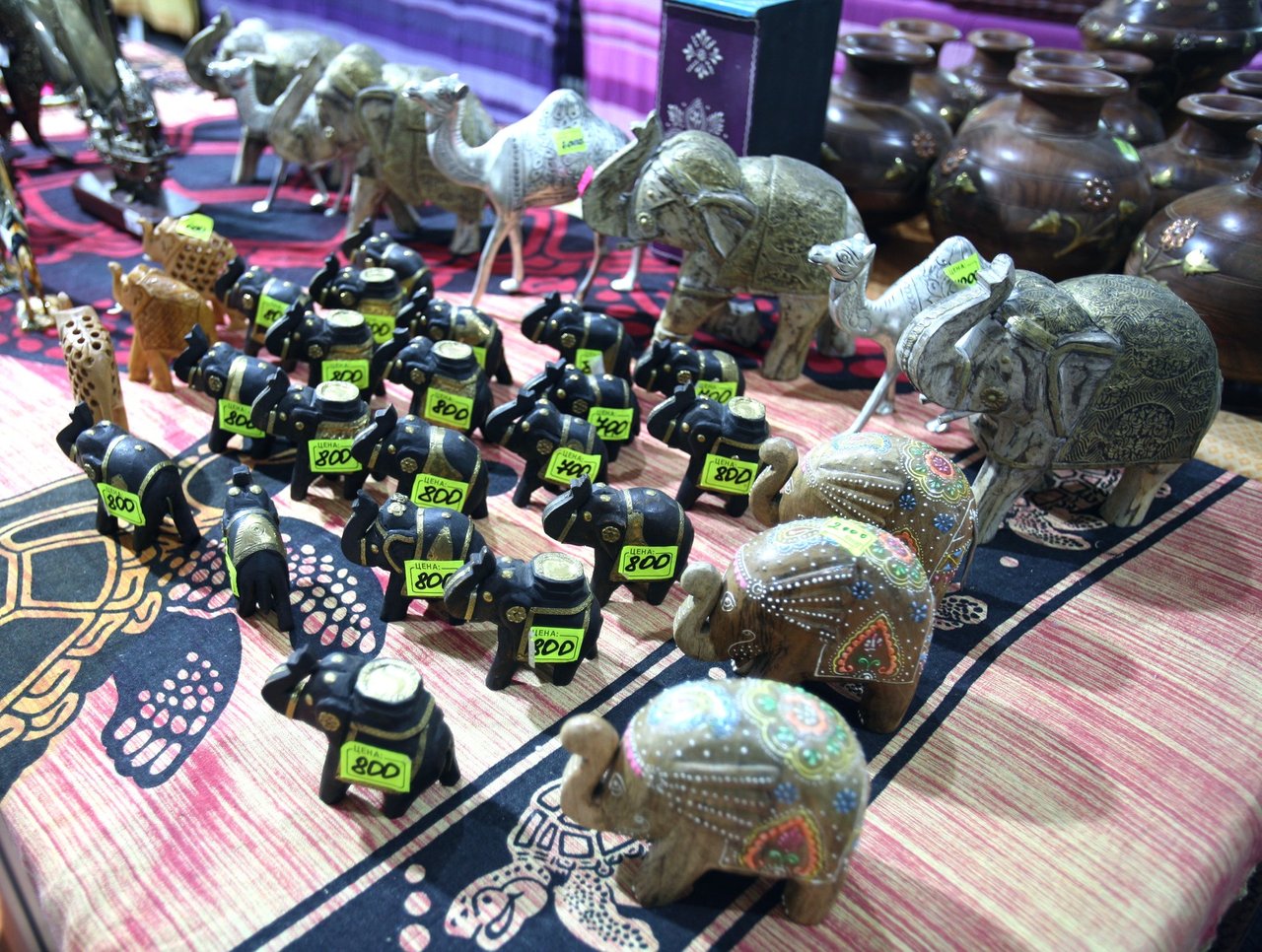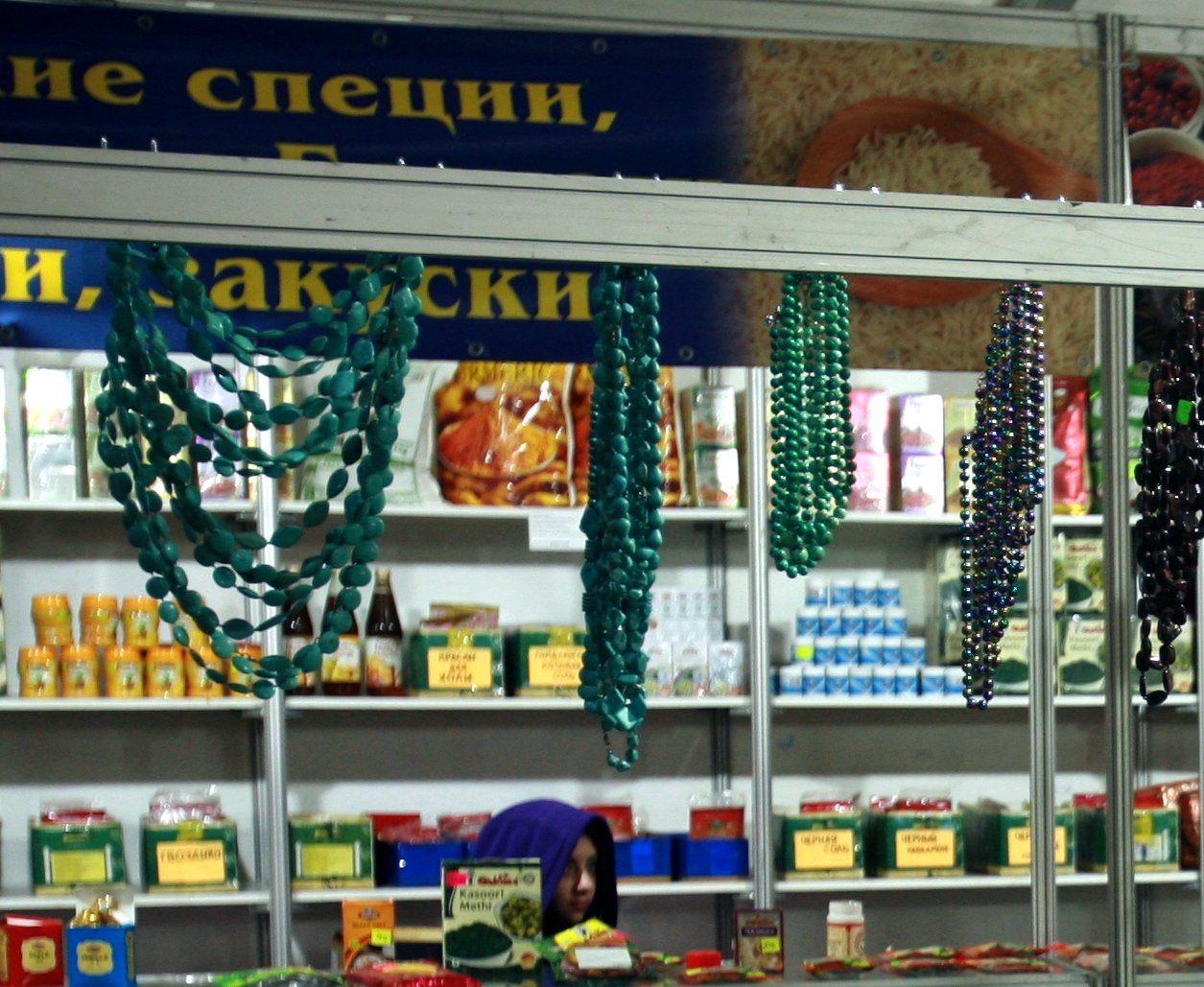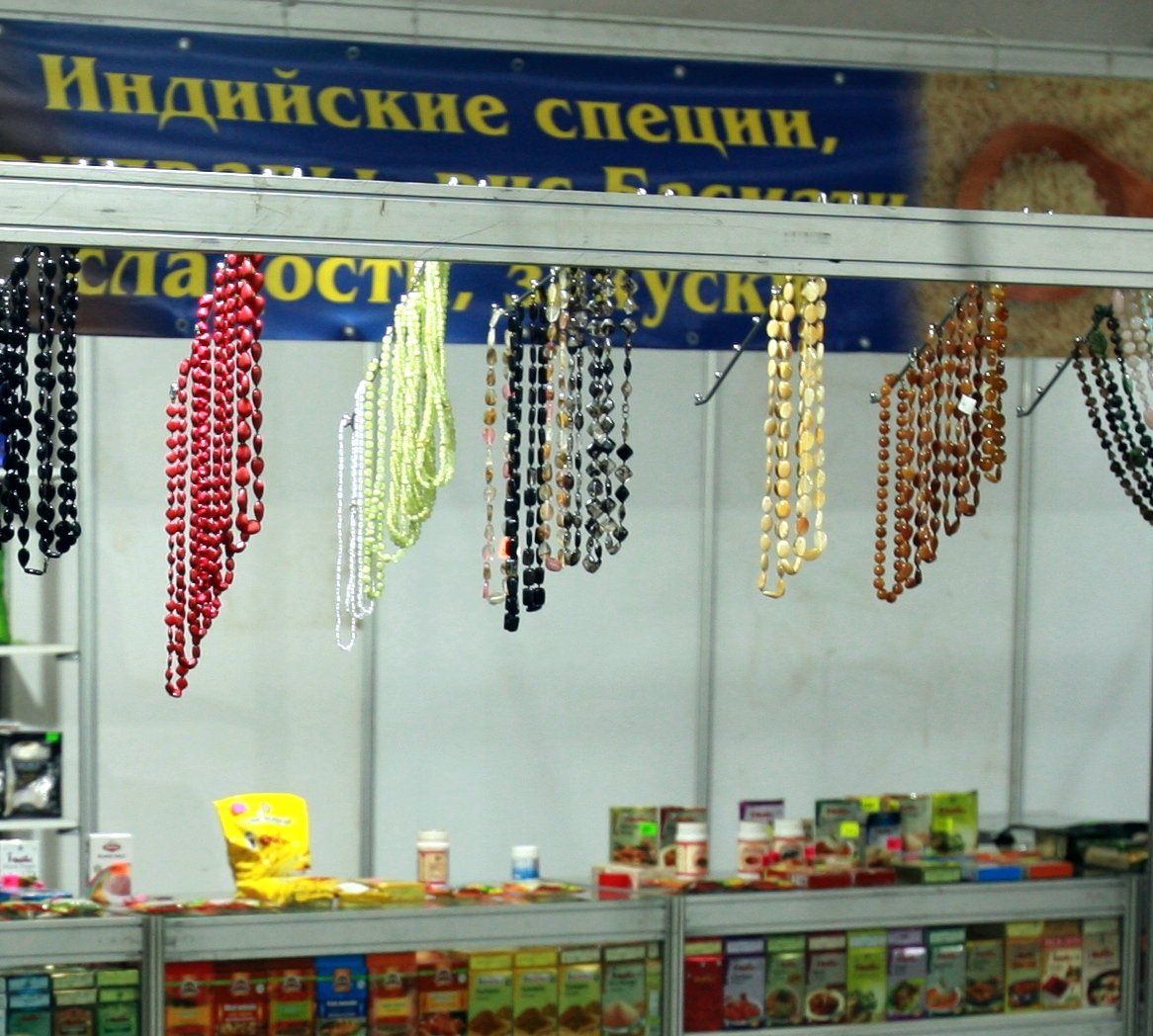 "Strange fruits are hanging from the trees..."
Indian bazaar always is a lot of 'ethnic' dress. I gravitate myself to the monochrome dress (not necessarily black and white) with no labels, these psycodelic are the total opposite! but... I enjoyed some of these very, very much. They were mostly female models, tho
:)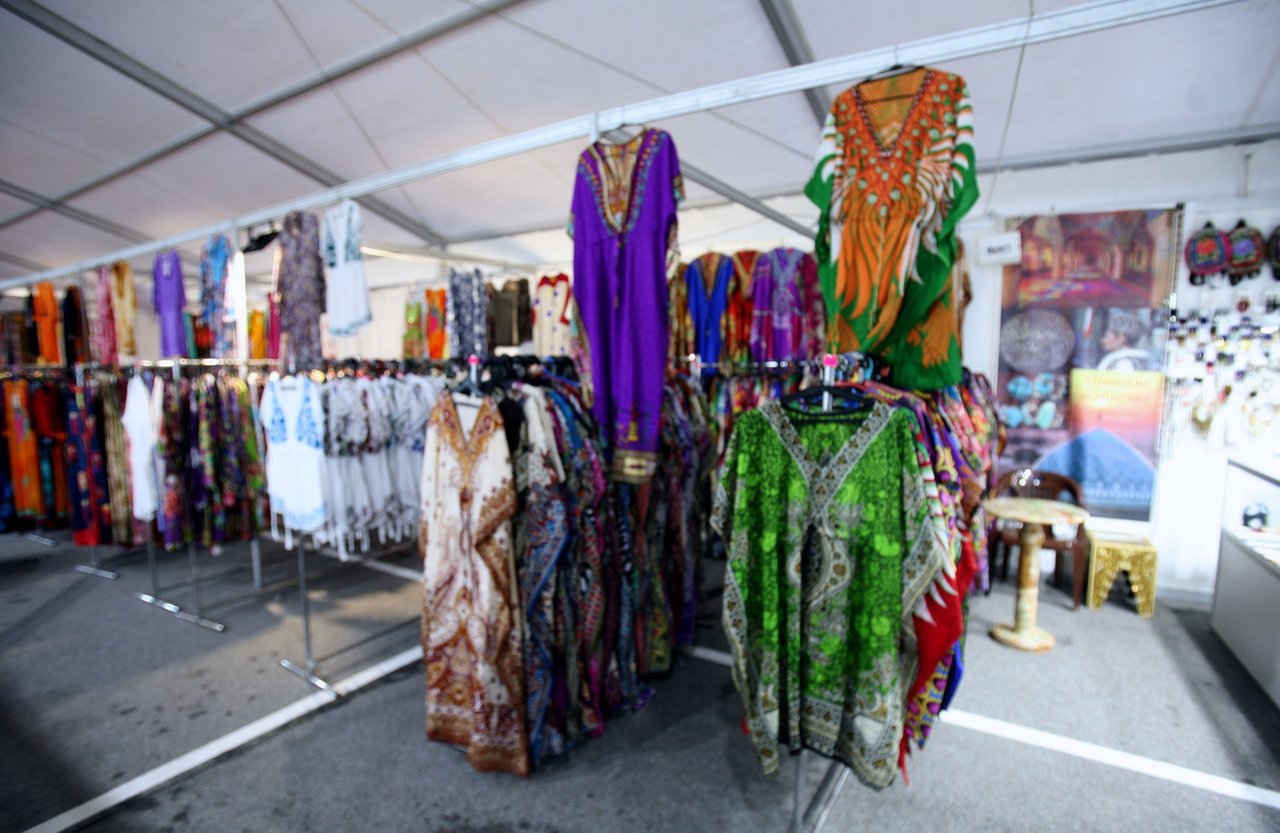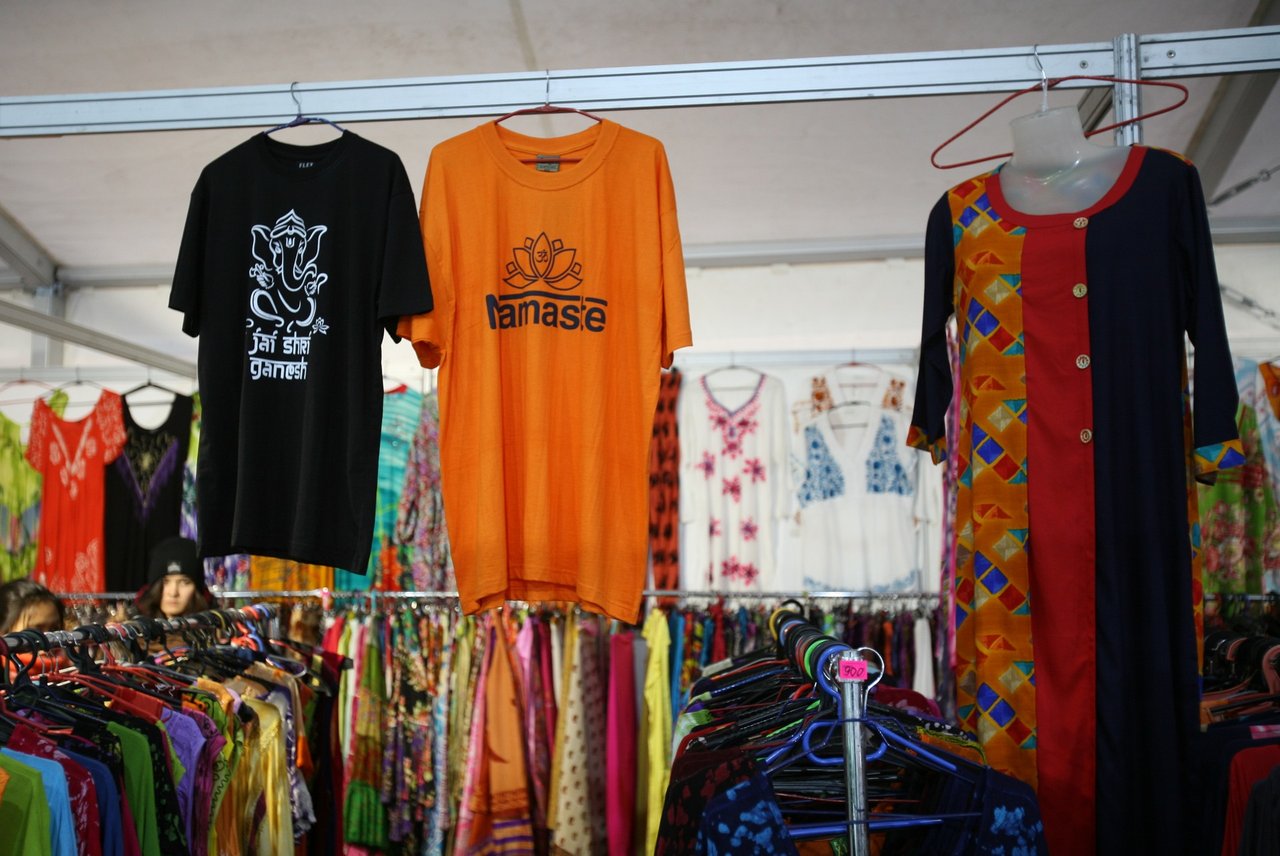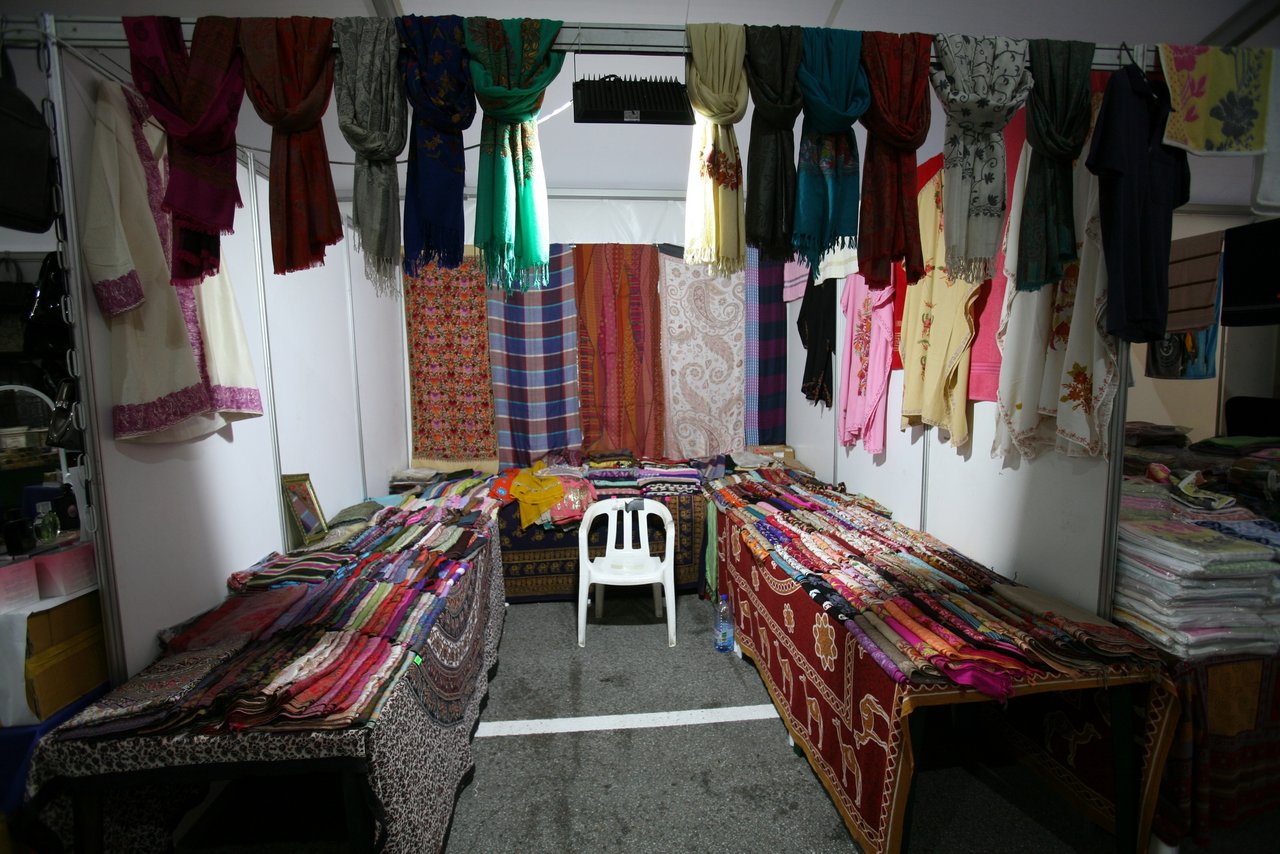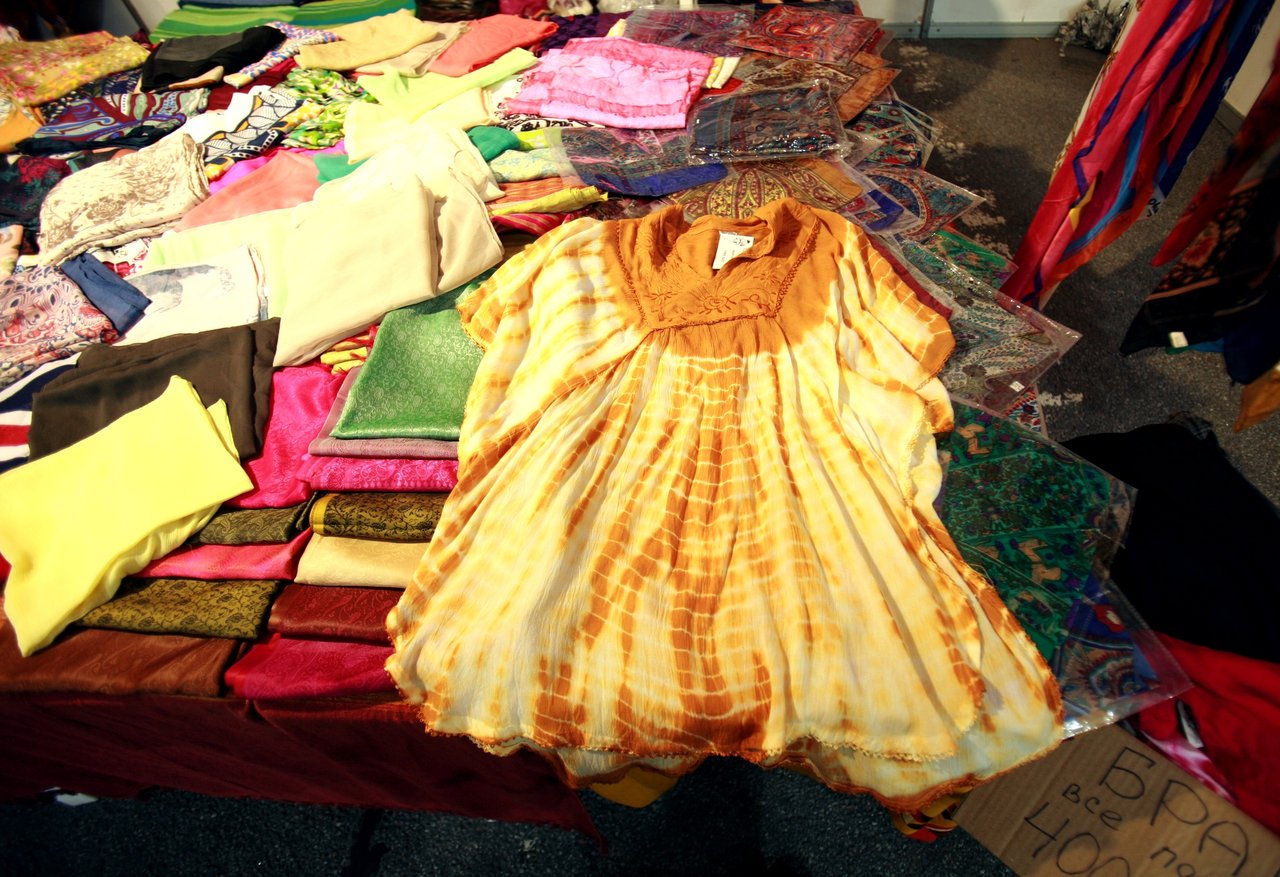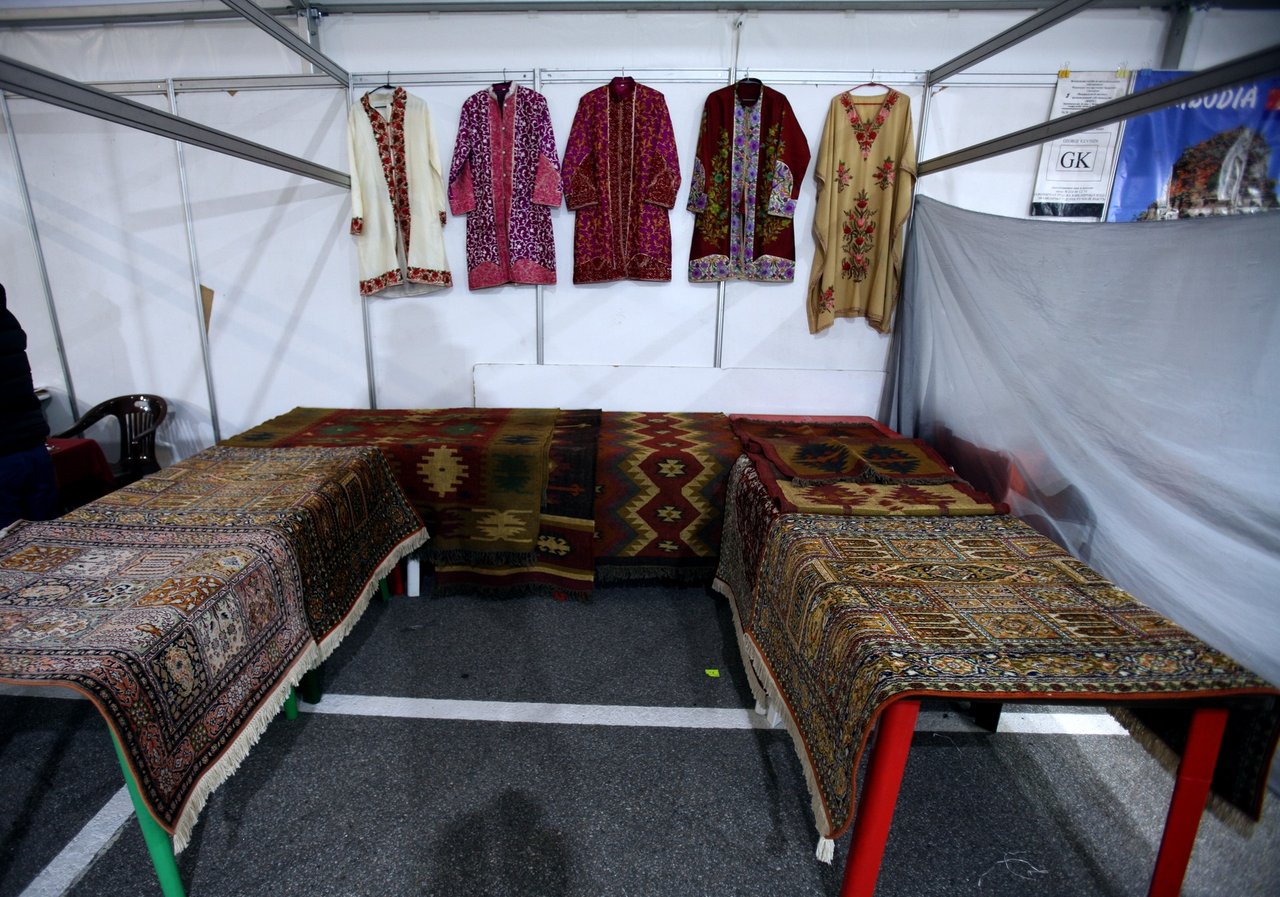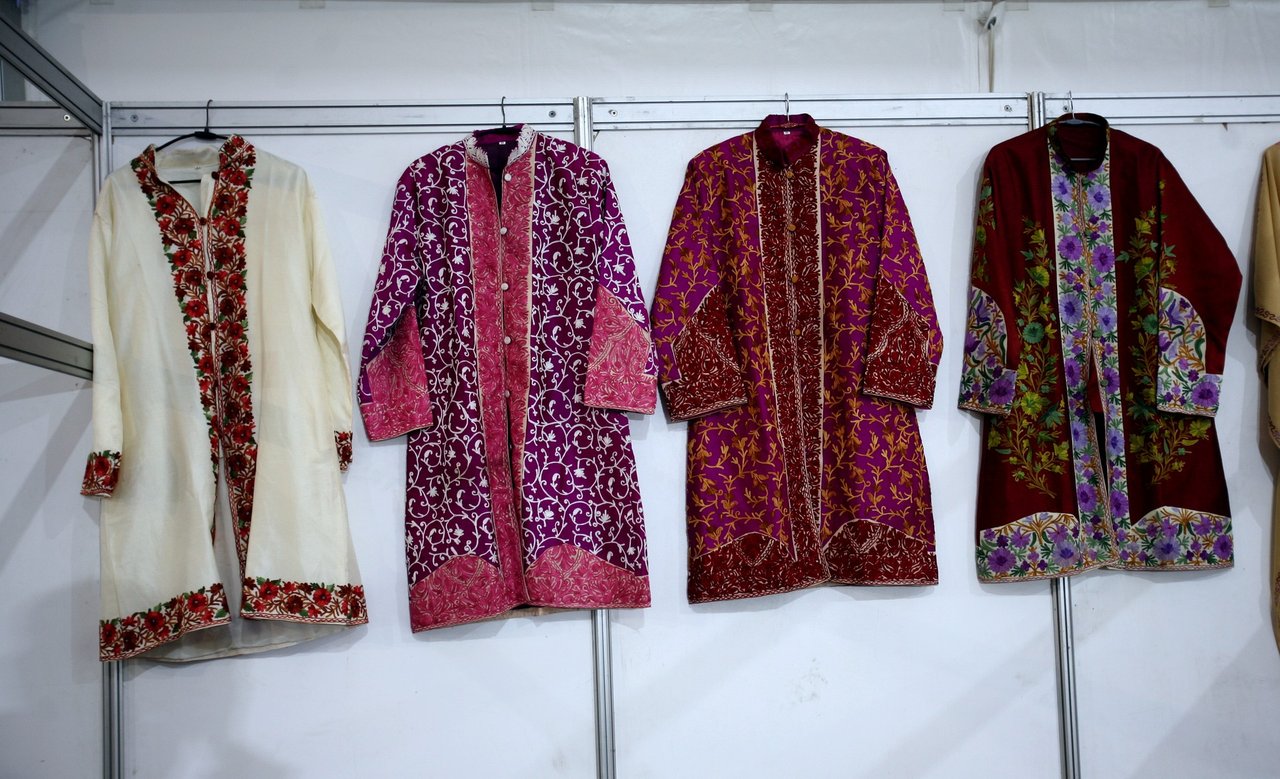 now, a few shots from the furniture section. a lot of cool items here! but no what all this stuff can find its way to my little room :)
Very cool elephants, carved and painted -- Indians do know how to cook elephants!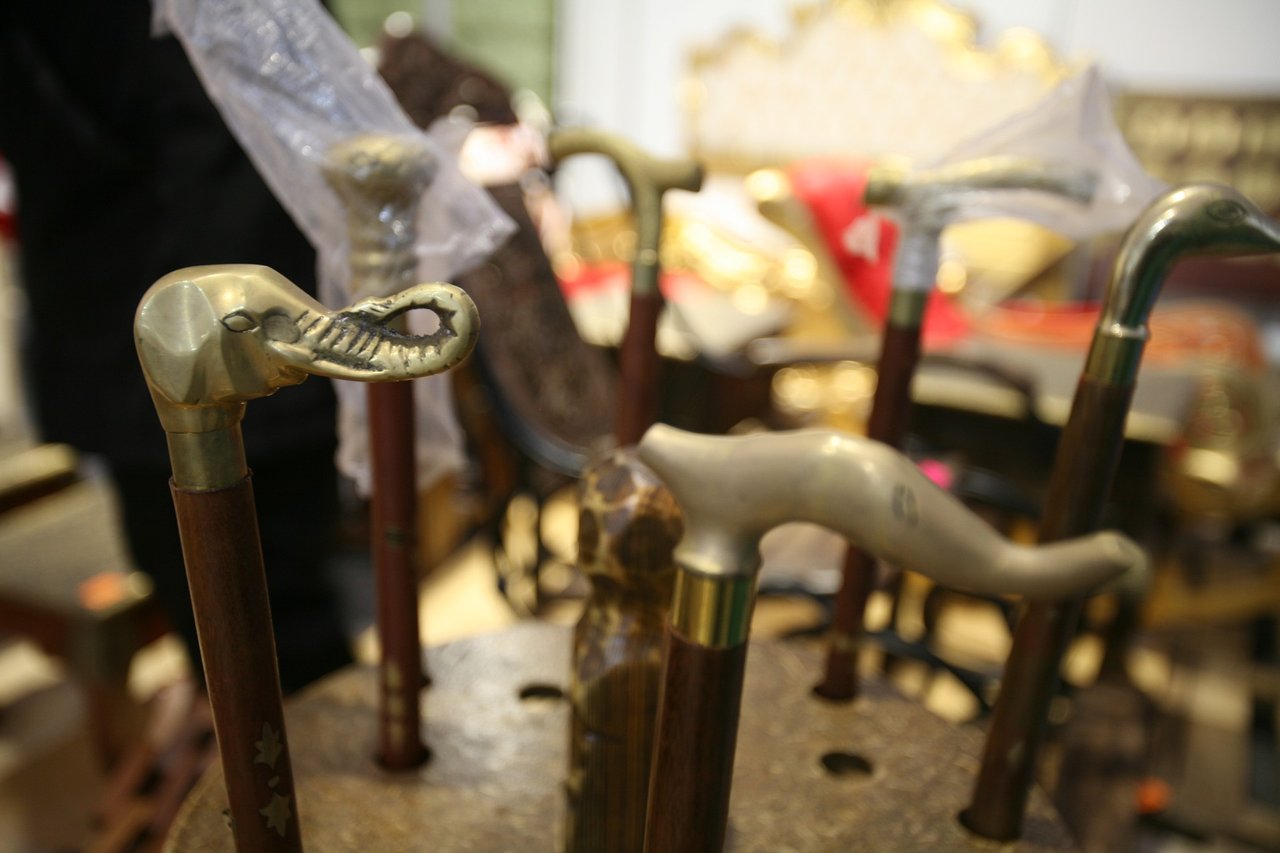 I slightly suspect, the modern generation has no idea about this subject ... well, maybe just having read about it from the XIX century novels? Canes! Strong noble tree, brass knobs that are amazingly nice to touch with your hands. I am curious, how many customers they had for this?.. Probably zero. I never see this stuff on the streets.
All these beautiful and comfortable furniture items are great to furnish a new home ... preferably a bungalow on the shores of the southern seas. Unfortunately, all this luxury absolutely does not fit into the 1- or 2-room apartments of our Northern capital. Real wood and wood carving do warm the soul, even if it is rather simple sorts, not the elite sorts of the wood. I wanted to touch and touch this things with my hands, even stroke them...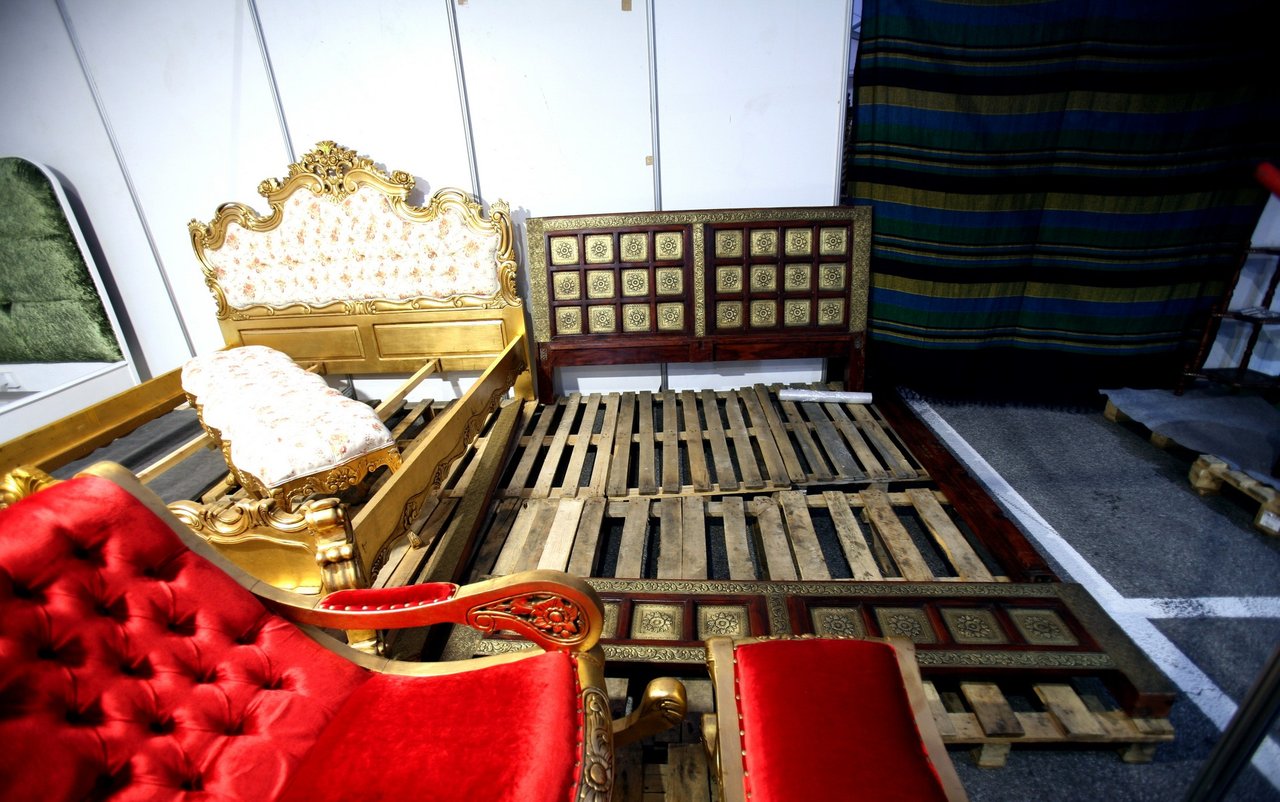 Looking at this photo, I sadly recall this strong contrast between beautiful, expensive, luxurious things -- and a poorly arranged pavilion, empty, overcrowded with 3-4 customers only. A very sad picture, indeed...
Perhaps it's time to say goodbye. I showed all the pictures I made ... which I was able to take with my architectural and reportage photography lens. Hope you enjoyed this little excursion to the land of orient luxuries. Next time!