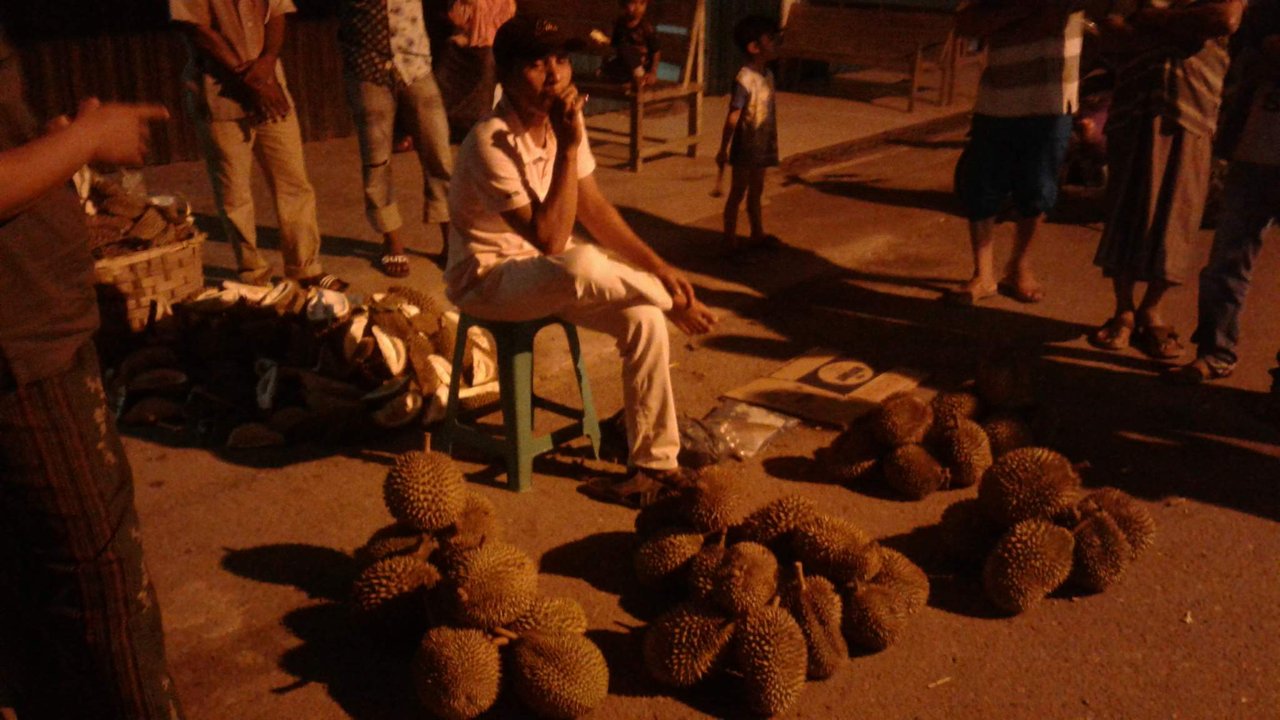 Durian fruit is a tropical plant originating from Southeast Asia, while durian fruit is very tasty to eat. The name of this durian is taken from its distinctive characteristic because of its very hard and very sharp fruit skin that resembles thorns. The popular name in the Southeast Asian region is King of Fruit. Durian is a very controversial fruit and very many people like durian fruit and there are also some people who really do not like the aroma of durian fruit which is a very stinging nose.
Durian fruits are mostly capsule type and have around, ovoid and oval shape, with a length of up to 25 cm and a diameter of up to 20 cm. Durian fruit has thick skin, sharp surface with sharp spines and when exposed to the hands bleed immediately. Some of the people in our village area have seasonal jobs such as selling durian which is done by my friend who has the top picture and he is peddling his durian fruit from the beginning of this morning at 08.00 until now at 23.00 and hopefully, all the durian will sell.
My friend, besides selling durian fruit, he also has other jobs, namely in the carpentry field that makes and builds people's houses. The durian fruit that he sells is very sweet and the durian meat is very thick and I have tried it, three of my durian fruit seeds eat immediately feel full in the stomach. Durian fruit has five rooms or also called rooms which show the number of fruits and seeds inside. Some of these durian rooms are filled with several seeds and usually, there are three or even more and the shape of the fruit is oblong up to 4 cm in length and various colors in the durian fruit depending on the place and seeds planted. The habit in our place of durian fruit is yellow while the seeds are brownish in color.