We have started some 'drops'. Much of it has been manual so far and more 'drops' will happen over time as highlighted in our colorlesspaper here, focused on the 'growth of our ecosystem' and plotted to 'unite communities'. To accomplish this we need to involve 'everyone' and give room for 'growth' for everyone. 
Our ecosystem focuses on 'communities', starting with tags. We want to create 'sticky tags' and a buzz on each, so that we can have many more 'trending-pages with value' than just one 'trending homepage'. This is a gradual process, but a move that we can propel using 'strategic drops'. For instance, we are now inviting the entire 'utopian-io community' to come on marlians.com to continue 'their contributions to open-source projects'.
Utopian has recently paused on their 'organized curation' involving 'open-source contributions'. 
We have created a corresponding tag-space (community) for them on 'https://www.marlians.com/created/utopian-io', have added 'overseers' to this tag-space and provided them with some MARLIANS-stake, empowering them to grow the space. See this: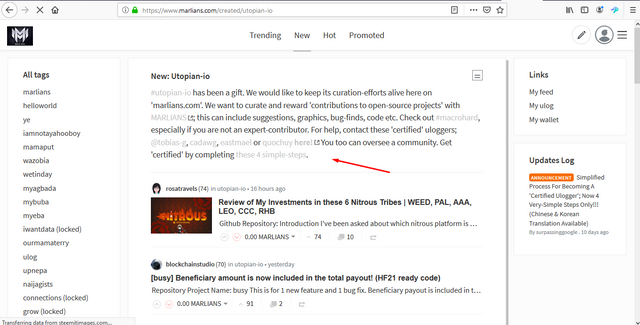 We will announce this in more details, with a subsequent post.
In the meantime, let's mention that we are able to send some 360-users 'a MARLIANS drop' constituting 10-percent of their 'stake + balance' (amassed from the first ten-days since MARLIANS began). 
Here is a list of these ones and the amount in MARLIANS that they received: 
The process was slow and manual and took some time to execute hence the delay but the process has been complete. In the coming days, we will develop a solid list of people to drop too but we will start inside-out. We correctly have a large number of accounts who have some liquid MARLIANS but haven't staked; thus, we may look into sending a 'drops in stake' to our current holders, when we have a total of 1000 holders.
Our compilation, will take in many factors. It will be slow and ongoing targeting 'growth' and more importantly "real human growth".
Another thing we have been doing gradually, is labeling tags (turning them into small communities) as in the earlier example with #utopian-io and allocating these tags overseers who are 'certified' uloggers and sending these ones stake to curate and autonomously grow these communities. 
If you are on the list of aforementioned users, consider doing the following (if you haven't):
When Should I Use The #marlians tag?
We welcome and support 'all content-type' and 'all locations'. We value each human.
We are also about "uniting communities". This means that we will welcome and support content from other steem tribes and this is already in motion. 
We are a home and a close-knit family 'moving together' and this means that we will share "even our limited resources". To this effect, we are evolving a portfolio in 'steem-tribes-stake' that we use to curate 'content from other tribes' found on 'marlians.com' and our portfolio currently looks like this:
Your Boy Terry
Get Certified
First 1000 certified uloggers will get 50 MARLIANS. This aside other ongoing drops.
Steps 1: Send '5 STEEM' to '@marlians' with this memo; '1 month certification'. 
Step 2: Do a 'ulog' via 'marlians.com' discussing the process of 'how you became a certified ulogger'. Make sure to use '#ulog'. 
Step 3: Subscribe to 'UloggersTV YouTube'. 
Step 4: Fill up this google form. 
If you desire, you can DM '@surpassinggoogle#1660' on discord when you are done with the steps, to hasten the process.
Note: Where you get certified now, your payment ("one month certification") hasn't started counting yet but you will already be 'certified'. This is a bonus. We will notify you when "the one month" starts counting (after we have setup our automation-tools). 
See our list of 'certified uloggers' on 'https://ulogs.org/discover'  
To Get Some 'MARLIANS'
Here are the steps:  
Kindly subscribe to UloggersTV on YouTube
Kindly vote on the 'steemgigs' witness
If you can translate this post into other languages, feel free to do so. You can also show me on discord, so that i can resteem it.