To Web Developers, UI/UX Experts etc
If you would like to help us at marlians.com, let's discuss here on #marliansdotcom-general or you can send me a DM to '@surpassinggoogle#1660' on discord. Before then, look at some of these simple tasks; 1, 2, 3
Some Marlians.com Development Updates
Things have been slow in terms of 'the growth and development of marlians.com' but there has been motion. In this section, we will cover some of the recent UI-development that has taken place more recently on 'marlians.com'. (In the near term, our focus when it comes to development is to give users insight into our vision):
1. Certified Feed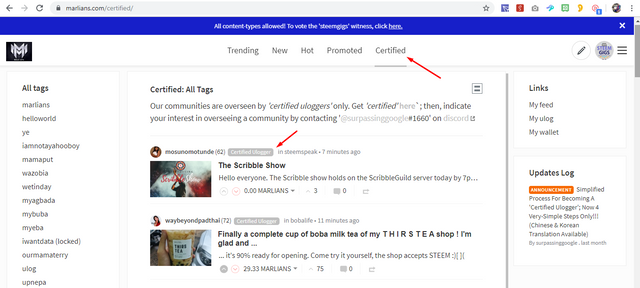 This feed displays posts for our 'certified users'. This gives them more limelight across the site and enables us to better curate them. Note that when it comes to 'certified' users, our "curation efforts" is means to pass across directional memos, keeping them updated with every aspect of our ecosystem and enabling us to have a solid core, made up of 'true fans' and owners.
2. Claim 'all tokens'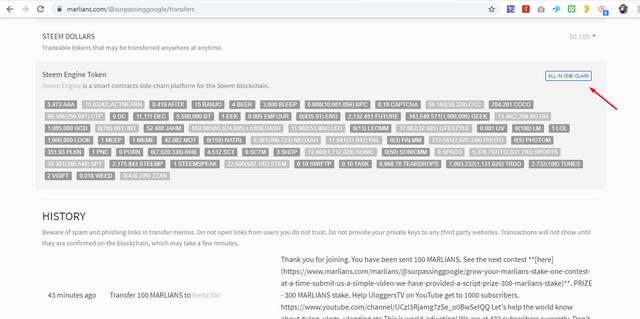 You can now claim 'all your tokens' at once directly via 'marlians.com'
3. The 'GROW' Page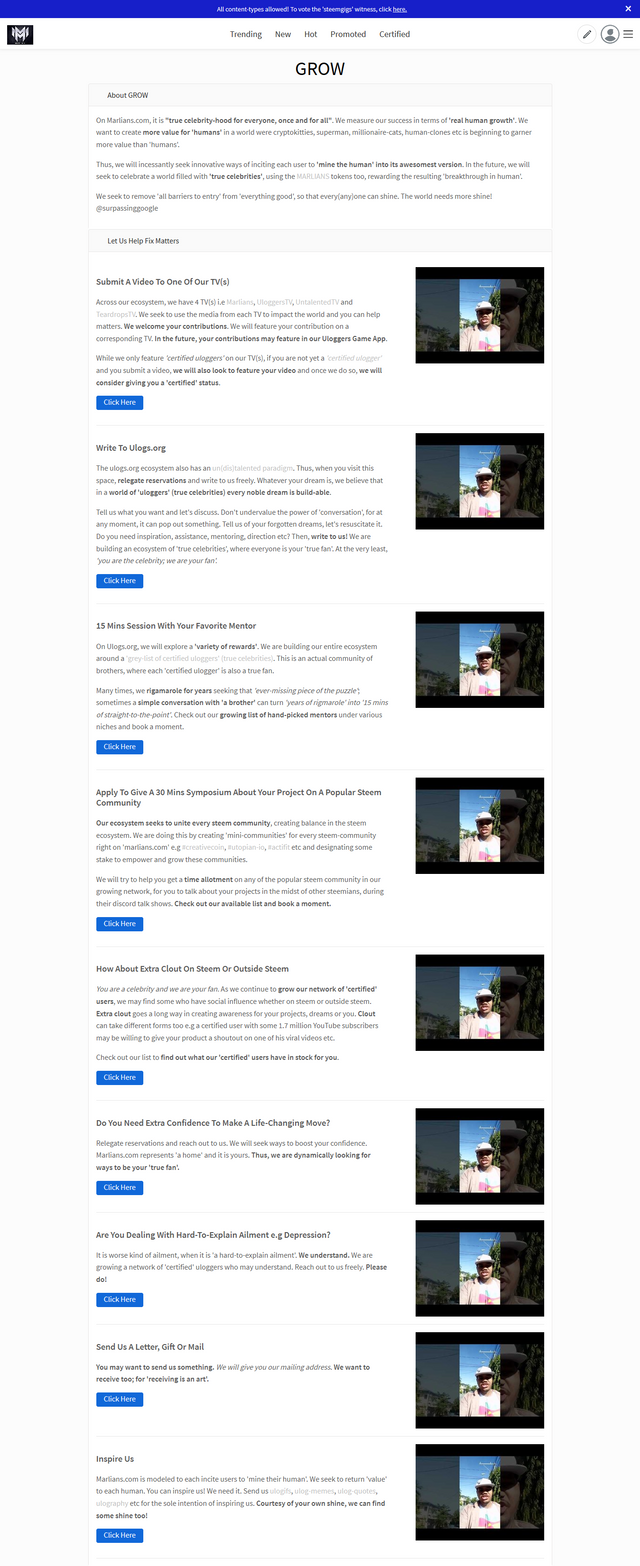 This page is a very significant page. 'Real human growth' is a core paradigm of the marlians.com ecosystem and 'GROW' will help us propagate this. The page will lead to other core aspects of 'marlians.com'. Each segment or row has a 'CLICK HERE' button that is not yet functional. Various aspects of the 'GROW' page will eventually create some utility for MARLIANS.
4. Favorite Mentor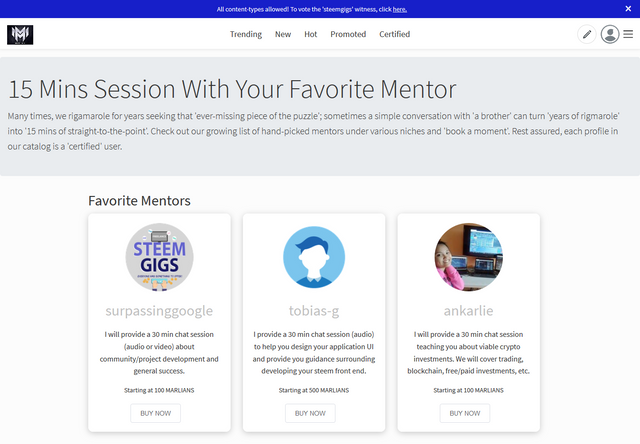 This page will create some utility for MARLIANS. It will eventually display 'certified' users who are will to exchange their knowledge and time in exchange for MARLIANS. It is currently hard-coded and will be updated manually.
Here Is What Is Coming Up Next.
1. Completion of all segments of the GROW PAGE. See related issues here: 1, 2
2. Build a 'SteemGigs' feed. (This feed will display gigs, custom-requests and microtasks from steemgigs.org that accept/pays MARLIANS). See related issue here!
Conclusion
You will notice that we are keeping 'development' simple, so that we can iterate fast, while displaying our vision to users and creating more utility for MARLIANS
Users of 'steemgigs.org' will now be able to accept/pay in MARLIANS too and respective gigs etc will be displayed on marlians.com, a tribe opened to everyone.
The 'ulogs' feed, will create awareness for the term 'ulog' and inculcate the culturing of ulogging across our ecosystem and into the world.
'Grow' will help us apply our enterprise to use in enabling 'real human growth', to where marlians.com succeeds, whether 'bulls or bears', because 'humans' are involved.
It is simple!
You can vote for my witness. It is called 'steemgigs'. 

Visit 'https://steemitwallet.com/~witnesses' and vote up 'steemgigs'. It is currently ranked 56.
Also...
If i can go to STEEMFEST4, i will be speaking about marlians.com, steemgigs.org, ulogs.org, teardrops.network etc and you can support my efforts to go there. Read this post!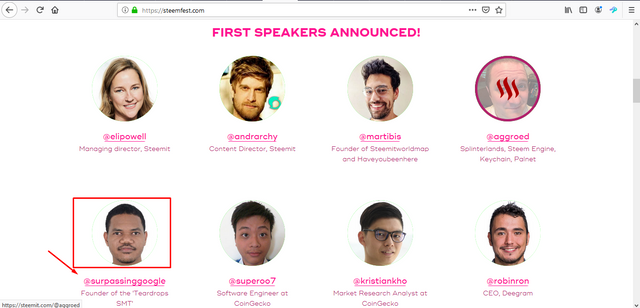 Your Boy Terry
When Should I Use The #marlians tag?
We welcome and support 'all content-type' and 'all locations'. We value each human.
Get Certified (This is optional)
First 1000 certified uloggers will get 50 MARLIANS. This aside other ongoing drops.
Steps 1: Send '5 STEEM' to '@marlians' with this memo; '1 month certification'. 
Step 2: Do a 'ulog' via 'marlians.com' discussing the process of 'how you became a certified ulogger'. Make sure to use '#ulog'. 
Step 3: Subscribe to 'UloggersTV YouTube'. 
Step 4: Fill up this google form. 
If you desire, you can DM '@surpassinggoogle#1660' on discord when you are done with the steps, to hasten the process.
Note: Where you get certified now, your payment ("one month certification") hasn't started counting yet but you will already be 'certified'. This is a bonus. We will notify you when "the one month" starts counting (after we have setup our automation-tools). 
See our list of 'certified uloggers' on 'https://ulogs.org/discover' 
To Get Some 'MARLIANS'
Here are the steps: 
Visit 'https://steem-engine.com/?p=market&t=MARLIANS' and login using the keychain extension or directly using your private posting key.
Click on the 'DEPOSIT' button to deposit STEEM. Note that you can also deposit BTC, ETH, LTC, EOS etc with steem-engine.
Go on to buy some MARLIANS.
Kindly subscribe to UloggersTV on YouTube
If you can translate this post into other languages, feel free to do so. You can also show me on discord, so that i can resteem it.