Look, she didn't want me to do this but I'm starting to trip out—I can't imagine what's going through her mind. My wife, @puravidaville, the most beautiful woman in my life and one of the most beautiful women I've ever met is experiencing some medical complications that we can't get diagnosed for the life of us.
About a year prior to us leaving the United States, we began spending time in multiple doctors offices between Los Angeles and San Francisco, trying to figure out the drastic increases and decreases in her blood sugar levels. They've ran so many blood tests on her, extracting vial after vial of blood, and ran her through enough extensive machinery, one would think the answer would be in black and white by now—it's not. A doctor in Los Angeles attributed her symptoms to leaky gut syndrome, prescribed some antibiotics, and sent us on our way. That seemed to work for a few months.
When we arrived in Central America, her symptoms returned. Upon visiting a doctor in Costa Rica without any luck, we were referred to a doctor in Panama who we were told could help—we went to Panama. Her thyroid came back normal, "leaky gut" wasn't mentioned, however, for the first time in over a year of medical testing, she was diagnosed pre-diabetic—whatever the F that means?!
Around the same time, prior to leaving the states, she learned she can't consume gluten without her chin and neck area breaking out into a sort of reddish colored rash. For those of you who have been following us, you're already aware that she and I are about as healthy as we can possibly be with our eating habits. Neither of us eat meat other than fish, we don't consume any dairy, there's actually a wOrd that defines our eating practices—pescatarian. On top of that, Pura doesn't consume any table sugar, she doesn't cook with it, purchase it, nothing. The only sweetener she'll use, even when cooking is, Agave, xylitol on occasion, but primarily fructose from apples—that's it!
Pura doesn't smoke. She partakes in zero street drugs. She doesn't drink alcohol, ever. She consumes at least 1,000 calories a day in fruits and vegetables and she's a runner—she runs, on average, 3 miles per day. She doesn't drink any types of sodas, in fact, she won't even drink coffee in the morning until she's had 1 liter of water. We're the couple at the restaurant who only orders water. Her energy levels aren't an issue, she never feels sick or anything like that until recently when she consumes gluten—it upsets her stomach for about an hour, along with the irritated skin. They both seem to subside around the same time.
She's active, she's aware of her symptoms and doesn't tread lightly. She has no problems sleeping, her appetite isn't affected, and her state of mind is never in question. She was diagnosed with a rare pancreatic disorder at a really young age, in her teens and, just recently, her blood pressure now consistently runs low between 58 and 65. I can't think of any other descriptions to tell you right now although I'm sure I'm missing one or two. Can someone, anyone, please explain this: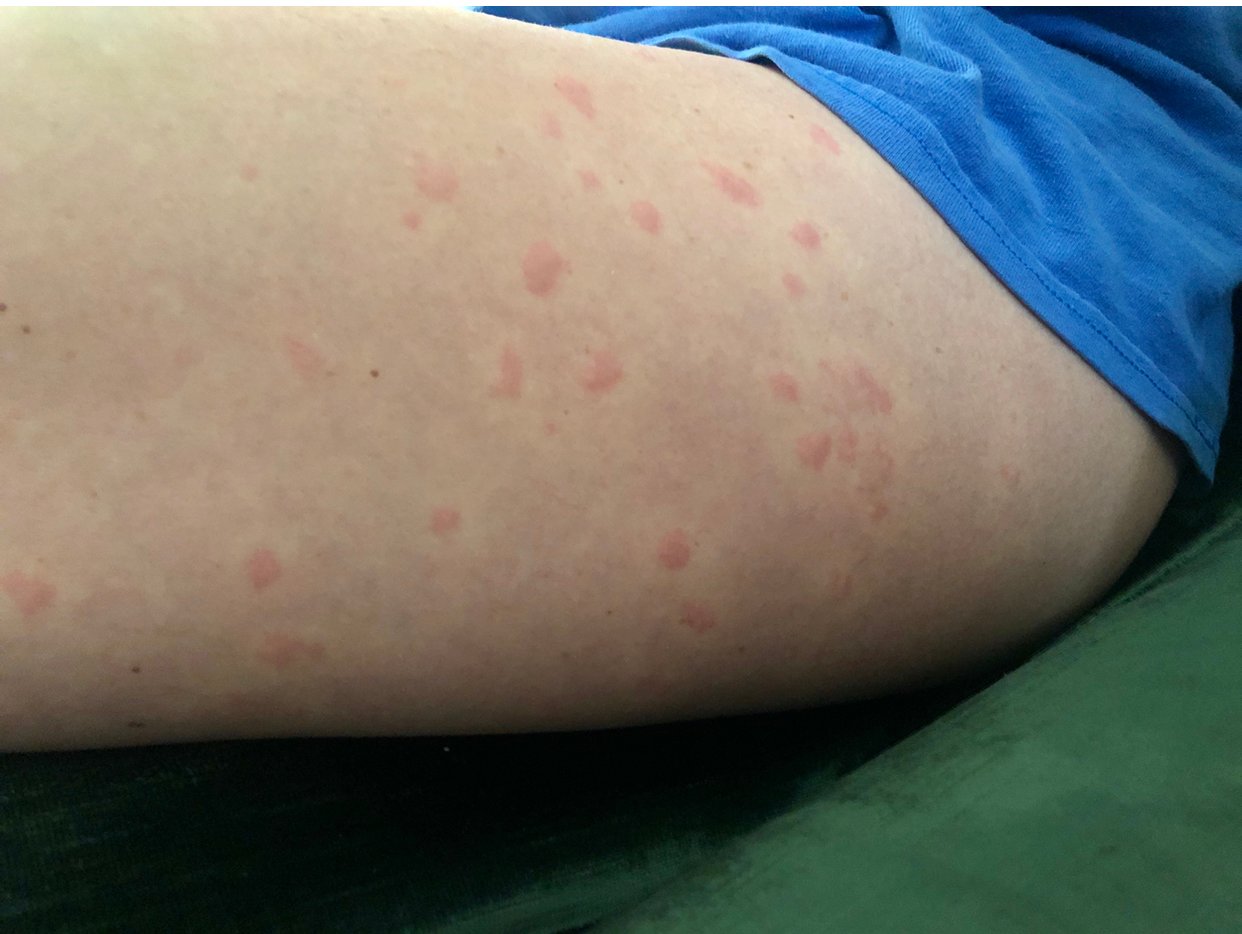 These hives just began appearing the week we left Greece (two weeks ago) and now they seem to be reappearing about every other day. She called me when I was at the gym in a panic talking about "we have to go see a doctor, I have hives all over my legs!" I mistakenly assumed she was overreacting but, nonetheless, I rushed back to the apartment to see what she was panicking about. Between the gym and the apartment was a pharmacy. I stopped by and explained to the pharmacist "my wife is having an allergic reaction to something, probably a bug bite, can I get some allergy medicine?" The pharmacist gave me a tube of topical ointment and a 24-pack of pills similar to benedryl.
I walked in the door and saw her legs like "oh my God!" She wasn't overreacting at all and, for the first time in a long time, I was pretty alarmed. We immediately applied the topical ointment, I think I fed her about a half dozen of the allergy pills and, within an hour, the hives went away.
Before we left Greece, she experienced the hives one more time, took an allergy pill, they went away. But now it's happening every other day.
Our plan is to go back to the UK, most likely sooner now than later, where she can receive medical attention and hopefully be diagnosed properly. The problem with that is, we've visited multiple doctors in multiple countries now, seeking assistance over the same issues and have yet to receive a proper diagnosis. Can you help? Do you know someone who can help? Have you ever heard of or seen anything like this? Don't be shy. I'm asking you to utilize your resources and help us figure this out.
With everything I just described, as plainly as I can describe it, we've taken the same description to various medical facilities and, here I am, reaching out to a bunch of virtual strangers because we need some help.
The cover image is a photo I just snapped 30 minutes ago from a seated position—this is while standing: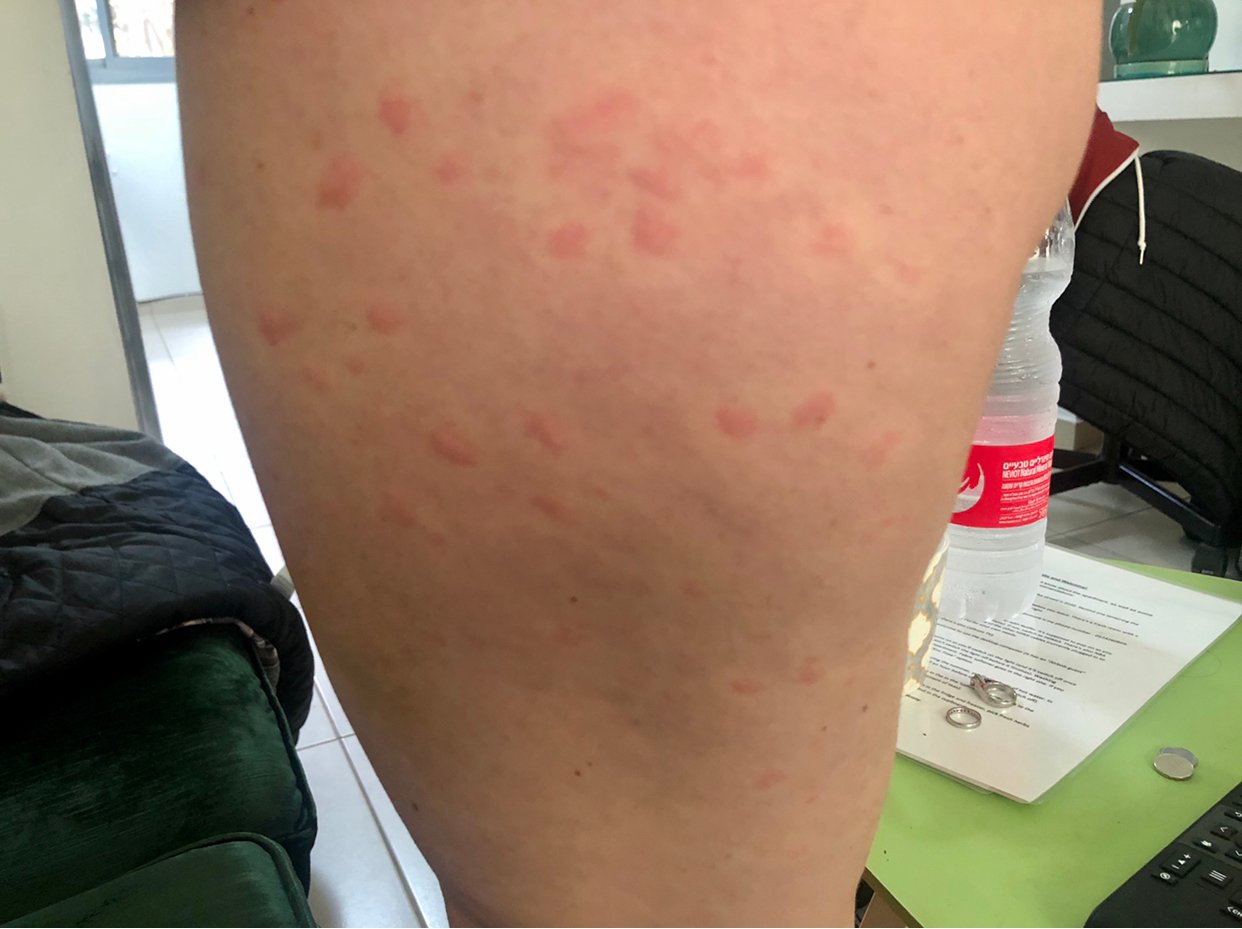 Since #writing this article, it's been about an hour now, the hives have all but subsided thanks to the allergy pill we received in Greece. We really don't know what to do anymore and I'm hoping someone reading this can pin-point exactly what's happening—God willing. The hives primarily only occur on her upper thigh area, both legs, with occasional red bumps on her calves and feet. She feels it in her feet first—they begin itching around her ankles. They don't spread above her waist line.
If you think you know what is going on with her, after this extensive description that she's going to want to choke me out for revealing, or you've seen similar symptoms and know what's behind it—we're all eyes. Ask around, please, post around, whatever you have time to do, we both would really appreciate it, we're open to just about any suggestions at this point. Thank you in advance.
Sincerely,
Puradays