Hola Fellow Steemians! Today I discovered a new form of meditation... and it didn't involve sitting on a cushion trying to empty my mind. I've always found that so challenging... sitting still and feeling the pressure to become calm and be superbly Zen.
Here's a little background 'scene setting' of today's discovery. My partner and I are now 8 weeks into off-grid living, our solar power is working, we now have the miracle of running water in our wee hoose... the hot water only lasts for 4 minutes (yup... we've timed it) before turning freezing cold but that's totally liveable... as right now we have a bigger challenge to focus on.
It's called the Gearbox.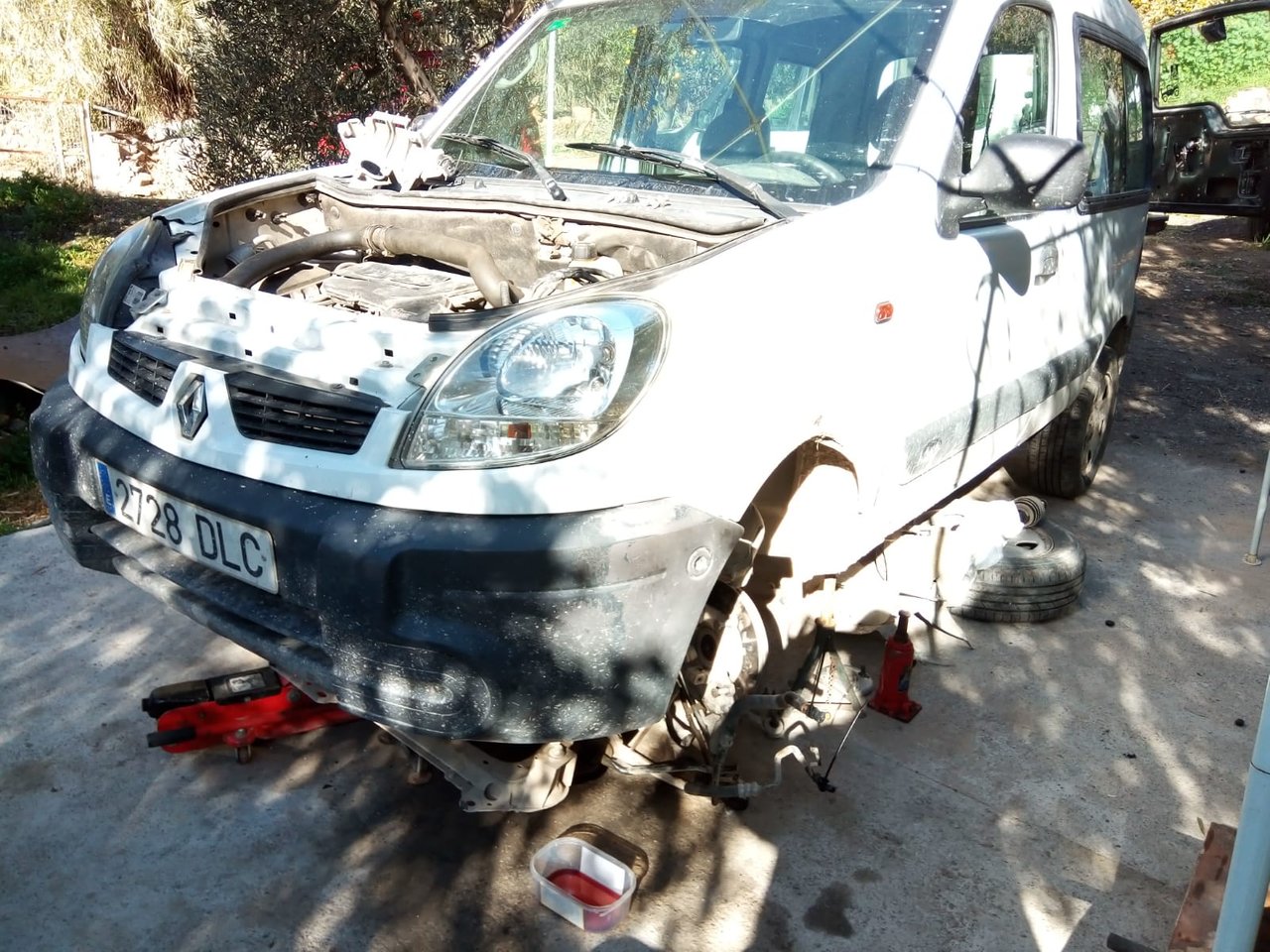 I touched on the saga in an earlier post... because it's being going on a while... and it now deserves another whole blog because the arms and legs that it's grown are pretty impressive and admittedly H U G E L Y stressful.
So as the latest development unfolded this morning, I took myself off onto our land to get some space.
I am a nature girl and for me... getting out into Mother Nature and connecting with the earth, is hugely healing, calming and reviving.
As I walked around the terraces that we are gradually strimming back from the wildness of 5 years of abandonment... I saw the large pile of branches that had been cut from the precious olive tree that we'd had to relocate to make way for the water deposit build. We'd been meaning to cut them into kindling for a while, but just hadn't got round to it.
And in a whoosh of a decision... today was the day.
I got the secateures, a chair and plonked myself down beside the branches in the shade. And started trimming them down to twigs. The air was warm... the sky was blue... and the sun was twinkling through the branches of the surrounding olive trees... and I slowly began to feel myself calming down. Touching the branches... being in gratitude for the warmth they were going to bring us over the winter... feeling the simplicity and beauty of nature around me, I gradually felt myself slipping into that lovely state of just being in the present moment. The craziness of the outside world faded away... the stress of the phone calls, miscommunications, huge cost, lack of answers and all that gearbox 'stuff' began to lift off me.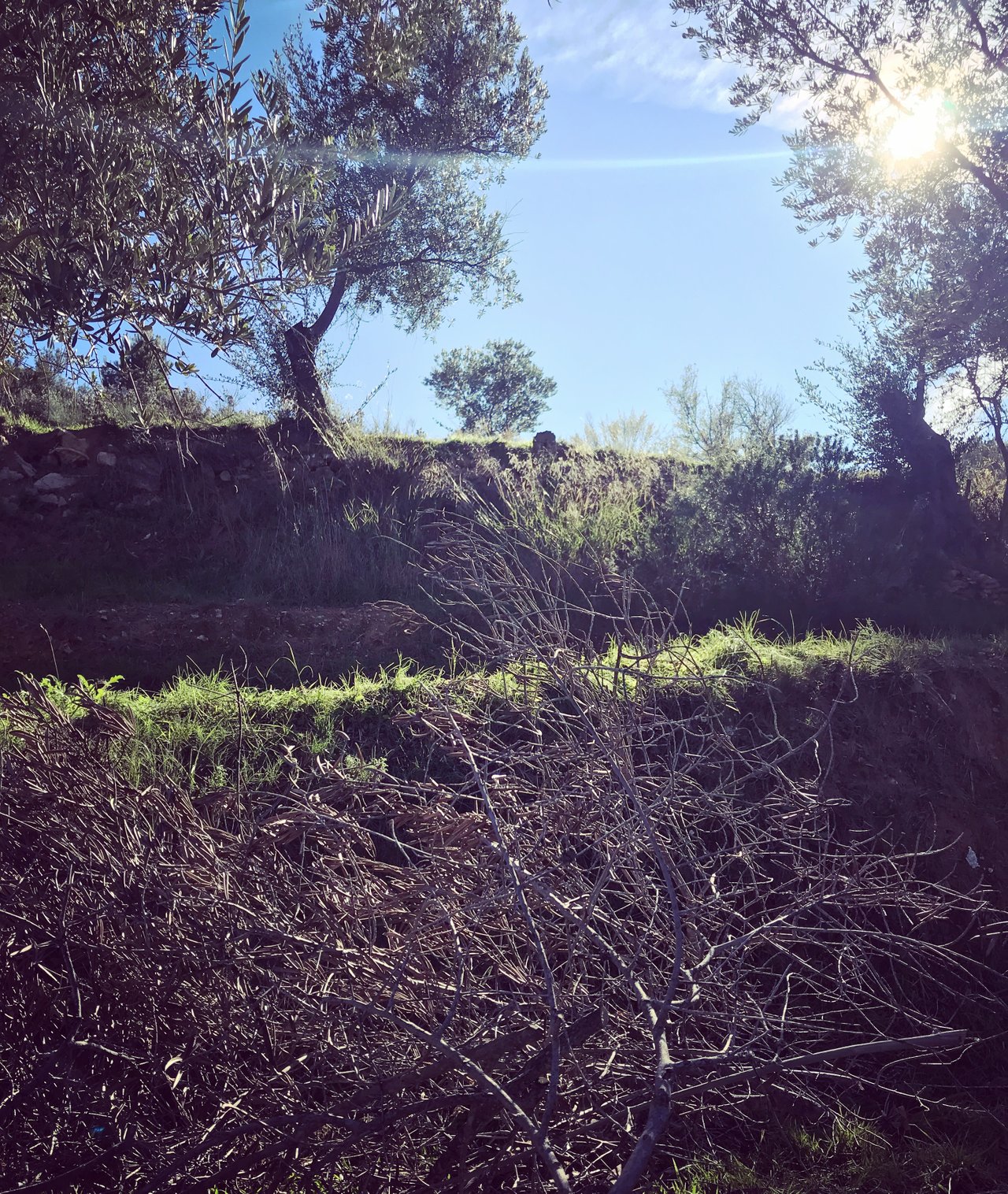 All there was, was me... the sun, the branches and nature.
And.... B R E A T H E.
The branches somehow became kindling and I must have been out there for a good 2 hours, just quietly cutting and trimming... breathing and trimming... no rush or pressure.... just enjoying the sun... noticing the patterns the sunlight made through the trees... and naturally coming back into feeling grounded, centred and calm.
In hindsight, if I had just 'gone to meditate'... my mind would have gone round and round in increasingly tighter circles, I would have got frustrated with myself at not being able to 'get into the zone' and it would have added to my stress rather than helped me to calm down. Some of you may say, that the whole point of meditating is to overcome your mind chatter... and you are right! But I also believe that there are many, many ways to calm the mind and the more we get to know ourselves, the more we think for ourselves and find what's right for us. And for me, meditation comes through my connection with nature.
Put me on a hill with a view... a beach with rolling waves... a grassy knoll in the middle of a city... a meadow filled with wild flowers... a cave with interesting stones... put a crystal in my hand... let me watch the flames flicker in a wood burning stove... let me walk barefoot... lie on my back watching the moon and the stars... lean against a tree... all of this and more, brings me into my bliss of being and meditative state where the dimensions open up and Oneness is all there is... but put me in a room to meditate and I'll have chewed up the cushions and rebelled against the walls!
This is the power of finding your own way to meditate and to bring yourself back home to your heart and your truth.
I'd love to hear how you enjoy meditating!
Wishing you all a wonderful evening,
Love,
Sally xx
PS. The gearbox is still AWOL.
PPS. Just as well that we live out in the mountains and there's stunning views to inspire my Zen... 😎