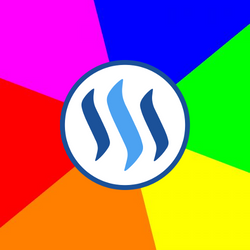 Mod System - Currently our moderator system is functional, if you reply to a meme with an accept/decline you will get +1 ModScore. Whats Left? Add auto reset every 24hrs, push all modscores to moderator reward system to be locked in for 24 hours.
Once the moderation system is complete, all moderation efforts will be calculated 1st day, and rewarded the following day. Included in UI update, add 0.5 ModScore for "ignore" requests.
DB Sync - Our database sync is finished, next steps are implementing the sync'd data. We'll be using this to calculate up to date reward payouts for delegators and moderators on our /supporters page and in their user profile.
UI Update - At first we considered forking a great UI made by @Knowledges and the @Utopian-io team called KnackSteem. Knacksteem is a great platform for launching on Steem Blockchain. While we have decided on another platform, everyone interested in developing STEEM front ends should check out and contribute to KnackSteem. We then considered forking Busy, which is another great UI built by some fantastic SteemDevs. Finally we have decided to relaunch using a mobile friendly react backend built by the Memeit.LOL team. The UI Backend is finished and we have a few task bounties available. (JS/Node/React)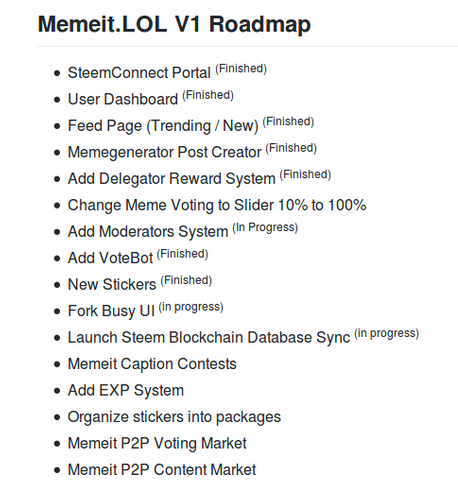 Meme Maker - We've added a series of new stickers and meme backgrounds, but that isn't all we have planned. We're working on adding meme search to the meme maker. A text field that will sift through the memes to help you find the perfect background or sticker. Added "Download & Share" button so you can create memes on Memeit and share them directly to other platforms without posting on the blockchain. without having to upload them to Steem or take a screensnip to get your creations onto other platforms.
Exp System - This is a future update we're looking into adding. A full on gamified Memeit, meaning new users will gain exp and unlock Memeit content as they use the system more. This is designed so that long term and existing users can gain benefits from their favorite meme making website without worrying that someone will make 100 accounts and spam to win. By limiting new accounts and giving them exp based on the images that are accepted, we can push for a fairer Memeit.
Voting Market - Coming closer to our launch out of beta, we aim to add a P2P voting market similar to SmartSteem with 0 fees. You'll be able to pay people who opt-in to the platform to vote anyones meme or memeply. Lol.pay will come around and upvote posts that spend high in the P2P market, ensuring all purchases are profitable for buyers and sellers.
Content Market - We want to empower our users to make the best Memeit possible! What better way to do this then to let the users decide what extra content can/should exist in Memeit. In our future update we'll add the ability for supporters (50SP or More) to submit their own content products to be reviewed and accepted. If accepted we'll add your content products to your own online store and pay our users for their amazing creativity. Submissions require proof of ownership (eg creation images).
How To Contribute
Navigate to Github Repo - https://github.com/memeit-lol/interface
Bugs are always worked before enhancements
Developers should work each issue according to a numbered branch corresponding to the issue git checkout -b 123
We pay bounties for issues that have been estimated. An estimated issue is prefixed with a number in brackets like this: [7] An nasty bug. In this example, the bug is valued at 7 STEEM. If you fix this issue according to these guidelines and your PR is accepted, this will earn you 7 STEEM. You must have a Steem wallet and a Steem account to receive payment.
If an issue is already claimed (assigned), do not attempt to claim it. Issues claimed by outside developers will have to add their Steem username to receive payments.
To claim an issue, simply leave a comment with your request to claim.