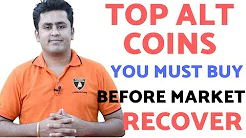 Hello Friends.You know that cryptocurrency market are on a deep.So that today i am sharing top altcoin which on deep. You should take advantage of this. Before invest research about this coins by yourself. I will not take any risk if you loss and I will not take any money from your profit.
Recommend By Sumit Kapoor (Money Guru)
Name Of Coins Buy Price On 8th August 2018 !
Ethereum : 0.05688452 BTC
XRP : 0.00005414
Bitcoin Cash : 0.09476686
Stellar : 0.00003301
Cardano : 0.00001819
TRON : 0.0000039
NEO : 0.00356718
VeChain : 0.00000182
NEM : 0.00001936
Bytecoin : 0.00000033
BitShares : 0.00002053
Dogecoin : 0.00000039
Steem : 0.00016319
Siacoin : 0.00000101
Verge : 0.00000239
Stratis : 0.0002704
KOMODO : 0.00019348
ReddCoin : 0.00000042
Nxt : 0.00001088
Syscoin : 0.00001808
Posted By : Aminul Islam (@aminulislamamir2)
Thank You