A recent meeting took place between the founder of Cardano, Charles Hoskinson, and Google's team from their headquarters in London, to discuss Cardano (ADA) and the algorithm that its blockchain uses, called Ouroboros.
Cardano's CEO visits Google's London headquarters
According to recent reports, the CEO of the company called IOHK, and the founder of a popular cryptocurrency called Cardano (ADA), Charles Hoskinson, has been invited to answer questions at Google's headquarters in London. The invitation included the Director of Engineering at IOHK, Duncan Coutts.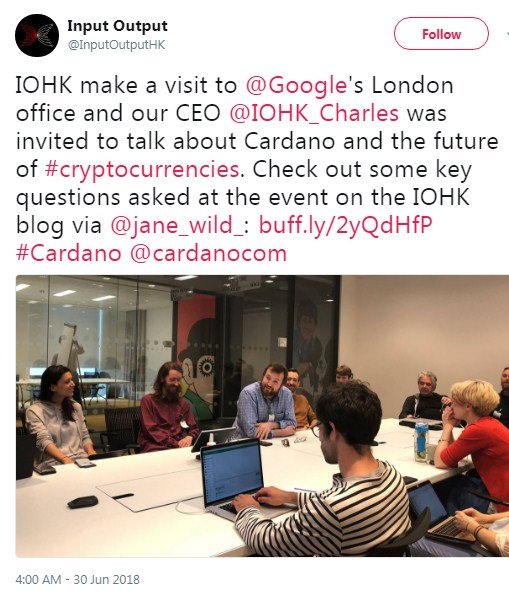 Together, the two talked about various topics, including the future of cryptos, blockchain technology, and its potential use. After the meeting, Hoskinson and Coutts held a Q&A with an audience, centered on these technologies. In their speech, the two paid special attention to the potential and fundamentals of Cardano's special consensus protocol called Ouroboros.
Details of the meeting
The first reports of the meeting came from a tweet posted by Cardano itself. In this tweet, Cardano stated that Charles Hoskinson was invited by Google to talk about ADA, its blockchain, and the future of cryptos. This tweet was later deleted.
However, IOHK published a blog post in which they stated that many Google employees from around the world were interested in hearing the presentation and that they had a lot of questions for IOHK representatives. The questions were well-thought-out and precise, not to mention informed and incisive, which is only to be expected from the company that has set stringent standards in modern technology.
So what you think about The Cardano And Google Partnership after reading this blog Comment Your Opinion.
Thanks
Ahmed Rahi
@moneybankr