{"In the eyes of Dialectical philosophy, nothing is established for all times, nothing is absolute or sacred" ~ Karl Marx... Today's the last-ever (on my end and in a double movement) for @janya's possibly last Microfiction Contest here on Steemit. 'Tis been a ride ever since I stumbled upon it after seeing @dirge's horror contest and making an entry to it. Will never forget my first ever-extension post, it was a magical one I still remember today... Today's music-aides: Temple Theme / qnR from E.Y.E. Divine Cybermancy OST.}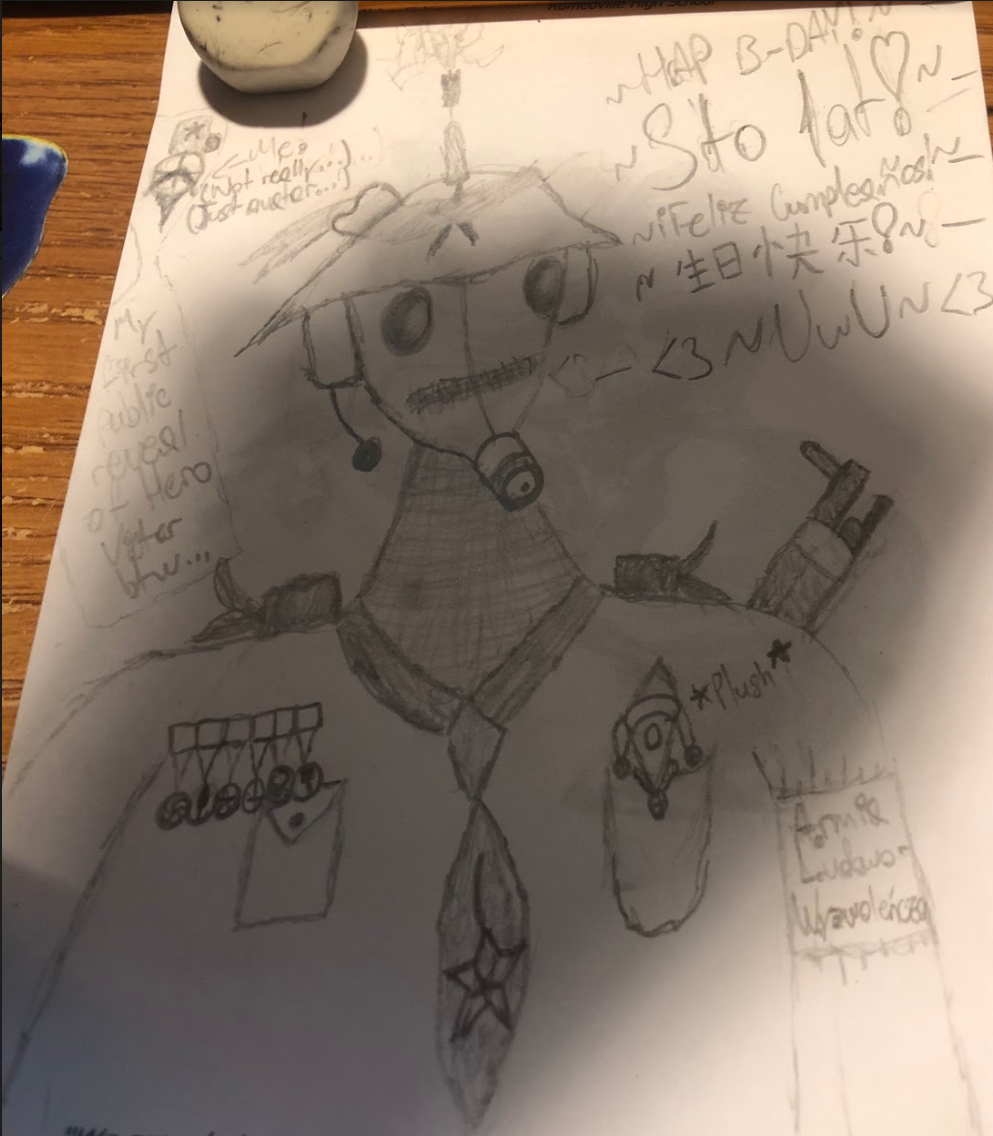 My sketchy sketch
- Morrow Mondays -
- Batter makes the cake -
"Alright my hero, undo your blindfold now. Or do you need my help Vee, after such a long campaign?~"
"Oh stop my dame, yer a doc but I must prescribe yah some rest for all this hard work~"
"Bah, foolish. 'Twas only a day's worth, wait for a week before-"
"My ukochany, please~ I understand but I need yah healthy as yah also wish for me so."
"And yet you, my beautiful babe, still have the blindfolds still on."
"Whoops. Anyways, maybe we can-"
The fold plummeting, so soon did the tidal wave of urahs, cheers, whistles and woos crashed into Vee. And with one collective breath did all the ears hear the birthday cheer; lights fading away, the candles light dancing in the dark, wheels singing its arrival and a craftsmanship of batter and sugar boldly standing. Therein the cake with the simplicity of its cylindrical form, the firey union of candles, scrawl of cake paste text and two figurines on top. Oh how it was representing Vee and the lovely doc in dazzling skirts tied by a heart bow betwixt the two, yet their hands and lips locked together despite such.
"You didn't-"
"After all you went through, you deserve it~
Both of their bodies landing unto the couch, Vee was bottomed and the doc topping. A small d'aw escaped from all but the two deep into the kiss that turned into a smooch, a heat so hot it could transform finished batter to cake - both equally tasty.
- A hundred batters -
As the Sun was rising up, a smile forming unto the Pirate lass's lips, a simple joy danced about her mind seeing her Witch still sleeping and her chance to impress. It took all her sleepy limbs to cooperate just right and not orchestrate what a thud meant unto the rickety wooden floor. The stairs a creaking, she was about to let a sigh of relief escaped from her before a shock hold her as the Witch was already downstairs stirring the batter.
"You forgot one thing that a Witch always appreciates~"
"What is it?~
"A kiss~"
- Fifty ticks 'til batter -
The book giving an oomph as the pages pressed one upon the other, her fingers didn't want to yet the ticking forced her hands to put book back on the shelf. Armed only with knowledge, a bowl, flour and a shouting voice, her lassy-friend heard her command:
"Find the batter!"
----------------------------------------------------


Two things: couldn't resist making one more entry to this contest (in its last week!) and signing off with a style I think I can be happy writing in when I don't want to write a lot in dialogue or 1st person. Tomorrow a post for an old @bananafish I think I left without grace and wish to bless with one more entry in this style; yer only hint @brisby for the ending is where today's music aide came from, have fun thinking about how the game's title relates to yer contest starter~