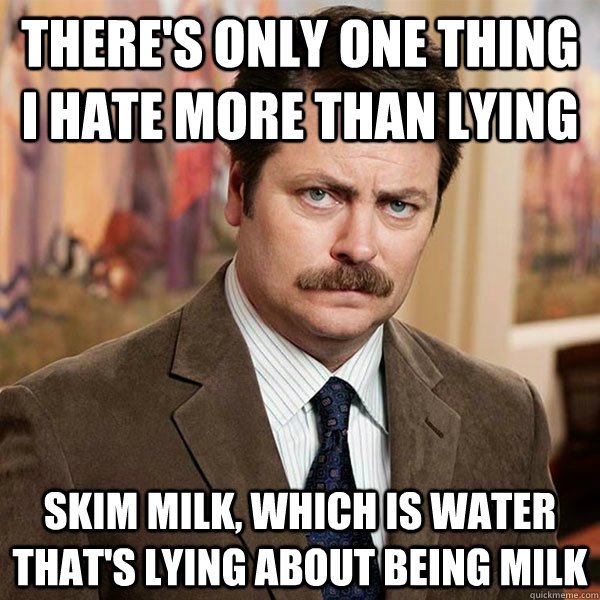 People started domesticating animals about ten thousand years ago. Unfortunately, it would still be several thousand years until you could drink a milkshake without getting explosive diarrhea. The problem with milk is that it contains Lactose, which is a type of sugar made out of galactose and glucose. Babies create an enzyme in their belly called lactase, which breaks down lactose. Adults don't naturally produce lactase, so when some lactose gets in their stomach it wreaks all kinds of havoc, like pouring water in your gas tank. Roughly 8,000 years ago genetic mutations started appearing in some populations that allowed adults to produce lactose. People with this mutation had a distinct survival advantage over other dirty ass goat herders because milk is nutritious as fuck. You can theoretically live off just milk; babies do it all the time. Drinking a glass of milk could keep you nourished when you can't find any berries, and you don't have to kill your livestock to get it.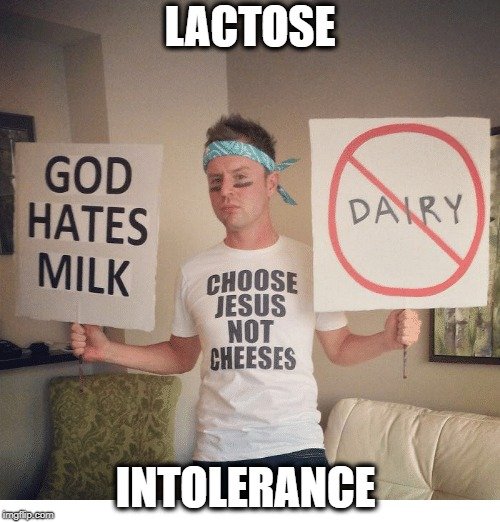 Even if you were lactose intolerant, people discovered you could turn milk into curds or cheese, which would break down the lactose to tolerable levels. You just had to have a little patience. The first domesticated cattle were big ass cows that looked like a cross between a yak and a longhorn called Aurochs. Goats were popular for milking in many areas because they take up less space and they eat less. It turns out the animal with milk closest to human milk is the Donkey. Roman Emperor Nero's wife reportedly kept hundreds of donkeys that even traveled with her so she could take donkey milk baths. That really sounds like a dick move considering all that milk could have kept a lot of people nourished and she's over there soaking her asshole in it.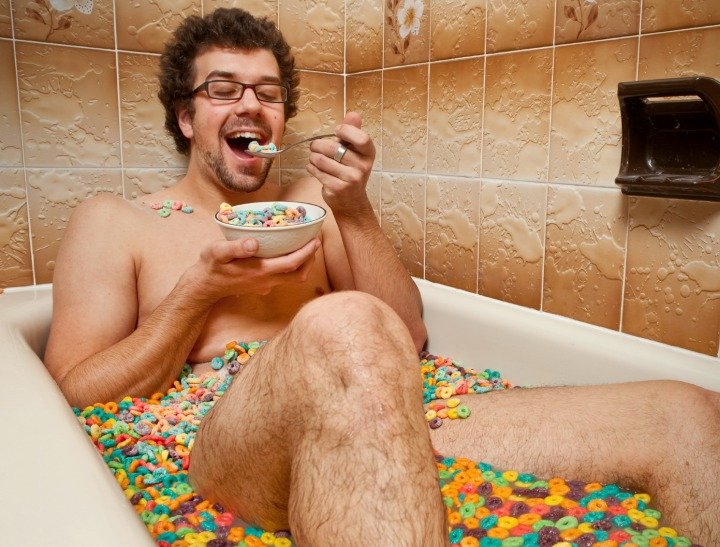 The root word "gala" of galaxy means milk. In Greek mythology, Zeus knocked up one of his mortal side hoes, who gave birth to Heracles. Zeus stuck Heracles on his wife Hera's titty while she was sleeping so he could get some of that god milk. When she woke up she was like, "WTF?" and tossed him off, squirting milk across the sky, creating the milky way. In the Roman version the kid was Hercules, who got excited and bit her titty, causing the celestial spray.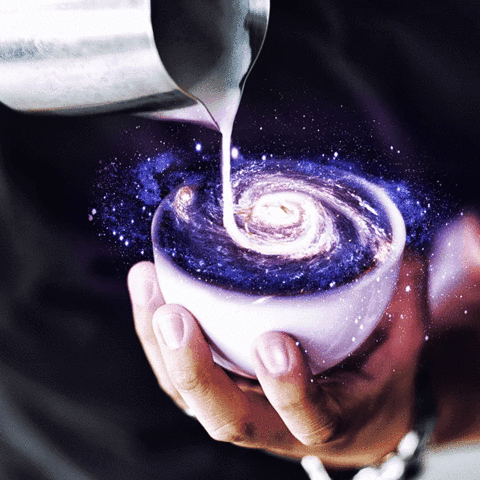 The problem with milk, aside from the lactose, is all the proteiny goodness makes it a breeding ground for bacteria and spoiling in general. There was a tradition in Russia of putting a frog in your bucket of milk to keep it from going bad. It turns out certain frog secretes antibacterial enzymes that kill bacteria such as staph; if you don't mind having a little frog piss in your milk. In the 16-18th century orphanages had a hard time getting milk to babies, on account of their moms obviously not being around. If you could find a wet nurse, that was awesome, but before antibiotics the type of women who ran around selling breast milk had a good chance of having syphilis, which babies are allergic to. That's why hospitals and orphanages kept stables full of goats and donkeys. They'd put the babies on little wooden carts and wheel them under the goats at feeding time. In 1816, a German named Conrad A. Zweirlien published a book called "The Goat as the Best and Most Agreeable Wet Nurse." At the time people thought the animal you suckled from would impart its temperament to the child. Goats supposedly made children grow up to be horny. Donkey wet nurses made children stupid and stubborn, and lions would make them courageous…or a light snack. It applied to humans too. At one point, in France, it was illegal for immoral women to be wet nurses because the children would grow up to be shitheads.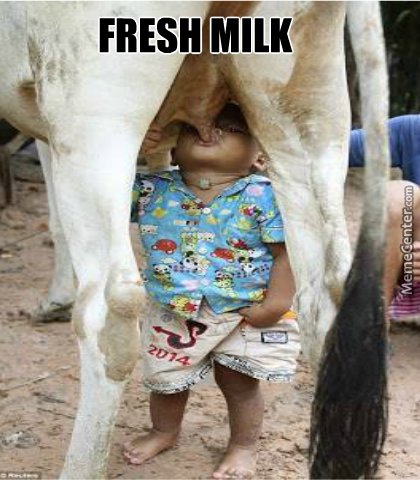 Gail Borden was a land surveyor who plotted out the cities of Houston and Galveston, Texas. He quit surveying to open the first Newspaper in Texas in 1835. Unfortunately, the Mexican Army smashed his printing press shortly after they mowed everyone down at the Alamo. Borden did what any self-respecting man would do in that situation and invented a dehydrated hockey puck called meat biscuits. The idea was to sell them to the Army, but they were like, "nah dog, that's fucking gross," Being eyeballs deep in debt, Borden moved to New York where he'd be closer to titans of industry who could help him bring meat biscuits to the masses. In 1851 Borden was on a ship, coming back from a trade convention in London to show off meat biscuits when some cows on the voyage fell ill. The cows died, and so did several children who drank their milk. Borden had seen a giant vacuum steam cooker at the trade show used to condense juices from fruit. He did some tweaking with the idea and created a machine to make condensed milk. The process removed water from milk to make it easier to transport, and it cooked out all the bacteria. The condensed milk had an impressive shelf life and didn't require refrigeration, scoring Borden a huge contract with the union Army during the Civil War. Borden's "Eagle Brand" milk became a household name. The company changed its name to Borden in 1899 to honor it's founder. By 1940, the Borden milk company employed 28,000 people.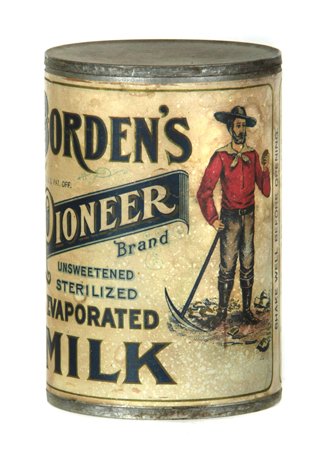 Right about that same time a French scientist name Louis Pasteur was working with a distiller who wanted to know why his beetroot hooch kept going bad. Pasteur broke out his microscope and determined there were little microorganisms growing in the booze that needed to die by fire. Shortly afterwards, Napoleon III asked Pasteur to help figure out why his wine kept going sour. Pasteur did the same shit he did with the beetroot booze and it worked. In 1862 (Seven years after Borden started cooking bacteria out of milk) Pasteur patented a process to fight the "diseases of wine." He called the process Pasteurization.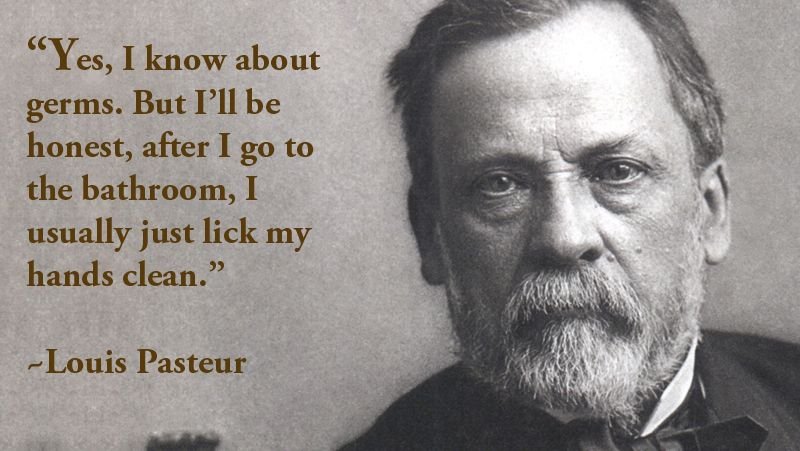 In 1870 France and Germany got into a little fight. Pasteur's son enlisted in the army, pissing off Pasteur. He wanted to get back at Germany for causing his helper to quit working in the lab so he went to French beer makers and taught them about pasteurization. He didn't really revolutionize beer making, but it did turn the Germans on to pasteurizing. In particular, a guy named Franz Ritter von Soxhlet, who said, "yah, das is interesting. I try this with milk now." He went on to do some groundbreaking work on sterilizing baby bottles as well as methods for separating fat lipids in liquids.
That got the attention of German doctor Abraham Jacobi, who spent two years in prison for high treason because he was passing notes with some of his college buddies who were involved in a short lived revolution attempt in 1851. After he got out, he went to England for a few years, where his BFF was Karl Marx. Then he moved to America and started the New York Communist Club and the first pediatrics clinic in New York, earning him the title of "The father of pediatrics." Jacobi was down like a clown with Pasteurizing milk and spent a lot of effort convincing people to stop giving babies raw milk. There was a bad problem at the time with people dying from drinking shitty milk so Jacobi convinced philanthropist and creator of Macey's department store to help fund milk stations around New York that distributed safe milk to mothers. In 1893 they handed out 35,000 bottles of pasteurized milk. By 1910 they were handing out millions of bottles.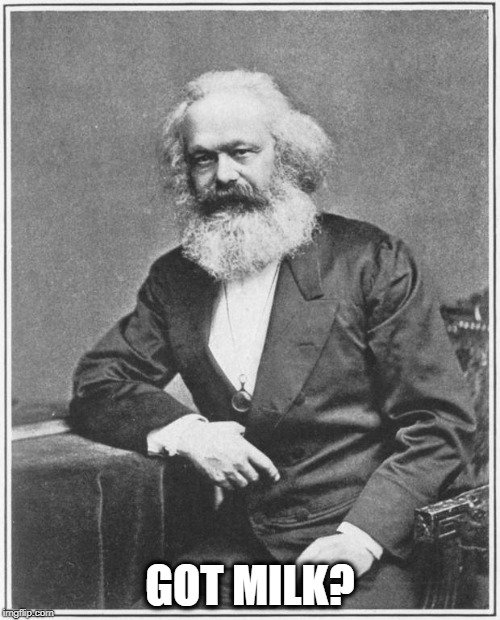 In the 1850's modern industrial sanitation methods, like giving a fuck, hadn't really been invented. Plus, since Louis Pasteur was just now coming up with germ theory, antibiotics were still a long way off. Gail Borden was a clean freak and wouldn't buy milk from dairy farmers who didn't run a clean shop. He even demanded all cows have their udders washed before milking. Other dairy farmers, not so much. In dairies around Manhattan and Brooklyn the cows were disease ridden monsters kept in horrible conditions. To make matters worse, the cattle were almost exclusively fed a diet of byproducts of brewing alcohol from the nearby distilleries. The watery ass milk produced by the cows was a sickly blue color that farmers mixed with chalk and plaster of Paris to make it look normal. Unsurprisingly, nearly half the children born in Manhattan at the time died in infancy. The problem wouldn't have gone on as long as it did but every time a newspaper would go out to the farms to expose them, corrupt city officials would tip them off so they'd have time to clean everything up really quick. Thankfully they eventually got outed and New York started passing laws about food safety.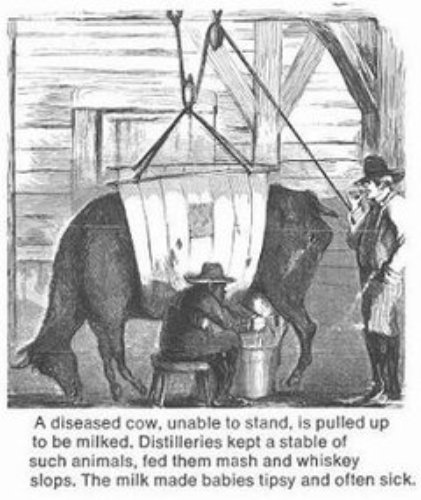 In the early 1930's Al Capone was doing pretty well for himself in the illegal alcohol business thanks to prohibition, but he could read the writing on the wall and knew prohibition was going to be repealed soon. He was also smart enough to realize all of his competition was out to murder him and everyone he worked with was also a bloodthirsty killer with the potential to murder him to get a promotion. It turns out the markup on milk is even higher than alcohol, and Capone owned a vast network of bottling plants. The only problem he faced was all the milk delivery men were in a union and would only deliver Chicago milk from Chicago farms. So, Capone kidnapped the union president and held him for ransom. He used the $50,000 ransom to buy Meadowmoor Dairy farm. Then he trucked in cheap milk from Wisconsin to his farm and packaged it for sale in Chicago. Capone's milk came stamped with an expiration date, which was unheard of before then in the milk industry. Capone strong armed the city council to pass a law requiring all milk have expiration dates. In many versions of the story this is because he had a family member die from old milk, and in others he genuinely cared about children dying. Personally, I think it was just a genius way to get a leg up on the competition. Either way, next time you read the expiration date on your milk, you'll know it was because of Al Capone. Three months after purchasing Meadowmoor Farms, Al Capone was arrested for tax evasion and sent to Alcatraz prison. He served six and a half years and got out early for good behavior. It didn't do him much good though. A nasty case of syphilis had turned his brain to mush and he died of a heart attack at the ripe old age of 48.