How are you, dear reader? I hope you're doing well, and also hope your demeanor won't be diminished by reading the short post I have for you today. I'd just like to briefly introduce you to a marvelous effect that's forever out of reach for most of us alive today, but could have tremendous influence on how we look upon ourselves as human beings in future generations.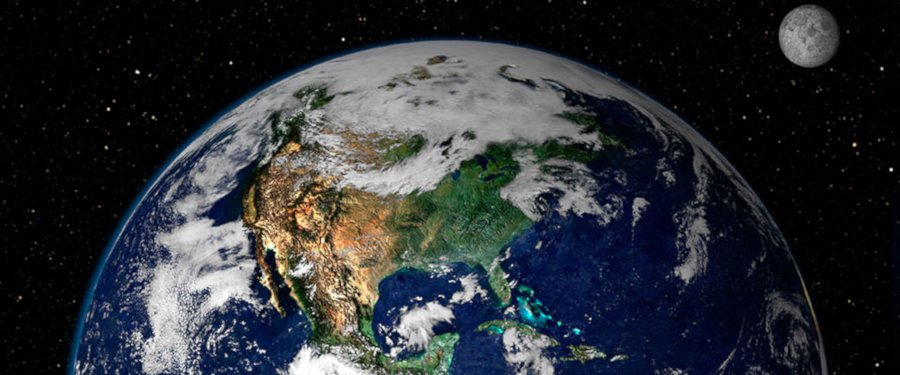 source: National Ocean Service
I'm talking about the Overview effect:
The overview effect is a cognitive shift in awareness reported by some astronauts during spaceflight, often while viewing the Earth from outer space.

It is the experience of seeing firsthand the reality of the Earth in space, which is immediately understood to be a tiny, fragile ball of life, "hanging in the void", shielded and nourished by a paper-thin atmosphere. From space, national boundaries vanish, the conflicts that divide people become less important, and the need to create a planetary society with the united will to protect this "pale blue dot" becomes both obvious and imperative.
source: Wikipedia
How I wish we could all hop on a spaceship and experience this feeling; it must be so humbling, magical, confronting and breathtaking all at once, and it would make us all learn the most important thing about ourself, our world and our universe; that we're not alone, not really, but that we're all alone together. I believe this "overview effect" may be the best remedy imaginable against the atomization of our species, against the deeply ingrained belief of being alone, having to survive in a world in which every other human being is a competitor. I'm not sure of course: I haven't been on a spaceship yet, but I invite you to watch the short video at the end, and listen to some people who have been.
Maybe we could start shooting our politicians into space, not to get rid of them, but for them to get rid of their worldly preconceptions, and start ruling their people as their people instead of just another resource to be exploited. Maybe we'll finally see the beauty that's hidden in taxation; that the most important feature of it is that we ALL contribute, we ALL pay, for the good of ALL of us. When we use that tax-money to pay for education for ALL, medicare for ALL, utilities for ALL, housing for ALL, food and water for ALL, we would then feel the love we have for each other in our times of need. We wouldn't feel abandoned anymore by our fellow-men, but instead feel loved by them, because they refused to let us fall, refused to not care about us. As opposed to the life of eternal strife and competition we spoon-feed our offspring right now.
We would truly realize, I believe, how fragile spaceship Earth really is, and we would take much better care of her, and each other and all living things... And if we translate that effect into politics, maybe we'll finally evolve towards a post-hierarchical and post-capitalist society in which we're united but diverse, free but responsible, rich enough to be happy but poor enough for our neighbor to be just as happy. You're not alone. You can't ever be alone. We're in it together. If you zoom out far enough, you'll see the truth of it; enjoy the Overview Effect:
The Overview Effect
---
Thanks so much for visiting my blog and reading my posts dear reader, I appreciate that a lot :-) If you like my content, please consider leaving a comment, upvote or resteem. I'll be back here tomorrow and sincerely hope you'll join me. Until then, keep steeming!

Recent articles you might be interested in:





Thanks for stopping by and reading. If you really liked this content, if you disagree (or if you do agree), please leave a comment. Of course, upvotes, follows, resteems are all greatly appreciated, but nothing brings me and you more growth than sharing our ideas. It's what Steemit is made for!





I am a proud helpinaut! @Helpie is looking for new members! Helpie has been growing nicely and we are always on the lookout for new valuable members. We are very supportive and community oriented. If you would like to be scouted for @helpie , please drop a comment on THIS POST or contact @paintingangels on discord at paintingangels(serena)#3668.




Just for Full Disclosure, I'm invested in these crypto-currencies:

Bitcoin | Litecoin | EOS | OmiseGo | FunFair | KIN | Pillar | DENT | Polymath | XDCE | 0x | Decred | Ethereum | Carmel | XYO





@helpie is a WITNESS now! So please help @helpie help you by voting for us here!