In a very dynamic battle for supremacy in the X11 ASICs battle, Chinese based ASICs manufacturer Baikal has stepped up its game with a new multi-algorithm miner. The new miner is an upgrade of its first generation Baikal mini 150M Miner and Baikal Quadruple Miner which were launched earlier this year.
Baikal Mini 150M Miner and Baikal Quadruple Miner with Multi-algorithm Support
The second generation of Baikal's first line of ASICs comes with support for 6 different algorithms, X11, X12, X13, X14, X15, Quark and Qubit, making the miner capable of mining over 30 cryptocurrencies. Specification of the new miners do not differ much from the old, the main difference between the old builds and the new Baikal mini 150M Miner and Baikal Quadruple Miner with multi-algorithm support is power and power efficiency.
Each algorithm has different power and power efficiency specifications, the X11 algorithm maintains its specification from the previous build while new additions X13, X12, X14, x15, Quark and Qubit come with 46W/ 0.31J/MH, 47W/ 0.32J/MH, 48W/ 0.32J/MH, 25W/ 0.17J/MH and 28W/ 0.19J/MH power and power efficiency respectively.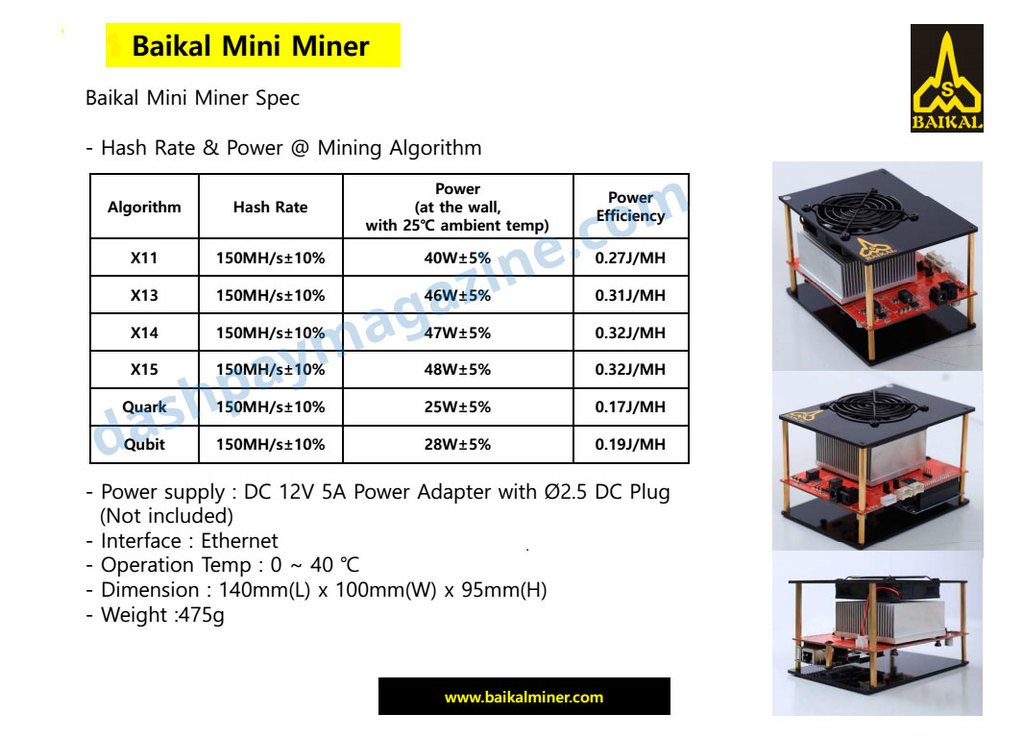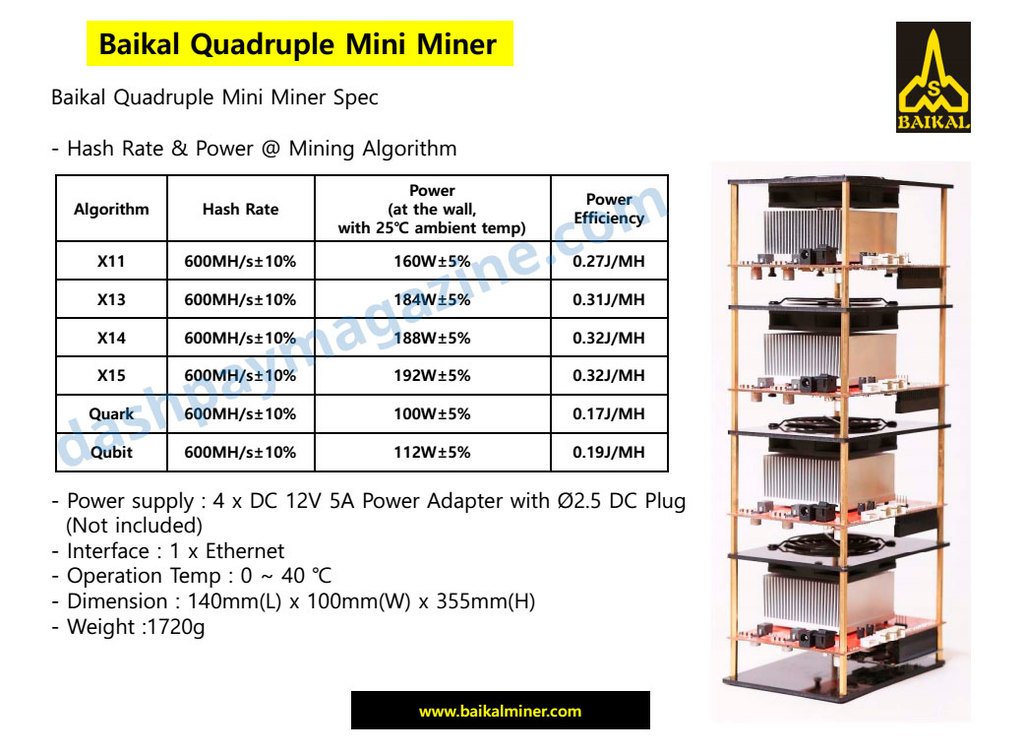 Other specifications include an ethernet interface and an operation temperature between 0 to 40 ℃ for both builds. The mini 150M Miner weighs 475g with a dimension of 140mm (L) x 100mm (W) x 95mm (H) while the Quadruple Miner has a dimension of 140mm (L) x 100mm (W) x 355mm (H) and weighs 1720g.
Despite inclusion of new algorithms, the price of these new builds remain the same at 56 Dash and can be ordered online or via contacting customer service. The miner package comes with the bare machine excluding DC 12V 5A Power Adapter with Ø2.5 DC Plug (recommended power supply).
The third ASIC manufacturer is set to release more miners onto the market in the coming months. With its current line of products, Baikal has worked its way on top of the X11 ASIC makers list. What are your thoughts on this announcement? we would like to hear from you, leave your comments in the section below.
---
Written by Elisha Owusu in Mining | http://dashpaymagazine.com/index.php/2016/07/25/baikal-announces-new-multi-algorithm-miner/
---