It was a cold day in July of 2012. Instead of buying a space heater, I opted for a heater of a different kind.
I walked into a high end components store and asked for the super gamer delux mother board, the one with lots of PCI slots (for video cards).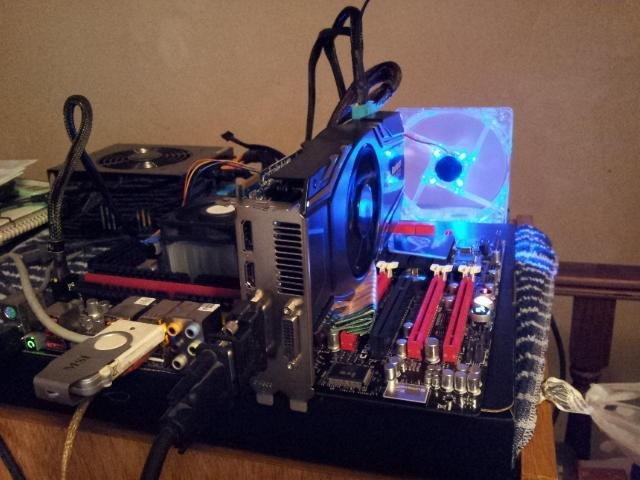 Then I asked for the cheapest processor and one gig of RAM to go with it. They looked at me as if I were crazy!
"That is going to be useless for gaming!"
There were people out there doing something called Mining and I wanted in. Little did I know that this obsession would lead to bigger and bigger power supplies, take over and entire room, and blow out my breaker panel, frying all the wiring down 5 floors to the street.
Oops!
And so it began. I had asked a friend to bring me 3 video cards from the USA. The government where I live charges 50% or more on contraband, which is defined as anything that anybody wants to import, ei: computer parts, phones, cameras, etc.

I was in a big hurry to get it working because bitcoin had just risen over $7.00 each and I did not want to miss a single fraction of a coin.
I had been reading about this digital money for some time and had dedicated the eight cores of my CPU to mining over night every night. I had been spending a lot of time on bitcoin faucets which paid 0.1 bitcoins per visit. But I wanted more. I wanted a dedicated machine.
What you see in the cover photo is the motherboard sitting on a kitchen towel with a 600w power supply behind it. There is one AMD 6880 video card plugged in and Ubuntu Linux running from an SD card reader (a makeshift pendrive). This eventually grew into three machines all laid out on a long table with elaborate fan systems to keep them cool as two air conditioners struggled to counter the heat.
I monitored these systems for many years day and night. Now I mine Steem which doesn't heat up the house so much, and I have not fried any wiring in the house because of Steemit. The question is...
Will Steem Reach $20,000?