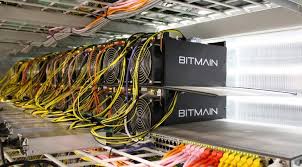 The American city is trying to completely ban mining.
demix (40) в mining • 14 дней назад
Extractors" crypto currency are opposed to the initiative of local authorities
inlldex.jpg
The city of Plattsburgh in the United States can impose a ban on new mining operations for 18 months. Local officials are concerned about high power consumption. The city has become very popular among the "getters" bitcoin because of good access to hydropower resources.
So, in Plattsburgh, a law that would impose a "moratorium on commercial mining operations" is being considered until the city authorities consider "zoning and land use laws and regulation by the municipal electricity department."
The law was proposed by the mayor of the city Colin Reed, who told the Watertown Daily Times that the growth of mining in Plattsburgh "increased our energy use and knocked us out of the rut, and this affects our taxpayers."
In an interview with WCAX, the local miner said that he understands the authorities' desire to protect their electorate, but does not see the need for a full moratorium. "I think it's a bad idea to completely ban all mining, because the phenomenon is too new," he said.
The conflict between local officials, mining companies and taxpayers was played out in other parts of the United States, including in the Chelan district of Washington, where a moratorium was introduced in 2016 on high energy consumption by customers that affected crypto-currency miners.
In addition to problems with electricity, because of the popularity of mining, amateurs of computer games also suffered. So, around the world, including Ukraine, because of the mining there was a shortage of video cards.
As you know, mining is a "mining" of the system's participants. It is based on the use of the processing power of the graphic processor (GPU) of the video card. The essence of earnings is that the participant's computer solves mathematical problems in parallel with others. Whoever does this first gets a reward. And the more powerful the participant has the computer system for mining, the more it "extracts" the crypto currency.