If you think that MinnowBooster is a voting bot, you are right. But if you think that MinnowBooster is just a voting bot, then you must read this post till the end and know why it is not true. MinnowBooster, contrary to what many people believe, is not just a paid upvoting service. It is an entire economy and it can significantly benefit you financially as well as in terms of exposure on Steemit. Learning how to use MinnowBooster properly can lead to great benefits for you.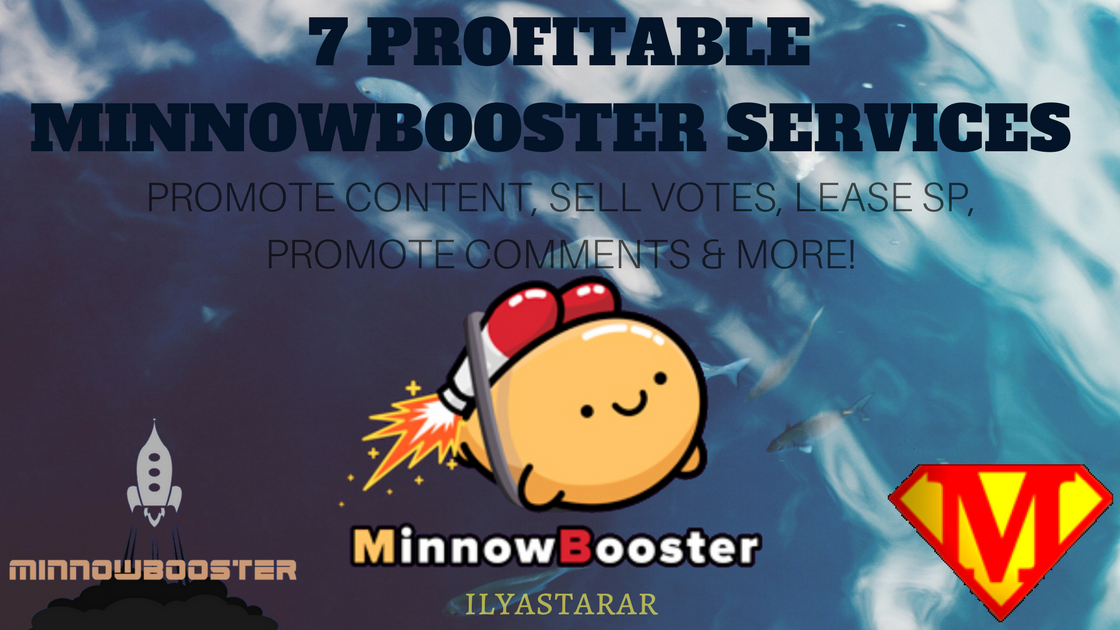 Image created via free tool Canva.com and all MinnowBooster images are included with permission.
I was just a month old on Steemit and I saw MinnowBooster announcement because it was on the trending page. Little did I know that I must put some of my Steemit earnings in it as investment. What I did was to include it in the  Amazing Minnow Support Initiatives (at # 4) which, ironically, I posted after just one day of MB's launch. Here's an interesting line from my post.
 I will surely use this service when it has higher Steem Power but it does look interesting and viable.
It wasn't until many months later that I started testing MinnowBooster's potential. I have been experimenting it for more than four months and will share my findings in this post. I thought sharing my personal experience is important to keep things transparent.
Understanding MinnowBooster
MinnowBooter is a project by BuildTeam. Understanding BuildTeam and their motives is important to understand the purpose of MinnowBooster. Here's something to read from their website.
BuildTeam is a revolutionary blockchain technology company focused on creating leading edge sidechain services and custom applications, aimed at enhancing the Steem social network ecosystem as well as other blockchain environments.

Screenshot of BuildTeam website homepage.
I am personally very impressed by their vision. I love such initiatives to orgasmic levels!
Our projects disrupt and improve existing blockchain ecosystems like Steem, adding value and functionality, greatly enhancing the user experience 
MinnowBooster is one of the projects by BuildTeam. 
 Minnowbooster is a @buildteam project by @thecryptodrive (witness) @cryptomancer and @reggaemuffin (witness). 
Know more about the team and its members by visiting their website.
How to Use MinnowBooster?
MinnowBooster has at least seven use cases brought to us by the talented BuildTeam. I am going to cover each of them and explain how to use these MinnowBooster services. I am also going to mention the benefits of each service. I personally have used five of these services by now.
1. Get Upvotes from Voting Bot
This is the most basic and the simplest use of MinnowBooster. However, its voting service is different from the popular bid bots which are not that profitable anymore. MinnowBooster not only uses the @minnowbooster account for upvoting, but it also hires services of normal users like you and I to give automatic votes. This is explained in the next service. Here is how to use the voting service.
Send any amount of SBD (only!) to @minnowbooster with the post URL as memo. Be careful to use correct username of MinnowBooster and send only SBD. I am sending an upvote request to MinnowBooster as an example.

After the SBD amount is sent with the URL, you can see the transaction in your wallet history.

Depending on the amount you sent, any account with a corresponding vote value will upvote on your post automatically.
Here are some of the things you should know for making the best use of this service.
MinnowBooster promises to give 200-300 % profit when you buy upvotes from the service. However, as per latest post on MB's Steemit blog, it "varies with SBD price, but always receive more than send."

Minimum amount to send at the moment is 0.01 SBD, which means that I sent wrong amount for the upvote. Other than delay in voting, there is no loss because MB sends your money back. It was not a case when I sent less than 2 SBD to a famous bid bot though.

 Important: MinnowBooster will not vote posts older than five days in order to prevent abuse. It was announced in their latest post.

Do not get upvotes on crappy and effortless content. Do not even post such content. Learn how to create good blog posts first and only then use voting services. Otherwise, you will be flagged sooner or later.

Always check @minnowbooster blog for latest terms and conditions.
Bidding bots do not guarantee profitable vote anymore due to excessive last minute bids by many users. ROI is negative most of the time. You can see the results on Steem Bot Tracker website (one of the major reasons why the returns have become too predictable and less profitable). MinnowBooster is not a bidding bot but a content promotion service. It guarantees profitable vote but does not have any control on price of Steem so the profit margins can vary.
2. Sell Your Upvote
From this point onwards, MinnowBooster's website will be the main focus of this post. It in fact is not an independent website but an app built on top of Steem blockchain by @buildteam. Vote selling has been the most profitable and the most helpful service for me lately despite my non-availability on Steemit. I had enabled vote selling for more than two months now but the recent Steem and SBD price rise made sure that I made hundreds of dollars from vote selling even when I wasn't posting anything. Enough of shilling? Haha!
How to Become a MinnowBooster Member?
For using all the services offered by MB, you need to become a member of MinnowBooster website by logging in with your Steemit credentials. Here's how to do that. 
Click My Account on top right and then click Login.

The click will take you to SteemConnect page as shown below. Click CONTINUE to verify your Steemit account.

The click will further take you to the sign in page where you need to enter your username and password. Use only Posting Key because selling votes is possible with posting key. Two of the services listed later require active key authorization.

You will be logged in to the website. Now you are a member.
How to Sell Your Vote
After becoming a member, you can use all the services offered by MinnowBooster. Selling your vote is a very simple process. It is explained below.
Click My Account and then Edit Info as shown below.

You need to enable vote selling to @minnowbooster by sliding the button to green. Then you should authorize the bot to vote on your behalf. Then you can adjust the minimum Voting Power below which the bot should not vote on your behalf. Finally, do not forget to update your information. Too much to digest? See the screenshot below.

After enabling vote selling, you also need to authorize MinnowBooster to use your account to vote by clicking where asked. Clicking will take you to the authorization page. Click continue and enter your posting key to enable vote selling. Use active key only if you wish to use other services too.

Do not forget to click the UPDATE button to save your settings.
Let me share with you what happens after saving these settings. Whenever my VP is 75 or above, my account is used to give upvotes to users who send SBD and post URL to @minnowbooster. My vote is worth $1.30 at 75 % VP right now so anyone who sends upto approx 0.4 SBD to MinnowBooster can be voted by my account. For example, if someone sends 0.4 SBD to MB for vote and my account is used to vote on that post, I will get 85 % of the sent amount credited in my balance. In simple words, I earn 0.34 SBD from that vote. 
I calculated my SBD earnings from 18 December to 19 January just from vote selling and they turned out to be 55.695 SBD. This was made possible because I had used another MB service (SP leasing) to get some delegated SP for four weeks for just 25 Steem. Through vote selling alone, I earned so many SBDs that it was more than triple of my initial investment.
Now you can understand why I am creating a complete guide of MinnowBooser economy. I have benefited massively from this opportunity and I wish to share each detail with you. Here is some of the information that will help you use this service efficiently.
By selling your vote, you earn 85 % of all the SBD against which your vote was used. Massive!

Since MB is taking 0.01 SBD as minimum bid on posts, you need to be able to give a vote at least worth $0.03 to have a chance. At current Steem price, at least 75 SP is required. Drop in price will increase the minimum SP requirement and vice versa.

A full vote will cost you 2 % VP. VP is the only cost you pay when your account is used for voting. Set minimum SP such that you can upvote posts from the authors you follow and the comments on your posts too. Dedicating all you VP to MinnowBooster is greedy unless you are unable to be active for some weeks or months.

You can view the history of your vote selling and even the posts on which your vote was used. Randomly visit these posts to check them for quality and if you see an abuse, report in the MinnowBooster discord channel.

You can always see your earned SBD balance on the site and withdraw it to your Steemit wallet.

That's all for vote selling. Let's move on to the next service.
3. Lease Steem Power from The Market
This is another interesting and highly empowering service offered by MinnowBooster. You need to be a member to use the service and use active key if using website to request a lease.  Here's the process.
From the left side options on the website, click Lease Steem Power as shown below.

A form will appear in which you need to fill the required fields. Fill the total amount of SP that you need. Tell the number of weeks you wish to lease for and then write what amount of SP you need per Steem per week. APR and total price in Steem will be filled based upon your entries.

Click the LEASE button. You will be guided to SteemConnect to authorize the transfer. Click continue.

Authorize the transaction with your active key.

If you do, you'll see following screen.

If you are not willing to give active key for security reasons, you can go to your own wallet on Steemit and send Steem to @minnowbooster with a memo like 4 ilyastarar 400. It will do the same as above transaction on the site.

After the success of any of the above methods, you can check Steemd.com transaction details...

...as well as history in your wallet.

You can view your lease request in the New Lease Requests.

If your request is filled, you will receive the requisite SP in your account wallet in brackets below your own SP. If unsuccessful in 3 days, your Steem will be returned. Many of my requests have been unsuccessful due to low APR for delegators. Only two have been successful yet.

Some points to keep in mind are:-
SP lease is profitable to you because it increases your vote value. You can earn more curation rewards by voting others and boost your own posts with stronger votes (if you write good content, there is no harm boosting it with your own vote).

You can use the SP lease option to enhance your voting influence and then sell the same vote in the MinnowBooster market as explained above through my personal example. It is highly profitable. Just keep an eye on the content that gets your vote and report abuse if so is the case.

High SP per Steem per Week will result in failure of your request. My example transaction is almost surely going to fail but I will get the 25 Steem back after 3 days so I know I have not done any loss. Always see the table below on the lease market to see the appropriate demand.

A thing I wish I knew earlier is that you can go to the website after your lease is over and renew as per previous conditions within one week. Final decision rests with the delegator though.
Again, checking @minnowbooster blog is important to know the latest conditions. For example, custom lease prices (SP per Steem per Week) were introduced on 9 December. Before that, only 150 SP per Steem per Week was the default, un-editable price. If you own a community oriented account, your lease request will be shown above all the other requests no matter how new.
Note:- You do not gain ownership of SP when delegated to you on lease. It remains in your use but goes back to the owner one week when the delegation is over.
Let's move towards the next service.
4. Fill Delegation Requests
The SP lease requests out up by others can be filled by you if you have enough spare SP to delegate. This is one of the two MB services I have not used yet due to low SP. But as my SP increses, I will surely test this feature as well. You will be bothered about the amount of Steem you get, the number of weeks you need to delegate for and the return you get. Here's how to do it.
Go to the website and click New Lease Requests.

Click any of the offer that you can fulfill. For example, my latest offer is visible on the last page being the latest one.

Click Fill this request button. You will be taken to the delegation page where details are mentioned.

See if you are willing to delegate for the number of weeks and the amount of Steem. You will get 10 % less (facilitation fee) than what users pay to MinnowBooster. Please do fill my active requests if you can.

Use either of the two tools to delegate SP to the user. "Returns will be paid out to your STEEM wallet in daily increments." 
Earning a daily return by delegating spare SP is as innovative and selling your vote and earning daily SBD. If you are holding Steem in SP for safety reasons, it would be incredible use of your SP to delegate for a few weeks and earn more Steem for free.
Note:- You do not lose ownership of your SP when delegated. It remains yours and comes back to you after one week when the delegation is over.
5. Promote Your Comments
MinnowBooster announced this innovative little service early December last year. It is still in testing phase. The main aim is to promote your comments just enough to get your comments above the potentially spammy comments which have not been upvoted. On a post where none of the comments is voted by the author of the post (that's bad though), your comment can sit on top and be visible. 
Here's how to enable comment promotion.
Go to your account and click Edit Info.

To enable automatic comments promotion, you will need to slide the button to green. This is a paid service so need to specify the maximum budget you wish to invest on this feature.

The amount required as price for the comments promotion will be deducted from your MinnowBooster balance.

You can top up your SBD balance either by selling vote or depositing some SBD to MB from the website.

You can see your comments tab to see if you are getting your comments promoted. Mine are being promoted a lot.

Some of my replies to your comments will get promoted as well because I have not been able to comment due to being busy making this post for more than four hours now. I will suggest you to post good comments on others' posts to get more views from their followers and they can become your followers if you promise the quality that they are looking for. 
6. Delegate SP to Bot
I have done this in November or before that when I delegated 100 SP to MinnowBooster to see how it rewards me. Now, MB is hiring services of normal users like us so its focus is to get more people sell their votes. Still, a bot does need SP to service its customers. Here's how to do it.
Go to the website and click Delegate to Bot.

Enter your username and the amount you wish to delegate.

Once delegated, you will earn daily SBD dividends in SBD.

You can undelegate anytime but your SP will return in your use after one week of undelegation.
You can test by delegating a small amount of SP and see what returns you get. MB distributes 90 % of the revenue it receives among its investors so you will have to see for yourself how the delegation to the bot pays you. It will pay for sure. 
7. Get Mention Notifications via Mentionator
This is the second of the only two services I have not used. The @mentionator service is a premium one which you can access by sending SBD or Steem. Here's what the announcement post says:-
Mentionator is a subscription service costing 1 STEEM or SBD per month. If you don't want to pay, you can still see your last three mentions, but premium users get the last 14 days worth of mentions and can even enter their email to receive email notifications when new mentions come in! 
Just send 1 STEEM or 1 SBD to the mentionator Steem account to get started with these awesome premium features. Don't want to subscribe for the whole month? Just send 0.50 SBD or STEEM and you can try the service out for 14 days.
 I just checked my three free mentions by going to Mentions under my account.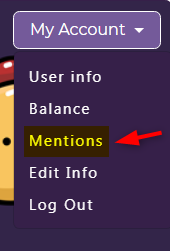 Which revealed the three latest mentions.

I found out that I was mentioned in this great post by @inquiringtimes (you must follow him, especially if you are a newbie). It's contest with 50 Steem in prize. Another post I was mentioned in was this no dare, just truth entry by @marvettsy who had said some interesting things about me.

So, knowing who is mentioning you where can be a useful information.
You can choose to subscribe monthly or fortnightly service by sending Steem or SBD to @mentionator. Do update your email on MinnowBooster website>My Account>Edit Info to receive email notifications.

Update:- If you do not want to pay and still want to get mention notifications, you can use GINAbot. Thanks to @ravenruis for mentioning this free notification service in the comments. I have setup the notifications and will soon share a short tutorial on how to do that. Amazed so far. Here's what he said in the comment.
 I wonder - after reading the bit on the Mentions service, whether it might be easier to simply sign up to GinaBot for that? It gives you all manner of notifications, depending on what you set up, and for free. Just a thought :) 
That's it for the services offered and how to use these services by MinnowBooster. You may, rather should, read the MinnowBooster FAQ to verify and consolidate the information contained in this post.
Conclusion
I have personally benefited from from the amazing initiatives of @buildteam. MinnowBooster is one of their most frequently used projects which has brought huge benefits for me ranging from content promotion to investment opportunities of various types. I wanted to share this opportunity with Steemians in general and my followers in particular so that everyone can reap the benefits of Steem blockchain powered sub-economy created by MinnowBooster.
If you have any question, do share it in the comments. It would be kind of you to support this post through your valuable upvotes and resteems. Helping this post with upvotes will not only benefit the community at large, but also will encourage me to put more effort into educating Steemians to create a better ecosystem on Steemit.