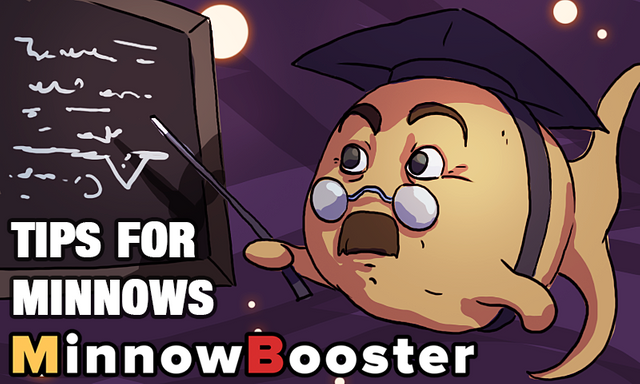 ---
Greetings from @MinnowBooster! We are proud to announce a new feature now available on the www.MinnowBooster.com website that we have appropriately named 'Personal Vote Selling!'
If you are already a MinnowBooster user you can provide others with access to your Personal Vote Selling page by using the following url:
https://www.minnowbooster.net/users/username/personal_selling
Simply replace the word 'username' in the link above with your Steem account username. Then feel free to send it out to all your friends so they can be your customers!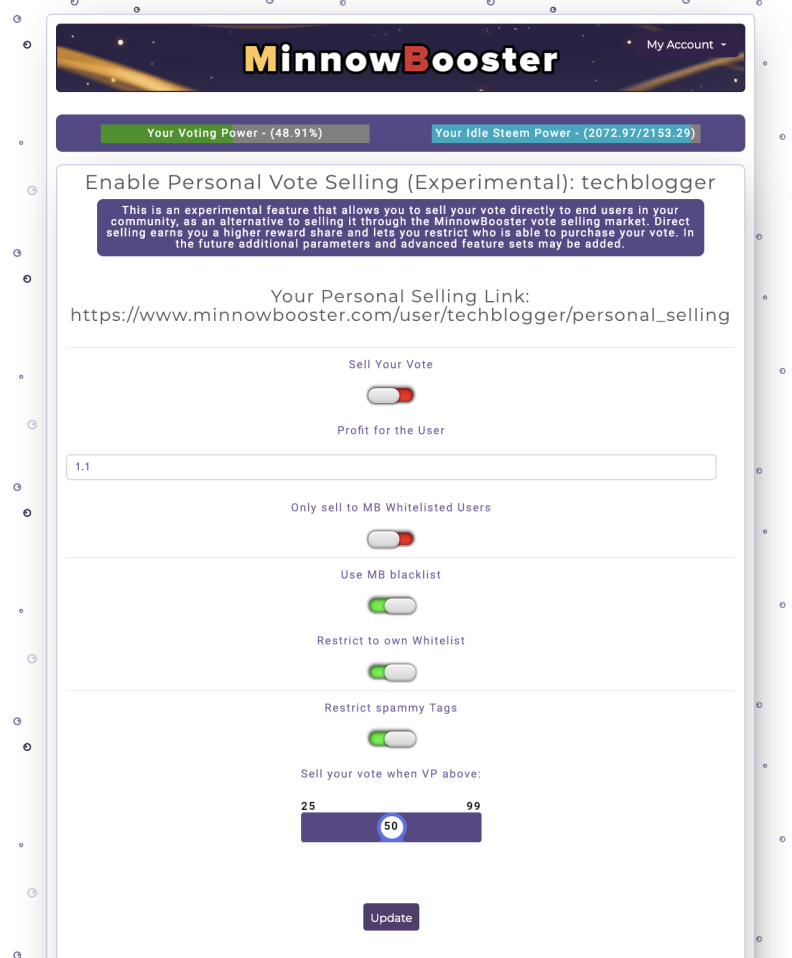 This new feature essentially allows you to act independently as a voting bot and take control over several aspects of vote selling, including the profit you wish users receive on their posts when they purchase your vote, also since you will be marketing the service yourself via your link, the fees we charge are only 10% vs 15%.
You can access settings for this feature from My Account > Vote Selling > Personal Selling Settings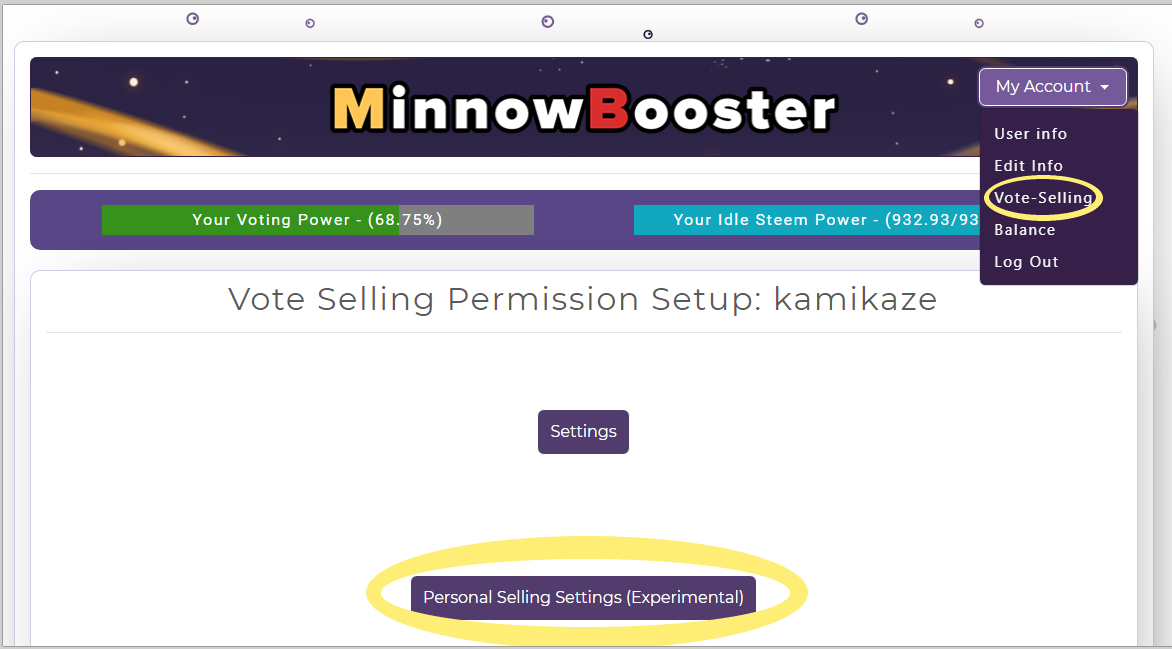 Here you can enable or disable this feature, as well as set the profit for users in the profit field, so if you are feeling particularly generous you can bump up the number and give your customers a great deal! The default is 1.10 which means you are offering your customers 10% profit on their Steem posts over and above the vote value they purchased.
A few other useful controls include the ability to only sell to MinnowBooster Whitelisted users, enable the MinnowBooster blacklist to avoid bad actors and even limit users to your own Whitelist and Blacklist. As usual there is a vote toggle that allows you to designate how much Voting Power you'd like to retain.
If your users would prefer to send a memo to use this feature it can be done using the following - memo : P username postlink
We hope this new feature comes in handy and gives people more options when it comes to their post promotions. If you have any questions feel free to ask them below in the comments or hop into our discord and we will answer them as soon as possible.
Thanks for using MinnowBooster!
---
BuildTeam is one of the few service providers on Steem that runs and maintains its own RPC servers. Maintaining this infrastructure is expensive. If you want to support the growth of Steem network outside of Steemit.com, consider using some of our services, this helps to pay the bills, keeps the machines running and helps us incubate great developer talent within BuildTeam. The easiest and most effective way to support BuildTeam is to delegate to Minnowbooster or enable vote-selling within the https://minnowbooster.net user settings. For other options to help BuildTeam secure and grow the Steem community, contact Steem witness @thecryptodrive.
---


| Visit our website for more info! | Subscribe to our YouTube Channel |
| --- | --- |
| | |

We are always looking to improve @minnowbooster and try to keep you up-to-date whenever something changes. If you have any suggestions about what we should change or add to @minnowbooster, then please drop by our Discord server and let us know!



Minnowbooster is a @buildteam project by
@thecryptodrive (witness), @cryptomancer and @reggaemuffin (witness)
---
This is a @steemvoter subscription payment post. Thank you to Steemvoter customers for allowing us to use your Steem accounts to upvote this post by virtue of your free subscription to the Steemvoter.com bot service. @steemvoter is proudly a @buildteam brand and sister project to @steemsports, @btuniverse and @minnowbooster.