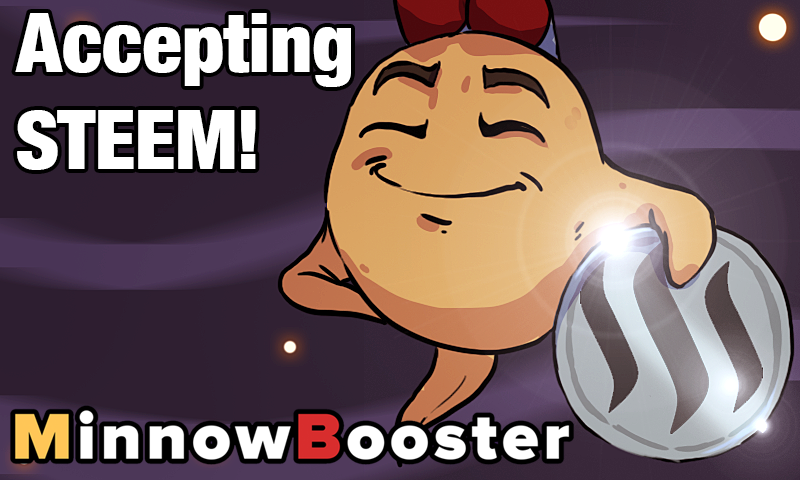 ---
Happy new year from @MinnowBooster! As the year starts to build momentum and the crypto engines begin firing again, BuildTeam, the decentralized organization behind @MinnowBooster has a new and exciting change to our service that we'd like to share with you today.
You may already know this but one of the most requested features for Minnowbooster in 2018 was the ability to accept STEEM for upvotes in addition to SBD.
This required quite a few complex coding changes to our system, but our developers chipped away at this goal and finally, we have "cracked the nut", so to speak, and have made it happen!
We are proud to announce that you can now purchase upvotes from MinnowBooster with STEEM in addition to SBD!
How Do I Promote Posts Using STEEM?
Upon sending STEEM to MinnowBooster with a post URL, payment is converted to SBD at market rate (+1% safety fee) automatically and then you receive memos with the following information - conversion rate, refund amount and upvote info.

This feature has just rolled off the production line, so you'll be among the first to test it!
What does this mean for Vote Sellers and delegators to the MinnowBooster bot?
Other bots that accept both STEEM and SBD normally pay their delegators in both STEEM and SBD depending on what currency is received, if STEEM is the most popular amongst users then most likely delegators would receive STEEM most of the time. With MinnowBooster we instantly sell the STEEM payments to SBD in the internal market so delegators and vote sellers will still only receive SBD payments.
Earning in SBD can be said to be preferrable to earning in STEEM because you can use the conversion tool available on sites like steemworld.org (Balances menu) to ensure that you always convert 1 SBD to 1 USD worth of STEEM over a 3.5 day period and thus always maintain the proper value of your earnings.
Also the fact that we instantly sell STEEM for SBD creates additional demand for SBD and supports the peg which should be 1:1 with the USD.

Please give this feature a shot and let us know what you think in the comments section below. Happy posting!
---
---
BuildTeam is one of the few service providers on Steem that runs and maintains its own RPC servers. Maintaining this infrastructure is expensive. If you want to support the growth of Steem network outside of Steemit.com, consider using some of our services, this helps to pay the bills, keeps the machines running and helps us incubate great developer talent within BuildTeam. The easiest and most effective way to support BuildTeam is to delegate to Minnowbooster or enable vote-selling within the https://minnowbooster.net user settings. For other options to help BuildTeam secure and grow the Steem community, contact Steem witness @thecryptodrive.
---


| Visit our website for more info! | Subsribe to our YouTube Channel |
| --- | --- |
| | |

We are always looking to improve @minnowbooster and try to keep you up-to-date whenever something changes. If you have any suggestions about what we should change or add to @minnowbooster, then please drop by our Discord server and let us know!



Minnowbooster is a @buildteam project by
@thecryptodrive (witness), @cryptomancer and @reggaemuffin (witness)
---
This is a @steemvoter subscription payment post. Thank you to Steemvoter customers for allowing us to use your Steem accounts to upvote this post by virtue of your free subscription to the Steemvoter.com bot service. @steemvoter is proudly a @buildteam brand and sister project to @steemsports, @btuniverse and @minnowbooster.